1.1K Views
Best Washable Pee Pads for Dogs
January 28th, 2023 1:42 AM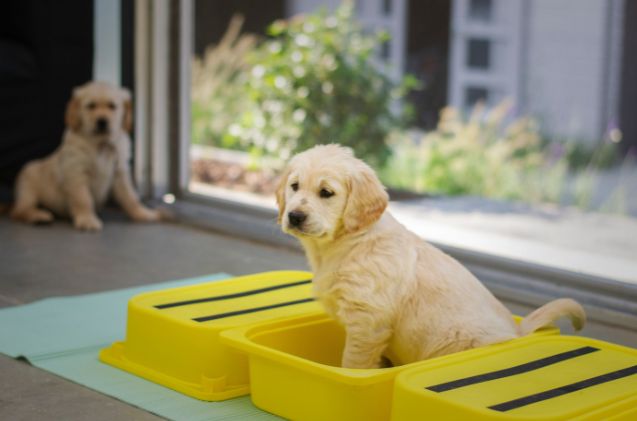 Whether you are working through the potty-training process with a new puppy or caring for a senior dog struggling with incontinence, pee pads are an essential tool to keep your home clean. But the cost of disposable pads can add up quickly, and they create a lot of waste. If you're looking for an environmentally friendly option that will be kind to your bank account, you may want to consider switching to a reusable pad instead.
Washable pee pads are fabric pas made with highly absorbent materials and a waterproof layer to protect your floors, furniture, vehicles, and more. Rather than disposing of them after use, the pads can be washed and reused. On average, a washable pad can be used 250-300 times before it needs to be replaced!
If this sounds like the perfect solution for you and your dog, keep reading. We have compiled a list of the best washable pee pads for dogs, complete with a buyer's guide discussing the key features to consider.
Editor's Choice: Green Lifestyle Washable Underpads
Made from a thick, highly absorbent material, these washable pads are designed to handle a large amount of urine without leaking. The waterproof backing provides extra protection for your floors or furniture. They are available in 5 different sizes ranging from 18" x 24" to 48" x 48" and are machine washable for easy cleaning.
Pros
Available in 5 sizes
Ultra-breathable, leakproof material
Reinforced seams for better longevity
Cons
Slick bottom material easily slides on the floor
Some customers report an unpleasant odor
Runner-Up: SincoPet Washable Dog Pee Pads
This quilted washable pee pad is highly functional with a super absorbent core and waterproof shield. It's also a great choice for your dog's comfort, with a soft, breathable polyester knit surface to rest on. The anti-slip silica gel bottom layer prevents the pad from moving across the floor, making it a safe choice for senior dogs with mobility issues.
Pros
Available in 13 sizes, including both round and rectangular
Anti-slip silica gel bottom
Comes with a complementary pet grooming glove
Cons
Some customers warn that the sizing isn't accurate
High price point
Best Budget Washable Pee Pad: Pitpet Super Absorbent Washable Pee Pads for Dogs
Dog owners that are seeking a budget-friendly solution to potty-training accidents or incontinence will love these washable pee pads from Pitpet. The pad's 4-layer construction includes flash-dry technology that not only absorbs urine but dries in seconds, preventing overflowing, leaking, and tracking of the mess around your home. They are available in 3 colours to match any home décor.
Pros
Available in 3 colors and 8 sizes
Flash-Dry Technology prevents leaks and tracking
Budget-friendly price
Cons
Bottom layer of material slips easily on the floor
Doesn't absorb as much urine as other options on the list
Best Premium Washable Pee Pad: Simple Solution Large Washable Puppy Pad
The ultra-absorbent quilted top and Instashield absorbent core on these Simple Solution washable pee pads wick away urine quickly to keep your dog dry. Not only do they protect your floors and furniture from unwanted messes, but they also help to control the odor associated with potty accidents. The soft top fabric offers your dog a comfortable place to nap in crates, on furniture, and more.
Pros
Available in 2 sizes
4-layer design with Instashield absorbent core
Double stitched seam for added durability
Cons
Some dog owners find the pads shrink after the first wash
Customers report a noticeable smell despite cleaning
Best Washable Pee Pad for Crate Training: VOLUKA Reusable Dog Crate Pee Pads
If you are searching for a washable pee pad to use in your dog's crate, these crate pads from VOLUKA are an excellent option. They are rectangular in shape, accommodating most common dog training crates. They feature a breathable mesh fabric and a layer of cotton to allow for fast water absorption. A waterproof TPU layer protects your floor by preventing leaks. The non-slip rubber bottom is effective in keeping the pad safely in place.
Pros
Available in 4 sizes
Rectangular shape is perfect for use as a crate pad
Waterproof TPU inner layer to prevent leaking
Cons
Dogs can easily shred the thinner material if they chew at it
Some reviews warn that they hold the urine smell after a few washes
Best Extra-Large Washable Pee Pad: CoolShields Extra Large Waterproof Training Mat
Whether you're caring for a pregnant mother and searching for a whelping pad or looking for a washable pee pad large enough to cover the floor in an exercise pen, this extra-large pad is an excellent option. The thick, soft pad creates a perfect place to sleep for dogs of all ages and sizes. The fabrics used in its construction have all passed OEKO-TEX safety certification, ensuring that the pad is safe and high-quality.
Pros
Available in 3 sizes, including an extra large 72" x 72"
Made with soft, thick fabric to provide a comfortable place to sleep
Non-slip and anti-tear
Cons
Some customers report that while the urine is contained, the smell still goes through to the carpet or furniture below
Not available in smaller sizes for crate training
Best Travel Washable Pee Pad: IMPROVIA Heavy Absorbency Reusable Underpads
Channels in this pad wick all liquids away to the sides of the pad, providing a dry, comfortable place for your dog to sleep. This also allows the pad to dry in approximately 10 minutes, preventing leaks or overflowing. The super soft fabric on the top of the pad provides a comfortable place for all dogs to sleep, from puppies to seniors. This makes it a great choice for beds and crates.
Pros
Available in 3 sizes
100% washable and stain resistant
Self-drying technology dries up to 5x faster than other pee pads
Cons
Bottom of the pad is slippery on many surfaces
Dog owners report they sometimes retain the urine or feces smell even after washing
Honorable Mention: Kluein Pet Washable Pee Pads for Dogs
These durable and high-quality pee pads feature a soft quilted top with extra heavy stitching for added durability. The pad quickly absorbs and wicks away accidents to prevent tracking and keep your dog dry and comfortable. Not only are these an environmentally friendly choice, but a portion of each purchase is also donated to animal-focused charities.
Pros
Super absorbent design prevents leaking
Durable pads hold up well to daily use and washing
Soft quilting on top offers a comfortable place for your dog to sleep
Cons
Only available in 1 size
Users report they have a lingering odor even after washing
Features to Consider When Shopping for Washable Puppy Pee Pads
Size and Shape
When selecting the size of your pee pad, you should consider the area where you plan to use it. For example, if you start to crate train a puppy and the pee pad doesn't fully cover the crate floor, there is still room for accidents. But a pee pad that is too large can bunch up, encouraging puppies to chew on them or dig, moving the pad and increasing the chance of leaks and messes. You can find washable pee pads in a wide range of sizes, from the size of a small dog crate to an extra-large pad for a whelping bed or exercise pen.
Odor Control
Some pee pads will feature a specialized layer designed to absorb and control odor from urine. This is an excellent feature for those that are going to be using the pee pad in the home, especially in a high-traffic area. Eliminating the smell can also help discourage your dog from repeatedly going to the bathroom in the space.
Size Versus Absorbency
Thinner pee pads are great for travel and to conceal the occasional leak, but the smaller size doesn't offer the absorbency level needed for more significant accidents. You will need to consider which feature is more important for you and your dog. While some situations are better suited for a thinner, less conspicuous pad, others require the added absorbency that comes with a thicker pad with layers capable of containing larger messes.
Non-Slip Bottom
Pee pads are most often used to protect against messes from nursing mothers, young puppies, or senior dogs. These are life stages when a dog is often more fragile. Young puppies are unsteady on their feet and just learning to navigate the world around them. Senior dogs may be starting to experience reduced mobility due to stiffness and arthritis. If your washable pee pads don't have a non-slip base, they may slide easily on the floor, creating a risk of injury.
Should I Be Using Washable Pee Pads or Disposable Pee Pads?
There are pros and cons for both washable and disposable pads. Disposable pads make cleanup a breeze. All you have to do is gather up the pad and toss it in the garbage, replacing it with a new one. But this means purchasing new pads to meet your dog's needs. They are thinner than reusable pads and hold less liquid before they run the risk of leaking or overflowing.
Washable pads require a bigger investment upfront. But, depending on the brand, they can be washed 100-500 times before they must be replaced. Over time, this makes a reusable pad a more cost-effective option. They can absorb large quantities of liquid, allowing you to wait 24-48 hours between changing the pad. However, you must clean the pads before they can be used again.
How to Clean a Washable Pee Pad
To begin, clean any feces off the pee pad. This can be picked up using a standard dog poop bag and disposed of in the garbage. If you're concerned about stains and odor, an enzymatic cleaner can then be applied to the pad to break down the substances. Unless the washing instructions for your pee pad say otherwise, you can wash the pad in your washing machine on a standard cycle. While most pee pads can be dried at low temperatures, the best option for drying is to allow the pad to dry outside. This can help to air out the pad and reduce odor.

Britt
Britt Kascjak is a proud pet mom, sharing her heart (and her home) with her "pack" which includes her husband John, their 3 dogs – Daviana, Indiana, and Lucifer – and their 2 cats – Pippen and Jinx. She has been active in the animal rescue community for over 15 years, volunteering, fostering and advocating for organizations across Canada and the US. In her free time, she enjoys traveling around the country camping, hiking, and canoeing with her pets.
More by Britt
Published January 28th, 2023 1:42 AM