111 Views
The Best Coffee Table Books About Dogs
April 16th, 2016 12:00 AM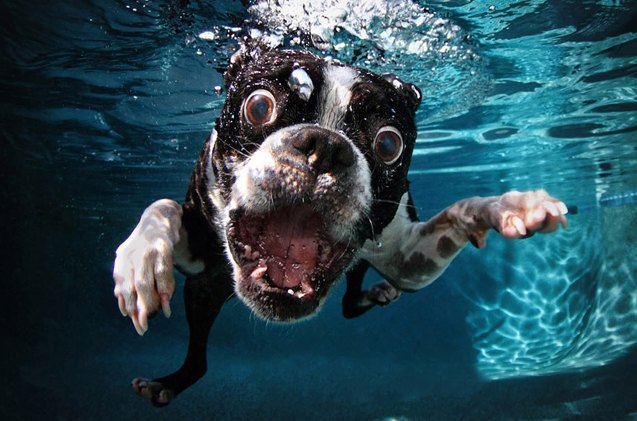 A picture says a thousand words. And these photographers have lots to say about dogs – beautiful pictures that will give you a new perspective on pooches.
While my coffee table is typically used for everything from a footrest after a long day at work to a dining-room table during those late night Netflix marathons, there are those who walk among us that actually use this lowly piece of furniture to display the aptly named "coffee table" book. You know those oversized glossy paperweights that feature aspirational lifestyles of exotic travel, gourmet dining and architectural design… all wrapped up with those delicious, eye-candy photographs!
Well, hang on to your remote and clear some space, because in keeping with the philosophy that "every dog has his day", today's coffee table books now features the lovable mugs of everything from a diving dog to a decked-out diva staring back at you. Yes, a number of photographers have translated some pretty unique and utterly amazing pooch pix into a series of superb large format books that really speak the language of pet parents.
What should you consider when buying coffee table books about dogs? As most coffee table reading material typically consists of magazines or newspapers, this is usually because it's easiest to have something that's engaging, quick and easy to flip through when you're relaxing on the couch, or in a waiting room somewhere. A book that includes lots of illustrations, fun quotes or quirky anecdotes is a great idea for a coffee table addition.
From the many options currently out there on the market, here's our short-list that just smells of the "top of the class":
1. Editor's Choice – Underwater Dogs by Seth Casteel
While we've all donned the goggles to watch our pooch paddle, photographer Seth Casteel took it one giant leap further by capturing the underwater facial expressions of dogs in action – catching balls and toys that have just broken below the surface. The result is hilariously dramatic, is described by the publisher as a "chaotic ballet of bared teeth and bubbles" and is a New York Times bestseller. The photographer and animal rights activist offers up more than 80 portraits of plunging pooches in the book version, as well as puzzles and wall calendars.
2. Runner Up – Dogs by Tim Flach
Based in the UK, accredited photographer Tim Flach lives with his wife, son and two cats – nope, no dogs. What prompts a cat lover to produce such an "exquisite study of man's best friend"? A recognition of the many important roles that dogs have played in our lives over time and a burning desire to showcase the variety of shapes and sizes that have evolved. In fact, his models range from premium divas on show at Crufts and Westminster, to shelter dogs lovingly rescued by volunteers. Worthy of a Vogue cover, this highly artistic series of black and white photos will appeal to all animal lovers.
3. Best Illustration – Breeds: A Canine Compendium by Fenella Smith and The Brothers McLeod
For those of us who truly believe our dogs have a sense of humor, this book is for you. It's a lovingly compiled listing of 100 dog breeds, each beautifully illustrated in watercolor and accompanied by a witty little ditty about the pooch. E.g. "Scottie – Elegant and compact. Trots along like a dressage horse. Deeply suspicious of other dogs, all of whom are considered lesser beings." How fun is that! Yes, everything from an Afghan to a Yorkie gets a mention here, and pet owners will most definitely spot their canine's characteristics in the descriptions.
4. Customer's Choice – Shake by Carli Davidson
Ears flying, gums flapping and tongues hanging out. All the action that takes place when your pup decides to shake his head is brilliantly captured in a single action shot by photographer Carli Davidson. The book is a collection of 61 highly animated photos that capture lovable pooches in some seriously contorted yet totally hilarious head-shaking moments. Yes, spit happens and dignity walks out the door in a way that only an animal lover can appreciate!
5. Best Classic – Old Dogs Are the Best Dogs by Gene Weingarten, Michael S. Williamson (Photographer)
Who better to honor our senior sidekicks than a Pulitzer Prize-winning photographer and a Washington Post columnist? I mean seriously, don't our boys deserve the absolute best story-tellers available? The images and shared experiences are ones that any pet parent of a golden-aged pooch can relate to: the dog who's an escape artist, the one who thinks he's a cat, the singer, the daredevil, the fetcher. These and others are lovingly featured in 61 black and white photographs that celebrate man's best friend in his twilight years, and act as a tribute to every dog who reaches this stage of life.
6. Best Gift Idea – Canines of New York by Heather Weston
This hardcover book is perfect for all canine and New York lovers, depicting over 500 photographs in every dog-friendly borough of New York City. It features many of the well-known landmarks of the Big Apple, so it's a great gift idea for tourists who are planning a visit, or for dog-lovers who have newly relocated to the city.
7. Best Value – The Dogist: Photographic Encounters with 1,000 Dogs by Elias Weiss Freidman
The Dogist by Elias Weiss Freidman captures portraits of the most adorable pups on every page, giving you endless entertainment and making an ideal choice for a coffee table read. You'll feel like you're right there with the photographer capturing rare moments of these beloved animals, presenting you with every kind of breed you can think of. It's great value compared to many other dog books on the market, so it's hard to look past this New York Times bestseller as your go-to coffee table book.

Mary Simpson
Sharing space with three seriously judgy Schnoodles and two felines who prefer to be left alone. #LivingMyBestLife
More by Mary Simpson
Published April 16th, 2016 12:00 AM