4.4K Views
Top 10 Books For New Puppy Owners
April 27th, 2020 12:00 AM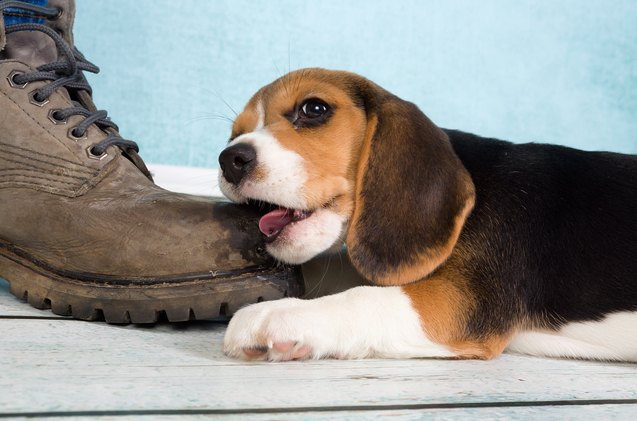 Have you ever wished that puppies came with how-to manuals? We've got the next best thing – our top book picks that are perfect for new puppy owners!
You just got a new puppy – congratulations! Welcome to the world of puppy breath, adorable antics and 3 A.M. pee walks. The first weeks of parenthood are critical to raising a well-balanced dog for life.
There are a crop of concerns you're probably stressing over. To crate or not to crate – that is often the question. Over the years, methods for training a dog have evolved drastically. Positive reinforcement is used much more now than it used to be.
Training techniques that were once viewed as the ultimate solution have since been debunked as we better understand our dogs, the way their minds work, and how to best work with them. There is no 'rubbing their nose in it' or yelling anymore. New techniques and approaches can be confusing to new owners. Not to worry – these questions and many more are covered in our top ten books for new puppy owners. They'll offer great insight into raising your new best friend to be a happy creature… instead of a furry monster.
1. Editor's Choice – The Art of Raising a Puppy (Revised Edition)
By The Monks of New Skete
In this book, the Monks of New Skete will hold your hand throughout the entire process of rearing a puppy. They'll help you decide what type of puppy to get, whether to adopt or get from a breeder and will stay with you throughout the training process. I highly suggest that pet parents give this a read before adding a new fur family member, as it's been a go-to for many puppy owners over the years.
While this highly respected book has been available to dog owners since 2011, the information in the new edition is updated and relevant to today's best practices. It includes information about crating your puppy, the importance of play and how it can be used to raise a well-behaved dog, and unique considerations when raising a dog in an urban environment.
2. Runner Up – My Smart Puppy: Fun, Effective, and Easy Puppy Training
By Brian Kilcommons and Sarah Wilson
This is one of my favorite puppy-rearing books because of how well it's broken down. Before even getting into training, this book profiles different puppy personality types and what to expect as they age. My Smart Puppy also explains in depth how to fix common puppy problems and holds the human accountable for their actions.
Rather than approaching the puppy raising and training process from a serious point of view, the authors choose to frame everything in a lighthearted, humor-filled, and fun way. After all, shouldn't adding a puppy to your family be a fun experience? The training is reward based and easy to understand regardless of how new you are to training a puppy.
3. Best Scholarly Read – Puppy's First Steps: Raising a Happy, Healthy, Well-Behaved Dog
By the faculty of the Cummings School of Veterinary Medicine at Tufts University
This puppy book is an all-inclusive guide to raising a new family member. Because it's more science-based than some of the others, it answers questions about what to feed your dog and what first aid techniques you should learn when in a medical emergency. Training and picking the proper puppy for your household are also evidence-based in this manual. If you have a more analytical mind and prefer to approach situations in life with decisions based on facts and knowledge, this is a great resource.
4. Best Humor-Based Pick – The Puppy Primer
By Patricia McConnell, Ph. D., and Brenda Scidmore
The Puppy Primer uses humor to help new dog owners understand how to relate to their puppies. This is one of the books I still find myself picking up after training dogs for eight years. No matter how experienced you are, McConnell's insight is a great help. It can be common to have unrealistic expectations for a new puppy, and this book prevents this from happening. It explains how external distractions in our environment can interact or interfere with a puppy's learning development.
5. Best Movie-Based Pick – Marley and Me: Life and Love with the World's Worst Dog
This is the book the blockbuster movie is based on! Introducing a new family member is never easy. Puppies can be little destruction machines, chewing and peeing on everything in their wake. People have this ideal of the cute puppy wearing a bow in a cardboard box, not always realizing that without proper training they can be tough little mutts. This book is not informational, but it serves to remind us that we are human, and they are dogs. No matter how frustrating it can be to find your favorite heels chewed up, we need to remember to be patient with our new pets. This book is a tear-jerking look into the love we have for our pets and how they are a part of our family and our life's journey.
6. The Puppy Bible: The ultimate week-by-week guide to raising your puppy
By Alison Smith and Claire Arrowsmith
There's no room for insecurities or mistakes when you know exactly what you need to do – week by week, step by step! Instead of giving you general outlines, this comprehensive guide is structured as a week-by-week planner that covers the first six months of your puppy's life and beyond. I often give this one to complete newbies to the dog parent life, as it really offers insight into all the important details. Clearly illustrated and full of useful advice from experts, this handy book will help you with everything from socialization and training to choosing the right type of diet and providing first aid to your new pet.
You might not be a dummy, but if you're not new to puppy-owning adventures, you'll want this one in your personal library. I love this one because it's very detailed and largely relies on the latest studies about canines and their cognition and behavior. This book doesn't just tell you what to do, but it also explains why you should do it, how to do it, and when to do it. One great perk that this book offers is a focus also on the puppy training gadgets that are on the market today and how to use them to improve your experience. The tools are available, so why not take advantage of the benefits that they offer? It focuses on positive reinforcement and raising a loving, happy dog, which is something any new pet parent should strive for!
8. How to Raise the Perfect Dog: Through Puppyhood and Beyond
With the right foundation, you can build anything. Cesar Milan is a well-known dog behavior expert and trainer with an alpha dog philosophy behind his methods. If you're a fan of the techniques and the results you might have seen in his TV show, then I'd recommend this book. It's the same principle as the show, only the book is tailored to the needs of puppies and young dogs.
9. The Dog Owner's Manual: Operating Instructions, Troubleshooting Tips, and Advice on Lifetime Maintenance
This funny, informative read can be of help even way before you have a puppy in your life. It's amazing that it covers all the factors that could help you choose the puppy's breed, as well as prepare you for all the ups and downs of being a dog pawrent. Honestly, this is one of my favorites because of the humorous, relatable writing style. It's so hilarious yet still offers solid advice and useful information so you'll feel more confident in your new pawrent role – as soon as you get your hands on this book!
10. Perfect Puppy in 7 Days: How to Start Your Puppy Off Right
If you're a visual learner, this one's for you. With over 400 photos on 286 pages, this book will literally show you what you need to do to make sure your puppy is growing up to be a well-behaved pooch. In my opinion, this illustrated guide is a perfect match for novice dog owners that are completely new to training and canine behavior. It's a great starter book, but if you already have some knowledge about puppy upbringing, it might not be detailed enough for you.
Not only was this book written by a dedicated veterinarian and dog expert, but it has been praised by many well-known dog trainers and professionals for the information that it provides. This includes rave reviews from Dr. Marty Becker, "America's Veterinarian" from Good Morning America, Victoria Stillwell from Animal Plant's "It's Me or the Dog", veterinary behaviorist Dr. Ellen Lindell, and Dr. Johan Bradshaw, author of "Dog Sense". It's the perfect example of the fact that visual teaching can also be highly valuable.
Whatever book you choose, know that you are making a great choice when it comes to your dog's future. He may be a cute, adorable little ball of fur now, but he is going to grow up! All the bad habits that are easily shrugged off when staring into those cute puppy eyes only grow and multiply as your dog ages. Before long, you can find yourself feeling overwhelmed with a dog that has no idea how to behave in the home, on walks, or with any company you may have. While you CAN retrain a dog and address these issues, the easiest solution is to prevent them from developing, to begin with.
Be prepared to dedicate time, effort, and most of all patience into your puppy's training process. As these books will inform you, the process of training a puppy isn't easy. There are going to be some commands that he picks up quickly, while others are going to take much more time to teach and address, and that's okay.
Do your best to enjoy the puppy training process and make important memories along the way. As any dog owner can tell you, they don't stay that small for long and before you know it, you'll be looking back wondering where the time has gone.
Additional Resources
We are committed to finding, researching, and recommending the best products. We earn commissions from purchases you make using the retail links in our product reviews. Learn more about how this works.

Rachel Leavy
Rachel Leavy lives in Rochester, New York with her dog, Maria, and her gecko, Nigel. She has loved animals all her life, and has owned her own dog training and walking company for five years. When she's not playing with puppies, she can usually be found writing short stories, riding horses or out at a play.
More by Rachel Leavy
Published April 27th, 2020 12:00 AM