82 Views
December 27th, 2018 12:00 AM
To make sure your bunny has ideal living conditions, you need to provide them with a suitable house or habitat for their size and individual needs. There are various important factors that could influence your choice, from the materials the hutch is built from, to the design and spaciousness of a rabbit cage. But what about when you travel? How do you ensure your pet is safe and comfortable on the go?
There are literally thousands of different pet carriers out there, and while the manufacturers might list rabbits as one of the small animals that can be transported in their carrier, that is not always the case. Due to their strong chewing abilities and nimble jumping habits, rabbits require special carriers for travel and choosing the wrong one can lead to a serious injury of your pet or allow them to get loose in transit, which is a horrifying scenario in most cases.
Thankfully, PetGuide.com offers you the most detailed guides on picking out the perfect rabbit carrier for your pet, ensuring your trips are always secure and relaxing, rather than a stressful event. Whether you are looking for a carrier for rabbits to help you transport your pet to the vet, or need an airline approved bunny carrier for your flight, we've got you covered. From in-depth reviews of some of the top-rated rabbit carriers to useful tips and advice on what to look for in carriers for rabbits and what to always avoid, our resources will make sure you make the right decision for your floppy-eared companion.
AmazonBasics Two-Door Top-Load Pet Kennel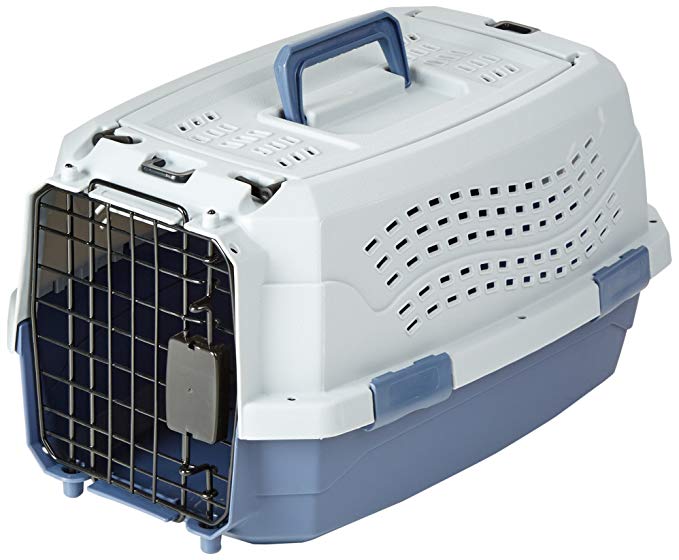 Two-door, top-load model allows for easy loading of your pet.
Top door can open to the left or right for easy access and convenience.
High quality EVA material.
High quality EVA material.
Folds down completely flat for storage.
Petmate Two Door Top Load Kennel
Wide, top-entry door allows easy access inside the kennel to place or remove pets.
Wide, top-entry door allows easy access inside the kennel to place or remove pets.
Openings on all sides of the pet kennel allow pets to enjoy the flow of fresh air; grated front and top-load steel doors allow pets maximum visibility for stress-free travel.
Pet Magasin Hard Cover Collapsible Carrier
A pet carrier that gives you the best features of both hard and soft carriers.
A pet carrier that gives you the best features of both hard and soft carriers.
A hard top and hard base give you sturdy protection for your pet, and gives your pet a firm surface to stand on.
Ruff 'n Ruffus Portable Foldable Pet Playpen + Carrying Case
Reinforced with attached floor mat to ensure your pet's safety.
Reinforced with attached floor mat to ensure your pet's safety.
Roomy 8-Panel design with protected seams and reinforced corners.
Finding the Right Rabbit Carrier
If you're a cat or a dog owner, chances are you will be able to find a perfect carry case for your pet without much trouble: after all, there are tons of specially designed models to suit all breeds and types of pets. Bunny pawrents, however, might not enjoy the same ease when it comes to carrier shopping. There are almost no pet carrier models that are intentionally made for bunnies, and in most cases, rabbit owners have to rely on that "small animal" carriers will keep their bunny snug and secure during a vet visit or a holiday trip.
Unfortunately, the unique needs of bunnies require a bit more thought than simply getting the first generic carry case for petite pets. For instance, a lot of carriers marketed to rabbit owners are made out of fabric, with mesh sides that allow breathability and good circulation of air. While this might be a splendid option for a puppy or a kitten, the bunny being transported in such a carrier is not safe. Fabric, especially the mesh parts, are extremely easy to chew through if you have strong teeth and a passion for nibbling (which all rabbits do), so transporting a rabbit in a soft fabric carrier is usually a recipe for a disaster, especially if it's a longer trip. Plastic and metal carriers are a much better option for bunnies, as they will prevent your pet from chewing their way through to freedom (not to say trouble). However, there are some other factors you'll need to consider besides the materials before you make the final decision.
Rabbit Carrier Considerations
One of the vital features of your pet carrier should be its size. While when it comes to your rabbit's cage or a habitat, the mantra the bigger the better is to be followed, but in the case of choosing carriers, the opposite is true. This doesn't mean that the carrier should make your bunny feel trapped and cramped, but it should be as young as possible to prevent any potential injury. You see, if you get a pet carrier that is too spacious, during transit your rabbit will be vulnerable to sudden movements, as they will have enough space to hurdle to the sides of the crate and potentially injure themselves – not that they'll need to, considering the danger that comes from them being frightened by the whole affair.
Rabbit Carrier Safety
While you'll find detailed tips on how to pick out a proper carrier size for your rabbit, a good rule of thumb is getting the one that allows them to lie down comfortably but doesn't offer much space for jumping around. Another important security aspect you will have to look for in your rabbit's carrier is the ease of access. Bunnies are nimble and easily frightened, which is not a good combination in most cases, but especially when you're trying to get your pet out of the carrier at the vet's office. Traditional hard carriers with a small door might prove hard to use unless you have a very docile bunny that likes to be handled, as it can be complicated to pull them out through it. A better solution is getting a clamshell carrier or a model that has a removable top, as it will give you much better access to your pet and minimize the chance of them going into a panic state.
While safety should be your primary concern when choosing a carrier for your pet rabbit, it shouldn't be the only one. In addition to ensuring that your pet is secure and comfortable during the trip you're making, you'll want to make sure that the carrier is easy to clean and that your pet won't make a huge mess in it. Ideally, the carrier you choose will be just the right size to fit your pet's litter box in it, eliminating the possibility of droppings and pee finding their way to the car seat or your lap. Additionally, if you're using a carry case to transport a sick pet to a vet's office, having a model that's easy to clean and disinfect will help ensure that there's no risk of disease spreading further.
With PetGuide.com's buying guides and reviews, you can rest assured that traveling with your bunny won't be a taxing process. Our experts will save hours of your time that would be spent on researching and vetting different carriers- instead, simply browse through carriers that are ideally matched to your pet and pick out one that suits your preferences and budget. Simple as that! Published December 27th, 2018 12:00 AM