160 Views
February 18th, 2021 12:00 AM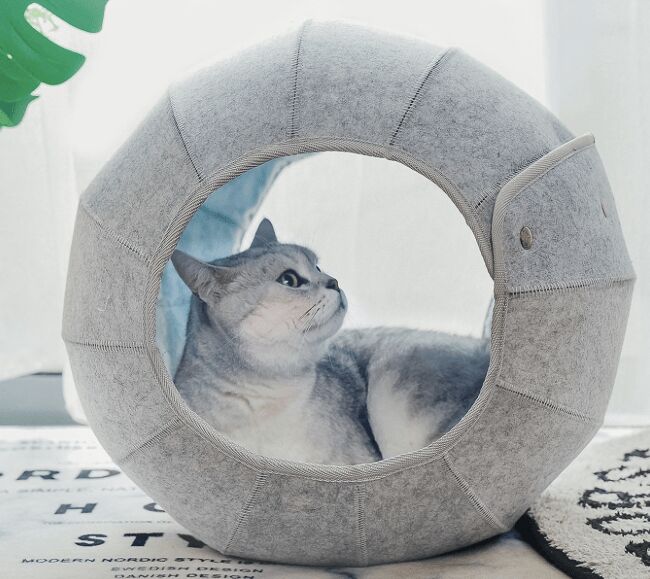 When you want to give your feline friend her own little bed to sleep in, there are plenty of different cat beds to choose from. But have you considered getting her a covered cat bed, in particular? You might be surprised by how much your kitty likes this type of bed. And many cat parents find that it is a great addition to their pet's collection of beds throughout the house.
A covered bed can be a nice way to give your cat a cozy, warm, and secure place to rest, and it may also be a good way to go about enriching your cat's environment so that she has something new and different to use. Below, we outline a few of the main reasons why cats sometimes prefer to sleep or relax in a covered bed. And we've also compiled a list of some of the best covered cat beds that we think are worth checking out when you are ready to shop for one.
Why Do Cats Like Covered Beds?
Cats of all ages can benefit from having at least one covered bed in the house that they can call their own. And if you have a multi-cat household, you might find that they love snuggling together in the same bed where they can feel completely relaxed with the support of extra coverage. Or, if your kitty is quite shy and she prefers to find a quiet spot to relax in, a covered bed might be just what she needs to feel secure, at ease, and comfortable.
In addition to being warm and cozy, a covered pet bed might help your kitty feel safe. In the same way that she may like hanging out in a box or other confined space with one way in and out, she might feel extra secure if she can make her way into a covered bed when she wants to sleep. She can observe what's going on around her from the opening to the bed, and you can even add some toys inside the bed to make it a space where she can play as well.
Would Your Kitty Prefer a Covered Bed?
Some cats prefer stretching out when settling down for a nap, while others prefer to curl up in a tight space the majority of the time. Observe your companion to get an idea of what her preferences are. That way, you can decide if a covered bed would be a good choice for her.
For example, if your cat likes to tuck herself away in a confined space where it's dark and quiet, a covered bed might give her the same effect, but it can be her own little space entirely, without needing to share with anyone. Or, if she is the type of kitty who likes to get under the covers on your bed, it's possible that she will like having her own bed that she can snuggle into.
The good news is that there are a lot of designs when it comes to covered cat beds, and once you start shopping for one, you will see what we mean. There are beds that mimic what it's like to be on a bed with a blanket, there are those that are shaped like pods that maintain their shape, and there are others that have a little canopy to provide some extra coverage over your cat. As with anything else, it might take some trial and error to figure out which type of covered bed your particular kitty prefers, but it will be worth it if it means she'll feel content in her new lounge.
To Provide Even More Comfort, Consider Getting a Heated Covered Cat Bed
In addition to standard covered cat beds that can certainly provide some warmth on their own, there are heated beds as well that provide more comfort than a regular cat bed would.
These types of covered beds can be really convenient during the winter months when your kitty may feel a lot colder than usual and crave a warm spot to nap in. And the best part is that you can choose from beds that you can plug in or those that will generate heat from your pet's own body temperature.
A Look at the Many Covered Cat Beds You Can Choose From
When you want to give your kitty a covered bed, there are a lot of different options to choose from, with various sizes and shapes to suit every finicky feline. We took a look at the many products that are available, and we've listed 10 of them below, in no particular order, to help you start shopping for a covered cat bed that your pet is sure to love.
1. Best Pet Supplies 2-in-1 Cat Cave Bed
The Best Pet Supplies 2-in-1 Cat Cave Bed can be a solid choice when you are searching for a covered bed for your feline friend because it can be used in two ways. First, it can provide your kitty with a little cave for extra privacy. Second, it can collapse so that it will function like a regular cat bed (just push the top of the cave down so your cat can rest on top of it).
This bed is also attractive to cats because it is plush and soft. It even has a reversible fabric insert that can be comfortable in both cool and warm temperatures. And you're sure to like the fact that it's durable, it comes in neutral shades that can match your décor, and it's machine washable so it is simple to keep it clean.
2. Frisco Cave Covered Cat & Dog Bed
With the Frisco Cave Covered Cat Bed, your kitty can have a comfy little space that she can use whenever she wants to snuggle in for a warm nap. Because it provides her with protection on all sides, she is sure to feel nice and secure while she is resting in this covered bed, which features super soft fabric and a polyester fiber filling that is fluffy and comfortable. And, when she isn't napping, your kitty can use this as a little area that she can retreat to when she wants to get away from the hustle and bustle of the household.
This covered cat bed has a long and narrow design that is a bit different from most of the other cat beds that are out there. And the exterior features faux suede in a neutral color that is attractive and soft to the touch. Plus, when you need to clean it, it is machine washable, which is always convenient.
3. Smiling Paws Pets 2-in-1 Cat Cube & Bed
The Smiling Paws Pets 2-in-1 Cat Cube & Bed is another unique option when you are looking for something a little different. It doubles as a regular, uncovered bed, as well as a covered cat cave that your kitty can retreat to whenever she wants. The perfect place to lounge or nap, you can set it up to be a comfortable condo with a peeking window, which can be the ideal hideaway, or you can collapse it down into a standard bed.
This cat bed is lined with sherpa material, so it is ultra-soft and inviting, and it has a removable cushion for versatility. It also has a side pocket where you can store your kitty's favorites, such as toys and catnip, so they are always within reach. The stylish design is sure to look good alongside the rest of your home décor, and the non-skid bottom will help the bed stay in place without sliding all over the floor when your kitty jumps into it. Then, whenever you need to clean it, you can conveniently toss it into your washing machine.
4. Frisco Foldable Canopy Cat Bed
For something fun, check out the Frisco Foldable Canopy Cat Bed. It's a perfect spot for your kitten or adult cat to play and nap in comfort. And when it is not in use, you can store it away easily, thanks to the frame that folds down. Or you can take advantage of the fact that it folds down to take it with you if you travel with your cat.
This bed features a cushioned pillow, which is removable and machine washable—that's always a plus! And the frame is spring-loaded, so you can create a canopy for your cat to rest under. The canopy, which also features a soft toy ball for playtime, is made of a soft fabric, while the removable pillow is cushioned for ultimate comfort. Overall, this product can give your cat a covered nook to rest in, while still being pretty open.
5. Meowfia Premium Felt Cat Cave Bed
With the Meowfia Premium Felt Cat Cave Bed, which is handcrafted by Nepalese artisans, your furry companion can have a covered bed that is made of 100% New Zealand Merino wool. This product is constructed using an eco-friendly wet-felting technique that involves molding the wool into a dense fabric. And what's also interesting is that every bed is made from a single piece of fabric, so this means there won't be any stitching or seams that you'll need to worry about breaking down over time.
This hand-molded bed, which comes in several color options, features an innovative design because your cat can climb into it and enjoy protection on all sides for loads of comfort and security. Your feline friend is also sure to love the soft material, which is described as breathable, flexible, naturally antibacterial, and supple. And the material can repel stains, odor, and dirt naturally. Plus, it can provide her with an ideal napping spot all year long, as it can help keep her warm when the temperature drops and cool during the warmer months of the year.
6. Pet Magasin Self Warming Cat Cave
Self-warming beds are popular because they don't require that you plug them in. Instead, they use your pet's own body temperature to provide extra warmth when it's chilly. The Pet Magasin Self Warming Cat Cave is an option when you want this type of bed and you also want to provide your kitty with an even greater sense of safety and security. And you're sure to love the fact that it's machine washable for your convenience.
This is actually four beds in one, so it's a surprisingly versatile product that you can customize to suit your pet's preferences. You can also use it to switch things up occasionally and keep things interesting for your cat so she doesn't get bored. Basically, you can set it up as an upright cup, a cavern, a pod, or a flat lounge. Features include foam padding, a faux fur interior, and a microfiber exterior that is antimicrobial. The cushioning and softness is inviting to cats of all ages, whether your pet wants to burrow in for a nap or stretch out on top of the bed.
7. K1 Pet Design Dragon Ball Covered Cat Bed
Next up on our list is the K1 Pet Design Dragon Ball Covered Cat Bed, which is yet another uniquely designed product. Its cave-like shape makes it the ideal spot where your cat can chill out and catch some z's. But, unlike other beds on this list that have just one opening, this one can have two openings, so your cat can enter and exit however she pleases. You can even use the snaps on this covered bed to configure it into various shapes that will be fun for your frisky feline to explore, or you can create shapes that provide your pet with a sense of security and privacy if that's what she prefers.
The exterior of this bed is felted, while the furry interior lining is comfortable and warm. Also, this product is durable, scratch-resistant, and moisture-resistant. You can machine wash it to keep it clean. And, when not in use, you can fold it to store it away with ease.
8. K&H Pet Products Self-Warming Hooded Cat Bed
Another self-warming option is the K&H Pet Products Self-Warming Hooded Cat Bed, which is designed to provide your pet with a welcoming spot for a rejuvenating nap. The hood on this bed is easy to remove with a zipper, so when you think your cat wants to lounge in a more open bed, you have the option of transforming this product as needed. And when your cat would prefer more privacy, warmth, and security, you can quickly and easily put the hood back on.
This bed features a soft cushion that boasts a layer of insulation that can capture heat and reflect it back, so it can generate warmth based on your pet's body heat, without needing to plug it in. Plus, the soft side walls will help your kitty settle in and relax in no time at all. Choose from multiple sizes and colors to match your décor and your pet's needs.
9. K&H Pet Products Thermo-Mod Dream Pod
Yet another option from K&H Pet Products is their innovative Thermo-Mod Dream Pod, which comes with a heating pad. This is a covered cat bed that you can plug in to provide your kitty with additional warmth whenever she wants it. And it is available in multiple colors, so you can choose the one that matches your décor best.
Because the opening is quite large, your cat should find it easy to climb into and out of this bed, which features a nylon exterior and an interior that is soft and comfy. Plus, you can use the zipper to put it together or take it apart for storage, and you can remove the faux fleece cover to put it into your washing machine whenever you need to clean it.
10. Armarkat Slipper Shape Covered Cat & Dog Bed w/ Removable Cover
Last on our list is the Armarkat Slipper Shape Covered Cat Bed. It features a super soft pillow, bolster, and removable cover that can make your kitty feel snug and comfortable. Because it is shaped like a slipper and it is filled with thick polyfill, it is a bed that your cat can climb into when she wants to feel warm and cozy. And she can get under the cover, just like she would in your bed, so she can feel hugged and safe.
The cover of this bed features faux suede and canvas, while the base is skid-free and waterproof. Plus, it comes in a neutral color to ensure it will easily fit in with the rest of your décor.
Which Covered Cat Bed Will Your Feline Friend Love?
As you can see, there are a variety of styles to choose from when it comes to covered cat beds. This means you can pick a few different ones to give your fur baby a range of options that she can use whenever she wants to hang out in her own cozy little space.

Lisa Selvaggio
Lisa Selvaggio is a freelance writer and editor, and our resident cats-pert, with certifications in pet nutrition and pet first aid. An advocate for better treatment of all animals, she enjoys producing content that educates others, helps them understand animals better, and inspires them to help, whether that means volunteering at a shelter, fostering strays, or simply giving their own pets a safe and happy home to live in.
More by Lisa Selvaggio
Published February 18th, 2021 12:00 AM