185 Views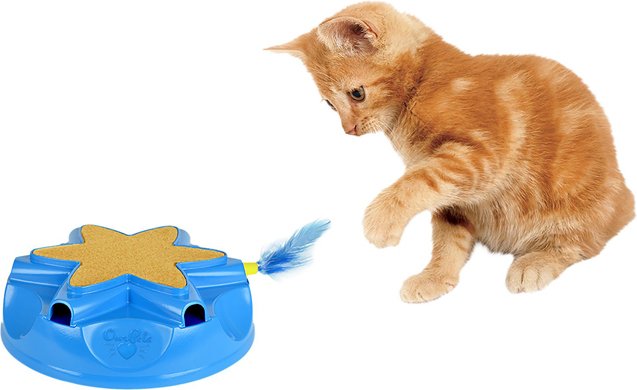 Too busy to play with your cat? Not to worry – these electronic cat toys keep your feline happy and entertain while you're not around.
Giving your cat a variety of fun toys to play with is necessary. First off, toys are entertaining for your kitty, and some of them can be mentally stimulating—that's important because no one, including your pet, likes being bored. Secondly, toys can help your pet release her energy in positive ways so she doesn't end up releasing it in negative and destructive ways. Also, kittens learn by playing with toys, while adult cats can use their toys as "prey" so they can satisfy their instinct to hunt. And, of course, toys can encourage your feline friend to stay active and get some exercise, which is important when it comes to maintaining a healthy weight and promoting overall wellness.
While playing with your cat is a wonderful way to interact with one another and solidify your bond, sometimes, you might be too busy to spend time with your kitty. This is where innovative electronic cat toys can come in handy. Because they operate on their own, they can give your companion the chance to play even when you're doing other things around the house.
These days, there are a lot of different types of cat toys on the market, from those that are really basic, to those that help clean your pet's teeth, and those that are made for interacting directly with your furry friend. But, what are some of the best electronic cat toys that are worth checking out? To help you shop, we have listed a variety of options below, in no particular order. Take a look at their features and think about whether or not your kitty would enjoy them.
1. PetSafe Peek-A-Bird Electronic Cat Toy
How does this electronic toy work? Well, it is shaped like a bird, and it has a small feather inside that pops out of each side of the toy. The feather shakes to grab your pet's attention, then darts back inside the bird, encouraging your pet to hunt. And because the pattern is random, it can keep your cat guessing and engaged. Plus, thanks to this toy's sturdy design, your kitty won't be able to tip it over easily, which is definitely a plus.
The PetSafe Peek-A-Bird Electronic Cat Toy features two play modes:
One-Time-Play mode will turn off automatically after 10 minutes to help conserve the battery.
In Play-All-Day mode, the toy provides up to 6.5 hours of playtime with the motion-activated sensor. So, if your kitty walks by, it will wake up. Once awake, it will play for 10 minutes before turning off automatically. It will then rest for two hours before starting up again. But, if in that two-hour period your kitty activates the motion sensor, it will play with your cat again. Great for those times when you know you'll be busy for a while!
This electronic cat toy comes with one teaser feather already installed and ready to go. It also comes with a replacement feather. You will need to put three AA batteries in the toy, and they should last about a month.
2. OurPets Catty Whack Electronic Motion Cat Toy
With the OurPets Catty Whack Electronic Motion Cat Toy, you can let your kitty play an unpredictable game of hide and seek even when you aren't around to play with her yourself. Great for kitties of all ages, this toy features the brand's patented RealMouse electronic sound that will grab your pet's attention, and the feather that moves erratically will entice your cat to pounce like the predator she is.
How does it work? Well, the feather wand moves quickly in and out of the six holes in the toy, and it randomly changes its direction as well, mimicking the way prey animals behave in the wild. On top of the toy is a carpeted scratching area that your kitty is sure to love too, and the bottom of the toy features non-skid rubber feet that will help keep it in place while your cat scratches, pounces, and grabs at the feather.
To use this toy, you will need four C batteries. It does have an automatic shutoff feature to help save battery life (the toy will turn off after 10 minutes). And it comes with a replacement feather wand (don't worry, it's easy to replace the feather). You can also purchase replacement feathers so you can keep the fun going. And, when you need to clean it, you can simply wipe this toy with a damp cloth.
3. SmartyKat Twirly Top Electronic Mini Motion Ball Cat Toy
With the SmartyKat Twirly Top Electronic Mini Motion Ball Cat Toy, your pet can let out her inner hunter as she chases, swats at, and pounces on the sturdy plastic ball, which spins and rolls erratically and unpredictably to get her attention and keep her interested. Because the ball spins quietly, it won't startle your kitty. And the colorful ribbons at the top of the ball are also an eye-catching feature that your feline friend is sure to love because they rustle and twirl as the ball moves.
This toy, which is battery operated, is made using materials that are safe for pets, and it can be used for daily play sessions to keep your kitty's mind stimulated and her body in motion. It is also lightweight, and it can spin on various floor surfaces, including carpets and hard floors, making this a toy that your pet can play with just about anywhere.
To clean this toy, simply wipe it with a damp cloth. And, in terms of battery life, the toy is expected to work for 15 hours before the batteries need to be replaced. To preserve the battery life, just remember to turn the toy off if your cat isn't playing with it.
4. Hexbug Nano Robotic Cat Toy
The Hexbug Nano Robotic Cat Toy uses the power of vibration technology. It will be able to move around objects on its own while maintaining its balance. It can even turn over from its back if it gets flipped over. And it can make its way out of a corner too. So this electronic cat toy is one that is sure to grab your pet's attention and get her interested in it, enticing her to get some exercise through exciting play sessions.
All you have to do is turn the toy on and then let this toy's realistic behavior encourage your kitty to hunt it down. It boasts irregular movements, such as changing direction unexpectedly, that will continue to keep your cat intrigued and ready to hunt. And it also features a colorful, soft feather tail that will drag behind it as it scurries around like a real bug would.
Just keep in mind that this toy will only work on hard, flat surfaces, as it will not be able to move on carpet easily. It also comes with batteries included, so your pet can start playing with it right away.
You should supervise your feline friend while she plays with this electronic toy, as it is a small toy that is meant to mimic the look of a bug running across your floor. And it is also important to regularly inspect the toy to check for any parts that are damaged, detached, or loose, and remove the toy if that's the case.
5. Cat's Meow Motorized Wand Cat Toy
Sometimes, ordinary cat toys just don't cut it. When your furry feline friend becomes bored, you need to pull all the stops out to prevent their boredom from turning into destructive behavior, and this fun motorized wand toy from Cat's Meow could be just the thing that's needed. All that it takes is one press of the button and this unique speeding toy is in action! With 3 speed settings, it will merrily zoom around the room and your cat will zoom after it. Thanks to a unique design, this toy has the ability to change the direction unexpectedly, adding to the fun.
The "mouse wand" will dangle from beneath the cover, and you know all dangly things are irresistible to kitties. Of course, in order to ensure your pet's safety, Cat's Meow Motorized Wand Cat Toy has a 30-minute safety shut-off, giving you some peace of mind even when you're not monitoring playtime. Besides being a ton of fun, this toy is also a great way to introduce more exercise to your cat's daily routine. Zooming after this wand for 15 minutes will be quite a great kitty cardio session!
6. SereneLife Automatic Cat Laser Toy
It's a well-known fact that cats go totally bonkers when there's a laser about, so it comes as no surprise that this automatic cat laser toy can keep your kitty occupied for as long as you need them to. Designed as a futuristic, many-faceted cube, SereneLife Automatic Cat Laser Toy will provide your pet with tons of fun and give you hours of peace. Just press the button on top and the laser puts on a show: with three different speeds, you can control the pace of the playtime, and also rely on the automatic feature for some hands-free playing. The main appeal of this toy, however, is its unpredictable path. The cube design rotates all over the place, and the unexpected path will always intrigue your cat. Of course, there is an auto shut-off feature that helps conserve the battery and prevents your cat from tiring out. Compact, portable, and totally wireless, this battery-operated toy is ideal in so many ways. Simple to use yet super engaging, SereneLife Automatic Cat Laser Toy will keep your kitty mentally and physically stimulated.
7. Potaroma Electric Flopping Fish
Now, there's no secret why this toy is an absolute best-seller- there is nothing that cats love more than fish and catnip, and this design combined the two into one dazzling electronic cat toy. This floppy fish has a built-in motion sensor that goes off whenever your cat comes close: the natural flopping motions will immediately kick off your cat's natural instincts – and the fun can begin! But that's not all the fun this toy offers, as Potaroma Electric Flopping Fish is also filled with catnip. This herb makes kitties go totally bonkers and will make this toy even more irresistible to your pet. Catnip is also well known to relieve stress and depression in cats and can help stimulate some healthy exercise.
The fish itself is made from durable, plush, and non-toxic materials, and the motor inside that helps with the flopping movements is easily charged via USB. All in all, this electronic cat toy makes for hours of mentally enriching fun without breaking the bank- and who wouldn't appreciate that?
8. SmartyKat Twirl & Peek Electronic Cat Toy
This electronic toy combines a spinning ball, feathers, and a cardboard box. What more could a kitty want, right? Designed to stimulate your cat's senses and hunting instinct, you can let her play with the spinning toy on its own, or you can place it inside the small box, which has holes in it, to play a peek-a-boo game. Much like a puzzle toy, your cat will need to figure out how to get the toy out of the box, so this is a good way to promote physical exercise and mental stimulation as well.
This toy, which is made of eco-friendly materials like recycled plastic and wood pulp, can spin on carpets and hard surfaces. It also features eye-catching ribbons and feathers that will twirl as the ball spins. When the feathers and ribbons suddenly and unexpectedly pop out of the holes in the box, your cat will want to swat at them and figure out how to get them out. Then she will feel the sense of accomplishment when she does get the toy out of the box to attack it more directly.
When you need to clean this toy, all you have to do is wipe it with a damp cloth. And the batteries are included and replaceable.
9. Penn-Plax Hide & Seek Electronic Mouse Hunt Cat Toy
The Penn-Plax Hide and Seek Electronic Mouse Hunt Cat Toy is a great way to get your kitty to exercise. It features a round base with holes, and from those holes, a little white mouse darts in and out. Plus, the mouse switches directions randomly, grabbing your feline friend's attention quickly. And the more the mouse runs around the track, ducking out of view before popping back up again unexpectedly a few inches away from where it went hiding, the more your kitty will want to hunt it down.
Choose from two speeds, slow and fast, to keep things interesting. You can select one speed during one play session before switching it for the next play session, or you can vary the speed in the same session to keep your pet engaged.
Designed to be mentally stimulating, this is a sturdy, portable, battery-operated toy (it runs on three AA batteries). It features a wide, non-slip base that can help it stay in place even if your kitty swats at the mouse aggressively or tries to pounce on it. Plus, it is also quiet, so even skittish cats will not be frightened by it.
As is the case with the other toys on this list, it's best to supervise your pet while she plays with this product. And if you notice that it is damaged in any way, get rid of it to keep your kitty safe.
Your Cat Is Sure to Love Her New Electronic Toys!
No matter which electronic cat toy you buy, be sure to read the package carefully to always use it correctly and safely. Supervise your pet, too, to be certain she isn't using the toy in a way that could damage it or harm her.
With more variety when it comes to the toys that your kitty can choose from, she will always have something to occupy herself with, and she will also be able to get some exercise while having fun.

Lisa Selvaggio
Lisa Selvaggio is a freelance writer and editor, and our resident cats-pert, with certifications in pet nutrition and pet first aid. She enjoys producing content that helps people understand animals better so they can give their pets a safe and happy home.
More by Lisa Selvaggio
Published May 19th, 2021 12:00 AM