539 Views
Best Litter Deodorizers for Cats
December 6th, 2021 12:00 AM
We're committed to finding, researching, and recommending the best products. We earn commissions from purchases you make using links in our articles. Learn more here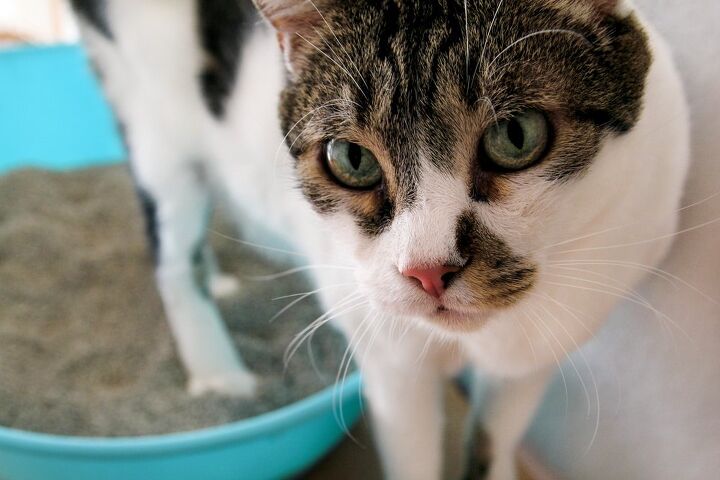 We love our cats, but we hate the smell of their bathroom! Want to get rid of the stink? Try one of these best litter deodorizers for cats.
In addition to scooping your cat's litter at least once daily, you can also take additional steps to keep the litter as fresh as possible for as long as possible. One product that a lot of cat owners choose to use is a litter deodorizer. It helps neutralize odors, and you might notice that you're able to go longer in between complete litter changes.
Litter deodorizers come in various forms, so you can choose the one that you like best. Just be sure that you select one that doesn't have an overpowering fragrance, as strong scents may irritate your pet's sensitive nose. And, regardless of which product you choose, follow the directions on the label closely, and start off by using a small amount to see how your cat reacts to it.
Below is a list of 11 litter deodorizers, in no particular order, that you might want to consider trying if your litter and scooping routine aren't doing enough to keep odor under control.
1. Editor's Choice: Nature's Miracle Just for Cats Odor Destroyer
Designed to help you keep your cat's litter box clean and fresh smelling, the LitterMaid Cat Litter Deodorizer with Moisture Control uses a natural and non-toxic zeolite powder formula that is capable of absorbing moisture and odor on contact.
Wait, what are zeolites? They're basically volcanic minerals with micro pores that are capable of trapping offensive odors and absorbing liquids. Zeolite powder is safe for people and their pets, and when used correctly, this deodorizer can help eliminate odor in both manual and automatic litter boxes.
This deodorizer, which is biodegradable for the environment, has no fragrance. This is something felines definitely appreciate and it's a great option for cats that don't like scents in their litter – they won't notice any difference but you certainly will!
To use this litter deodorizer, all you have to do is sprinkle a layer of it in the litter box. Then, fill the box with clean litter. After that, you can add more deodorizer by sprinkling anywhere from ¼ cup to ½ cup onto the litter. Then, after you scoop the litter box clean, you can add more, if necessary.
2. Runner Up: Rocco & Roxie Litter Box Odor Eliminator
Another great litter deodorizer option is to effectively eliminate even the strongest smells and lengthen the life of your cat's litter is the Rocco & Roxie Litter Box Odor Eliminator. This 100% biodegradable and non-toxic product is made from all-natural, highly absorbent corncob granules. This absorbs the moisture from both urine and feces, while the proprietary blend of essential oils neutralizes odors, leaving behind a fresh and clean scent.
To use, sprinkle a small among across the top of your cat's litter box. As your cat goes about their business, digging in the litter, they will mix it up releasing the scent and distributing it throughout the box.
This product is highly effective, enough so that it's suitable for multi-cat households. It is also a great product for deodorizing garbage cans, trash compactors, animal carriers and kennels. Simply sprinkle it on and allow it to get to work.
3. Customer's Choice: Arm & Hammer Cat Litter Deodorizer Powder
If you are interested in litter box deodorizers in powder form, yet another option is the Arm & Hammer Cat Litter Deodorizer Powder. It can be effective in multi-cat households, and it claims to eliminate odors instantly and on contact with the help of baking soda. Also, the scent is moisture-activated, so every time your cat uses the litter box, this deodorizer will freshen it up again. And, by keeping your litter free of odors, it can be as fresh as the first day you poured it into the box.
Beyond keeping your litter fresher for longer, this particular product claims to go a step further, thanks to patented technology that stops urine clumps from sticking to the sides of the box. When compared to just using litter without any deodorizer, after more than a week, odor is significantly less when this powder is used.
You can use this powder deodorizer with any type of litter, such as unscented, scented, scoopable, clay, and natural litters. To use it, just empty out the litter box and pour a layer of this powder into the box. Once the bottom of the box is covered, add in whatever litter you prefer. Finally, sprinkle a bit more of the deodorizer to the top of the litter, mix it in, and you're all done. Then, between litter changes, after you scoop the waste from the box, you can sprinkle additional powder in, if necessary. This powder litter deodorizer comes in two sizes: 20 oz or 30 oz.
4. Best Fast Acting: Fresh Step Odor Eliminating Powder
Fresh Step Odor Eliminating Powder is a litter deodorizer that is capable of targeting the odors of cat feces and urine quickly. With the help of zeolites, it gets to work right away to eliminate those offensive odors after your kitty goes to the bathroom, and it can work on all types of litter. Also, this product is scented, too, so it will leave behind a fragrance after you use it. Keep that in mind if your pet is sensitive to fragrances.
Like other powders on this list, this product is designed to neutralize odors on contact and absorb moisture in the litter box so that your litter can remain fresher for longer in between changes. And it goes a step further to also help prevent clumps from sticking to the box, which is definitely a plus when it comes to keeping your pet's litter box clean and odor-free.
Using this pet-friendly formula is simple: all you have to do is sprinkle some of the powder evenly onto the litter after you scoop it clean. And, whenever you think the litter could use a boost in freshness, you can add some more of this deodorizer to it to get the job done.
5. Best Fragrance Free: NonScents Cat Litter Deodorizer
So far, all of the powder litter deodorizers on this list contain scent. But what if you want something that is fragrance free? Then it's time to check out the NonScents Cat Litter Deodorizer. This product is all natural, long lasting, biodegradable, and safe for pets and people. It can extend the life of your litter so you have to change it out less often, and it can eliminate odors instantly, but it does not contain any fragrance, so it is ideal for those who are sensitive to fragrances or simply prefer to avoid them.
Instead of merely masking odors with a fragrance, this product boasts an advanced patent-pending coating that eliminates odor molecules. Its ingredients consist of natural zeolite and the brand's proprietary coating, so it might be the perfect option for those who are in search of a more natural product. To boot, you can also use it everywhere that odors could be a problem: trash compactors, garbage cans, kennels or pet carriers.
To use this litter deodorizer, all you have to do is sprinkle anywhere from 1 to 3 capfuls over the surface of your kitty's litter until it is lightly covered. A little goes a long way, so you don't have to use a lot of it. Then, scoop your cat's litter often, and reapply this deodorizer, as needed. Within minutes of your cat using the box, this formula will work on getting rid of offensive odors. And because it doesn't contain any scents, all you will be left with is clean air.
6. Best Spray: Arm & Hammer Cat Litter Deodorizer Spray
In addition to powder litter deodorizers, you can also find deodorizer sprays, if that's what you would prefer using. A great example is the Arm & Hammer Cat Litter Deodorizer Spray. This particular deodorizer spray uses the power of odor neutralizers and baking soda to help keep your litter box smelling as fresh as the day you changed out the litter.
Every time you use this spray, which does contain a fragrance, it will destroy litter box odors, but it won't impact clumping. Plus, it can control odor even if you have more than one kitty using the same box. And it is super easy to use this product, too, as all you have to do is spray it directly onto the litter to neutralize and control odor instantly. You can even use it every day if you want.
A few precautions should be taken while using this deodorizer spray. For example, you should be sure it doesn't get into your eyes. If eye contact does occur, you need to rinse your eyes with water for 15 minutes. And if irritation continues, you will need to get medical attention. The label also states that it contains an oxidizer, and you should wash your hands thoroughly with soap and water after every use. While this deodorizer spray works with most litters, it can't be used on upholstery – so steer clear from using it on fabric furniture to avoid ruining it.
7. Best Biodegradable: Skout's Honor Professional Strength Litter Box Deodorizer
Another litter deodorizer in spray form is Skout's Honor Professional Strength Litter Box Deodorizer. With this handy product, you can keep your litter box, and the area of your home that it's in, smelling fresh and clean. It even eliminates feline pheromones.
This spray is easy to use, biodegradable, non-toxic, cruelty free, and safe for people and pets. And it won't leave any residue behind either. Basically, if it's a an eco-friendly odor eliminating product for your cat's litter that you're after, this might be exactly what you're searching for.
This particular spray contains professional strength, proprietary odor eliminating technology that can destroy the most offensive odor molecules instantly and on contact, without having to rely on any harsh chemicals to get the job done. You can use it on litter, as well as litter boxes, cat beds, and any other areas where pet odors are a problem.
To use this product, all you have to do is mist it directly onto the litter while holding it about 2 feet above the box. You can even spray it into the surrounding air to freshen it up. And you can repeat as needed to keep things smelling clean for as long as possible.
Its ingredients include water, biodegradable molecular complex (mineral-based deodorizer), and plant-based fragrance. You don't need to dilute it or mix it, and it never expires either, but it should be used in a well-ventilated area.
8. Best Non-Clumping: Simple Solution Cat Litter Box Deodorizer
The Simple Solution Cat Litter Box Deodorizer is designed to be safe and easy to use whenever you need to get rid of offensive, stubborn litter odors that are the result of feces and stuck-on urine. It is non-toxic, safe to use around kids and pets, and formulated with OXY neutralizers. Basically, it uses oxygen to grab and neutralize odor molecules, transforming them into odorless compounds.
When sprayed directly on litter, it won't cause it to clump. Instead, it will make the area around your litter box smell cleaner and fresher. It does have a fragrance, so it will leave behind a scent. Also, you don't need to use a lot of it, as one spray mist will begin working right away. Just use it when you clean the litter box, as well as in between litter changes so you can keep the box free of odor.
To make the most of this litter deodorizer, simply spray a light mist over your kitty's litter after you scoop out the waste. This will start working on controlling odors. When it is time to change out the litter and put fresh litter in the box, you can spray the box with this deodorizer, both inside and out, once you've removed all of the dirty litter. Wait 10 minutes to let the product work, and then wipe down the box. Once totally dry, fill the box with clean litter and enjoy long-lasting odor control by misting the litter again, as needed. Manufactured in the USA, this deodorizer spray is very convenient to use as it has a 3-in-1 nozzle sprayer with foam, mist, and stream settings to adapt to different surfaces with ease.
9. Honorable Mention: Nature's Miracle Just For Cats Litter Box Odor Destroyer Spray
If you would prefer to use a litter deodorizing spray that is unscented, check out Nature's Miracle Just for Cats Litter Box Odor Destroyer Spray. It's designed to be safe to use around kids and pets, and it works by instantly eliminating offensive litter odor, rather than just masking it.
This product boasts an advanced, yet gentle, formula that can break down and get rid of odors on contact, without causing your cat's litter to clump, and without irritating your pet's paws. It can be used on all litter types as well.
To use on litter, all you have to do is spray it into the box after your cat goes to the bathroom. You can even spray it into the air around your litter box to freshen it up, and you can use it on other surfaces, including hard surfaces and certain fabrics, where your cat might leave odors behind.
10. Best Crystals: Fresh Step Crystal Deodorizer
Fresh Step really knows how to deodorize and to prove it they have done it in pretty much every form possible. If you are passing on the powder or the spray, give these water-soluble crystals a shot. You can decide if you would rather use the Fresh Scent or Summer Breeze fragrance crystals. They are pet friendly and non-toxic and they will conceal the smell emanating from your litter cat's litter box. Simply fill the bottle cap with the crystals and then evenly sprinkle over your cat's litter. You can always use a little more if you have multiple cats or a very large box. Your cat activates the formula when they step into the box and by mixing up the litter, releasing the light fragrance and keeps the room smelling great. Over time the crystals will simply disintegrate on their own without leaving any residue behind. Just to make sure you never run out you may want to purchase it in a three pack.
11. Best Pods: Fresh Step Litter Box Deodorizing Pods
For something a little different, consider using the Fresh Step Litter Box Deodorizing Pods. Rather than using crystals, a powder, or a spray, you can simply stick one of these scented pods onto the outside of a dry, clean litter box, and then allow it to continually work on controlling odor for up to one month.
This is a convenient, no-mess option because you don't have to worry about adding anything to your cat's litter when you scoop it clean. After peeling off the label and sticking the pod to your litter box, all you have to do is adjust the air vent to control how much of the fragrance is released from the pod. And it can work on any litter box.
Like other litter deodorizers, this product is meant to remove odors that come from your cat's litter box, and it leaves a clean scent behind. The pods are small and easy to use, yet they can neutralize odor and keep the litter box area smelling fresh.
So Many Litter Deodorizers to Choose From!
If you aren't sure which type of deodorizer is right for you and your pet, you might want to give different products a try until you find the right one.
What to consider when choosing litter deodorizers for cats?
The first thing to look out for, of course, is that the litter deodorizer is made from cat-safe substances. You don't want to risk something harming your cat for the sake of fragrance! Next, pick a form that suits your preferences – there are litter deodorizers in powder form, spray form, even pods. It should be easy to use and approved by your cat: the goal is for your feline friend not to notice anything new or weird about their litter as it could bother them enough to stop using the litter altogether. This is why it's important to consider the scent as well – fragrance-free is ideal, but if you have to have a little freshness boost to the mix, go for milder scents that won't irritate your cat.
How often should I use litter deodorizers?
It all depends on the specific litter deodorizer, really. Some are moisture-activated and work whenever your cat uses the litter box, others need to be re-applied daily, and some are used with each litter change and cleaning of the litter box. Follow the manufacturer's instructions to make sure you get the best out of your litter deodorizer and eradicate litter odors once and for all.
Is litter deodorizer safe for cats?
Again, this pretty much depends on the particular litter deodorizer. Those based on natural ingredients and free of fragrance are pretty much a safe bet, but in other cases you have to double check if all the ingredients are actually safe for your pet to be around – you can never be too sure. Overpowering fragrances might be to your liking, but your cat won't appreciate them, especially not in the litter so it's best to avoid those as they can irritate your cat and impact their litter box habits.
Can you sprinkle baking soda on cat litter?
The logic behind it is clear – baking soda neutralizes odors, it's in powder form, so wouldn't it be a great litter box deodorizer? Well, it might not be as straightforward as that. Even though baking soda is non-toxic and does indeed help with odor control, when used on its own in the litter it can have the opposite effect. This is because baking soda increases pH value of the litter, which in turn encourages more ammonia to be released, and of course – become even smellier than before. While it won't harm your pet, sprinkling baking soda on cat litter probably won't have the effect you were hoping for!
Additional resources:
We are committed to finding, researching, and recommending the best products. We earn commissions from purchases you make using the retail links in our product reviews. Learn more about how this works.

Lisa Selvaggio
Lisa Selvaggio is a freelance writer and editor, and our resident cats-pert, with certifications in pet nutrition and pet first aid. She enjoys producing content that helps people understand animals better so they can give their pets a safe and happy home.
More by Lisa Selvaggio
Published December 6th, 2021 12:00 AM