168 Views
Best Wall Perches for Cats
April 27th, 2021 12:00 AM
We're committed to finding, researching, and recommending the best products. We earn commissions from purchases you make using links in our articles. Learn more here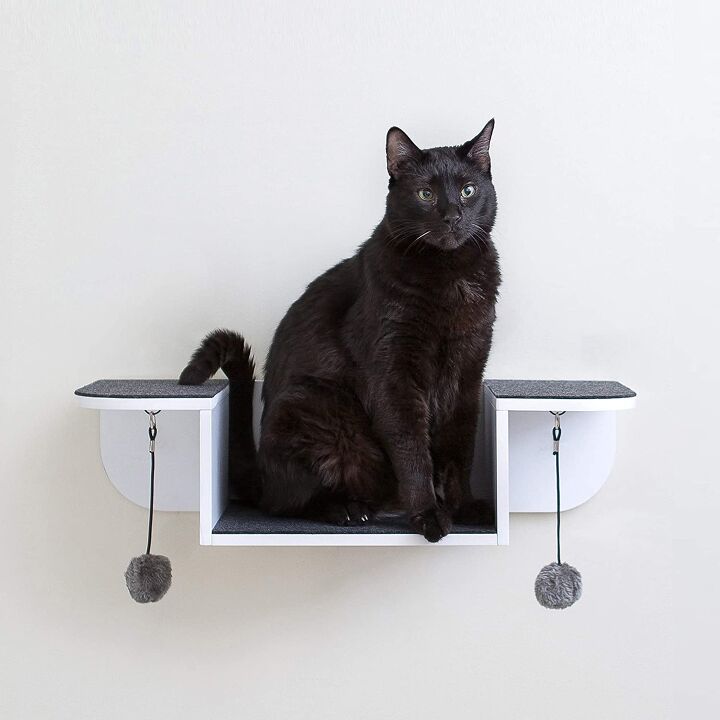 You've heard of window perches for cats, but have you thought about wall perches? These will mount securely to a wall in your home, giving your furry friend another place to call her own.
Why should you consider getting your cat a wall perch, and what are some of the things to look for in a high-quality product? We cover the basics below, and have also compiled a list of 10 wall perches for cats that are worth checking out when you're ready to shop.
What Are the Benefits of Wall Perches for Cats?
If you haven't thought about giving your kitty some wall perches to lounge on, here are a few of the reasons why it might be a good idea to consider doing so.
Why your cat might love having some wall perches:
Cats like to climb, and they like being up high, where they can safely keep an eye on what's going on around them from a secure spot. If your kitty loves jumping onto high furniture around the house, or if she enjoys spending all of her time at the highest spot on the cat tree, she might love a good wall perch.
Kitties can use wall perches to stay active and exercise. Because these perches let them climb, and many of them also have scratchers or toys, your pet can have fun while being able to exhibit her natural behaviors.
If you have more than one kitty who don't always get along, or one cat that tends to need her personal space quite often, a wall perch can serve as her own little private spot to hang out on. Some kitties even like to eat up high, so you can use a wall perch to give your pet the privacy and security she wants while enjoying her meals. All of this might help ensure everyone gets along more peacefully.
Why you might love having some wall perches:
The great thing about a wall perch is that it gives your pet the chance to be up high, but you don't have to use a big cat tree that takes up a lot of space to give her what she wants. If you don't have a lot of floor space to work with, strategically placing some wall perches in certain rooms of your home might be a great alternative to other climbing options.
It's an easy and effective way to provide your cat with much-needed environmental enrichment. And when your pet is happy, you can feel good too.
Are Wall Perches Safe?
Wall perches can be safe, but there are several things to look for while you are searching for the right type of perch. The last thing you want is to end up buying a low-quality product that might put your cat at risk of injury.
As you shop for wall perches designed for cats, it's best to read through the details carefully, rather than just going by what the perches look like.
One of the features you want to confirm is whether or not it can hold the right amount of weight, based on how much your cats weigh.
You also want to be sure the product is built well from high-quality materials that will be durable, strong, and sturdy so your kitty will be safe whenever she uses the perch.
Once you're ready to mount the perch, it's important to follow the directions carefully. Doing so will help ensure the perch will be stable and strong enough to hold your cat's weight. The good news is that these products usually aren't all that complicated when it comes to setting them up on your wall.
What Are Some Things to Look for in Wall Perches?
Again, there are several things to consider while you are shopping for a wall perch for your feline companion. Here are some pointers to help you get started:
In addition to checking how much weight a wall perch can hold, also check the dimensions to be sure the perch will be large enough to let your cat sit and lie down comfortably. If you think more than one cat will use the perch at the same time, factor that in as well.
Read fellow customers' reviews to see what they have to say about a wall perch. Did their cats like it? Was it strong enough to hold their pets securely?
If the perch boasts extra features, such as toys, holes, and scratchers, consider how useful they'll really be. Will your cat even use those features, or would a simpler perch be better for your kitty?
Is the perch a part of a line of products that you can use to create a really fun play area for your kitty? It might be fun to add more pieces around the perch as your cat grows accustomed to using it. That way, you can keep things interesting and entertaining for your pet.
A List of Some of the Cat Wall Perches to Check Out
Now that you know a bit more about wall perches and their benefits, as well as what to look for when shopping for one, let's cover some of the many options that are currently available.
As you'll see below, wall perches that are designed for cats come in various shapes and sizes, and some even come in sets that will encourage your kitty to jump, climb, balance, and play.
By keeping your pet's personality in mind, you'll be able to narrow down your options to the type of perch that's just right for her.
1. CatastrophiCreations Cat Mod Wall Mounted Deluxe Cat Fort Shelf Set
CatastrophiCreations is a brand that has developed a lot of different wall perches for kitties, so it's worth looking into what they have to offer. Their Cat Mod Wall Mounted Deluxe Cat Fort Shelf Set is a good place to start because it boasts several great features, including a sisal scratching post, multiple hammocks, and a ladder.
This is a set that includes two products. The first is a ladder that your kitty can use to climb up to a comfortable hammock. Above the hammock, you can mount the other half of this set, which features a hole that is lined with sisal for easy climbing. Once your cat climbs up through the hole, she'll find a scratching post and additional hammocks that are even higher.
Because this product uses a hidden bracket system, once it's installed on your wall, it will boast a floating design that's ultra-modern. And it comes with everything that you need to install it properly.
Overall, this wall perch set can help your kitty climb, jump, and exercise, as well as relax. Multiple cats can use it at the same time, as it can support up to 85 pounds on the wood portion of the perch, and up to 62 pounds on each hammock.
2. CatastrophiCreations Cat Mod Wall Mounted Cat Bridge Shelf
Another cute and fun option from CatastrophiCreations is their Cat Mod Wall Mounted Cat Bridge Shelf. This is a handcrafted bridge that you can use on its own or as part of a set of other wall perches.
Built with paracord, twine rope, and solid wood, this perch features a hidden bracket system for a floating design, it has fabric that is removable to make it easy to clean whenever necessary, and it can hold up to 85 pounds. Measuring 35" x 35" x 6", and made of bamboo, it comes with the materials that you need to install it.
Plus, this perch comes in various color options, including unfinished, English chestnut, and onyx, so you can find the one that will match the rest of your interior décor best.
3. Hauspanther Catchall Wall Mounted Cat Scratcher, Toy Storage & Perch
Another brand that has several offerings in the world of wall perches for cats is Hauspanther. Their Catchall Wall Mounted Cat Scratcher, Toy Storage, and Perch might be a good place to start if you aren't sure how your kitty will like being on a perch that's mounted to a wall.
This is a smaller perch, so your kitty will be able to sit on it, but it's not really made for lounging. It does, however, feature a replaceable sisal scratcher that your kitty can use from the floor, and there is a non-slip carpet on top to help your kitty feel secure if she jumps on it. There's also a plush ball that hangs from this perch to encourage your kitty to play, and there's a handy storage box in this perch, too, so you can store even more toys inside.
Made of engineered wood, felt, and sisal, this product comes with all of the instructions and hardware you need to set it up. If your kitty likes it, you can add to it with other Hauspanther products, such as those we discuss below.
4. Hauspanther Nest Perch Wall Mounted Cat Shelf
The Hauspanther Nest Perch Wall Mounted Cat Shelf is another good choice when you want to give your cat a place to lounge while up high. It's available in two color options, white and espresso, and it is designed to be easy to mount at whatever height you and your kitty prefer. Plus, it comes with all of the instructions and hardware that you need to get the job done right.
The center of this perch is sunken so it can serve as a cozy and secure space for your fur baby. Beyond that, there are two perching areas where your kitty can sit and observe what's going on around her. Other nice features include the thick carpet that can help prevent slipping, and the two toy balls that encourage your pet to play.
What's also nice about this perch is that it can be used as part of a set if you purchase other items from the Hauspanther line. For example, it can pair well with the wall mounted scratcher discussed above, or the cat shelf that we'll cover below.
5. 7 Ruby Road Wall Mounted Cat Perch
Cats might snooze for the best part of the day, but when they're up they can be super energetic – there's no use denying the fact! And sometimes it can be a challenge to keep them occupied and entertained and provide some much-needed enrichment. Luckily, a clever wall perch design such as this one can bring a new level of fun into their daily routine. 7 Ruby Road Wall Mounted Cat Perch features a unique design that will test your cat's nimbleness and still offer a cozy little nook for snoozing – on the wall!
With just a couple of straightforward elements, this perch is super easy to assemble and install on the wall. It features two horizontal climbing steps that are covered with natural jute twine for extra durability and a strong grip. The padded hammock cushion is made from cotton and is quite soft, durable, and easy to wash. Slightly loose, it will make for a great snoozing nook and a place to relax. What is more, the modern and elegant design won't stand out in the room and will blend in any environment.
6. On2Pets Cat Canopy Wall Shelves
The On2Pets Cat Canopy Wall Shelves are available in a few different shapes. You can choose the curve, the rectangle, or the box. Your cat is sure to enjoy jumping onto these perches, where she'll find a soft carpet to relax on.
The curve and rectangle options feature fun silk foliage that your kitty can hide behind, while the box option has a carpet of fake grass, along with plywood walls instead—a cute way to give your pet the impression that she's in the great outdoors.
This wall perch can hold up to 32 pounds. And it comes with instructions, screws, and L-brackets to make it easy to install wherever you want.
7. The Refined Feline Lotus Branch Perch
If you thought that there is no way whatsoever that you can find a perch for your cat that could double as a design statement piece in your home- it is time to think again! The Refined Feline Lotus Branch Perch is as stylish as they come and will look fabulous in any interior, but the best part is that your kitty will thoroughly enjoy lounging in it. With a design that follows soft and flowing curves, this wall-mounted perch really is unique on the market. It is 61" long and 10.5" inches deep and is made from durable and lasting layered plywood. On top, it features a premium Berber carpet, which is fuzzy, stylish, and super comfy. It can be easily removed and replaced if necessary as it is attached by velcro.
This perch is wall-mounted, and quite easily as well – all you need is a bit of time and the basic tools. It features special screw holes that are 18" apart, and heavy-duty wall anchors as well. These ensure all the necessary support, so there is no need to worry about your cat tumbling down together with the perch. The time has finally come to spruce up your home with an elegant accessory – all the while providing your kitty with a super cozy place to snooze.
8. CatastrophiCreations Wall Mounted Sisal Pole Cat Scratching Post
Want to give your kitty something fun to climb while also giving her a big scratching post? Then check out the CatastrophiCreations Wall Mounted Sisal Pole Cat Scratching Post.
Lined with sisal, this product is great for kitties that like to stretch up and scratch on a vertical surface. But because it's so tall, it also gives your kitty plenty of grip when she wants to exercise and play by climbing up to the perch at the top.
Part of the Cat Mod series, this product features a bracket system that makes it easy to use this as an add-on to other items from this brand. And it also comes with everything you need to properly install it so you can take advantage of its modern floating design.
9. Trixie Lounger Wall Mounted Cat Shelves
If you are looking for a product that will give you several different types of wall perches in a single set, check out the Trixie Lounger Wall Mounted Cat Shelves, which are available in different color options, such as gray and brown, to match the rest of your décor.
This is a great way to give your kitty a few different ways to jump, climb, and lounge up high. There is a hideaway condo that's lined with a plush material, has a removable cushion, and is a great place where your cat can go to nap privately. And there is a cozy hammock that your pet can choose to relax on as well. Between these, you can set up the two steps to make it easy for your frisky feline to jump from one to the other. And the sisal will help ensure a good grip and an opportunity to scratch too.
As is the case with all of the products on this list, this one also comes with all of the instructions and hardware that you need to install this fun set of wall mounted perches. And the best part is that you can customize how you set it up to give your cat exactly what she would prefer.
10. CatastrophiCreations Cat Mod Lift Wall Mounted Cat Shelf
Finally, there's the CatastrophiCreations Cat Mod Lift Wall Mounted Cat Shelf, which is another good option if you are trying to figure out if your kitty would like a wall perch. It provides a great little place for your pet to lounge, and it can also be used as part of a set of other Cat Mod products if you wish.
Featuring a ladder and hammock, this wall perch boasts solid wood and canvas, and it can support up to 62 pounds in the hammock and 85 pounds on the wood. Everything that you need to properly install this perch is included as well.
This product features a hidden bracket system to create a floating design, and it is available in various colors, such as English chestnut/black, English chestnut/natural, onyx/black, onyx/natural, unfinished/black, and unfinished/natural. Plus, it has removable fabric that makes it easy to clean whenever necessary.

Lisa Selvaggio
Lisa Selvaggio is a freelance writer and editor, and our resident cats-pert, with certifications in pet nutrition and pet first aid. She enjoys producing content that helps people understand animals better so they can give their pets a safe and happy home.
More by Lisa Selvaggio
Published April 27th, 2021 12:00 AM