766 Views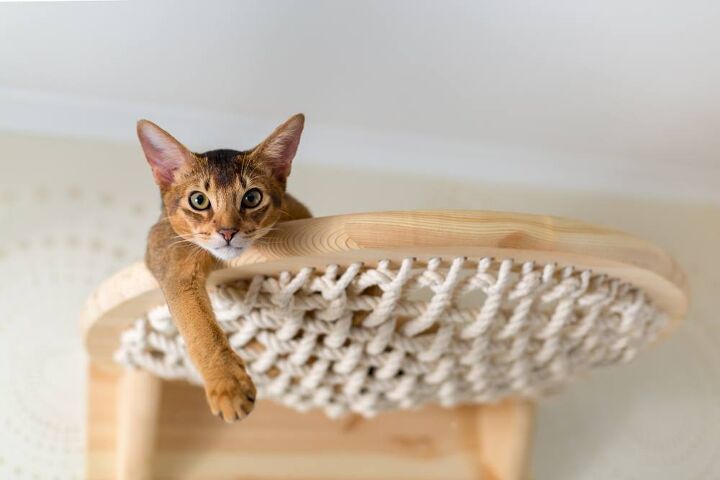 Just lounging around – it's a cat's life! If you're looking for the perfect place for your cat to lounge, we've sourced some of the best cat hammocks.
Cats love lounging wherever they can, so why not get your kitty a cute little hammock that she can use when she wants to relax or take a nap? There are a lot of fun designs available these days, including hammocks that hang under chairs or can be mounted to your wall. This provides you with the opportunity to give your pet some environmental enrichment and a new little spot in the house that she can call her own.
What are some of the best cat hammocks out there? We've compiled a list of 12 products that are worth checking out, and they can be found below, in no particular order.
1. CatastrophiCreations Cat Mod Wall Mounted Double Decker Cat Hammock
Want to save floor space? Why not mount your kitty's hammock on the wall? With the CatastrophiCreations Cat Mod Wall Mounted Double Decker Cat Hammock, you can do just that. This actually has two canvas hammocks that your kitty can choose from, and they allow her to be up high, surveying her surroundings.
What's nice about this particular cat hammock is that it lets your kitty get to a really high perch. After all, cats have a natural urge to climb so they can be above everyone around them. And this hammock gives her that opportunity without being in the way at all, so it could be a great choice if you are tight on space.
Once it's on your wall, your pet will have her own little spot, and you might be surprised when you walk into the room and find her safely and comfortably taking a nap in her new hammock, which supports up to 62 pounds.
This hammock is made from solid wood, and it also features a heavy and durable canvas. Plus, it boasts a bracket system that gives you the option to add more pieces from the CatastrophiCreations collection. And the modern, floating design can fit in with just about any home décor.
2. SmartyKat Happy Hammock Portable Cat Hangout
The SmartyKat Happy Hammock Portable Cat Hangout can easily be put away when you don't want it out. Adjust it to hang under your chair or side table so your cat will have a cozy little hideaway where no one will disturb her and she can be relaxed and comfortable. Plus, the feather toy that is attached to this hammock can also give her something to play with whenever she wants.
Another nice feature about this cat hammock is that it is easy to clean. Just wipe it with a damp cloth. And because it's adaptable to most furniture, you can move it around until you find the perfect spot that your kitty will love, or you can move it around to give your pet new places to hang out in if she ends up getting bored.
3. Trixie Baza 19.5-in Cat Hammock & Scratching Post
The Trixie Baza 19.5-in Cat Hammock & Scratching Post in the color cream can provide an ultra-plush little spot for your kitty to lounge in. And when she doesn't want to jump into the hammock, she can rest on the bottom, play with the pom-pom that hangs down the side, or use one of the two durable sisal scratching posts to get a good stretch.
Great for cats of all ages and activity levels, this one product gives your kitty a place to play, scratch, and nap. It's soft and cozy, and it can fit in with your décor because of its neutral color. Plus, it measures 16" x 16" x 19.5" so it won't take up a lot of space on your floor either.
4. FurHaven Plush Hammock 17.3-in Faux Fur Cat Tree
Similar to the Trixie Baza hammock discussed above, the FurHaven Plush Hammock 17.3-in Faux Fur Cat Tree is a little different because it features a self-petting and self-grooming brush that your cat can rub against whenever she wants. Plus, this brush can also help collect loose hair when your cat rubs against it, so that's helpful.
Your pet is sure to enjoy lounging in this cozy and super soft hammock, which conforms to her body for ultimate comfort. And she can also enjoy using the two durable sisal scratching posts to stretch and scratch, as well as the hanging plush ball to play when she wants to let out her inner hunter.
This cute little cat hammock can support kitties weighing up to 20 pounds. It measures 15.75" x 15.75" x 17.3" and it's available in two colors, silver and cream, so you can select the one that will match the rest of your décor best. Also, if it ever needs to be cleaned, you can spot clean it with some diluted mild detergent before blotting it dry.
There is a precaution that comes with this cat hammock, though: it should not be used in homes with a pet that is displaying inappropriate chewing behavior.
The Catoneer Cat Hammock looks like an adorable little hammock bed made just for your kitty. It is available in two fun color options, and it also comes with a money back guarantee if you aren't totally happy with it.
This hammock can hold up to 17 pounds, and it is set low to the ground so kitties of all ages can easily get into and out of it. It comes in one size that should fit most cats comfortably: 17" x 22".
You will need to assemble it, but it is really easy to put together because there aren't any tools, screws, or glue to deal with. Instead, you can just put the solid birch wood pieces together and set up the hammock in minutes. The hammock itself is made of 100% cotton, too, so this is a great option for those looking for a sturdy cat hammock that is made of natural materials.
6. Vea Pets Luxury Cat Hammock
Another great option when you're looking for a little cat-sized hammock that looks just like a hammock that a human would lounge in is the Vea Pets Luxury Cat Hammock. It gives your kitty her own little personal space that she can claim for herself, and it also looks really cute because of its fun design.
This heavy-duty hammock with a stand is made using all-natural wood, and it is easy to assemble. Once it's put together, it will be nice and sturdy, thanks to its anti-sway design that features carefully placed anchors to keep the hammock in place for your cat's safety. You don't have to worry about this hammock wobbling or toppling.
This hammock is soft and plush, so your cat is sure to love it. And it's also washable, so you'll be able to easily clean it as well. Plus, it comes with a bonus toy as well, so your kitty can learn that this is her place to relax and play whenever she wants.
Capable of comfortably holding upwards of 20 to 30 pounds, this hammock should be able to accommodate most cats of all ages. It gives your kitty the chance to take a nap without being on the floor, yet the hammock itself isn't so high that it would be difficult for her to get into and out of it with ease.
7. JISTL Hanging Cat Hammock
The JISTL Hanging Cat Hammock is a great option for those who are short on space or who don't want a large contraption hanging around their house. It can easily attach to a chair, table, or other stable object with its adjustable straps. It can also be used in your cat's cage or crate during travel, or attached to their cat tree to provide extra space and comfort. It is made of faux wool to provide additional warmth, comfort, and security.
The JISTL Hanging Cat Hammock is easy to clean, too. It can be washed in the washing machine (but there are metal hooks so be careful of those) or by hand. It comes in different colors and designs like Brown Cat Print, Pink Strawberries, solid pink, or solid orange and in three different sizes so you can get the one that works for you depending on your cats size and needs, as well as the available space in your home. The JISTL Hanging Cat Hammock is perfect for small spaces and travel.
8. Selify Window Perch Cat Hammock
Looking for a strong window hammock that can hold your large kitty? The Selify Window Perch Cat Hammock is specifically made for large cats. The specially engineered 3.5 inch suction cups can hold your furry feline, up to 60lbs. The hammock itself is constructed with 1 inch ABS tubing and is securely supported by robust steel spring clips and 22304 stainless steel cables that are coated with a soft rubber to keep your kitty protected from gettin snagged. It even comes with a comfortable fleece blanket and a fun feather cat toy that will keep your cat entertained, and cozy, for hours.
The fleece is machine washable so it will be easy to keep this cat hammock clean. The base is made with a breathable and durable food-grade mesh base making to strong, green, and easy to wipe down and keep clean. The Selify Window Perch Cat Hammock installs within minutes without any tools so your favorite smooshie can start relaxing in the sun high above her subordinates in no time.
9. New Young Cat Bed Window Perch Seat Hammock
The New Young Cat Bed Window Perch Seat Hammock is another pet hammock that you can attach to your window with the use of strong suction cups so your kitty can check out what is going on outside.
The hammock, which is strong enough to hold up to 30 pounds, is made of breathable Oxford cloth and plastic. It boasts high-density woven fabric that is easy to clean, which is certainly a plus, and it helps ensure that your kitty won't overheat while lying on it.
The industrial strength suction cups, combined with the tough stainless steel wire rope, help you rest easy, knowing that this window hammock will remain securely in place. And it is easy to install on glass windows or doors, as well as stainless steel and tile surfaces.
Overall, this could be the right choice for your cat if she likes to spend a lot of time by the window and you want to give her a comfortable spot where she can lounge and relax whenever she wants. It is also a great choice if you don't have a lot of floor space for a hammock because it lets your kitty hang out high above the ground.
10. K&H Manufacturing EZ Mount Window Bed Kitty Sill
Yet another "window seat" is the K&H Manufacturing EZ Mount Window Bed Kitty Sill. It can mount to any window, allowing your kitty to have a nice, high spot that she can feel safe in while she's watching what's going on inside the house, as well as outside.
This window hammock can easily be set up with the industrial strength suction cups. Just follow the instructions that come with the product to get it right. Then, once it is securely in place on a glass window or door, this cute and unique hammock, which measures 27" x 11" x 6", will be able to hold up to 60 pounds.
You'll notice that this hammock, which is available in multiple colors, is a little different because it features high sides that give your kitty even more securely when spending time by the window. The top is open, of course, so your pet can easily jump into it and out of it as she pleases. And because it comes with the Amazin' Kitty Pad that traps hair and dander and acts like an insulator to hold onto your fur baby's body heat, this hammock can create the perfect little warm space for a rejuvenating nap.
Finally, another nice feature is the one-year limited warranty that comes with this product.
11. Toby + Atheni Cat Hammock
This cute, functional, and stylish cat hammock by Toby + Atheni is not only a great place for your furry feline to take a cat nap, but it also won't distract from your home's existing decor. The wooden hammock is neutral and natural, made from high-quality wood that will last a lifetime. It does not contain any harmful chemicals or treatments. Even the included fleece bedding is safe and eco-friendly. The luxurious and plush material is double brushed for the ultimate pet comfort. The hammock swing will contour to the shape of your cat's body creating the perfect spot to take all of their naps. It is also completely machine washable, so you can easily clean it whenever you need to.
The Toby + Atheni Cat Hammock is easy to put together- and take apart- so you can take it anywhere you go. The unique design makes it compact, making it great for those who are traveling a lot or who live in a small space.
12. Pet Parade Reversible Pet Hammock
The Pet Parade Reversible Pet Hammock, which measures 28.25" x 13.75" x 12.75", is really adorable. And you will probably laugh when you see your sweet kitty lounging in it just like a person would. After all, this is a cozy, warm, and ideal place to relax. If you had one of your own, you'd be in it all the time too!
The hanging bed will easily mount on the frame, and the hammock is reversible and made of 100% fleece material that's soft and inviting. It features a leopard print on one side and has a plain beige color on the other, so you can switch things up whenever you want. And whenever you need to, you can easily remove the bed and wash it.
Plus, the sturdy wood frame, and the fact that this product can hold up to 22 pounds, helps put your mind at ease when it comes to how stable and safe it will be for your pet.
There Are So Many Cute and Innovative Cat Hammocks to Choose From!
When you want to give your pet a new place to relax in, consider getting her a hammock. She will look adorable while lying in it, and she will love the fact that she has yet another comfy place to call her own.

Lisa Selvaggio
Lisa Selvaggio is a freelance writer and editor, and our resident cats-pert, with certifications in pet nutrition and pet first aid. An advocate for better treatment of all animals, she enjoys producing content that educates others, helps them understand animals better, and inspires them to help, whether that means volunteering at a shelter, fostering strays, or simply giving their own pets a safe and happy home to live in.
More by Lisa Selvaggio
Published March 8th, 2021 12:00 AM