215 Views
Our Guide to the Best Cat Harnesses
December 6th, 2021 12:00 AM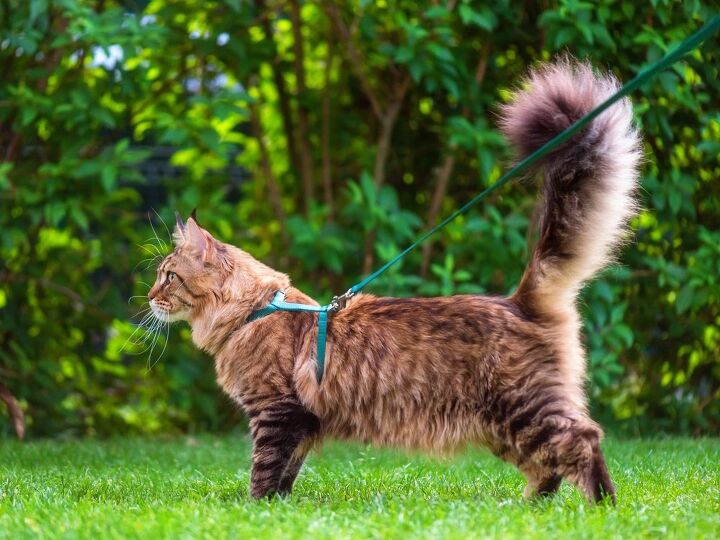 Do you want to take your feline on some outdoor adventures? Then you'll need a leash and harness designed for cats.
Kitties can be the most inquisitive and energetic pets. A cat loves to explore and reach all those, to us, seemingly unreachable places. But this isn't always the safest option. Indoor cats will always have that natural tendency to go out and explore the neighborhood. But if they are unprepared, the outside world can be too much of a challenge: traffic, dogs, and all kinds of other dangers are looming beyond the door. Luckily, there is a solution. A cat harness can be the ideal accessory to help you take your furry four legged friend onto a satisfying walk or an outdoor adventure. That way you will have all the control needed, and your kitty will remain safe and sound – all the while exploring the surroundings and satisfying the natural need to explore and be active.
Still, be prepared to put in some work and train your cat to walk on a leash. You will also need to help your cat to tolerate wearing a harness, as this will require some patience. But, once she is comfortable, she might get excited to head outside for some fresh air and bird watching with you. It's an ideal way to enjoy activities together and to say no to the outside dangers.
The great thing about using a harness is that it sits around your cat's chest, so you don't have to put a collar around her neck that would end up hurting her if she pulls too hard or gets spooked and tries to run. And the right harness will be secure enough to give you peace of mind while you're out and about with your furry friend. The length of the cord is also crucial – giving your kitty just the right amount of freedom while still keeping you in control of the situation.
Shopping for the right harness doesn't have to be hard. There are a variety of products to choose from, and they come in a range of sizes to suit kitties of all ages. Also, some harnesses even come with a matching leash so you don't have to worry about buying these products separately.
To help you find the right harness for your cat, check out our picks below!
1. Editor's Choice: Paws & Pals Control Dog & Cat Harness
The Paws & Pals Control Dog & Cat Harness is durable and comfortable, and it helps you maintain control over your kitty when you are both outside and exploring.
This harness boasts adjustable straps so you can easily get it to fit just right on your pet. Plus, it is weatherproof and padded, specifically at the neck opening, and the material is breathable and lightweight, so your kitty might get used to wearing it surprisingly quickly.
This harness comes in a few different anti-fade color options, such as black,, green, pink, or, red. And it is available in sizes small and x-large, for those chunkier kitties. Check the manufacturer's size chart after measuring your cat's chest girth and lower neck circumference to select the right size.
When you need to clean it, this harness is machine washable.
2. Runner Up: PetSafe Come With Me Kitty Harness & Bungee Cat Leash
The PetSafe Come With Me Kitty Harness & Bungee Cat Leash is a great set for getting your cat started when you want to take her on outdoor excursions. This product features a patented design that restrains forward motion without adding pressure to your pet's throat area. By gently tightening the shoulder straps, this harness and leash set will tell your kitty when she needs to stay closer to you.
Getting this harness onto and off of your kitty is easy, too, as it features two quick snap buckles and dual adjustment points that ensure a secure fit. Once in place, it will be comfortable for your cat to wear, but it will help keep you in control too, which is important.
The product's belly strap is constructed of nylon, and the bungee leash is designed to provide a little bit of "give" whenever your pet pulls away and approaches the end of the leash, so there isn't any harsh tugging going on.
This harness, which is available in colors that include black/silver, lilac/purple, electric lime/green, dusty rose/burgundy, royal blue/navy, and red/black, comes in three sizes: small, medium, and large. Kittens and small cats might do well with a small, while small to average cats might be fine with a medium, and average to large cats might do best in a large. Measure your kitty and use the manufacturer's size chart to be sure you're choosing the right size.
3. Customer's Choice: Red Dingo Classic Cat Harness & Lead Combo
The Red Dingo Classic Cat Harness & Lead Combo is a basic harness and leash set that you can try when you are ready to train your cat to go outside with you.
It features abrasion resistant ribbon and quality nylon webbing to help your kitty feel nice and comfortable while wearing it, and the ends are also splice cut at an angle in order to reduce irritation. Finally, the side release fish clips on this product are redesigned to be stronger than side release buckles, so you can rest assured they will not release if your kitty tugs too hard on the leash.
This harness is available in one size that will fit all cats. However, it is also fully adjustable, so you can ensure a secure, snug fit, no matter your cat's size. It is also available in a variety of colors, including black, green, pink, and red. And for extra comfort, there's a soft padded handle for when you need to have a firmer grip on your curious feline.
When you need to clean this product, you can machine wash it on the warm, gentle cycle with some mild detergent before allowing it to air dry. You should not iron it, bleach it, or tumble dry it.
4. Best Lightweight: Comfort Soft Adjustable Mesh Cat Harness
Yet another option in the world of pet harnesses is the Comfort Soft Adjustable Mesh Cat Harness. This is a lightweight, yet high-quality, product that is constructed using strong nylon and breathable mesh, so your kitty can feel comfortable, while you can rest assured she will be safe.
The nice thing about this design is that it is able to distribute leash pressure evenly across your pet's shoulders and chest. This helps prevent neck strain, and it also keeps your kitty feeling good while she goes on a walk with you outside.
This adjustable harness is available in various colors, and you can choose from black, blue, pink, and red. It fits most kitties up to 10 pounds. Also, you can adjust the neck from 8" to 10" and the girth can be adjusted from 14" to 16" to achieve the perfect fit for your companion.
5. Best Walking Vest: Kitty Holster Cat Harness
The award-winning Kitty Holster Cat Harness is designed to be comfortable and lightweight. So much so that it's comfortable enough to satisfy those cats that don't even like wearing harnesses. The Kitty Holster Cat Harness is referred to as a walking vest, even though it is hard for your kitty to slip out of it. This harness is easy to get on your pet before heading outside. All you have to do is quickly secure it into place using two strong Velcro closures.
Constructed of 100% cotton that's light, soft, and breathable, this harness also boasts cotton lining that is undyed, so it might even be appropriate for kitties that have allergies. It is available in sizes x-small, small/medium, medium/large, and x-large to fit cats of all ages. Just refer to the manufacturer's size chart to find the one that is just right for your pet.
This harness is also available in various colors, including denim blue, black, tiger stripe, gray, hunter green, purple, and blazin' red bandana. And, when it gets dirty from your cat playing in the great outdoors, you can be put right into your washing machine to be thoroughly cleaned.
6. Best for Training: Catit Nylon Adjustable Harness and Leash
The Catit Adjustable Cat Harness & Leash Set could be the perfect way to get started when you want to train your kitty to go outside with you. If it's a basic harness that you are looking for, this one is affordable and gets the job done. The leash and the harness are both snagproof which can stop your kitty from accidentally tightening the harness or the least when it gets snag or scratched.
This is a stylish yet practical adjustable set, and it includes a D-ring for ID tags and a bell to hear where your kitty is going. It is also easy to put on and take off with quick release snaps.
The ribbon-like leash is long, so your kitty can check out her surroundings with ease while you keep an eye on her. And because this set is made of nylon, it is durable and easy to keep clean.
You can choose from a variety of sizes to make sure it fits your feline. They are sized small, medium, and large. The available color options include red, black, pink, and blue.
7. Best Escape-Proof: Rabbitgoo Cat Harness and Leash
The Rabbitgoo Cat Harness and Leash is one of the most highly rated cat harnesses on Amazon, with reviewers stating that it's easy to put on their kitty, comfortable for their pet, and escape-proof. The harness is made with breathable mesh, so it is lightweight and it will keep your cat cool and comfortable while taking a walk outside or to an uncomfortable place like the vet or the groomer.
The Rabbitgoo Cat Harness is also adjustable. Not only is it sized for your cat, but you can also adjust the four different straps to ensure that it fits your kitty snuggly. Both sides of the harness have a strong safety buckle so you don't have to worry about them accidentally getting out of it. It also slips on easily over the head once adjusted to your kitty's size or by using the two snap-side buckles. As a testament to its quality and popularity, this cat harness and leash boasts an Amazon's Choice award.
The leash is made of strong, durable nylon and is washable. Both the harness and the leash come in a variety of colors such as pink, red, blue, black, green, light blue, purple, and yellow. There are two sizes to choose from for a perfect fit: small or extra small.
8. Best Patterned: Bond & Co. Buffalo-Check Cat Harness and Leash Set
For something fun and different, check out the Bond & Co. Buffalo-Check Cat Harness and Leash Set. It provides a nice, secure fit around your cat's body, so you can rest assured she will be safe while she is having fun outside with you—and she'll look stylish too.
This harness features a red and black buffalo check pattern, and the fabric is a flannel style material with a mesh lining that provides comfort and breathability. It is also adjustable, and it is designed to provide a perfect fit with the buckle and hook and loop closures.
The leash in this set is made to match the harness, so it is black. Using the leash's swivel snap, you can quickly and easily attach it to the D-ring on the back of the harness whenever your kitty is ready to go.
9. Best Basic: Supet Store Cat Harness and Leash Set
The Supet Store Cat Harness and Leash Set is not only a comfortable harness for your outdoor loving kitty, but it is also safe. Both the harness and the leash have a reflective stripe which reflects ambient light in low-light conditions. This will help for your cat to be seen even in the dark when a light is shined on them.
The vest style of the harness also for a more comfortable wear for your feline friend too, allowing the pressure to be distributed evenly across their chest. It is made with soft and breathable mesh with a padded lining, so your cat will be comfortable. Since it is so lightweight, it won't restrict your pet's movement. The straps are adjustable, too, so your cat will not be able to escape if fitted onto them properly.
The Supet Store Cat Harness and Leash Set comes in either a small or medium size, as well as a variety of colors including black, grey, yellow, blue, red, and pink. And the fact that the company offers lifetime assurance for this set speaks volume about its quality and durability!
10. Best Reflective: EXPAWLORER Reflective Cat Jacket Harness with Leash Set
The EXPAWLORER Reflective Cat Jacket Harness with Leash Set is another great choice if you are looking for something that features reflective tape to make your pet more visible in low light conditions. The large reflective tape on this harness is found on the back, so it will be easy to see your cat and keep her safe.
In addition to the reflective tape, this harness is also brightly colored in a fluorescent green, further making it easy to keep an eye on your feline friend while she explores the sights and sounds of the great outdoors.
Made of cotton and waterproof nylon, this escape proof and adjustable harness is soft and comfortable. Wrap it around your cat's body and fasten it into place with strong Velcro straps. The D-ring makes it super easy to connect your leash to it, and the clasp on the leash can rotate to keep up with your kitty wherever she goes.
This harness is available in sizes small and medium. Check the manufacturer's size chart to determine which one would be best for your kitty.
Things to Consider When Selecting a Cat Harness
Whether you're planning on taking your kitty on simple walks or you want to have her at your side when you go hiking, a harness that fits her well will keep her safe and comfortable, so take your time as you shop for this product. And know that you might need to go through some trial and error before you find the harness that she doesn't mind wearing at all. Also, not all cats will react the same to a harness. After all, it is well known that kitties have a range of unique temperaments. So, knowing what harnesses can bring into the mix is a good thing before you buy.
Here are some things to keep in mind while you shop:
It is always a good idea to measure your cat to be sure a harness will fit her correctly. When you take the measurement, you might find that adding a couple of inches, and then buying the corresponding size, helps ensure your cat will be comfortable in the harness. Remember, the harness should be snug and secure, but it should not be so tight that it restricts your cat's movements or makes her uncomfortable. You can test the fit by seeing if you can fit two of your fingers under the harness. Some cats are chunky, some cats too lean – finding a good fit can be a challenge, especially when options are limited and a harness is not adjustable.
If you are worried about your cat slipping out of her harness, it might be better to go with a vest style that securely fits around her chest. But it is a good idea to test out different styles of harnesses if you aren't totally sure what your kitty will like best, and what will be able to stay in place as you go on adventures together. A vest harness is also great for kittens – if you are trying to train them so early on.
A vest is likely the better option if your cat likes to pull a lot while she is being walked on a leash. This style might be able to distribute pressure better than a harness that is made using straps that attach to a leash. Likewise, if your cat is filled with energy and loves to dash in every direction unexpectedly, a vest will limit the chance of accidental elopement.
Harnesses with strong Velcro closures might be great if you want something that will be easy to get on and off your cat. But this would not be the right choice if your cat is easily frightened or stressed by the sound of Velcro straps opening.
Materials matter. Soft mesh, for example, can prevent overheating, particularly during the summer. A product with soft edges and extra cushioning might also provide additional comfort as your cat moves. Rigid, synthetic materials found in some cheap harness knock-offs can chafe your cat, irritate their skin, and cause more problems than is needed.
The more adjustable a harness, the better it might be for your cat. Choose one that can be adjusted both at the neck and at the waist, especially if you've found that less adjustable options are unable to provide the secure fit you need.
Leash length can also be crucial to pay attention to. Some leashes can be adjusted with a push of a button – giving your cat more freedom to roam when you think the surroundings are safe enough.
The Right Harness Will Make All the Difference
Because you can't walk a cat with a collar and leash like you would a dog, a harness is necessary when you want to take your kitty outside with you. Thankfully, there are a variety of harnesses to choose from, so you can find one that's adorable, functional, and the perfect fit for your best furry friend. All in all, this is a fantastic accessory that is sadly often overlooked. Cats – naturally eager to explore their surroundings – are often kept as exclusively indoor pets. Of course, this is done in order to ensure their safety. Still, this might be unfair – and those more mischievous cats will go out of their way to elope from the home when the first opportunity arises. To remedy this, you can rely on a trusty cat harness and train your cat to use it from an early age. That way you won't have to worry about your pet escaping and getting into trouble. With a harness you can satisfy their needs with a brief walk every other day – and your pet will remain perfectly safe while enjoying their adventure!
Are you supposed to walk cats?
If you have an indoor-only cat that spends her day cooped up inside, it's up to you to provide exercise they need to stay happy and healthy. That can be walking your pet outside on a leash if you prefer, certainly, but it is not required. What's important is to get them moving and active, which can be alternatively done through toys that stimulate their innate hunting instincts or by letting them exercise on a treadmill. Just make sure that, if you are walking your cat, you're using a reliable leash and harness to ensure their safety and your peace of mind.
How to measure my cat for a harness?
Measuring a cat for a harness is not much different than measuring a dog – albeit, with more squirming involved in most cases. Use a measuring tape to get the most precise results and measure your cat's chest width (also called girth), making sure that you get to their actual body, and not inadvertently increasing the number by measuring their fluffy fur with their chest. Once you get the measurements of their chest, add about 2" to that number to make sure that the harness will fit properly and leave your pet with enough room for comfort. Most cat harnesses are adjustable so you can fine-tweak the fit to be as snug as needed.
How to put a harness on my cat?
There are different types of harnesses for cats, so the process of putting them on will vary slightly from design to design. H-strap cat harnesses have two straps, one that fastens over the cat's neck and other over the waist, connected by a vertical strap either on the belly or on the back; figure-8 harness has two loops you need to place over the neck and the waist; and vest=style harness is put on like a jacket, and fastened either on the back or on the chest/belly area. Whichever harness you choose, be sure to be patient with your cat and let them ease into wearing a harness rather than trying to force them, especially if you have an adult cat.
Why do cats fall over when you put a harness on them?
It might have worried you – or, at the very least, confused you – once your kitty flopped to the ground as soon as the harness was on, but there's actually two possible reasons for this type of behavior. The first is so-called kitten response, which triggers your pet's memories of being carried in their mother's mouth from one place to another – if the harness is touching the back of their neck, it might be that they are instinctively going limp expecting you to carry them. Another is that your pet is scared of the unknown and is getting into survival mode – simply put, if they were grabbed by a predator (e.g. encased in a harness), they would go limp and play dead. Whatever the reason, it can be remedied with patience, positive reinforcement methods, and time.
What is the difference between a cat harness and a cat leash?
A cat harness goes on your pet's body and provides something for the leash to be attached to – they are two completely different things that can't work unless combined. A cat harness will snugly fit over your pet's body to make sure you are in control of their movement (but they are still comfortable) and comes in different designs to adjust to your pet's body type and the amount of freedom you want to afford them. Cat leashes come in various lengths, as well, and attach with a snap hook or a swivel hook directly to the harness.
We are committed to finding, researching, and recommending the best products. We earn commissions from purchases you make using the retail links in our product reviews. Learn more about how this works.

Lisa Selvaggio
Lisa Selvaggio is a freelance writer and editor, and our resident cats-pert, with certifications in pet nutrition and pet first aid. An advocate for better treatment of all animals, she enjoys producing content that educates others, helps them understand animals better, and inspires them to help, whether that means volunteering at a shelter, fostering strays, or simply giving their own pets a safe and happy home to live in.
More by Lisa Selvaggio
Published December 6th, 2021 12:00 AM