97 Views
Gen Y Dogma: The Worst Halloween Dog Costumes Ever
January 24th, 2022 12:00 AM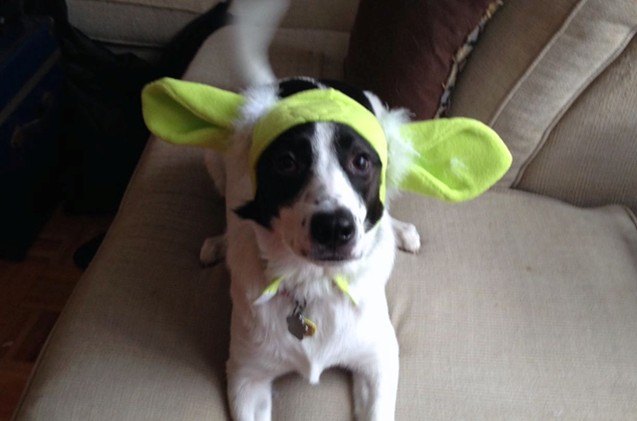 Halloween is almost here, and Christina Peden talks why she's dressing Matilda up in a dog costumes… but she has her limits. And if you dress up your dog in one of her worst Halloween dog costumes ever, your house is in for a rotten egg-stravaganza and TPing you'll never be able to clean up.
It's an age-old debate among pet parents: to dress up your pets for Halloween, or not to dress up your pets?
Before getting Matilda, I was firmly in the "No Costumes. EVER!" camp and I never thought that would change, but it totally did.
This is our first Halloween as puppy parents and the impulse to dress up our dog is definitely there (mainly on my part!). It's ridiculous and silly and I don't care. It's fun, alright?
Though I personally think she should be Wonder Woman, I gave into Ryan's sci-fi geekery and got Matilda a Yoda costume, which, even though it's a large, is apparently too small for her. Clearly there's an art to this whole "dressing your dog" thing that I haven't quite mastered yet. I'll get there.
So, Gen Yers, my verdict on the costume thing is this: go for it! But for goodness' sake, have some standards.
In my search for the perfect costume for Matilda, I came across some ensembles that I can't believe actually exist; they're enough to make any hound howl in humiliation. And I just couldn't resist — I had to write about them this week.
So without further ado, here they are, my picks for the worst Halloween dog costumes ever.
1. Editor's Pick: California Costumes Pet Silver Screen Starlet Dog Costume Costume
All I have to say is, "WHY??"
Sure, who doesn't want to feel like a celebrity getting ready to hit up a red carpet, but c'mon. Your pooch deserves better.
Each costume comes with the Marilyn Monroe-inspired blonde, curly wig and the famous white dress that boasts a generous cleavage.
2. Runner Up: California Costumes Pet Pop Queen Dog Costume
You can tell that this bewildered pup is just silently screaming "HELP ME!!!!" with those mournful eyes. Hey girl, we don't blame you.
Madonna may be an icon, but that's no excuse for this monstrosity.
Seriously, folks? Like I said before — if your dog's costume has cleavage, you're doing it wrong.
STEP AWAY FROM THE CONE BRA.
3. Also Consider: Puppy Hawaiian Beach Outfit
Don't be that person. Parading around flaunting your vacationing outfit.
Even if the Hawaiian shirt is kinda stylish (and available in a variety of patterns and colors), adding a straw hat and gold chain takes this outfit over the top.
C'mon, human: with all the cool options out there for a furry friend, you know you can do better than this. Like an Ewok. Or Beetlejuice.
4. Best Eye-Catching: Rubies Brazilian Bombshell Pet Costume
Here is another outrageously mortified dog, a "How could you do this to me, human?" glare glistening in its eyes. It's okay poochie, I'd be giving my human a death stare, too. Just promise me you won't do this to your dog, mmmkay?
If you can't help yourself, this costume has layers on layers of ruffles to slip over your dog's head, plus a hat. Mercifully this outfit forgoes the cleavage.
5. Honorary Mention: Woopie Cushion Dog Costume
Alright, so I'm kind of on the fence with this one, because we all know there's nothing in this world quite as nasty as a dog fart.
And this is kind of hilarious, because let's face it: dogs basically ARE walking woopie cushions. They don't even need the costume.
But do you really want to humiliate your faithful companion on one of the most awesome holidays of the year by telling them that they stink (literally)?
I'm half-joking, but why not make your poochie Batman or Wonder Woman for the day instead of, you know… a walking fart? They deserve a little better.
We are committed to finding, researching, and recommending the best products. We earn commissions from purchases you make using the retail links in our product reviews. Learn more about how this works.

Christina Peden
Christina Peden is a lifelong animal lover and avid wordsmith. She lives in Toronto with her boyfriend Ryan where they are proud pet parents to puppy, Matilda and cat, Oscar. In her spare time, she can be found enjoying Toronto, Canada's all-too-short patio season, taking advantage of the city's numerous parks or curled up with a good book.
More by Christina Peden
Published January 24th, 2022 12:00 AM