71 Views
Top 10 Best Ugly Christmas Sweaters for Dogs
December 2nd, 2019 12:00 AM
We're committed to finding, researching, and recommending the best products. We earn commissions from purchases you make using links in our articles. Learn more here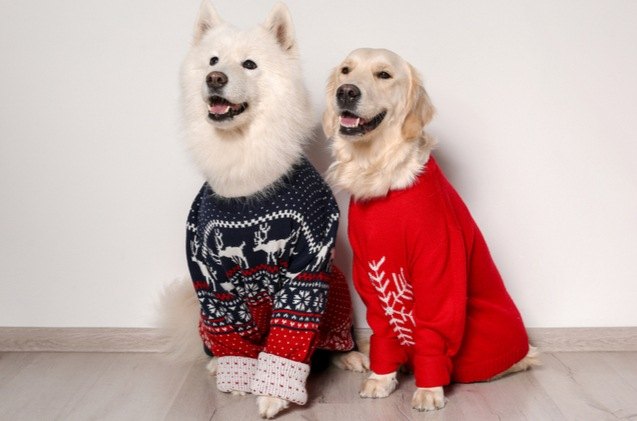 Don we now our garish apparel, fa la la la la! Celebrate the season with our Top 10 Best Ugly Christmas Sweaters for Dogs.
You can tell that the holidays are upon us – we've started donning our tackiest apparel, holding a contest to see which of us has the worst taste. Don't leave your dog out of this gaudy spectacle! We've gone online shopping and picked out these 10 ugly dog Christmas sweaters for your pooch to slip into.
KYEESE Christmas Dog Sweater
If it looks like something someone's grandma might have knit it herself in the 80s, you know it fits the bill of an ugly Christmas sweater – this time, it's in an adorable canine version. The red and green color block design features a star, Santa, reindeer, and Christmas tree in one sweater, and it's as far from minimalistic as it gets. Machine washable and comfy to wear, this festive sweater comes in 7 different sizes to suit dogs of all breeds – starting from 2.5 all the way up to 65 pounds.
cyeollo Christmas Dog Sweater
Does it get more kitschy and gaudy than matching your look with your Christmas tree? I think not, which is why this sweater is perfect for the occasion! Complete with 3D golden garlands and colorful baubles, this ugly Christmas sweater will definitely make your pooch stand out. It's stretchy and soft, as well, so your pet won't object to spending the holiday celebration in this outfit. Plus, as the sizes are very inclusive, most dogs will be able to find a match in one of the 7 available sizes – big or small!
Yokee Dog Christmas Sweater
Ho, ho, ho, the holidays are here! Celebrate by dressing up your pooch in a fugly outfit – such as this vomit green sweater with Christmas stockings all over it. Your pet won't know the difference but you'll certainly get a good laugh looking at them. Soft, warm, and stretchy, this sweater will keep your dog toasty and cozy, but only if they are under 20 pounds – despite being available in 5 sizes, all of them are meant for small breed dogs of different body types.
TENGZHI Dog Christmas Sweater
You don't have to go for the traditional red and green combo for the holidays – this clear blue sweater with a snowman design on the back perfectly fits the festive spirit without being too obvious. It's cute, winter-y, and can be worn after the holidays, too, so it's a much more practical solution. Plus, it's really comfy to wear and comes in sizes that suit small, medium, or large breed dogs alike – there are 6 size options to choose from!
EMUST Christmas Dog Hoodie Sweater
If you live in a place with cold winters, you'll want your pet's outfit to be warm and cozy – in addition to making them look snazzy for the festivities. This hoodie fits the bill perfectly! Made from warm acrylic knit fabric, with faux fur inside the hood, it will definitely make sure your four-legged bestie is snug as a bug. But what makes it really special are the adorable plush reindeer horns that will make your dog look even more adorable than they usually are – if that's possible. Available in sizes extra small through 2XL, this reindeer hoodie will fit dogs of all shapes and sizes.
ABRRLO Pet Holiday Reindeer Ugly Christmas Dog Sweater
You know Dasher, Dancer, Prancer, and the rest of the crew? Well, they've just been joined by Fido in his Christmas day sweater, all ready to meet Santa. Available in red and black, this holiday sweater for dogs has a big reindeer face on the back, complete with a fluffy pom pom in place of its nose. Adorable, you'll have to agree! The sizes are best suited for small and some medium breeds.
Fitwarm Thermal Pet Winter Jumpsuit
The temperatures can drop all they want because your dog will be toasty and cozy all snuggled up in this thermal fleece onesie. Perfect as your pet's option for Christmas morning PJs or as an outfit for short walks on chilly days, this cozy little number features a festive print and a comfy design. Unfortunately, though, this winter jumpsuit suits only toy and small breed dogs, despite the sizing which goes up to extra-extra large.
Well, it seems like Comet had one too many sips of eggnog – talk about the festive spirit! This ugly Christmas sweater features a fun fleece applique of a reindeer with tangled Christmas lights in its horns and it's perfect if you want a silly, goofy outfit for your dog. The sweater is made from warm knit fabric and comes in sizes extra small through extra large, but they all best fit small breed dogs.
Lanyar Dog Holiday Sweater
You can never go wrong with classics! This evergreen knit design with snowflakes, reindeer, and tiny hearts remains popular for decades, both in human and canine holiday fashion, and with good reason, too – it's super cute. Your pet will look adorable for the Christmas party in his red knit sweater! The sizes do run a bit small, but they are still suited for dogs of all breeds, from small to large.
Parisian Pet Funny Christmas Holiday Dog Shirt
Whether you live in an area where Christmas doesn't necessarily mean snow and cold weather or simply don't need to dress your pet in warm knits when they are inside, this holiday shirt is a great compromise. It gives off ugly Christmas sweater vibes without being an actual sweater – it's made from soft, stretchy, and breathable cotton. And to make everything even more awesome, it comes in 10 sizes, from extra-extra small to 5XL so no pooch is left out, no matter their body shape.
We are committed to finding, researching, and recommending the best products. We earn commissions from purchases you make using the retail links in our product reviews. Learn more about how this works.

Amy Tokic
Amy Tokic, Editor of PetGuide.com, is a passionate animal lover and proud pet parent of Oscar, a Shih Tzu/Chihuahua cross, and Zed, a Japanese Chin. Her love of animals began in kindergarten, when she brought her stuffed dog Snoopy into class with her every day. Now, she writes about her adventures in pet ownership and tirelessly researches products, news and health related issues she can share with other animal enthusiasts. In her free time, Amy loves perusing used book and record stores, obsessing over the latest pet products available and chasing squirrels with wild abandon (a habit attributed to spending too much time with her pooches).
More by Amy Tokic
Published December 2nd, 2019 12:00 AM