109 Views
Top 10 Christmas Sweaters for Cats
December 1st, 2022 9:48 AM
We're committed to finding, researching, and recommending the best products. We earn commissions from purchases you make using links in our articles. Learn more here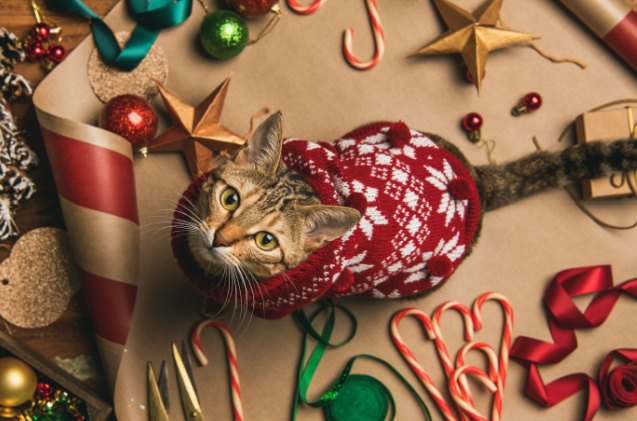 The holiday season is upon us – it's only normal that you'd want to include your pet in the festivities. A fun Christmas gift, thoughtful knickknacks stuffed in the stocking, and maybe even a pet-friendly, holiday-inspired meal are the most common ways pet owners make their four-legged family members feel included in the holiday celebrations. However, you can go a step further and prepare a special outfit for your pet to wear, and snap a few awesome pictures so you can cherish these memories forever!
We've handpicked the 10 best Christmas sweaters for cats, so you'll have a large selection of kitty outfits simply perfect for the holidays ahead. Whether you want something flashy and gaudy, elegant and minimalistic, or the classic, traditional Christmas sweater for your feline friend to wear, we've got you covered. When it comes to cats, though, you can't only focus on the looks – they are not the biggest fans of dressing up, so we've made sure that all of the sweaters from our list are as comfy as possible and easy to put on!
Editor's Choice: BINGPET Cat Sweater
You just can't go wrong with a classic colorwork sweater design – it can be worn as a Christmas sweater but also well after or before the holidays without looking out of place. Warm, stretchy, and comfortable to wear, this acrylic sweater for cats has a turtleneck to keep your pet toasty and snug and features an intricate fair isle-like pattern that looks amazing in both of the colors available (navy blue or red). Since the sweater is so elastic and has a wide opening for the front legs, it's easy to put on and will let your pet move freely without feeling constrained. The sweater comes in small, medium, and large sizes to suit all feline body shapes.
Pros
Comfy and unconstraining
Beautiful timeless design
Machine washable
Warm and elastic
Has a leash hole and a large front opening
Cons
Turtleneck might bother chubbier kitties
Runner Up: HYLYUN Cat Christmas Sweater 2 Pack
Why get just one cat Christmas sweater when you can get two for the same price? This set of two holiday-inspired feline pullovers will have your kitty looking sharp all season long, thanks to the fun design and quality materials. One sweater is red and gray, with a classic print that features elks and snowflakes, and the second one is more festive, with a cartoon reindeer face, candy cane, and falling snowflakes so you can mix and match for different occasions. Both are made from soft yet durable acrylic, so you'll know that these cute sweaters will last and be easy to keep clean. To make sure your pet says warm, these sweaters have a high collar, short sleeve cuffs, and an elastic hip belt to keep them in place and your pet snug. They are available in 5 sizes, so you'll have no problem finding the perfect fit for your pet.
Pros
2 sweaters in one pack
Different designs for different occasions
Perfect for the holiday season and beyond
Designed with attention to detail
Warm and soft
Customer's Choice: BOBIBI Cat Sweater Christmas Santa Claus
Ho, ho, ho – nothing says Christmas spirit more than Santa Claus! It doesn't surprise, then, that this Santa-inspired Christmas sweater for cats is so popular with pet parents. From the red and white stripes to the adorable Santa Claus applique on the back, complete with a 3D fluffy pom pom on top of his cat, this design really is super cute. The material is a synthetic wool alternative, which is soft, stretchy, and retains body heat well, so you can rest assured your feline friend won't feel the winter chill when they wear it. With simple cut-outs for front legs and a high-cut belly, this sweater isn't at all restraining and will allow your pet to go about their adventures while still looking stylish. The sweater comes in sizes extra small through to extra large, so there's a match for any pet!
Pros
Simple but striking design
Santa Claus details are perfect for holiday season outfits
Material that keeps your pet warm and feels soft
Easy to put on
Comfortable to wear
Cons
Sizing runs big – can be difficult to find the right match
Best Ugly Christmas Sweater: T2Y Christmas Cat Sweater with LEDs
Are you a fan of the ugly Christmas sweater tradition and want your pet to join it, for some super goofy family photos? Look no more, because this gaudy, flashy Christmas sweater for cats is going to steal everybody's thunder! Inspired by a Christmas tree – as in, it tries to be a sweater replica of it – this acrylic cat sweater has everything from jacquard garlands, cascading ruffles to mimic branches of the tree, knitted red bow, and cleverly positioned LED lights that stand in place of actual baubles and give the sweater that final touch that elevates it from your average ugly Christmas sweater to a real show stopper. It comes in sizes extra small, small, and medium, and will fit cats up to 12.5 pounds.
Pros
Unique design that really stands out
Perfectly embodies the festive spirit
Made from soft and quality materials
Has real, functional LED lights embedded
Easy to put on
Cons
Cats can be bothered by the batter pack and wiring
Best Turtleneck: BoomBone Reindeer Dog Turtleneck Sweater
Whether you have a hairless cat or just a kitty that's cold-sensitive, you'll want a Christmas sweater with maximum coverage that still manages to leave ample room for free movement. How, you may wonder? With a cozy, toasty turtleneck design! The long ribbed turtleneck folds in two for maximum coverage and added warmth, and the short sleeve cuffs also make the sweater feel cozier around the front legs. Of course, let's not forget about style, because this vibrant red turtleneck sweater with crisp white reindeer and snowflake design is just tailor-made for the festive season! Made with soft acrylic yarn, this cat sweater is machine washable and comes in sizes small and medium.
Pros
Keeps your pet warm – perfect for hairless cats
Additional coverage around the neck and front legs
Soft and stretchy acrylic yarn
Easy to keep clean
Holiday-inspired design
Best Funny: CooShou Cat Elf Christmas Sweater
It's highly likely that the elf on the shelf and your feline friend share more than one personality trait – at the very least, they certainly share their love for mischief. So why not dress up your kitty to show off her naughty side? Santa won't mind for sure! This silly Christmas sweater is the closest to an elf costume you'll find (without it actually being a costume), with its recognizable striped design and elfish collar with pom pom balls as a cherry on top. It is made with plush, elastic acrylic so it will be comfy to wear and easy to clean – convenience and style both! Plus, it comes in a range of sizes that will suit even chubbier cats, so any body shape will find a match.
Pros
Goofy and fun design
Ideal for fun photoshoots and making memories
Comfy to wear and convenient to clean
Keeps your pet toasty in the winter
Inclusive sizes
Cons
Sizes can be deceptively small – order bigger if unsure
Best for Cold Weather: KOOLTAIL Cat Christmas Sweater
Sure, Christmas sweaters are all about that holiday-themed design and festive vibes, but that doesn't mean that they shouldn't be functional as well! For those pet owners whose cats are sensitive to cold weather or have no fur and that's the reason they are dressing them up (and not just for giggles), there are plenty of options that combine warmth with style. One of those sweaters is this striped little number made from premium acrylic yarn with a thick turtleneck and ribbing, designed to keep your pet warm while allowing them to move around without feeling chafing or restrained. It also features the iconic red and green Christmas stripe combo and a happy snowman applique on the back, complete with falling snowflakes, so it won't look out of place, either. To boot, it comes in small, medium, and large sizes so sizing isn't an issue, either.
Pros
Thick premium acrylic yarn for warmth
Double-folded turtleneck and chunky ribbing
Festive colors and applique
Wide front leg opening
Elastic and body-hugging
Cons
Wide leg opening might be more uncomfortable than a classic one to some cats
Best Elegant: ALAGIRLS Warm Fleece Cat Sweater
You don't have to be flashy to be in the center of attention – if you have an elegant feline and want to accentuate their timeless look with a more subtle fashion design but still convey that holiday merriment, this is the outfit to go for. Available in a range of solid colors, but most importantly deep rich red and opulent forest green, both of which evoke Christmas spirit, this turtleneck cable knit sweater looks and feels luxurious. Made in a blend of acrylic, PBT, and nylon yarn, it is exceptionally durable while feeling soft to the touch – it also means that it can be machine-washed. It comes in a range of sizes to suit any cat breed (and even some canines).
Pros
Elegant and luxurious look
Seamless design for comfort and style
Warm and soft to touch
A variety of sizes and colors
Can be worn before or after the holidays
Cons
Sizing can be a hit and miss
Best Classic: Vehomy 2Pcs Pet Christmas Sweaters
For those that think of old Hollywood movies, eggnog, and generations-long family traditions when they say Christmas, a classic (or retro, if you wish) sweater design is what they'll love the most. And what they'll want their pet to wear for the holiday celebrations! Well, this set includes not only one such sweater but two – so you can have a spare or get a matching set for your duo of kitties. The design features timeless nordic-inspired colorwork design with elks and snowflakes, complete with the words "Merry Christmas" on one of the sweaters. The sweaters are a deep navy blue and a lovely deep red, so they'll look stunning in any color cat! What's more, they come in a large range of sizes, so you'll have no issue finding the right match.
Pros
2 sweaters in the set
A traditional, well-loved nordic-inspired design
A variety of inclusive sizes
Machine washable and soft acrylic fabric
Toasty and warm
Cons
Not all cats will find it comfy
Honorable Mention: ADOGGYGO Christmas Cat Collar
We all know that pets in Christmas clothing are insanely cute – but that doesn't mean you should force your kitty to dress up just because you find it adorable. Some cats dislike putting on clothes so strongly that they will be under tremendous stress if you try to get them in a sweater, and that's the last thing you want. If that is the case with your cat, don't worry – this festive collar set allows you to still "dress up" your kitty in festive attire without them freaking out about it. Instead of a sweater, just opt for a Christmas-inspired collar! The set of two includes one red plaid and one green plaid collar, complete with a bow, snowflake, and stars print, and a cute little bell with a matching enamel charm – the red one has a Santa and the green one has a Christmas tree. Bows are removable and the collar has a breakaway system, too, so you don't need to worry about endangering your pet. Perfect if you want your pet to look the part without being anxious about it!
Pros
Holiday-inspired design
Safety buckle for quick-release
Removable bow and bells
Size fits most cats
We are committed to finding, researching, and recommending the best products. We earn commissions from purchases you make using the retail links in our product reviews. Learn more about how this works.

Angela Vuckovic
A proud mama to seven dogs and ten cats, Angela spends her days writing for her fellow pet parents and pampering her furballs, all of whom are rescues. When she's not gushing over her adorable cats or playing with her dogs, she can be found curled up with a good fantasy book.
More by Angela Vuckovic
Published November 29th, 2022 10:24 AM