21 Views
Top 10 Pawsome Back-To-School Supplies
January 31st, 2022 12:00 AM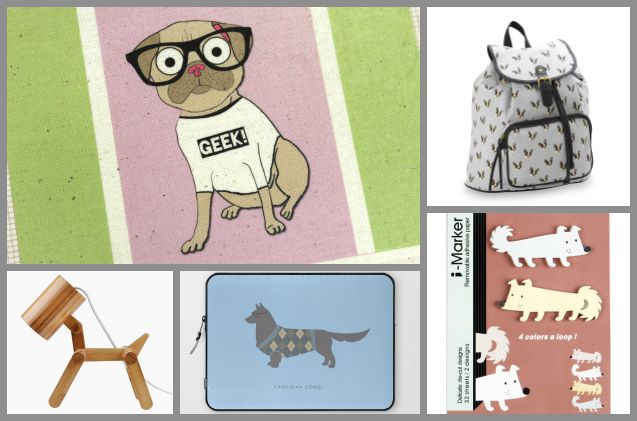 Make sure you take notes, as you will be quizzed on this shopping list later.
It's time to hit the books… but not until you've stocked up on all your back-to-school essentials. Before you groan (or cheer, if you're a parent), these school supplies are super pawsome! That's because they're all inspired by dogs. And what better way to learn (while making friends at the "cool" lunch table) than with this top 10 pet-acular must-haves list for A+ students.
1. Editor's Choice: Graphique Hardbound Journal
It's hard to resist the urge to keep text books free of random ink illustrations and passing thoughts and crushes. Instead, doodle the day away in this dog covered journal. Perfect for your daydream drawings and bite-sized notes, the Graphique Hardbound Journal fits neatly into your handbag or backpack. With 162 lined off-white pages to fill up, this notebook is a welcome study companion to any class.
2. Runner Up: Cutebricase iPad Case
You need to be connected – and cool – no matter where you go. Hey, no problem – Cutebricase has got you covered with these whimsical covers for your iPad. Perfect for the eco-conscious student, the dog-covered case is made from a sturdy PC frame, an Epoxy Resin Board interlayer and a durable PU leather exterior. And as an added bonus, this case can be propped up and adjusted to multiple angles so you can get the best view of your screen. You can also order them in a variety of other prints as well as one other size.
3. Customer's Choice: Laptop Decals
Stick it… to your laptop! What better way to show your "team dog" spirit than with a Doggy Decal that sticks to front of your laptop. There are so many to choose from, but for the purpose of this list, we narrowed it down to an artsy Bulldog, an adorable Dachshund, and a lovable Greyhound. You can find these and many more on Etsy.
4. Best Lunch Bag: ZZKKO Dog Lunch Bag
While we can't guarantee that the apple that you packed won't get traded for a cupcake, we can tell you that there's a super cute compilation of smiling pups waiting to greet you at lunch. With 5L of storage space and waterproof 300D oxford materials, this lightweight and durable lunch bag is perfect for kids and adults alike (plus, it's easy to clean up after messy eaters).
5. Best Stationery: Nicepaper Cute Colored Sticky Notes
Don't want to lose your place? Is there something super important you need to reference later? Need to leave your kids a quick reminder not to miss soccer practice? For all these things and more, there is Nicepaper Sticky Notes. An indispensable supply for both school and office, you'll take notice of notes when they're written down on a fetching posty.
6. Best Backpack: baihuishop Colorful French Bulldog Backpack
You can't start the school year without a signature backpack – which is why you should try the baihuishop Colorful French Bulldog Backpack on for size. Abounding with French Bulldogs, this canvas backpack is more than just a fashion statement. It comes with an open main compartment, an internal laptop sleeve, a front zip compartment, an internal zip pocket, two mesh pockets, soft canvas shoulder straps, and a convenient top handle.
7. Best Tech: LEIZHAN USB Flash Drive
Bring homework, assignments, photos and projects with you no matter where you go with LEIZHAN 16GB USB Flash Drive. This happy little pup even comes with a handy metal lanyard so you can attach it to your keychain, backpack or any other item you bring to and from school. If you need a bit more storage space for all of your important files, you can also swap out the 16GB model for 32GB!
8. Best Pencil Case: Blue Q Zipper Pouch
Are you a dog geek and proud of it? You're in luck! This pencil case lets everyone know where your priorities lie: you're interested in dogs and dogs alone! Made from 95% recycled plastic, this gorgeous blue bag from the Blue Q Store was built to last and is also easy to clean. If you weren't already confident that your money was being put to good use, 1% of your purchase goes towards supporting environmental initiatives around the globe!
9. Best Lamp: HROOME Modern Adjustable Wooden Bedside Table Lamp
Got an all-nighter to pull? No problem – let the HROOME dimmable desk lamp shine a light on things. We need to warn you… it'll be hard concentrating on your schoolwork when this dog is in the house. Made with Asche wood, the Dog Desk Lamp lights up the room with its LED light and brightens your décor with its illuminating design. Let there be light…
10. Best for Laptops: Cardigan Corgi Laptop Sleeve
There's nothing quite as studious as a Corgi sporting a cardigan and glasses. Show the teacher how serious you are about your studies with the Cardigan Corgi Laptop Sleeve by Qlippoth.net. This form-fitting, lightweight sleeve is crafted with a high-quality polyester outer skin and a fully lined, super soft, scratch-resistant micro-fibre interior in order to keep your gear protected from top to bottom.
We are committed to finding, researching, and recommending the best products. We earn commissions from purchases you make using the retail links in our product reviews. Learn more about how this works.

Amy Tokic
Amy Tokic, Editor of PetGuide.com, is a passionate animal lover and proud pet parent of Oscar, a Shih Tzu/Chihuahua cross, and Zed, a Japanese Chin. Her love of animals began in kindergarten, when she brought her stuffed dog Snoopy into class with her every day. Now, she writes about her adventures in pet ownership and tirelessly researches products, news and health related issues she can share with other animal enthusiasts. In her free time, Amy loves perusing used book and record stores, obsessing over the latest pet products available and chasing squirrels with wild abandon (a habit attributed to spending too much time with her pooches).
More by Amy Tokic
Published January 31st, 2022 12:00 AM