68 Views
Best Costumes to Transform Your Pet Into a Unicorn
January 25th, 2022 12:00 AM
We're committed to finding, researching, and recommending the best products. We earn commissions from purchases you make using links in our articles. Learn more here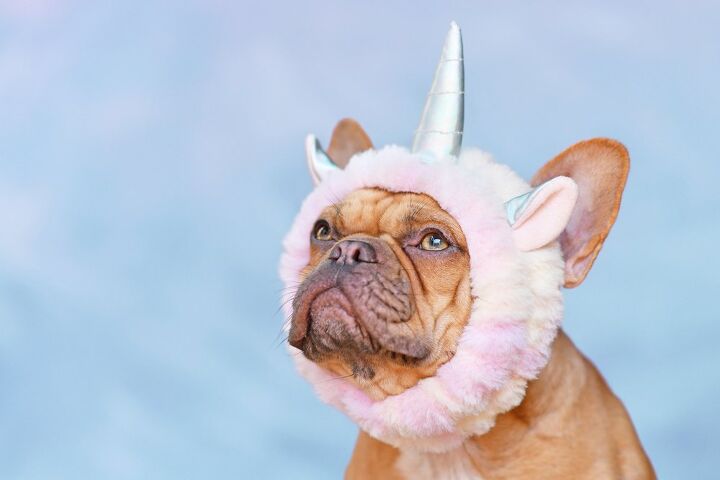 Whether you want a subtle touch of magic or a full-blown fantasy-inspired costume, we've put together a list of some amazing unicorn-themed outfits to take your four-legged friend to the next level.
1. Editor's Pick: Zoo Snoods Unicorn Dog Costume
If you want a simple yet effective hat to transform your pooch into their spirit animal, look no further than the handmade Zoo Snoods knitted hat. It's available in small, medium and large sizes so pets of all sizes can get in on the action.
As an extra bonus, this cute little cap will keep their neck and ears warm in cold weather, as well as protect them from dirt and moisture!
2. Runner Up: Rubie's Unicorn Cape
Why not kick things up a notch with this stunning cape from the popular costume store Rubie's? This stylish and easy-to-wear costume has a rainbow-inspired mane running down the cape. If your pet doesn't love hats, you can throw on the cape and call it a day – but if they're good boys and can put up with their human's strange antics, this cape also comes with a detachable hat that's adorned with a glittery horn and light-up collar.
3. Customer's Choice: A&L Adorable Holiday Pets Unicorn Costume Knitted Hat
For a more subdued yet sassy look, this delicate, knitted hat is a great option for your feline friend or small dog breeds. Whether you're getting ready for Halloween, a photoshoot or are simply spoiling your pet, this cute little cap is sure to impress.
4. Best Hoodie: Lifeunion Unicorn Soft Fleece Pet Hoodie
If your four-legged friend only responds to the name "Princess Sparkle Horn", they need a unicorn dog hoodie, and this sweater from Lifeunion is the perfect choice.
Covered with bright pinks and purples, smily eyes, a curly tail, floppy ears, a horn and a button-up closure, you'll have no problem slipping this onto your furry friend.
5. Best Cosplay: Froodies Hoodies Halloween Costume
Similar to the previous option, this unicorn-inspired sweater is just, well, a more subdued version. Ditch the bright colors for a simple and elegant white finish. We love the subtle shades of purple in the mane and tail, but what we really love is the horn that protrudes proudly up out of the hood.
6. Best Knitted Hat: Unicorn Hat for Dog
She still has some of her magical powers, including the ability to hear a bag of chips being opened from anywhere in your house… no matter where she is! This small yet effective hat is a great way to give your pets a touch of magic without overloading them with fabric. Soft, simple and to the point, you can't go wrong with this cute little knitted hat.
7. Best Pajamas: Fitwarm Fairy Unicorn Dog Pajamas
You don't have to dress up your pet as a mythical creature to pay homage to his unicorn reincarnation: with this unique pajamas jumpsuit designed for dogs, your pet can show off his unicorn pride in style. This retro-looking piece of dog apparel comes in various sizes from extra small to XX large and is made from premium, high quality velvet fabric that is so comfortable and snuggly against skin. Although designed as pajamas, Fitwarm Fairy Unicorn Dog Jumpsuit is great for everyday use, and can be worn during the day as well – or even outside.
Of course, true to that unicorn vibe, the costume features a cute unicorn print with bright colors, which are certain to make your doggo stand out in the crowd. And what is more, the quality velvet fabric is certain to make your pup feel warm and cozy when he wears this outfit- not to mention that the special elastic cuffs on all four sleeves are great to trap heat. Warm, stylish, and endlessly quirky – an ideal outfit for your barking little unicorn!
8. Best Inflatable: Accoutrements Inflatable Unicorn Horn for Cats
In case you want to piss your cat off, this inflatable horn is the way to go. Made from high-quality vinyl, you can use the four-point elastic straps to attach this bad boy onto your cat's head. It measures about 14 cm long (5 1/2″) and will turn your grumpy cat into a magical grumpy uni-cat.
9. Best Full Body: Greyhound Unicorn Costume
Instead of rolling around in mud or garbage, with this full-out costume, your pet will be rolling around in glitter he stole from your craft supply kit. This is the most pimped-out unicorn costume eva! From head to toe, your fur baby will embody a magical creature thanks to its detailed hooves, long tail and mane, pointed ears and thick horn!
10. Best Colorful: Rasta Imposta Purple Unicorn Pet Costume
Last but certainly not least, is the Rasta Imposta costume. Unlike most of the other options, this costume ditches the basic white coat for a magical purple and a multi-colored horn. This outfit also has a more defined horse head, so passerbyers and confused family members will know without a doubt that this unicorn is other-worldly.
We are committed to finding, researching, and recommending the best products. We earn commissions from purchases you make using the retail links in our product reviews. Learn more about how this works.

Amy Tokic
Amy Tokic, Editor of PetGuide.com, is a passionate animal lover and proud pet parent of Oscar, a Shih Tzu/Chihuahua cross, and Zed, a Japanese Chin. Her love of animals began in kindergarten, when she brought her stuffed dog Snoopy into class with her every day. Now, she writes about her adventures in pet ownership and tirelessly researches products, news and health related issues she can share with other animal enthusiasts. In her free time, Amy loves perusing used book and record stores, obsessing over the latest pet products available and chasing squirrels with wild abandon (a habit attributed to spending too much time with her pooches).
More by Amy Tokic
Published January 25th, 2022 12:00 AM