165 Views
Best Aquarium Kits Under 10 Gallons
We're committed to finding, researching, and recommending the best products. We earn commissions from purchases you make using links in our articles. Learn more here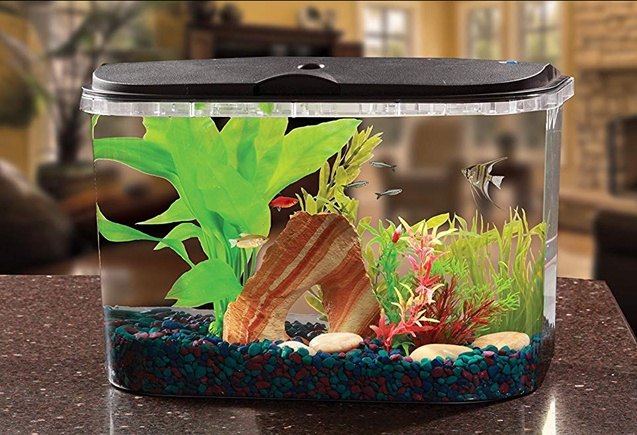 Setting up a home aquarium can be a lot of fun, but it can also be challenging. You're not just creating a visual element to add to your home décor – you're actually creating a captive aquatic environment that needs to support life. If you're not quite sure where to start as a budding aquarium enthusiast, you might consider easing yourself into the hobby by purchasing a small aquarium kit to start.
In this article, we'll review some of the things to look for when purchasing an aquarium kit. We'll also show you our top 10 picks for the best kits under 10 gallons.
Best Aquarium Kits Under 10 Gallons
When shopping for an aquarium kit, you need to consider the quality and design of the tank itself as well as the included accessories. Some kits come with all of the essential equipment you need while others only come with the basics, so shop smart and know what you're buying before you make a purchase. Know that, when it comes to the quality of included equipment, you may need to make some compromises and you may need to purchase additional equipment yourself.
Here are our top picks for the best aquarium kits under 10 gallons:
MarineLand 5-Gallon Portrait LED Aquarium Kit
Easily one of the most popular small aquarium kits on the market, this MarineLand 5-gallon kit features a unique rimless display for optimal viewing. It also comes with a hidden 3-stage filtration system, a sliding glass canopy top, and both white and blue LEDs.
Koller Products Panaview 5-Gallon Aquarium Kit
This 5-gallon aquarium kit features energy-efficient LED lighting that you can program in seven different colors. It comes with a powerful internal filter as well. The tank is made from impact-resistant plastic for crystal clear viewing.
Tetra GloFish 3-Gallon Aquarium Kit
This cube-shaped tank holds up to 3 gallons, making it a perfect tank for a betta fish. It features an LED light fixture and a Tetra 3i filter as well as a plastic lid with a feeding hole for your convenience.
Aqueon 10-Gallon Aquarium LED Kit
If you're looking for something slightly larger, this 10-gallon aquarium kit is a great option. It is equipped with a QuietFlow LED Pro power filter a preset heater, and a low-profile LED hood. It also comes with food, water conditioner, and a net.
Tetra Crescent 5-Gallon Acrylic Aquarium Kit
This aquarium kit features a crescent-shaped aquarium that holds up to 5 gallons. It also comes with an LED light fixture and a mechanical filter to help keep the tank water clean.
Marina LED 10-Gallon Aquarium Kit
Available in 5, 10, and 20 gallons, this aquarium kit features the Marina Slim S15 clip-on filter and an LED light fixture. Simply put, it is an attractive aquarium kit that comes with everything you need to get started.
Tetra ColorFusion LED Half-Moon Aquarium Kit
This 3-gallon aquarium features an attractive half-moon shape to give you a 180-degree view of your fish. It also comes with an LED bubbler that allows you to change the colors of the bubble effect.
GloFish 5-Gallon Crescent Aquarium Kit
Featuring a curved front and 15 blue LED lights, this 5-gallon aquarium is uniquely designed for GloFish. It is made from sturdy plastic with a seamless crescent-shaped design and comes with a canopy LED overhead light.
Aqueon LED MiniBow Aquarium Starter Kit
Choose from 1 gallon, 1.6 gallons, 2.5 gallons, or 5 gallons in this aquarium starter kit. It comes with a low-profile LED hood and Aqueon QuietFlow filtration as well as water conditioner and food samples.
MarineLand Contour Glass Aquarium Kit
A slightly different version of the model reviewed previously, this MarineLand glass aquarium features a stylish rail light. It also comes with a hidden 3-stage filtration system with both daylight and moonlight LEDs. It comes in a 3-gallon or 5-gallon model.
What to Look for in an Aquarium Kit
An aquarium kit is just what it sounds like – a kit that comes with the aquarium itself as well as a selection of accessories. Some aquarium kits include essential pieces of equipment like filtration and lighting systems while others come with décor elements and things like water conditioner or fish food. Before you start shopping for an aquarium kit, think about the elements you want to be included.
Here are some of the things to look for in an aquarium kit:
Sturdy Materials – Make sure the aquarium itself is made from sturdy materials like glass or acrylic rather than plastic.
Cover or Lid – Many aquarium fish have a tendency of jumping out of the tank, so make sure the aquarium kit you purchase comes with a cover or a lid.
Filtration System – Though not all aquarium kits come with an integrated filter, many do. Just make sure it offers 3-stage filtration (mechanical, chemical, and biological).
Heating – Many aquarium kits under 10 gallons don't come with heaters, but some do so be sure to look for this piece of equipment.
Lighting System – In a 10-gallon tank or smaller you do not need a lot of lighting, but many aquarium kits come with light fixtures. LED lights are a great choice because they are bright but energy efficient.
Additional Accessories – On top of the tank itself and any starter equipment, look for an aquarium kit that comes with add-ons like decorations, water conditioner, or fish food.
Now that you have a better understanding of aquarium kits and why they can sometimes be a better option than purchasing everything separately, you're ready to start shopping! Take what you've learned here and put it to use in choosing the best aquarium kit to suit your needs.

Kate Barrington
Kate Barrington is the loving owner of two cats (Bagel and Munchkin) and a noisy herd of guinea pigs. Having grown up with golden retrievers, Kate has a great deal of experience with dogs but labels herself a lover of all pets. Having received a Bachelor's degree in English, Kate has combined her love for pets and her passion for writing to create her own freelance writing business, specializing in the pet niche.
More by Kate Barrington
Published April 1st, 2020 12:00 AM