643 Views
Best Artificial Aquarium Plants
November 9th, 2021 12:00 AM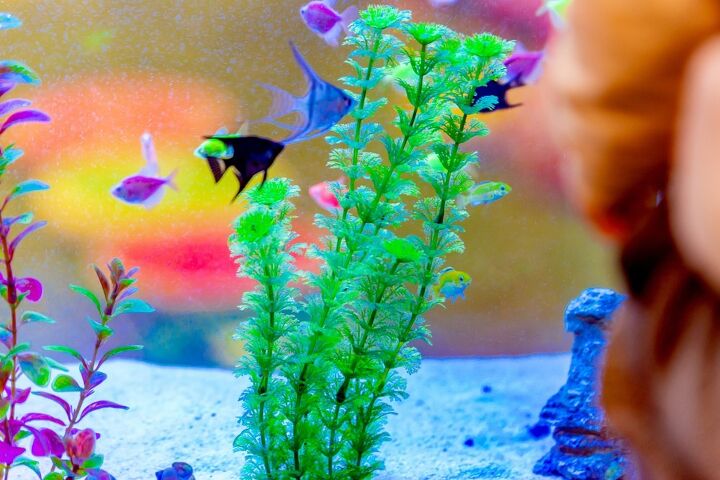 Keeping a tank with live plants can be quite a challenge. If you want the look of a planted tank without the hassle, think about adding artificial aquarium plants.
Few things are as beautiful as a lushly planted aquarium. A thriving tank filled with green is certainly a sight to behold, but maintaining it is quite a challenge. Live plants require certain nutrients in addition to plenty of light in order to thrive which leads some aquarium hobbyists to question whether they are worth the effort. If you like the look of a planted tank but don't feel up to making the effort, consider using artificial plants to decorate your aquarium.
In this article, we'll talk about how to use plants to decorate your aquarium and learn about our top picks for the best artificial aquarium plants to consider.
Best Artificial Aquarium Plants
Before you start shopping for artificial aquarium plants, take the time to think about your overall goal in decorating your aquarium. Artificial plants are just one piece of the puzzle, so think about the other décor elements you'll be incorporating to ensure that they all work together.
Here are our top picks for the best artificial aquarium plants:
1. Editor's Choice: CNZ Aquarium Fish Tank Green Lifelike Underwater Plastic Plant Aquatic Water Grass Decor (Large, 13-inch)
Beta fans love this plastic plant for the ample hiding places it gives them. It's perfect for a 20-gallon or bigger tank, and while many might use it for filler as they're waiting for natural plants to grow, you might find you love it because your fish do too. The long leaves and spacious surface area give lounging, sleeping or hiding room.
For bigger tanks, they're a great way to bulk up the greenery and each plant looks realistic and lifelike without looking too cookie cutter. This means your tank doesn't look factory formulated and your fish and Marine life feel they're truly in a habitat that they belong in. It comes in a variety of sizes for your tank needs: 9", 10" and 13" and you can mix and match to add varying levels of foliage for that just-right look. The weight of the plant is perfect for keeping buried as you need it to be, and for fish who like to eat at your natural foliage and keep it looking bare, these are almost no-brainer buys!
2. Runner Up: QUMY Large Artificial Plastic Fish Tank Plant
Add a hint of color to your aquarium with these green and red plants. These will help you replicate a natural environment in your tank – once they are submerged in the water, it's almost impossible to tell that they are made from plastic. Your fish will enjoy the faux flora, as they can swim and hide through the leaves, and you'll love the gorgeous look these artificial plants provide. Available in pik, red, green, and purple to suit anyone's preferences, these artificial aquarium plants stand at almost 16 inches tall and 7 inches wide with a 3-inch base.
3. Best Basic: BEGONDIS 3-Piece Green Aquarium Plant
This set of three artificial aquarium plants is great if you are looking for something a little more colorful – they also come in blue, orange, and red as well as a multi-color pack. You get to choose between different sizes, too, as these faux plants come in 7", 11", and 14" heights.
4. Best Tall: MyLifeUNIT 10-Piece Artificial Seaweed
Looking for a tall plant to set at the back of your aquarium? This 10-piece set of artificial seaweed is a great choice. Not only does it come in a natural-looking green, but it also comes in purple and wine red. It is made from eco, non-toxic PVC material with a ceramic base, which means that not only it won't contaminate water with harmful substances, but it will also be quite durable as the color won't fade with time. A thing worth noting, though – plastic aquarium plants may get squeezed and deformed when packed and shipped, but don't let that worry you. Just put the plants in 104 to 140 Fahrenheit degree warm water to restore them to their original shape before placing them in the tank.
5. Best Colorful: Otterly Pets Large Purple and Blue Artificial Aquarium Plants
Create a rainbow of color in your aquarium with this 8-pack of colorful plants. These plants come in a vibrant combination of pink and blue or purple and blue, each with a weighted pedestal for added stability. The plants range in height from 4" to 12" which makes them a perfect fit for 20-gallon tanks or larger. And as an added bonus, the company offers no-hassle lifetime guarantee on these stunning artificial aquarium plants.
6. Best for Large Tanks: Tacobear Artificial Plastic Plant
Finding aquarium plants for large tanks can be a challenge but this 20-inch plastic plant is a perfect fit. These artificial aquarium plants consist of 18 long branches of water grasses that form a whole: each of the branches is a different length and they have administrative levels. The lifelike design of this faux aquatic plant makes it look like it's flowing in the water, adding to the aquarium's overall appeal.
7. Best for Filling Space: CNZ 10-inch and 8-inch Plastic Plant Set
Fill a significant amount of space in your aquarium with a single ornament using this plastic plant set. It includes a 10-inch and an 8-inch plastic plant set in a sturdy base that measures about 10 inches long and 3 inches wide.
8. Best for Carpeting: COMSUN 10-Pack Small Artificial Aquarium Plants
Create a beautiful green carpet at the bottom of your tank with this 10-pack of small aquarium plants. These plants measure just 4 inches tall and come in a bright green color with wispy leaves to give the decoration texture.
9. Best Authentic: Fluval Anubias Plant for Aquarium
Creating a natural, inviting ambiance in your aquarium doesn't have to be difficult – live aquatic plants might be too high maintenance for your liking or incompatible with the fish you care for, but faux flora is an excellent alternative. This artificial Anubias plant looks exactly the same as the real deal, but without all the hassle of actually having to meet certain requirements for it to thrive – just place it in the tank and enjoy the view! This replica plant boasts a soft, supple texture for an authentic look and feel and fade-resistant natural colors for unparalleled durability. Measuring 12" with base, it is a good choice for 20-gallon tanks or larger.
10. Honorable Mention: biOrb Silk Plant Set Medium Green & Purple
This silky, flowy set of artificial aquarium plants will add a touch of elegance in your aquarium and perfectly complement fish with delicate, flowing fins – as the leaves gently swaying in the water will mimic their movement. The set includes two plants, one in a vibrant green and other a deep, rich burgundy purple hue to for contrast and a dramatic effect in the tank. Each is attached to a plastic, weighted bottom for stability and measuring 11.42" for the larger plant of the set. The duo of faux silk plants will add color and dimension to the aquarium without much effort – it works equally well with freshwater, saltwater, and tropical aquarium set ups.
Tips for Using Plants in Your Aquarium
Artificial aquarium plants come in all colors of the rainbow and a wide variety of different designs. If you want to cultivate a natural appearance in your tank, choose realistic-looking artificial plants. If you want something a little more whimsical, consider brightly colored plants in a variety of patterns.
Here are some simple tips for using plants to decorate your tank:
Think about the color scheme you hope to create and choose a variety of artificial plants in different shades to complement that color scheme.
Select a variety of different plant shapes and sizes – you'll want to use different plants in the foreground of your tank than in the background.
Decide what large-scale decorations you want to use in your tank and place them first so you can add the plants around it.
Be sure to leave plenty of open space in the middle of your tank for swimming unless you are trying to minimize territorial tendencies by breaking up sightlines with large decorations.
Place the smaller and shorter aquarium plants in the foreground of your tank – if you purchase a large number of the same plant you can create a carpet-like effect.
Arrange the taller plants near the sides and at the back of your tank – this creates visual intrigue without eating up the valuable free-swimming space in the middle of your tank.
Choose the right kind of aquarium lighting to make your artificial plants and other décor elements look their best – multi-color LED lighting works well.
With artificial aquarium plants you can create a natural-looking aquarium, or you can go another route and create something truly unique and eye-catching. If you're not sure where to start in shopping for artificial aquarium plants, simply try some of our top 10 picks reviewed above.
Are artificial plants good for aquariums?
It all depends on the type of aquarium and fish you have. If you want something that's low-maintenance, has no light requirements, can be thoroughly cleaned and disinfected, cannot introduce pests or parasites to the aquarium environment, and doesn't change size or appearance with time, then artificial aquarium plants are the best choice for you. However, if you want plants in your aquarium to absorb nitrates and carbon dioxide in the water or offer an alternative food source to your fish, then only live, real plants are the way to go – so choose according to your and your fish's needs.
What to consider when choosing artificial plants for aquariums?
The first thing most people consider is the appearance of the plant, as there are countless options out there, from natural-looking replicas to colorful and vibrant faux plants. Choose the style to complement the fish and the overall aesthetic of the tank, including gravel and other decoration: you want the artificial plants to fit in with the flora and fauna, and not stick out as a sore thumb. Another factor is the size of the plant, as they come in a range of different dimensions to suit any size tank – be sure to double-check the measurements to ensure the plants will fit inside your aquarium properly. Last but not the least is the material of the artificial plants: most come in either plastic or silk – plastic should be non-toxic, and silk is a better choice for tanks with sensitive breeds of fish.
Do betta fish like fake plants in their tank?
Bettas like decoration in their aquarium, and fake plants are no exception. The colors and textures of artificial aquarium plants will not only appeal to your betta fish, but they will also look great in your tank! While you have no limitations when it comes to color and style of the plants, you should, however, pay special attention to the material out of which the plants are made of. Silk works better than plastic, but if you opt for plastic it has to be soft and pliable – a reliable test is to run pantyhose all over the plants and check for rips. If there were marks on the pantyhose, skip that plant: it would likely damage your betta's fins.
Are plastic or silk aquarium plants better?
While both types have pros and cons, silk plants are usually preferred for their natural, realistic look and the gentle surface that can't harm sensitive fish. However, durable and colorful plastic aquarium plants have their advantages as well: they are durable, easy to clean and disinfect, and can help you create a really unique environment in your tank. In the end, unless you have fish with sensitive fins, it's all the same – it boils down to what look you prefer in the aquarium.
Can you use fake plants in a saltwater tank?
Yes, you can use artificial aquarium plants to create a natural-looking or a dramatic environment in your saltwater tank. Just be sure to choose the correct size for the tank and a material safe for the type of fish you have in your tank. It's worth noting that algae might get stuck all over the plants in a saltwater tank, so they might require a more frequent cleaning than they would in a freshwater tank.
Will plastic plants harm fish?
Not all plastic plants for aquariums are made alike – while some are perfectly safe for the fish in the tank, others could be harmful. What you need to look for is plastic plants that are made from non-toxic plastic so they won't leach toxic substances in the water, as well as plants made from softer, more pliable plastic if you have sensitive fish in the tank. Robust plastic plants with sharp and jagged edges could injure your fish, especially those with gentle, flowy fins such as bettas.
We are committed to finding, researching, and recommending the best products. We earn commissions from purchases you make using the retail links in our product reviews. Learn more about how this works.

Kate Barrington
Kate Barrington is the loving owner of two cats (Bagel and Munchkin) and a noisy herd of guinea pigs. Having grown up with golden retrievers, Kate has a great deal of experience with dogs but labels herself a lover of all pets. Having received a Bachelor's degree in English, Kate has combined her love for pets and her passion for writing to create her own freelance writing business, specializing in the pet niche.
More by Kate Barrington
Published November 9th, 2021 12:00 AM