1.3K Views
Best Betta Tank Decorations
October 28th, 2021 12:00 AM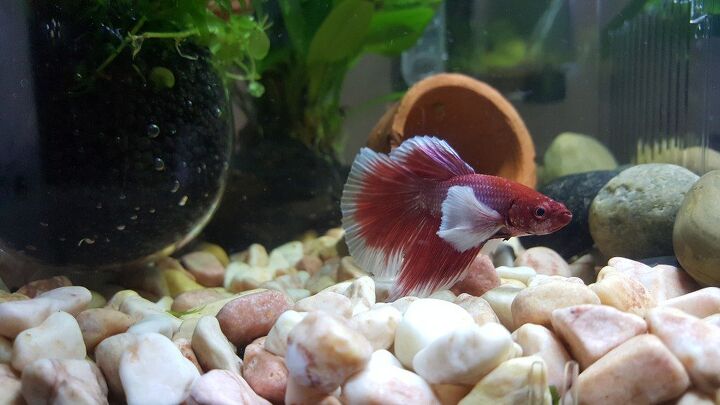 Do you want to complement your beautiful Betta fish? Why not fill your aquarium with the awe-inspiring Betta tank decorations?
Betta fish are some of the most colorful aquarium fish out there, coming in all colors of the rainbow. Not only do they have brilliant colors, but they have beautiful flowing fins. The primary problem with betta fish is that the males of the species tend to be very territorial and aggressive. This makes it a challenge to keep them with other aquarium fish.
Just because you have to house your betta fish alone doesn't mean your tank needs to be boring. The right decorations can bring life to your tank, complementing your betta fish in a beautiful way. In this article, we'll talk about the best ways to decorate your betta tank and you'll receive our top 10 recommendations for the 10 best betta tank decorations.
Best Betta Tank Decorations
When it comes to decorating your betta fish tank, you have the freedom to do as you like. Choose natural decorations for a more realistic look or let your imagination run wild with brightly colored, whimsical decorations. Whatever you choose, we have some great recommendations for you.
Here are our top 10 picks for the best decorations for betta tanks:
1. Editor's Choice: JIH Aquarium Plastic Plants and Rock Decorations
This decoration kit is a great way to liven up your betta tank and create a unique environment your fish will enjoy. This kit comes with one large decorative rock, and 6 pieces of different plastic plants in various sizes. From soft swaying faux grasses, to colorful and wide-spreading faux sea plants, you can really create a true betta oasis. The rock is full of crevices and passages, and adds a realistic touch to the tank. Of course, all the decorations have soft edges and won't fade. Plus, they are totally safe for use in all aquariums. These are simple to use – simply soak them in warm water for 10 minutes, and you can put them in the tank! The wide bases of these decorations will fit snugly to the bottom, completing the look.
2. Runner Up: WishLotus Shipwreck Hideouts Betta Tanks Decoration
Ahoy, shipmate! It's time to turn your betta tank into something so pretty it's worth looting. By adding little details such as this unique shipwreck figurine, you are bound to attract some curious eyes. WishLotus offers this rather large and realistic piece of decoration that fits into any aquarium. It measures around 6.3" in length, 5.9" in height, and it is 3.9" wide. The decoration is made from eco-friendly resin material, and is totally safe for the aquarium. And it's looks are ideal too: create a feel of a fairytale seafloor with this weathered and punctured wooden barrel, covered with starfish and algae! The holes in the barrels create a little tunnel through which fish will be eager to pass. The decoration is hefty enough so it can sink to the bottom and stay firmly in place.
3. Best for Hiding: Tfwadmx Resin House Aquarium Decoration
Here is a great way to make your betta tank come alive and create a welcoming environment for the fish. This faux resin house is an ideal way to add a stylish touch to the tank but also a protective nook for the fish to shelter in. It is shaped as a quirky little seafloor house, and boasts a roof made entirely from faux green moss, adding a nice texture and natural look to it. The interior of the house is completely hollow, mimicking a natural reef cave that the fish will delight to take refuge within it. This unique ornament has a wide flat base and will sit firmly on the tank's bottom. It measures 4.33" in length, 3.5" in width, and 2.76" in height! A perfect addition for any type of aquarium.
4. Best Classic: Penn Plax Aerating Action Diver Ornament
If you want to add a touch of whimsy to your betta tank, try this aerating action diver ornament. Simply hook it up to an air pump and you'll see a steady stream of tiny air bubbles rising from the diver's mask. The tiny diver measures approximately 4" in height, and that makes it an ideal fit in almost every aquarium. And, thanks to its wide and sturdy base, it can stand securely without tipping over. The diver is made from high-quality and durable plastic, and is hand-painted with a variety of little details. As an ornament, it is safe to use in both freshwater and saltwater aquariums.
5. Best Modern Decor: biOrb Sea Lily
These unusual and colorful plastic lilies have been created especially in order to simulate the environment of the real sea floor. If you always wanted that ideal natural look in your aquarium, this is the thing for you! The biOrb Sea Lily is designed to fill up the floor of your tank, providing a stylish way to cover empty space. It comes in three distinct natural colors, white, blue, and crimson, and is created after actual plants found at the bottom of the South China Sea. This faux plant measures roughly 5.25" by 3" by 4.5", and is great for mixing with other betta tank decorations. It is compatible with saltwater, freshwater, and tropical aquariums, and can be snuggly implanted to the bottom thanks to a wide base. Just remember to rinse it thoroughly before use, and you are ready to go!
6. Best for Sleeping: Penn Plax Stone Hideaway Decoration
This natural stone cave gives your betta a place to sleep or hide and it helps create defined territories in tanks that contain more than one betta fish. The decoration measures roughly 2"in height, 2.75" in width, and is 2.5" deep. That makes it an easy fit in most aquariums. Another great feature is the stacking option! Since the Penn Plax stone decorations come in a variety of sizes, they can be easily arranged and stacked in whatever way you like. Decorate the aquarium after your own tastes! Also, you'd be glad to hear that they are super easy to clean. Simply wipe it down and use some warm water to clean everything up. Remember to avoid soap – that can be very bad for your fish. Luckily, this cute little stone hideaway is made from materials that are safe for use in both freshwater and saltwater tanks.
7. Best Ceramic: Norgail Ceramic Jar Decoration
Nothing speaks more of ancient and antique sea-bottom relics than a vintage-looking faux ceramic jar! This nifty decoration piece will brighten up your betta tank, and add the unmistakable flair of a mysterious sea treasure. This piece is made from ceramic, which is safe for the fish and can be placed in saltwater of freshwater aquariums. The jar is designed to lie on its side, and has two holes inside it. Together with the jar opening, the fish can freely move through it, and use it as a special little hideout. It is perfect for fish that like to dwell on the bottom or just explore freely. The diameter of the holes is 1.57" for the opening, and 0.98" for the smaller one. A great way to make your betta tank look mysterious and stylish.
8. Best Whimsical: Penn Plax Spongebob Squidward Easter Island Ornament
If you want to create a whimsical look in your betta tank, this Spongebob ornament is perfect. It comes in the shape of Squidward's home from Spongebob Squarepants and doubles as a hideaway for your betta.
9. Best Natural Looking: CousDUoBe Betta Fish Leaf Pad with Suction Cup
Attach these leaves to the side of your betta tank using the included suction cups to create a surface-level decoration. Your betta fish will also enjoy resting on these leaves as a place to nap. The design features a pair of leaves, and both have different dimensions: the larger one measures roughly 2.36" by 1.77", while the smallecanr one is 1.97" by 1.50". This makes them an ideal piece of decoration in most tanks. Luckily, you choose whatever nook in the tank to place them. The strong suction cup keeps the leaves in place no matter what spot you choose. The leaves are lightweight, but still super durable, as they are made with high-quality and strong materials. Due to this, they will gently sway in the tank, mimicking the look and feel of the actual plant. Before use, remember to wash the leaves with warm water.
10. Best Bubbler: Hygger Aquarium Air Stone Kit
If you're looking for an eye-catching decoration for your betta tank that will also benefit your fish, consider this aquarium air stone kit. It includes a nano air disc stone that you plug in to an air pump to create a wall of tiny air bubbles in your tank. Thanks to an upgraded design, this kit will now release tinier, denser, and more uniform bubbles, making for a double oxygen dissolving rate in water. What is more, the stone will make less noise than before – as the wall of bubbles is pushed into the water, the noise will be minimal. The gadget creates an atomization effect, and transforms your aquarium into a unique and lively environment. Thankfully, it weighs around 430 grams (15.2 ounces) and will simply sink to the bottom where you choose. The diameter of the air diffuser is 4", excluding the plastic border, so it will easily fit most tanks – needless to say, this air stone kit is ideal for both freshwater and saltwater aquariums.
Tips for Decorating a Betta Tank
The decorations in your aquarium do more than just make your tank look good. Some decorations double as hiding places where your betta fish can relax if he wants to and others break up the tank into multiple territories. Some decorations can even be hooked up to an air pump to help aerate the tank with hundreds of tiny bubbles. The way you decorate your betta tank is entirely up to you.
Decide on an overall theme for your betta tank decorations so everything will complement each other – this isn't absolutely necessary, but it will improve your tank's overall appearance.
Include live or artificial plants in your betta tank decorations – artificial plants add color and dimension to your tank while live plants add these things in addition to oxygenating tank water.
Add a piece of driftwood to your betta tank as a focal point – you can also use it to anchor live plants and to give your betta a place to hide.
Use pieces of rock to create a cave for your betta to hide in or stack them against the side of the tank to create a vertical décor element.
Add some floating plants to your betta tank – betta fish build bubble nests on the water's surface and they like to hide among floating plants as well.
Include an aquarium bubbler in your tank décor to help oxygenate the tank – you can find natural-looking or whimsical bubbler ornaments to suit your décor scheme.
Betta fish are some of the most beautiful fish out there, so you don't want to overshadow your fish with gaudy tank decorations. The right décor can, however, complement your fish's natural beauty.
Do Bettas like tank decorations?
Most aquarium fish – bettas included – love tank decorations. Faux flowers, moss, stones, tree logs and grasses, will all create a natural-looking environment. Bettas will love this, as it gives them the natural sense of comfort such an environment presents, and will make them feel just like "at home". Other tank decorations, such as jars, divers, barrels, and all kinds of faux sea treasures, will also make for an intriguing part of that environment. Bettas might explore them freely – if there are holes and nooks – and find a dark little passage to hide there or feel safe. It would be best to find decorations that are as natural as possible, and won't be intrusive in the aquarium. Relying on fake flora will be your best bet at creating a betta tank that is most similar to the real thing!
What decorations do Bettas like?
Bettas are never picky when it comes to decorations. These fish like to be stimulated, and adding new décor that can be explored or used to hide in is a great first step. They will love decorations in which they can get inside, rest on, investigate, or build their little bubble nests. Fake plants are great as well, as long as they are not too dense. Avoid decorations in which a fish can get stuck or tangled. Remember to keep everything nicely spaced out and safe.
Are plastic decorations bad for betta fish?
Plastic decorations that are soft are usually safe for betta fish. Things you should avoid are metal, calcium-based materials, and similar. But non-toxic plastic, with no sharp edges or firm implements will be great for your tank. Always check whether decorations are labeled as non-toxic, and remember to rinse them in warm water (without soap) before placing them in your betta tank.
Additional resources:
We are committed to finding, researching, and recommending the best products. We earn commissions from purchases you make using the retail links in our product reviews. Learn more about how this works.

Kate Barrington
Kate Barrington is the loving owner of two cats (Bagel and Munchkin) and a noisy herd of guinea pigs. Having grown up with golden retrievers, Kate has a great deal of experience with dogs but labels herself a lover of all pets. Having received a Bachelor's degree in English, Kate has combined her love for pets and her passion for writing to create her own freelance writing business, specializing in the pet niche.
More by Kate Barrington
Published October 28th, 2021 12:00 AM