18 Views
Best LED Aquarium Lighting Systems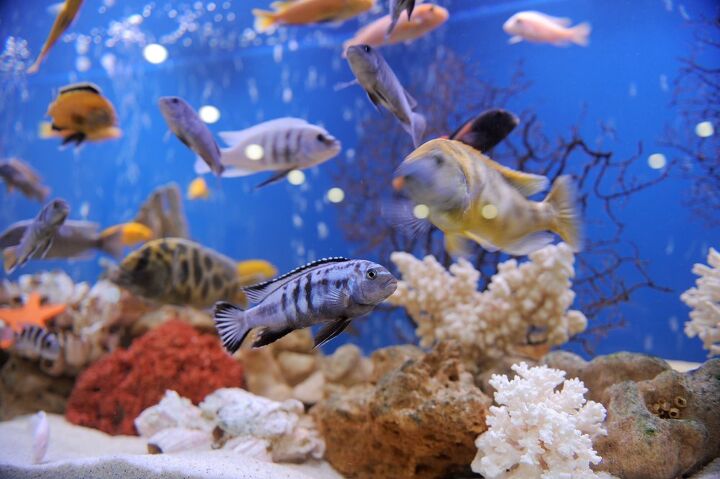 What is the one thing that can immediately transform the look of a home aquarium? The right LED aquarium lighting system.
Lighting does more than just illuminate your tank – it helps your fish look their best and it provides valuable energy for live aquarium plants and other photosynthetic organisms.
There are many different types of lighting systems out there for aquariums, but many of them come with challenges. Some lighting systems are too high-intensity for the average aquarium and others are so strong that they give off enough heat to change the temperature of your tank water.
If you're looking for a basic aquarium lighting system where the benefits greatly outweigh the drawbacks, consider an LED system. Read on to learn more about the benefits of LED lights for aquariums and to see our top 10 picks for the best LED lighting systems for aquariums.
Best LED Aquarium Lighting Systems
When shopping for LED aquarium lighting, you'll want to keep your budget as well as your tank specifications in mind. Choose the system that best suits your aquarium and falls within your ideal price range. If you're not sure where to start, check out our recommendations below:
Here are our top 10 picks for the best LED aquarium lighting systems:
1. NICREW Classic LED Light
Easily one of the most popular LED aquarium lighting systems on the market, this model comes in five different sizes to fit tanks of all sizes. This system features super-bright and energy-efficient LEDs with two lighting modes, white for day and blue for night.
2. Koval Aquarium LED Light
Another popular option in aquarium LEDs, this system is equipped with 78 bright LEDs in 5 different colors. The extendable bracket makes it easy to install and it is a high-efficiency model with low energy dissipation.
3. Current USA Orbit Marine Aquarium LED
If you want an LED system loaded with color, this is the perfect choice. Designed for marine aquariums, this system offers a wide spectrum of colors to create the ideal lighting for fish, invertebrates, live rock, and corals.
4. MIngDak LED Aquarium Hood Light
Available in a wide range of sizes, this LED system is easy to install and adjust. It features both white and blue lights, meeting most of the requirements for a basic freshwater or saltwater tank.
5. Relassy Updated Aquarium Light
This saltwater Aquarium light is 40% larger than the majority of other LED reef coral light at 22 "x 12". It contains 338 LED chips that simulate natural sunlight that will encourage the growth or your corals, fish and algae. The blue light encourages your fish's activity and promoted plant defense mechanism. Meanwhile, the white and red lights help the growth of your coral reef. Relassy constructed their product with cup shaped LED ships to avoid any light loss and created deeper penetration for you tank. They coat their LEDs to minimize the moisture so there is no worry for you if you are using this on a saltwater aquarium. It is designed to run fan-less so you can enjoy your tank without a constant humming noise. The light comes with a remote control and it has three dimmable channels. The light intensity can be controlled from 25 to 100 percent.
6. HIPARGERO LED Aquarium Light
If you looking for a super easy install fuss free LED system, Hipargero LED Aquarium light is the easiest system we have come across. The LED's have been carefully selected to mimic a deep-sea environment that will help to bring out all the colors in your tank. You have two dimmable channels with touch control so you can adjust the color levels to meet your needs. You can even achieve perfect blue light that will promote Vitamin D3 which will help your coral absorb Calcium making it seem even brighter in color. Installation is a breeze as it just clips on to the top of your tank. Depending on the size of your aquarium you might even want to get two. There is a 30 day customer satisfaction guarantee and a one year warranty on your product.
7. Smiful Submersible LED Aquarium Light
For a boost of extra light anywhere in your tank (including underwater), try this submersible LED light. It is extremely affordable and the perfect option for supplemental lighting. It includes 9 white LEDs arranged in a strip with suction cup attachments that can be used anywhere in the tank.
The perfect option for supplemental tank lighting, this LED clip-on light is easy to install with no drilling or cutting. It is easily adjustable so you can place it exactly where you want it and it is super-low voltage.
9. Current USA Satellite Freshwater LED
Equipped with super-bright 6500K white LEDs and 445nm blue LEDs, this system is ideal for freshwater aquariums. It features several lighting modes so you can adjust the lighting for day and night, plus the sliding docking legs make it easy to install on just about any aquarium.
10. MarineLand LED Aquarium Shimmering Light
Designed to create a shimmering look in any aquarium, this LED system comes equipped with long-lasting 60mW LEDS that last forever. This system is extremely energy efficient, low-voltage, and easy to install.
What Makes LEDs a Good Choice for Aquariums?
Light emitting diode (LED) lighting is extremely versatile with many benefits that make it ideal for aquarium applications. It doesn't produce any heat, it is extremely efficient, and it comes in a wide range of colors you can customize to your tank needs. LED lighting systems also come in a wide variety of sizes and configurations, so you have plenty of options to choose from.
Here are some things to look for in an LED lighting system:
Size – The size of your LED fixture will depend on the size of your tank. LEDs come in a variety of forms including complete fixture, light rails or tubes, pendants, and floodlights – choose wisely.
Construction – Don't waste your money on a cheap LED light fixture that you'll just have to replace in a few months. Make the initial investment to get something built to last.
Color – You can find LED lights in just about any color of the rainbow. White lights are the simplest option for daytime illumination and blue lights for nighttime.
Control – Many aquarium LED systems come with a control panel that lets you turn certain lights on and off in certain sequences. This is perfect for programming a day/night cycle.
Now that you have a better idea what is out there in terms of LED systems, you're ready to start shopping. Keep in mind the size and shape of your tank as well as your needs for lighting. Remember that live plants require more light than a fish-only tank and nocturnal tank inhabitants will appreciate having a little bit of blue light at night.
Aquarium lighting systems come in a wide range of forms but if you're looking for something affordable and easy to set up, LED is the way to go. Take what you've learned here to find the perfect LED system for your tank or try one of our top picks reviewed above!

Kate Barrington
Kate Barrington is the loving owner of two cats (Bagel and Munchkin) and a noisy herd of guinea pigs. Having grown up with golden retrievers, Kate has a great deal of experience with dogs but labels herself a lover of all pets. Having received a Bachelor's degree in English, Kate has combined her love for pets and her passion for writing to create her own freelance writing business, specializing in the pet niche.
More by Kate Barrington
Published May 5th, 2021 12:00 AM