36 Views
Best Light Fixtures for a Planted Tank
October 30th, 2019 12:00 AM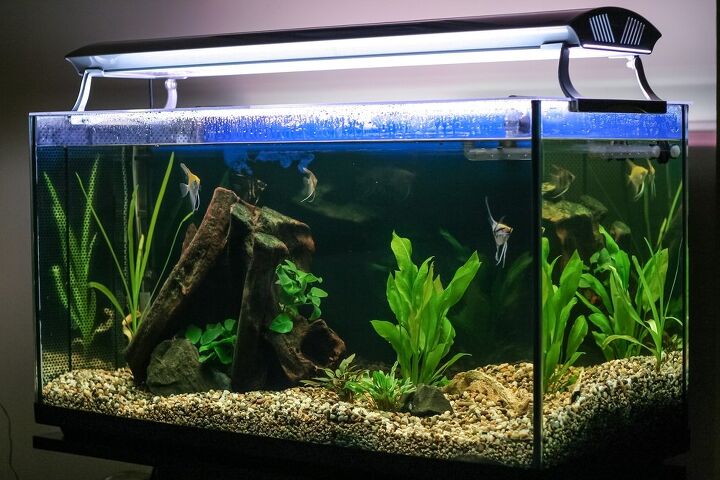 Bring out the best in your vibrant aquarium with the right lights. Here's our guide to the best light fixtures for a planted tank.
A simple, sparsely decorated tank can be a beautiful sight when filled with colorful fish, but nothing compares to a lushly planted tank. Planted tanks are definitely a sight to behold, but they are also a significant amount of work to cultivate and maintain. The biggest thing you need to provide for a planted tank is proper lighting. Aquarium plants are photosynthetic organisms and require light to survive and grow.
Though maintaining a planted tank may be a little trickier than a fish-only tank, it is well worth the effort. Keep reading to learn about the lighting requirements for planted tanks and to see our top picks for the best light fixtures for planted tanks.
Best Light Fixtures for a Planted Tank
When it comes to choosing a light fixture for your planted tank, it is largely a matter of preference. As you've already learned, some types of lighting are better for large tanks versus small tanks or sparsely planted tanks versus heavily planted tanks. Take what you've learned and refer to the following list of our top 10 picks for the best light fixtures for planted tanks:
Finnex Planted Tank 24/7 Fully Automated Aquarium LED Fixture – For heavily planted tanks, striking the right balance of lighting is important and this LED fixture makes it easy. It is fully automated with a controller and features four customizable color channels with dimmable LEDs for day and night lighting. Plus, it comes in five different sizes.
Koval Aquarium Light Hood with White and Blue LEDs
– If you're looking for an affordable option in full-spectrum lighting for your planted tank, this LED fixture is one to consider. It comes in three different sizes with extendable brackets for a custom fit and is equipped with 5 colors of full-spectrum LEDs with 50,000 hours of life. It is a high-efficiency, low-energy dissipation system.
Mingdak LED Aquarium Light
– If you've taken the time to carefully decorate your tank, you want it to look its best. This submersible aquarium light is perfect for highlighting certain features in your tank or for providing a little bit of extra lighting for plants with high lighting requirements. It comes in four sizes, all priced under $25.
Marineland LED Light Hood for Aquariums
– Purchasing multiple light fixtures can get confusing but this LED light hood is simple – just choose the one properly sized for your tank! It comes with a sleek-looking hood with a feeding opening and is equipped with LED lighting for both day and night illumination of your planted tank.
Hygger LED Aquarium Light Clip
– You don't need a giant light fixture for a nano tank, so this LED aquarium light clip is the perfect solution. Equipped with 30 or 45 LEDs, this fixture offers two lighting modes for daylight and nighttime lighting. It also features a sleek design with an ultra-thin aluminum alloy shell.
BeamsWork LED Aquarium Light
– To create the perfect light cycle in your tank, consider this programmable LED fixture. It comes in eight different sizes with extendable brackets to fit just about any tank and has two timer-ready modes for day and night.
All Glass Aquariums Fluorescent Strip Light
– If you only have a few plants in your tank, you don't necessarily need to spend a fortune on a light fixture. This plain and simple fluorescent strip light is a great option for most aquariums and can also be used as an exact replacement for full hoods. This particular model is 16 inches long but there are others available.
NICREW ClassicLED Aquarium Light
– This aquarium light is super bright, ultra-efficient, and highly affordable. It comes in five different sizes with an optional single channel timer add-on and the metal brackets are adjustable for your convenience.
Aquaneat Aquarium LED Clip Light
– Another option for supplemental lighting or for a smaller tank, this LED clip light contains 48 LEDs in white, blue, red, and green. It is recommended for tanks up to 10 gallons and comes with two lighting modes.
MUCH Underwater Light Submersible Spotlight
– Illuminate your planted tank to its best advantage with this LED spotlight. It is fully submersible, so you can place it wherever you like to highlight certain features of your tank for the greatest aesthetic effect.
Lighting Requirements for a Planted Tank
All plants are photosynthetic organisms which means that they require light as a source of energy. They need energy to fuel the process through which they convert carbon dioxide into oxygen that your fish can breathe. Having the wrong lighting or inadequate lighting in your planted tank can be a big problem, both for your fish and your plants.
Here are some things to know about lighting requirements for a planted tank:
There are many different kinds of light sources for planted tanks – some types of lighting are better for sparsely planted tanks and others for densely planted tanks.
Some types of lighting produce heat – in some cases, you may need to add an auxiliary fan or a chiller to keep your tank from overheating (primarily with metal halide lighting).
Certain bulbs are more energy efficient than others – LEDs are the most energy-efficient option.
You should pay attention to the color temperature of the light you choose – plants benefit most from full-spectrum lighting which imitates daylight.
Carpet plants like baby tears need a lot of lighting to grow and spread.
Midground and background plants can get away with a low to medium amount of lighting, depending how many plants you actually have.
It's important to create and maintain a light cycle with your tank lighting – most plants need about 8 hours of light per day.
Too much light in a planted tank can result in algae growth – try to find the right balance between meeting the needs of your aquarium plants without going overboard.
Once you've selected and set up your light fixture, the hard work is done! Just be sure to pay attention to the life expectancy of the bulbs you're using so you can replace them as needed to ensure that they provide your live plants with the maximum benefit.

Kate Barrington
Kate Barrington is the loving owner of two cats (Bagel and Munchkin) and a noisy herd of guinea pigs. Having grown up with golden retrievers, Kate has a great deal of experience with dogs but labels herself a lover of all pets. Having received a Bachelor's degree in English, Kate has combined her love for pets and her passion for writing to create her own freelance writing business, specializing in the pet niche.
More by Kate Barrington
Published October 30th, 2019 12:00 AM