62 Views
Best Air Purifiers For Pets
January 18th, 2022 12:00 AM
We're committed to finding, researching, and recommending the best products. We earn commissions from purchases you make using links in our articles. Learn more here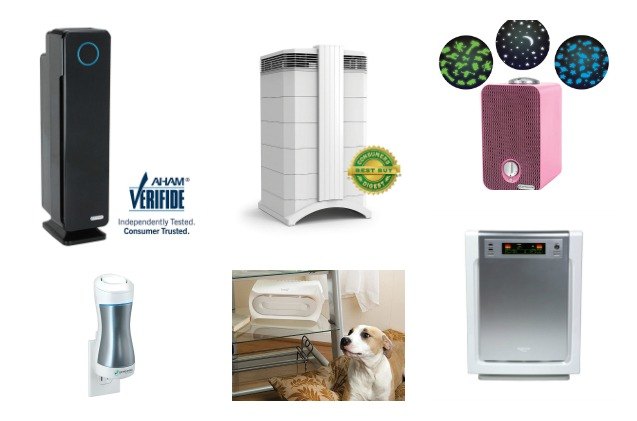 Air purifiers can make all the difference in the air quality of a house with pets, particularly those with multiple pets. Check out the top air purifiers we've found to keep your homes smelling sweet!
When my husband and I got married, we moved to an area where my allergies reacted to everything. The ENT I saw asked about my dog, and whether or not the dog could stay outside. Laughing, I said that wasn't even close to an option, so he kept asking if the dog could at least stay in one room of the house, or at least out of my bedroom, or at the very least, off my bed. The answer to all of those, of course, was a resounding, "No, he sleeps with us every night!" so we had to figure out a different solution. Air purifiers to the rescue, and we've never gone without one since.
There are some pretty great air purifiers out there, all destined to do different things in your homes. These are the best air purifiers for pets we've found and love!
1. Editor's Choice: Germ Guardian 4-in-1
You'll find a mixed belief in allergists about whether or not you need a HEPA or a TRUE-HEPA filter in whatever air purifier you buy. Many say that a TRUE-HEPA won't get rid of microscopic dander and that a HEPA-type is good enough to get pet fur and hair out of the air, but I won't lie: I don't mind overkill. It doesn't hurt to be too vigilant, right? Since every person in our family IS allergic to dogs, we use this baby in each of our bedrooms. It's a HEPA filter that also has UV-C light technology that can get rid of bacteria, viruses, germs and mold spores and all of those things are so often brought in by our dogs and can trigger allergies. The filters last six to eight months and you'll wake up with no allergy sniffles! And, as an added bonus, this air purifier comes in both black and white so you can match it to your home decor.
2. Runner Up: IQAir Medical Grade Purifier
This air purifier was recommended to us by an ear, nose, and throat doctor because it does everything. It is also the #1 rated room air purifier and has high reviews from Amazon purchasers. If you have family members who are especially sensitive to pet dander, this may be the air purifier for you- it really helps you cover all the bases.
The IQAir is another well-respected name in the industry and it's for good reason. This purifier can cleanse 1,125 sq.ft of air–that's a lot of room–and with some of the most fine filtration for those who are sensitive to pet hair/fur/dander but can't live without them. It will filter particles 100 times smaller than 0.3 microns which isn't even visible to the human eye. In addition the IQAir exclusive HyperHEPA filters trap ultra fine particles down to 0.003 microns. It's super quiet and you can move it from room to room if you like, but it essentially can cover a whole story on some homes.
3. Customer's Choice: Germ Guardian Pluggable UV Sanitizer
Now, odds are your pet isn't in the bathroom much (unless you've potty trained them for inside and if so, go you!) but colds/viruses and other stinky stuff are. Not to mention pet hair and dander travels so it could still make its way there. These are perfect for bathrooms or smaller rooms and we even have one in our kitchen for extra filtration because A) we love cooking with garlic; and B) the cold and flu season plus the kitchen leave me extra cautious about germs and viruses. And as this pluggable UV sanitizes also reduces odors such as cooking fumes, it's a no brainer choice, really. They're reasonably priced and easy to use! To make things even better, this compact purifier requires no filter replacements – only a single GermGuardian UV C light bulb (model LB1000) needs to be replaced every 10 to 12 months depending on how much you use it. The Germ Guardian Pluggable UV Sanitizer boasts a 1-year limited manufacturer warranty.
4. Best for Kids' Rooms: Germ Guardian Night Life Projector
This fun design might not look like it, but it's highly efficient against airborne contaminants. This Germ Guardian is another 4-in-1 which means it has four levels of filtration and it uses a true HEPA filter so even the tiniest particles will be trapped and the UV-C light helps kill airborne viruses such as influenza, staph, rhinovirus, and works with Titanium Dioxide to reduce volatile organic compounds – pretty impressive for such a small gadget! Since the purifier is very quiet when working, it won't disrupt your kid's nighttime routine and it can even be used as a gentle white noise machine on the lowest setting to promote better rest and uninterrupted sleep. However, it is also perfect for kids' rooms because it also doubles as a fun night light/night projector. It comes in pink or blue and your kids won't even know you're trying to mask their stinky sock + dog hair all over their laundry combo!
5. Best for Cars: Twinkle Birds Car Ionizer
Raise your hand if you've ever taken your pup on a trip and then your car ended up smelling like a stinky dog? C'mon, you know you have. We might love them to bits, but boy oh boy, they do smell funky. That's why you need the Twinkle Birds Car Ionizer. It uses ionization to purify the air and it's powerful even though it's small. This portable purifier also features a 2.1 Amp dual USB charger that can power your phone or tablet lightning fast and safely, making it a truly indispensable gadget for your vehicle. And if you somehow end up not being impressed (which we seriously doubt), the seller offers a 30-days money back guarantee and a lifetime warranty. How awesome is that? Just remember not to plug it in a 24V socket by mistake and you're golden. Perfect for your car and keeping it smelling like new!
6. Best for Small Spaces: Winix Ultimate Pet
If you are looking for a smaller air purifier for a smaller space, this is a great fit (pun intended). Keep your air clean and fresh with Winix.
We dig this Winix Air Purifier because not only is it True HEPA, but it also uses Plasma Wave technology that attacks germs and bacteria your pets may bring in at a molecular level. No stone left unturned, so to speak! And, with a washable filter, it's a bit more cost effective in the long run. The filters will last you up to two years before needing to replace them which is better than most small-space air purifiers. The Winix Air Purifier allows you to maintain control of products caught without having to continually replace filters! It's a three-stage purifier that will cover almost 300 sq. ft and the sensor on this purifier is out of this world in detection!
7. Best Value: Hamilton Beach Air Purifier
If you're looking for an affordable, gets-the-job done purifier that will focus on getting the pet hair and fur out of the air in your home, this is perfect. It's HEPA so it'll also work on funky smells, but if you don't need all the focus of a True HEPA for dander, this is just right! The fact that it has a permanent HEPA filter also makes it easy to clean – just vacuum the accumulated dust and dirt and you're all set. No replacement filters needed, ever! nd as it measures 6.7 by 6.7 by 7.5 inches, it is compact enough so you can pack it even in your backpack! Despite its small size, this air purifier offers up to 40 sq-feet coverage, with customizable fan settings that allow you to choose the quieter low power option during the night or max-freshness high power setting when you want a quick and efficient operation.
8. Best 3-in-1: hOmeLabs 3-in-1 Ionic
This is another great value for a personal purifier. It uses ionic technology to first filter pathogens and bacteria that cause smells and other ickies, and it's super quiet. It's great for traveling with pets because so often hotels tend to have rather unique smells as it is, and as it measures 6.7 by 6.7 by 7.5 inches, it is compact enough so you can pack it even in your backpack! Despite its small size, this air purifier offers up to 40 sq-feet coverage, with customizable fan settings that allow you to choose the quieter low power option during the night or max-freshness high power setting when you want a quick and efficient operation. Its HEPA filter with an ion booster will also catch any additional air adulterants and help you and your pooch breathe more easily. Throw Fido's funk in and you're going to want something convenient and reasonably priced to combat that!
9. Best Style: Ivation Ozone Generator
If it's style that's important to you, no need to compromise! In case you're looking for a purifier that looks a little more like furniture and less like a big old purifier, this is a great option. Best, though, is that it not only cleans the air but puts out fresh ozone that leaves almost 3,500 square feet smelling like spring all year long, and it's an attractive piece to boot.
10. Also Consider: Conway Mighty Air
This air purifier is a really unique design and we love that it's not obtrusive-looking despite its size. It's powerful but quiet and has sensors that will tell it if your pets are really stinky or just a little… that's pretty impressive that it's sensitive enough to do so and base its purifying on. It's a ionizer as well, so it'll generate ozone for fresh smells all over! Designed to accommodate room sizes up to 361 sq.ft, this mighty little gadget boast a 4-stage filtration system: pre-filter that traps larger dust particles (which is washable and permanent), deodorization filter, true HEPA filter, and vital Ion, so you can rest assured that you'll not just get rid of pet odors but you'll also breathe in some quality air. There are 3 manual fan speeds and an auto mode function, so you can tailor the operation mode to best suit your needs.
11. Honorary Mention: VEVA 8000 Elite Pro Series
With a slim, high end design, this air purifier won't be an eyesore in the corner of your home or office. It can also go from a tower purifier to a table-top model by simply removing the base!
This sleek VEVA 8000 Elite Pro Series air purifier relies on a compact filtration and purification system that's perfect for keeping your home clean and smelling fresh. It uses premium activated carbon pre-filters that extend the life of HEPA filters, as well as work to eliminate odors and collect dust, lint, pet hairs and other micro-particles.
What's great about this particular device, aside from the amazing features mentioned above, is that when the front of the panel is removed, it automatically shuts off, making this a great option for homes with pets and little kids.
Do Air Purifiers Help with Pet Allergies?
If you too have a cat or a dog that makes you sniff and sneeze but don't want to sacrifice the pleasure that is snuggling with your pet on the sofa, don't worry- there's a way to make it work. The key to successfully dealing with pet allergies is being vigilant about pet hair and dander and frequent and thorough cleaning of your home. A heavy-duty vacuum that will suck up all the loose hair your pet sheds throughout the day is an absolute must-have, as well as frequent dusting and cleaning. However, an often overlooked issue is the airborne allergens- including pet dander and hair. You can't very well vacuum the pet's hair and skin flakes out of the air, can't you? That's why an air purifier can be an extremely beneficial gadget for all of those suffering from pet allergies.
The way an air purifier works is to filtrate the air, removing even the tiniest particles, including allergens produced by pets. There are different technologies for air purification available, from carbon filtration to ionization, but for pet-owning households, it's the HEPA filtration that does the trick best. HEPA stands for "high-efficiency particulate air" and this type of filter will efficiently remove up to 99.97% of all airborne particles, even those as small as 0.3 microns. A HEPA filter-powered air purifier will efficiently trap pollen, PM2.5, virus, bacteria, and pet hair and dander and trap it inside the filter.
The best designs combine filters that trap both those tiny particles as well as more advanced filters that isolate and eliminate the larger allergens such as pet hair, as they offer well-rounded allergy protection for pet-friendly households. In combination with proper maintenance, a high-quality air purifier can help you get your pet allergies in control and remove all of the pet dander and hair from your home. Whether you yourself suffer from cat or dog allergies or often have guests that have an allergic reaction to your pet(s), an air purifier is definitely worth considering.
Do air purifiers help with animal hair?
Yes, a high-quality air purifier will help both with animal hair and pet dander, making it a great choice for people allergic to cats or dogs. However, to do this, an air purifier has to have a HEPA filter, or even better a True HEPA filter that traps any allergens up to 0.3 microns in size. True HEPA filters can trap 99.97% of pet hair and dander from the air, but you'll still have to vacuum the pet hair that's stuck on furniture or floors.
Are air purifiers safe for pets?
Not only are air purifiers completely safe to use around animals, but they can be beneficial for pets, as well. A good air purifier removes volatile organic compounds (VOCs) from air, as well as other airborne pollutants, making the air safer for your pets and you both. Not unlike humans, dogs and cats are also susceptible to health issues linked to dangerous airborne particles, so breathing in purified air can help prevent health problems down the road.
What to consider when choosing air purifiers for pets?
It's always best to go for air purifiers with advanced filtration systems and those that use HEPA or True HEPA filters, as it will make sure that both large particles are trapped (such as pet hair and dander) and miniscule but harmful airborne pollutants filtered out. Some pet owners opt for air purifiers with added carbon filters for odor neutralizations, so if you have a stinky pooch (no shame, we love them to bits either way), you might want to consider this as well. Last but not least, make sure that the air purifier for pets you've got your eye on has a low-noise output: quiet operation is always a better choice as loud, clunky noises might frighten your pet – after all, you'll be using it on a daily basis, so it's best that the device doesn't stress out your four-legged bestie.
We are committed to finding, researching, and recommending the best products. We earn commissions from purchases you make using the retail links in our product reviews. Learn more about how this works.

Published January 18th, 2022 12:00 AM