4 Views
Fab Finds For Your Doggy Daddy's Father's Day
February 1st, 2022 12:00 AM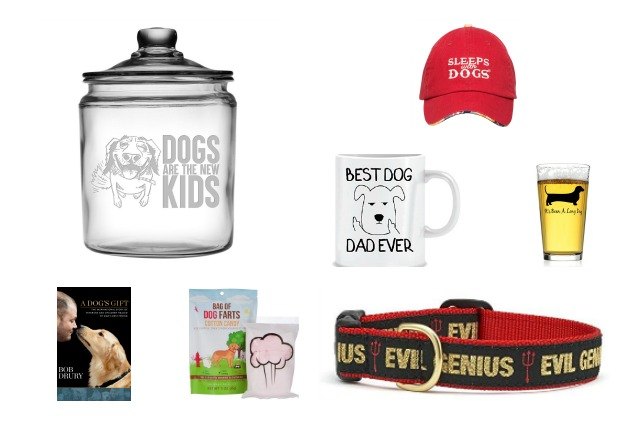 Who loves a daddy more than his doggo? Here are some great ways for Man's Best Friend to share the love with these Father's Day Gifts for the doggie daddy.
I admit, once we had our son, Father's Day gifts from the dogs to my husband died down. But, just a bit, and if I am really truthful, they're still pretty neck and neck with what I help my son do for his daddy for Father's Day. Why? Because for many of us? Our dogs are our 'first babies,' and daddies love their babies–fur and human alike. Here's how we can help our pups celebrate that special relationship!

. We love the whimsical prints of these Hatphile caps. The embroidered attention to detail will bring attention to doggie daddies everywhere!
2. Reversible Chair Protector.
Let's face it. Doggie daddies don't mind sharing their chairs with their furbabies, but…they don't especially love the left-behind fur love. This 100% easy-to-clean microfiber helps protect dad's man-chair while at the same time giving his best friend a comfy place to sit (when he's not at dad's feet, of course!) without destroying the chair. It's stylish and easy to wash, and we love the adjustable straps that really do make it fit just right.
3. Dogs Are The New Kids Treat Jar.
Why fight it? They are, and we love it, so why not let dad celebrate it? This etched treat jar will keep the treats easy to see and encourage dad to toss his fur child a piece of love embodied in a tasty morsel. The sound of the jar alone will have the furkids running!
Don't just let the world know you're a dog dad…let them know you mean it with this shirt from Pekatees! It is 100% soft cotton and comes in six snazzy colors…this one will have all the dads on the block running to Amazon for their very own!
While you're at it, you might as well just let everyone know that you're also the Best Dog Dad Ever…and if this grumpy, naughty dog's hand gestures don't get that message across, we're not sure what else will!
Dads are the original MacGuyver's, always ready with their gadgets for just about any situation that comes your way. Dog dads are no different, they just have stylish gadgets at the helm! Like this Dog Pocket Tool Chain–it's six different tools in one, and is slim enough to fit in dad's wallet with nary a thought. It also goes on his keychain for fast and easy access. Tin foil and bubble gum not included.
7. It's Been A Looooong Day Beer Stein
For those loooooong days where dad just wants to kick back? Here's the perfect beer stein for the job. Made in the USA and ready to hold those cold brewskis, what dad doesn't want a Wiener on his mug?
Related: Dad Dog-Styler Dresses Like His Look-Alike Pup
We love Up Country's collars, and we looooooveee this Evil Genius Collar. I mean, who but genius masterminds in adorable furry doggie bodies can get dog dads to act as goo-goo as they do for their pups? No, we may not get dad to complete the household chore list, but you better believe that if their doggo needs something? They're on it!
9. A Dog's Gift: Inspirational Stories of Veterans and Children Healed By Dogs.
We're going to warn you that you should probably add in a package of tissues with this tear-jearking, heartwarming book about how dogs make everything in life so much better. Even the 'ruff'est, tuffest dad out there will tear up, we guarantee, and dog dads will most likely go and buy their dogs ponies after reading. Not even kidding.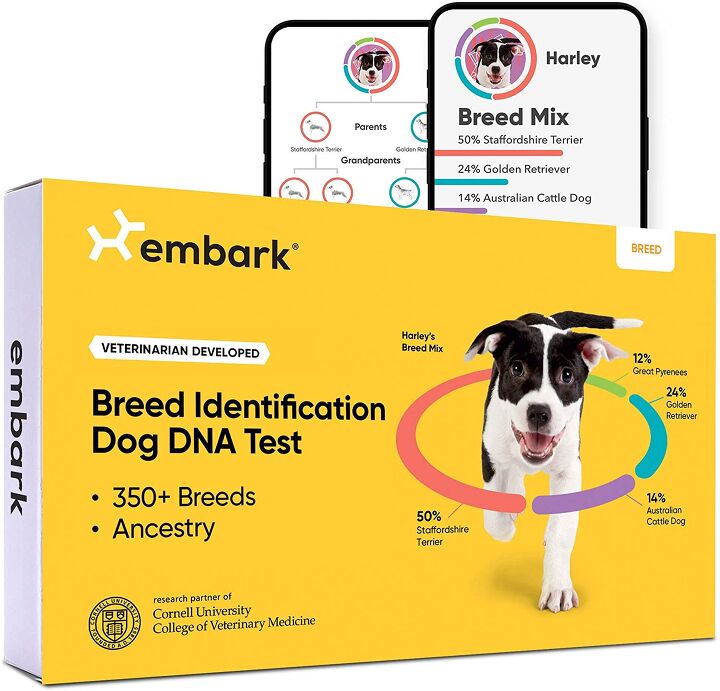 10. Embark Doggie DNA Test. Not that any of us really care about the lineage of our mutts, but for a dog loving dad this would just give him another opportunity to brag about his favorite kid – the furry one. Embark screens for over 350 dog breeds and varieties. They use a research grade genotyping platform that was developed in partnership with Cornell, one of the top veterinary medicine colleges in the world. Embark offers the most accurate breakdown available on the market and the product is more than twice as precise as other similar tests. It is simple to do. First just activate the code you find in the box and then use the included swab on your dog's cheek for about twenty seconds. Pop it in the return mail envelope and you will have your results back in around three weeks. You can also connect with owners who have dogs that share a similar DNA to yours, plus you can see the whole breakdown on your cell phone which means your dog loving dad can be pulling out his phone when he gets to the dog park. And if later you want to upgrade your account to get your dog's genetic health report, no problem and no additional swabbing or kit is required.

Published February 1st, 2022 12:00 AM