3.3K Views
Are There Dog Supplements That Can Help Shedding?
November 24th, 2021 12:00 AM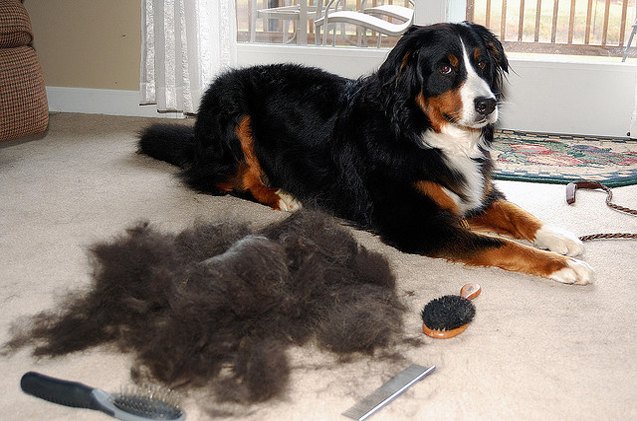 Are you waist deep in fur balls? Are you tired of finding fur on your clothes, in your food, attached to the furniture? Good news – we've got a few supplement ideas that may reduce shedding.
Excessive shedding in dogs can be a nightmare. Nobody wants every inch of their home and every fiber of their clothing covered in their pup's hair. You may want to turn to supplements to help with shedding, but the truth is there's no one supplement that's universally considered effective in curbing excess shedding. However, there are a few supplements that may help, so if you're desperate, they might be worth a go to see if they work for you.
This is a sponsored placement
Dealing with all that pet hair on your furniture, clothes, and all around your home can be overwhelming. In addition to dog supplements, your pet will need regular grooming to help shedding – and Vital Care can help you save a lot of money on the visits to the grooming salon. Petco's Vital Care offers you an affordable solution to take care of your pet's routine wellness needs. In addition to covering the costs of unlimited preventative vet exams, this plan also provides unlimited 30% discounts on full-grooming services and monthly rewards that can be used to buy food, toys, and more. Unlike traditional pet insurance plans, this pet care program helps you reduce the chances of health issues occurring in the first place, rather than treating them after the fact. Their complete wellness care makes sure your pet is being taken care of, head to tail, with regular checkups and grooming. Easy to sign up for and economical, this pet care plan will make sure your dog gets only the best care even when you're on a strict budget.
Should you be Worried about Excess Shedding?
Before you start bothering with supplements it's a good idea to find out whether there's an underlying issue causing your dog to shed a lot. It's important to remember that you should expect all dogs to shed a certain amount, especially as the seasons change. If you have a long-haired dog, it might seem like an excessive amount, when really it's normal. That said, there are a range of medical issues that can cause excess shedding in dogs, including allergies, parasites, bacterial or fungal infections, immune diseases and cancer. As such, if you think your canine companion is shedding more than normal, you should take him to the vet to get checked out.
Oils
If your pet is healthy then, by all means, try out a few supplements. Excess shedding can be caused by a lack of dietary fat, so adding certain oils to your pup's food might help him with this issue. Many people recommend fish or flax oils, due to that fact that they're high in omega fatty acids, but in both cases you need to be certain that the oils don't go rancid. As such, some people prefer to use extra virgin coconut oil.
Brewer's Yeast
Brewer's yeast is full of biotin and B vitamins, along with those wonderful omega 3 and 6 fatty acids. It's generally considered a great supplement for keeping canine coat in top condition, and this can include helping with shedding. It's possible to buy brewer's yeast tablets that are specifically designed for doggy use.
Commercial Shedding Supplements
There are also a range of supplements on the market that are specifically designed to help with excess shedding in dogs. These can contain a range of ingredients, and some may be more effective than others. Many of them simply contain oils and/or brewer's yeast, repackaged at a higher price. In which case, it probably works out cheaper for you to buy the ingredients separately.
Other Ways to Help Shedding
The most effective way to control shedding in your dog is regular grooming. This is especially important in long-haired breeds. While your four-legged friend will ultimately be losing the same amount of fur, you'll be brushing it out and disposing of it, so it won't end up all over your couch! Many owners sign the praises of de-shedding tools, such as The FURminator, which are even more effective at brushing out fur that's about to shed. Feeding your pooch a high-quality diet preferably one that contains human-grade ingredients, can also help reduce shedding.
Best Dog Shedding Supplements
When combined with a proper grooming routine and a well-balanced diet, dog shedding supplements can work wonders for your pooch's coat. Take a look at our selection of best supplements for shedding- and make your pick.
1. Editor's Pick: Shed-X Dermaplex Liquid Daily Supplement for Dogs
The potent natural formula of this anti-shedding dog supplement will actively work to stop both seasonal blowout and regular, everyday shedding. The key is in the fact that the formula contains the optimal ratios of both Omega 3s and Omega 6s to support optimal skin and coat health. It combines plant-based and animal-based sources of essential fatty acids and important vitamins and minerals: the ingredient list includes Norwegian sardine and anchovy oils, flaxseed oil, wheat germ oil, biotin, and zinc. This liquid supplement is also very easy to administer- just add a tablespoon of it to your pet's meals every day and you'll see results in no time.
2. Runner Up: Vet's Best Healthy Coat Shed & Itch Relief Dog Supplement
Created by veterinarians, this formula is designed to offer relief for dry and itchy skin as well as minimize shedding by supporting a healthy coat. Plant-based, this dog supplement for shedding includes yellow dock root, nettle leaf, quercetin, and omega fatty acids in its ingredient list. Another important ingredient is MSM, which not only supports joint health but also helps maintain normal histamine levels to make sure your pet's allergies are in check. This dog supplement comes in the form of chewable tablets- administering can be tricky if your pooch is finicky.
3. Customer's Choice: Ready Pet Go! Omega 3 for Dogs
A complete source of Omega 3, 6, and 9 for dogs, this dog supplement is packed with important essential fatty acids. It will boost your pet's immune system and help keep their skin and coat in top shape, effectively reducing the amount of hair they shed in the process. It can also aid in reducing inflammation which may relieve hip and joint pain in dogs who experience arthritis.
4. Also Consider: Nutri-Vet Shed Defense for Dogs
Made in the USA, this coat-supporting supplement for dogs uses salmon oil to provide Omega 3 and 6 essential fatty acids. Enriched with ingredients such as brewer's yeast, flaxseed, and garlic, this formula is ideally designed to make your pet's fur shiny and soft again, as well as make sure there are no hairs all over your furniture. With the hickory-smoke flavor of these soft chews, you don't have to worry about your pooch refusing to take his supplement.
5. Honorary Mention: Zesty Paws Pure Wild Alaskan Salmon Oil for Dogs
Sometimes, it's the simplest stuff that works the best. With just one ingredient, this skin and coat supplement has the power to treat dry and flaky skin, dull coat, and shedding. The wild Alaskan salmon oil is easy to dispense with this handy bottle and the natural taste of fish oil is quite appealing to doggos (although you might not like their breath). Just add a few pumps to your dog's kibble or wet food and that's it!
We are committed to finding, researching, and recommending the best products. We earn commissions from purchases you make using the retail links in our product reviews. Learn more about how this works.

Lauren Corona
Lauren Corona is a freelance writer from merry old England. She specializes in writing about dogs and other critters. Lauren lives near Oxford, with her gorgeous Doberman, Nola. When she's not tapping away at the keyboard, you'll find her walking in the woods with Nola-dog, raising money for the Oxfordshire Animal Sanctuary, cooking vegan food, making zines and writing about herself in the third person.
More by Lauren Corona
Published November 24th, 2021 12:00 AM