253 Views
Best Dog Food for Sensitive Stomachs
October 5th, 2021 12:00 AM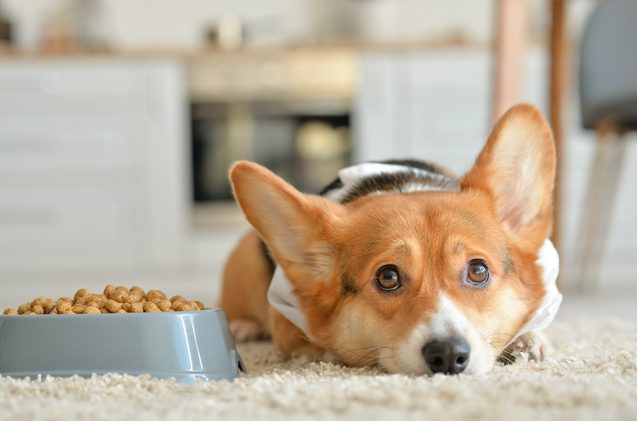 Dog food for sensitive stomachs is specially formulated to prevent symptoms of gastrointestinal upset such as vomiting, diarrhea, or flatulence. Made with carefully selected ingredients, this type of food is optimized for canines whose tummies easily get upset.
If your dog occasionally vomits, has loose stool, or becomes gassy when you switch them to a new food, chances are that they have a sensitive stomach that is reacting to some ingredients in the formula. Dry and wet dog food can often be made with ingredients that are not good for our pet's wellbeing, and in some cases, even common ingredients such as chicken or beef can be the cause of your dog's digestive problems. Dog food for sensitive stomachs is specially formulated to suit the gentle digestive systems of dogs who have food sensitivities. These foods use a variety of different, easily digestible protein sources, limited high-quality ingredients, and are not saturated in fats. More often than not, dog food for sensitive stomachs is enriched with ingredients that soothe upset tummies, such as pumpkin puree or fortified with probiotics and prebiotics that maintain a healthy digestive system. To help you find the perfect match for your sensitive pup's needs, we've rounded up the 10 best dog foods for sensitive stomachs so you can find a tailored fit in no time.
1. Editor's Choice: Lucy Pet Formulas for Life – Sensitive Stomach & Skin Dry Dog Food
Unfortunately, sensitive stomachs often go hand in hand with sensitive skin. Eating the wrong kind of food can set off the digestive upset and make your pet's skin itchy, and that's just the tip of the iceberg. Lucy Pet Formulas for Life – Sensitive Stomach & Skin Dry Dog Food is engineered to prevent those issues, as its formula is optimized for gut health and promoting healthier skin and coats. To encourage better digestion, this kibble is fortified with prebiotic-balanced fiber and antioxidants, and it is also grain-free. The main protein source is salmon which is a great choice for sensitive stomachs but it's also loaded with essential fatty acids which in turn help skin and coat go back to their former glory. As an additional bonus, this kibble formula includes pumpkin to soothe upset tummies.
2. Runner up: ZIWI Peak Air-Dried Dog Food
A good choice for picky pets, ZIWI Peak Air-Dried Dog Food is somewhat different from your typical kibble. Not only that it boasts limited ingredient formula, but this dry food for dogs is made from the highest quality ingredients that have been air-dried to preserve nutrients and tastiness, so it is chewier than standard crunchy kibble. Made from up to 96% meat and superfoods, this formula includes ethically sourced free-range, grass-fed lamb, green mussels, and organic kelp. There are no grains, potatoes or peas, or anything else that could cause a flare-up and irritate your pet's stomach. If you have a picky eater on your hands, they'll love the unusual texture and unparalleled lamb taste this dry food offers!
3. Customer's Choice: Purina Pro Plan with Probiotics
We all know how probiotics are essential for gut health- and it's no different for dogs. Enriched with live probiotics, this dry dog food is formulated to support your dog's immune system and promote healthy digestion in dogs with sensitive stomachs. In addition to live probiotic cultures, Purina Pro Plan with Probiotics combines real chicken and brown rice to create a recipe that is gentle on the stomach but packed with important nutrients. The formula is also unique because of its texture, as it combines both classic kibble pieces and tender shredded chicken bites, to make the food more tantalizing to picky eaters with sensitive tummies. And guess what- it usually does the trick!
4. Best Wet: Hill's Science Diet Wet Dog Food for Sensitive Stomach and Skin
Some dogs simply prefer wet food to dry- and sometimes, you want to treat your pooch to his favorite meal without having to worry if they'll have diarrhea, vomit, or get gassy after. Hill's Science Diet Wet Dog Food is created precisely for dogs that have frequent digestive issues after eating wet food for dogs. It has easily digestible protein in the formula, contains no grains, and it's made with natural ingredients to ensure nutritional quality. This wet food is also available in a few different protein source options so you can find a perfect match for your pet's preference and dietary needs: chicken and vegetable entree, salmon and vegetable entree, or tender turkey and rice stew.
5. Best for Small Dogs: Solid Gold – Mighty Mini with Sensitive Stomach
Petite pooches can have big problems with digestion. Solid Gold – Mighty Mini with Sensitive Stomach is engineered both to meet the dietary requirements of toy and small dog breeds and to promote better gut health in the process. Made with natural ingredients, this grain-free and gluten-free formula includes easy-to-digest real turkey, vitamin-rich vegetables, and lentils as a healthy source of carbs and proteins. Low in fat but rich in protein, this dry dog food is also enriched with fiber-rich prebiotics which are live and viable until consumption, to make sure that your tiny pet's gut flora is thriving. To boot, the kibble pieces are tailored to the needs of small dogs- these are one of the smallest kibble pieces on the market!
6. Best for Large Dogs: Eukanuba Adult Dry Dog Food Chicken – Large Breed
To support the overall health of your big dog and make sure that they don't get gassy or have an upset stomach after meals, opt for a formula that is optimized to nurture their digestive health in addition to everything else. Eukanuba Adult Dry Dog Food Chicken offers complete and balanced nutrition for dogs over 15 months and 55 pounds, with special emphasis put on known issues of big breeds such as joint health. In addition to being packed with protein, chondroitin, and glucosamine, this dry food formula also has a "sneaky" secret- a natural probiotic and fiber blend that is tailored to the needs of active dogs and promotes easier digestion. This way, you can rest assured that your pet's dietary needs are met- without worrying about upset tummies anymore.
7. Best for Puppies: CANIDAE PURE Puppy Recipe
Puppies are just as prone to upset tummies as adult dogs- if not more. After all, transitioning from milk to kibble can be a trial and error process that comes with loose stool and occasional vomiting. To avoid going through this process, it's best to start off with balanced, high-quality puppy food right away. CANIDAE PURE Puppy Recipe uses only premium, clean protein sources and has a formula with limited ingredients- so there are fewer possible culprits for your pet's upset digestion. The formula for puppies is made with real chicken and whole egg, contains no artificial colors, preservatives, or flavors, and it is also grain-free so no corn, soy, or wheat anywhere on the list. Enriched with vitamins, antioxidants, and probiotics, this dry dog food has everything your puppy needs to thrive without experiencing gastrointestinal upset!
8. Best for Seniors: Wellness CORE Natural Grain Free Dry Dog Food
When our pets reach their golden years, many problems can arise, and sudden stomach sensitivity is one of them. Your pooch might not have had issues with eating any type of kibble when they were younger, but once they are a bit older, it can change and quickly at that. For seniors that have issues with digestion, it's best to switch to a formula that is rich in protein, lower in fat, and contains ingredients that are beneficial for their digestion. Wellness CORE Natural Grain Free Dry Dog Food is optimized for the needs of senior dogs, as it supports joint and hip health, and is fortified with vitamins and minerals to give their immune system a bit of a boost. What makes it great for their sensitive stomach is that it uses real turkey as the main protein source and that it includes prebiotics and probiotics to ensure that the gut flora is at an optimal level.
9. Best for Allergies: Diamond Naturals Skin & Coat Real Salmon and Potato Recipe
Dogs who are allergic to certain foods often experience both digestive issues and problems with their skin and coat. Diamond Naturals Skin & Coat Real Salmon and Potato Recipe aims to help eliminate the main cause of the two- wrong choice of food or protein source- and is enriched with ingredients that could make a real difference in digestive and skin health, to boot. Made with wild-caught salmon, it is full of essential fatty acids that promote healthier skin and shinier coats, as well as easy to digest while getting some much-needed protein in the mix. The blend of probiotics and prebiotics with species-specific live cultures will improve your pet's digestion and help prevent gastrointestinal upset.
10. Best with Grain: Blackwood Dog Food Sensitive Skin and Stomach Formula
Grain-free kibble isn't everyone's cup of tea, and sometimes, there's no need to skip grains if your pet is actually sensitive to other ingredients in the formula. Blackwood Dog Food Sensitive Skin and Stomach Formula is a great example of how healthier grains can be included in the formula and still suit those pooches that have sensitive tummies. Slow cooked and handcrafted in the USA, this dry food for dogs combines salmon with brown rice, carrots, celery, and spinach to deliver a potent nutrient punch without causing digestive issues in the process. To further cater to dogs with sensitive stomachs, this kibble is enriched with a blend of probiotics and prebiotics that nurture a healthy digestive system.
Symptoms of a Sensitive Stomach in Dogs
If your pet has issues such as gassiness, occasional vomiting, or diarrhea, chances are that their tummy is upset by something they ate. These are considered mild symptoms, only if they are infrequent and there are no additional symptoms such as bloating, dehydration, abdomen painful to touch, or neurological symptoms. In case you notice any of these, or your pet experiences severe or prolonged vomiting and diarrhea, you must take them to the vet's office for an examination.
What to Look for in Dog Food for Sensitive Stomachs
Not all dogs react the same to different ingredients. Even dogs with sensitive stomachs can be irritated by different things, but there are some common triggers for upset tummies in canines. The first "suspect" is often the protein source in the food. Some dogs simply don't digest certain proteins well, and it could mean that simply switching from, for example, chicken to beef, lamb, fish, or exotic protein can make your dog's tummy troubles go away. Another common reason why your pet's kibble is making them experience digestive issues is that it has a high-fat content. If you notice that fat is listed in the top 5 ingredients on the label, chances are that the fat content is too much for your pooch and you'll have to swap it for low-fat kibble instead.
Cheap fillers can also cause gastrointestinal upset. Dry dog foods that have meal and byproducts as a protein source instead of real meat, or are laden with corn, soy, or wheat, can often irritate a sensitive stomach- not to mention they do not provide adequate nutrients for your pet's overall health needs.
The best types of dog food for sensitive stomachs address these issues by using easily digestible protein sources, using formulas with limited ingredients and without artificial ingredients, often low in fat and either grain-free, or opting for healthier carb sources such as quinoa or brown rice. Dog food for sensitive stomachs should also be rich in fibers, which support healthy digestion, and, if possible, enriched by probiotics and prebiotics, which are beneficial bacteria that maintain thriving gut flora.
We are committed to finding, researching, and recommending the best products. We earn commissions from purchases you make using the retail links in our product reviews. Learn more about how this works.

Angela Vuckovic
A proud mama to seven dogs and ten cats, Angela spends her days writing for her fellow pet parents and pampering her furballs, all of whom are rescues. When she's not gushing over her adorable cats or playing with her dogs, she can be found curled up with a good fantasy book.
More by Angela Vuckovic
Published October 5th, 2021 12:00 AM