196 Views
November 2nd, 2021 12:00 AM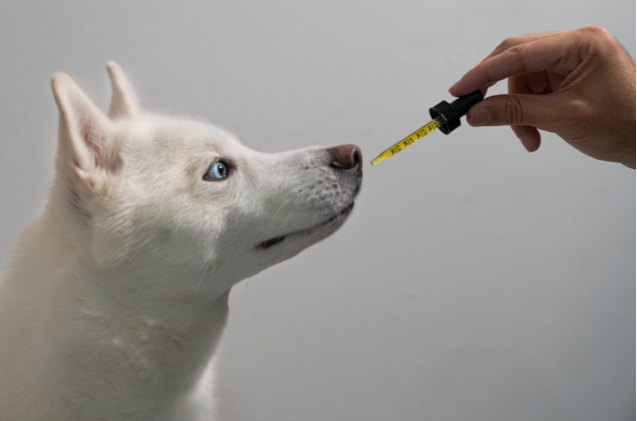 Fish oil for dogs has multiple health benefits, from improved joint health to itch-free skin. Read on to learn more if your pet could take advantage of this natural supplement – and which to choose for their unique needs.
There's no secret that essential fatty acids, such as omega-3 and omega-6, are crucial for the healthy functioning of your pet's body. These important nutrients help maintain healthy immunity, keep your dog's skin and coat in top shape, promote optimal cognitive development and improve mobility, and that's just the tip of the iceberg. But how do you get essential fatty acids to your pet? Fish oil for dogs is the most efficient way to include omega-3 in your pet's diet- whether you're preparing your pet's meals on your own, or pouring crunchy kibble in their bowl, fish oil is easy to mix in with their food and most dogs don't even mind the taste of it.
However, you shouldn't just use any fish oil you come across first or just share your fish oil capsules with your pet. There are different concentrations and different formulations of fish oil out there, and it's important to pick one that will suit your pet's needs the best. A good choice for most dogs is fish oils that are made from wild-caught fish as farmed fish could contain potentially dangerous substances, those that are highly bioavailable (easier to absorb by your pet), and those that contain EPA and DHA in optimal levels. To help you make the right choice, we've handpicked the best fish oil for dogs that will have your pooch wagging their tail.
1. Editor's Choice: Zesty Paws Pure Wild Alaskan Salmon Oil
Easy to serve and highly beneficial for dogs and cats both, Zesty Paws Pure Wild Alaskan Salmon Oil is chock full of omega-3: there are 340 mg of EPA and 425 mg DHA in each teaspoon of this healthy, natural oil sourced from wild Alaskan salmon. And not only that this fish oil is sourced from the highest quality ingredients, but it is also manufactured in FDA-registered facilities that are NSF and GMP-certified in the USA. Thanks to the fact that this wild Alaskan salmon oil is rich in omega-3 and omega-6, it supports cardiac health, immune system, skin and coat, as well as hips and joints. A good choice for pets of all sizes and ages, Zesty Paws Pure Wild Alaskan Salmon Oil can easily be mixed with your pooch's meals, whether they eat kibble or wet food.
2. Runner Up: PetHonesty 100% Natural Omega-3 Fish Oil for Dogs
If you want to make sure your dog has healthy skin and coat, bendy joints, and a good immune system, you have to enrich their diet with essential fatty acids. PetHonesty 100% Natural Omega-3 Fish Oil for Dogs combines sardines, mackerel, anchovies, and herrings, all caught in the waters of the coast in Iceland. High in omega-3s but low in mercury and toxins which can be an issue with other types of fish, this health-nurturing oil will be just the thing to keep your pet's health in top shape. Purified by natural methods, this fish oil is 99.9% free of fishy smell and taste, so this supplement will be easy to sneak into your dog's food- even if they are a super picky eater. Bottled in a GMP-certified facility in the USA and tested by a 3rd party company for potency, this natural fish oil for dogs contains 525 mg of DHA per two pumps, making for an overall 800 mg of omegas. Potent and made from wild-caught fish, this oil will keep your pooch's coat shiny, skin soft, and their overall health improved.
3. Customer's Choice: Paws & Pals Wild Alaskan Salmon Oil
Derived from wild Alaskan salmon, Paws & Pals Wild Alaskan Salmon Oil contains a wealth of essential fatty acids crucial for your pet's good health and quality of life. With 423 mg of EPA and 465 mg DHA with each teaspoon, this premium quality fish oil can help relieve itchy skin, reduce shedding and allergy symptoms. Not to mention the beneficial effect omega-3 and omega-6 have on the immune system and joint health! The pump bottle makes this fish oil easy to dose, and you can stir in the recommended dose for your dog's size in their daily meals. The total amount of omega fatty acids in this fish oil is 30% so it is quite potent- don't go overboard. Made from responsibly sourced wild salmon, Paws & Pals Wild Alaskan Salmon Oil is made and certified in the USA.
4. Best for Joints: Bonnie & Clyde Wild Omega 3 Fish Oil Supplement for Dogs
Senior dogs and large breed dogs are often affected by joint pain and stiffness, hip dysplasia, and even arthritis. To prevent or at least delay the onset of these symptoms, as well as help reduce them once they appear, you will need to introduce essential fatty acids into your pet's diet. EPA and DHA have an anti-inflammatory effect, so they can help with pain and swelling, and they also promote cartilage production and reduce stiffness. Bonnie & Clyde Wild Omega 3 Fish Oil Supplement for Dogs packs a powerful punch with 725 mg of EPA and 450 mg DHA per 5 ml of liquid. This is thanks to the unique blend of wild sardine, herring, mackerel, and anchovies all sourced from Icelandic waters. To boot, this human-grade fish oil is enriched with vitamin E to give your pet an antioxidant boost to help them deal with their joint pain.
5. Best for Itchy Skin: Ultra Oil Skin and Coat Supplement for Dogs
Whether caused by allergies or some other bodily imbalance, dry, itchy skin is the worst. Your pet might scratch to the point of creating wounds or hotspots, and all that itching can seriously worsen their quality of life. To help pets with allergies, sensitive, or itchy skin Ultra Oil Skin and Coat Supplement for Dogs combines multiple beneficial ingredients- sardine and anchovy oils are fortified with hemp seed oil, flaxseed oil, grapeseed oil, and with various vitamins and minerals to deliver a potent effect. Non-GMO, gluten-free, and herbicide, and pesticide-free, this skin and coat supplement for dogs will boost your pet's immune system and help with a range of skin and coat issues. It contains a minimum of 25% omega-3 fatty acids but no fishy smell or taste- all the benefits with none of the hassle!
6. Best Softgels: Strawfield Pets Omega 3 Fish Oil for Dogs
No matter how well you blend in fish oil or what tricks you resort to, some dogs just won't touch their food if they see something is added to it- so you have to outsmart them. Softgels can be given straight (some pooches will gladly gobble them up) or wrapped in a piece of cheese, meat, or even in a pill pocket. For some pet owners, this is a much easier route! Strawfield Pets Omega 3 Fish Oil for Dogs contains 1000 milligrams of premium fish oil from cold-water anchovy and sardines per soft gel and comes in a pack of 250 which will go a long way and even save you a few bucks in the long run. Also, these fish oil capsules are a good choice for those dogs that don't need high levels of essential fatty acids (for instance, preventative instead of therapeutic use) as you can easily dose for smaller levels- each soft gel capsule contains 180 mg of EPA and 120 mg of DHA so you can effortlessly adjust to your pet's needs.
7. Best for Shedding: Shed-X Dermaplex Liquid Daily Supplement For Dogs
As pet parents, we all sign up for some pet hair- knowingly or unknowingly. But sometimes, it's not your regular pet hair amount you have to deal with- some dogs shed a lot, and it can be sometimes connected to a lack of certain nutrients in their diet. Shed-X Dermaplex Liquid Daily Supplement For Dogs is specially formulated to help with excessive shedding and fast- the results can be noticed in just a few weeks. The unique formula of this liquid supplement is based on fish oil- sourced from Norwegian anchovies and sardines- but that's not all the good stuff in it. To boost the effect of fish oil, this supplement combines it with organic flaxseed oil, natural wheat germ oil, zinc, and biotin. The result is less shedding and softer skin, as well as a shiny coat!
8. Best for Multi-Pet Households: Grizzly Omega Health Fish Oil
So you have a big furry family- that's great! But this also means more expenses and juggling between different foods, supplements, toys, and everything in between to make sure everyone's needs are met. Luckily, the benefits of fish oil are pretty much universal so you can give it to dogs of all shapes and sizes and even cats, too! Grizzly Omega Health Fish Oil is a perfect choice for multi-pet homes as it is suited for both cats and dogs, and comes in a generous 1.9 liter-bottle (64 fl oz) that will go a long way even with multiple furballs in the home. Sourced from wild Alaskan salmon and pollock, this high-quality fish oil contains 450 mg of EPA and 365 mg of DHA in each teaspoon. Just adjust the serving size to meet the needs of your pets and you're all set!
Benefits of Fish Oil for Dogs
Fish oil is prized because it is rich in essential fatty acids, or more precisely, omega-3s called EPA (eicosapentaenoic acid) and DHA (docosahexaenoic acid). These polyunsaturated fats can have a significant effect on your pet's health, both to prevent and delay health issues as well as help reduce or resolve existing ones. Some of the known benefits of EPA and DHA in fish oil include:
How Much Fish Oil Should I Give My Dog?
Once you figure out which fish oil works best for your dog's needs, you'll need to pay attention to dosage to ensure that they are getting the nutrients you need. You shouldn't overdo it, because, for all its benefits and healthiness, fish oil for dogs has some downsides, too. Symptoms such as oily skin, fishy odor of the skin and coat, increased weight, vomiting, diarrhea, slowed healing, and more can all be attributed to fish oil overdose in dogs.
For therapeutic uses, experts recommend giving your dog anywhere between 50 to 220 mg of EPA and DHA per kilogram of their body weight. The highest dose is reserved for dogs with serious issues such as osteoarthritis, whereas milder problems need lower doses. However, doing the math on EPA and DHA dosage per serving (as they are just active ingredients in fish oil and not fish oil itself) and then adapting that to the needs of your pet can be difficult, so it's best to consult with your veterinarian. Only a medical professional can give you the right advice on adding supplements to your pet's routine and recommending the right dosage to treat their symptoms and maintain their overall health.
We are committed to finding, researching, and recommending the best products. We earn commissions from purchases you make using the retail links in our product reviews. Learn more about how this works.

Angela Vuckovic
A proud mama to seven dogs and ten cats, Angela spends her days writing for her fellow pet parents and pampering her furballs, all of whom are rescues. When she's not gushing over her adorable cats or playing with her dogs, she can be found curled up with a good fantasy book.
More by Angela Vuckovic
Published November 2nd, 2021 12:00 AM