2.8K Views
How to Safely Paint Your Dog's Nails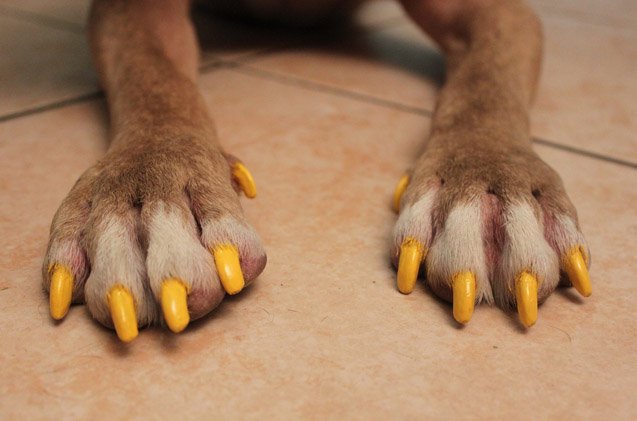 Grooming professionals don't just focus on fancy fur-dos. Complete your dog's look with colorful nails! Here's how to safely paint your dog's nails at home.
Trimming your dog's nails is a simple task and a basic element of grooming. If you don't keep your dog's nails trimmed short, they may become overgrown and it could affect his ability to walk normally – the risk for a painful breakage also increases the longer the nails get.
In addition to keeping your dog's nails trimmed, you may be wondering if there is a way to make them a little prettier. You'll be glad to know that dog nail polish does exist! Keep reading to learn how to paint your dog's nails.
Step-by-Step Guide for Painting a Dog's Nails
Whether you're dressing your dog up for a birthday party or you simply want her to look her best, painting your dog's nails is a fun and harmless thing to do. You must, however, make sure that you do it in a safe way – here's how to do it:
1. Start by setting up the space – you should do it in a room where your dog feels comfortable.
When planning your dog's pedicure, think practically before you start painting. If your dog has very dark nails, know that you might have to use a white base coat so the polish will show up well. If you want to do an intricate pattern, try using nail polish pens or use a paintbrush to paint the design. If you've never painted your dog's nails before, start with a simple design that is easy to execute and quick to dry.
Before you even think about painting your dog's nails, you need to know that he'll be able to sit still for a few minutes at a time – long enough for the nail polish to dry. Hopefully by now your dog is used to having a his feet handled – should if you've been trimming his nails regularly or if he's been to the groomer. Even so, the smell of nail polish and being asked to sit still can make some dogs a little nervous. You can make the experience better for both of you by talking in a calm, soothing voice to your dog throughout the process and give him some tasty treats for sitting still as well.
In addition to making sure your dog is used to having his feet handled, you need to purchase the right products. The last thing you want to do is use a toxic product that your dog might accidentally ingest if he licks his feet. It is best to use a nail polish specifically designed for dogs so you don't have to worry about toxicity – you can buy these products online and in some pet stores.
If you want your dog to look her best, painted nails are a fun and easy thing to do. Just make sure you use safe, non-toxic products and encourage your dog to sit still with plenty of treats and praise.
So if you've decided to make your furbaby's claws pop with vibrant color, it's crucial to choose a nail polish that will be safe for dogs. Also, you'll want a formula that's not streaky or pale and that can last a while on a dog's nails. It can be difficult to find a pet nail polish that ticks all of those boxes but we're here to help- we've rounded up the best dog-safe, high-quality nail polishes in one place. Just pick a shade that will go best with your pooch's personality- or fur, nail color, outfits- the sky's the limit (OK, maybe the color pallet is the limit).
And don't forget- there's no perfect pawdicure without neatly trimmed and shaped nails- so make sure to wash your pet's paws and trim and file down their nails before you get to the nail painting part.
Let's face it- most pooches will try and wiggle their way out when it's time for nail grooming. It's difficult to get a pooch to stay still for a pawdicure! This is why this polish pen is the perfect solution for most dogs, even those that are restless by nature. It's by far the easiest method of application as all it takes is one or two coats (if your pet's claws are black) with a felt tip pen and 40 seconds before it's dry. To boot, this non-toxic, water-based and completely odorless dog-safe formula comes in 15 different bright colors.
Color Paw Fast-Drying Premium Pet Nail Polish
If you're looking for long-lasting results, this water and chip-resistant formula is the thing for you. No matter how long the hike is, your pooch will be able to show off her pawdicure at the end of it! Fast-drying and with one coat coverage, this nail polish is one of the best out there. Choose from 6 cute colors- blue, baby blue, electric lime, fresh mint, candy pink pearl, and coral craze.
Everything's better with glitter in it! This fantabulous dog nail polish comes in 19 different colors to choose from- including shimmery and glitter. Your pooch will dazzle every other in the doggy park and it will only take you one coat to cover their nails. Fast-drying and long-lasting, this nail polish will impress you!
Warren London Dog Nail Polish in A Bottle Set
If you can't settle on just one color and pawdicures are a regular part of your pet's beauty routine, this pet nail polish set is a perfect choice. It includes purple, blue, pink, red, and two different sparkly shades – you can always find a perfect match for any occasion. These groomer-quality polishes have great coverage and are very long-lasting- you won't be disappointed.
Pet Head Mommy and Me Pet Nail Polish
Why not match your mani-pedi with your pet? This ultra fast-drying nail polish allows you to do that with a single bottle of nail polish that's safe for dogs and humans both. Available in vibrant red, this nail polish looks great on any hand – or paw!
We are committed to finding, researching, and recommending the best products. We earn commissions from purchases you make using the retail links in our product reviews. Learn more about how this works.

Kate Barrington
Kate Barrington is the loving owner of two cats (Bagel and Munchkin) and a noisy herd of guinea pigs. Having grown up with golden retrievers, Kate has a great deal of experience with dogs but labels herself a lover of all pets. Having received a Bachelor's degree in English, Kate has combined her love for pets and her passion for writing to create her own freelance writing business, specializing in the pet niche.
More by Kate Barrington
Published May 5th, 2020 12:00 AM