187 Views
Best Cat Screens for Windows
October 11th, 2022 11:23 AM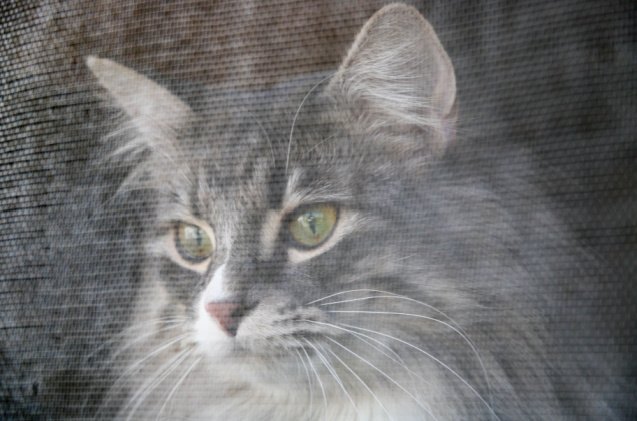 Cats are notoriously curious and that tends to get them into trouble a lot, so it doesn't come as a surprise that their owners have to constantly come up with ways to keep their kitties safe. If you have an indoor-only cat, they might try to venture outside in search of adventure, but if they are not outdoor-savvy or you live in a high-traffic area or neighborhood with a lot of dogs, they might get seriously injured. One of the most common ways cats escape out is through a window – when the weather is nice, you're probably going to want to keep your window open, and your kitty is going to take that chance to bolt. This is where cat screens for windows come into play as literal lifesavers!
Cat screens for windows are tough enough to be cat-proof and stand up to claws and climbing, so there's no risk of your cat breaking through this barrier, which can happen with flimsier nets that are designed to keep only insects out. To help you find the perfect match, we've selected the 10 best cat screens for windows – read on to learn more!
Editor's Choice: DocaScreen Pet Screen
Tear and scratch-resistant, this vinyl-coated polyester window screen is easy to install, durable, and most importantly – cat-proof. The unique material is both elastic and tough, so your kitty won't be able to claw her way out of your home once these are mounted on your window! What's more, in addition to providing safety for your pet, these window screens will also efficiently keep insects out of your home and offer sun screening, as the weave and the dark color of the material can help keep out harsh sunlight without compromising on visibility. These cat screens for windows are available in multiple sizes, so you'll have no problem finding the right dimensions for your window, whether it's a standard size or not.
Pros
Very tough and durable material
Resistant to tearing and scratching
When properly installed can keep a cat safely inside
Protects from bugs
Sun screening properties
Cons
Can be difficult to install for some people
Runner Up: Window Screen Pre-Framed
You might not already have window frames suitable for the installation of cat screens, want to have a ready-to-hang solution with minimal hassle, or have windows that are not standard sizes – either way, these pre-framed cat screens for windows will make your life that much easier. Not only do these cat screens for windows come pre-framed, fully assembled, and ready to hang but you can also tailor every little detail to your liking, from frame thickness and dimensions to colors of the frame and screen. Made from durable fiberglass mesh and manufactured in the USA, these protective window screens are a great choice if you have a window frame that can hold a window screen – they install in minutes and you can do it on your own, easily.
Pros
Easy to install even if you're not a pro
Can be customized to suit your preferences
Specific dimensions and materials
Durable fiberglass mesh
Manufactured in the USA
Customer's Choice: Saint-Gobain Pet Screen
Tough and durable, this pet screen for windows is resistant to tears and damage and will stand up to your kitty's claws and curious nudging. Despite being a thick and strong mesh material, this cat screen for windows will still light through and won't impact visibility. Another great thing about this particular pet screen is the choice of materials – not only that this polyester-based screen is strong, but it is also completely pet and human-safe. It is Greenguard GOLD certified and ortho-phthalate free, so you can rest assured that no harmful materials will come in contact with your pet or your child. This cat screen window comes in various sizes to accommodate different window dimensions and is easy to install with a regular splice.
Pros
A durable and resilient material
Doesn't impact visibility
Easy installation
Resists scratches and tears
Greenguard GOLD certified and ortho-phthalate free
Cons
The material's thickness makes it difficult to install on frames with narrower channels
Best for Sash Windows: WB Marvin Frost King Adjustable Window Screen
If you have a double-hung window, a double-sash window, or a sash window, you will need an adjustable cat screen. It doesn't matter if your windows are wood, metal, or vinyl – these screens fit all – and what size they are, as they come in different dimensions to match all types and sizes of sash windows. Made with durable painted metal rails with varnished wood ends, these window protectors have a coated metal screen that resists tearing, weather elements, and keeps flying bugs out. And most importantly, it will keep your kitty inside even if they are an escape artist.
Pros
Effortless installation process
Durable metal screen and frame
Protects from insects
Keeps cast safely contained
Adjustable and available in multiple sizes
Cons
A heavier cat could probably break through the screen as it is not anchored
Best Magnetic: Liveinu Reinforced Magnetic Window Screen
Not all cat screens for windows are meant to keep a kitty contained inside the home – some are meant to allow her easy access outside without allowing other critters in, similar to a pet door. If your cat is allowed outside, but you want to avoid pesky mosquitoes, flies, and other flying insects from entering your home in the summer, this magnetic window screen could prove to be an ideal solution. The self-sealing, self-closing design means that the window screen can be opened by your cat, either from outside or inside, and the 26 powerful magnetic cubes will close it after her so no insects can enter. This magnetic window screen is easy to install, comes in over 34 sizes, and different colors to match your window frames.
Pros
Suitable for cats that are allowed outdoor access
Prevents insects from flying in
Self-closing magnetic mechanism
Comes in a variety of sizes and styles
Reinforced mesh curtain screen
Assembly kit included
Cons
Not safe for windows on the second floor or cats that don't go outside
Best Adjustable: Home Intuition 2-Pack Adjustable Horizontal Window Screen
If you have a kitty that's too curious for her own good and want to keep her safely indoors, these adjustable window screens are an effortless way to do it. Easy to install – just open the window, place the screen, and pull it until it fits – these cat screens for windows are also durable and very sturdy. They are made from galvanized metal rails and varnished wood so you can rest assured that they are made to last and that they won't be easily scratched by your pet. These cat window screens come in packs of two, and are available in three heights: 10", 15", or 18". They can be adjusted from 25" to 45" in width, so they suit most standard windows.
Pros
Durable metal and wood construction
Provides ventilation, keeps bugs out, and cats in
The set includes two screens
Multiple heights to pick from
Easy to install
Cons
Not for overly destructive cats
Best Safety Net: Winblock Cat Netting for Window
Sometimes, you don't need a thick mesh to use as a window screen – you might already have a bug-proof mesh screen and want additional security, or you live on a high building floor and don't need anything to deal with the insects. In this case, a safety net screen for a balcony or a window is a great choice: it will prevent your four-legged bestie from falling out of the window and injuring themselves in the process. It is made from steel wires and PVC-coated mesh screen and is tested for load-bearing capacities – it can withstand 132 pounds of load, so your kitty, no matter how chubby she is, is certain to be safe.
Pros
Can withstand 132 pounds of load
Sturdy, durable construction
Prevents cat from falling out of the window
Various sizes available
Material for assembly included
Cons
Will not keep insects out
Best Aluminum: Phifer Brite Alum Screen
Want to keep the bugs out of your apartment and at the same time prevent your cat from escaping through the window? This aluminum window screen boasts a precision woven and uniform coated screen mesh that doesn't block out the light but definitely makes a sturdy barrier for creatures big and small. Unlike some other mesh materials, aluminum is tough, can't be clawed or chewed through, and stands up well to all kinds of wear and tear. And the best part is that this window screen protection comes in a roll that's 48" wide and 100' long, so you'll get more than enough to cover multiple – if not all – windows in your home for maximum safety.
Pros
Tough, durable material
Generously sized roll
Keeps out insects of all kinds
Sturdy enough to keep cats contained
Doesn't block sunlight
Cons
Can be difficult to install
Best for Kittens: Pet Proof Window Screen
Kittens are so curious and mischievous – they can find trouble in the blink of an eye! Naturally, opened windows are a big issue, both because your kitty could get lost if they get out of the house or even get hurt if the window is tall above the ground. To prevent any unfortunate scenario, install a cat screen as soon as you adopt a kitten – it will serve you for years to come. This particular design boasts a thick, reinforced fiberglass mesh that will hold its shape even if your kitten starts climbing on it and won't get teared by their sharp little claws. This cat screen for windows comes in three sizes and is simple enough to install with a splice.
Pros
Strong and durable
Can withstand claws and resist tears
Suitable for cats who tend to climb
Ideal for kittens and adult cats alike
Reinforced fiberglass mesh coated with PVC
Cons
Comes wrinkled – it takes a while before the creasing disappears
Honorable Mention: U&O Screen Repair Kit
Sooner or later, if you have a cat that's really tenacious and set on destroying any barrier to outdoor access, your window screen might get a tear or a small hole. This doesn't have to mean you need to replace the whole thing – a screen repair tape such as this one can efficiently patch the hole and make the screens fully functional once again. It is made from super durable fiberglass (which is one of the most common materials for cat screens for windows) with an extremely strong adhesive as backing, so you can just cut to the desired size, peel off the protective layer and stick the tape over the hole. That's it! And since this tape is extra long, with a wish of 2" and 15' in length, one roll should have you covered for plenty of future mishaps.
Pros
Very strong adhesive
Repairs holes and tears in cat screens for windows
Resistant to high and low temperatures
Long-lasting fiberglass mesh
Waterproof
Cons
The patched-over hole will be noticeable
What Is the Best Way to Cat Proof Your Windows?
Cat screens for windows are the only way to make sure your pet doesn't wander out when your windows are open – but they have to be sturdy, properly installed, and made from durable materials in order to be really efficient. Flimsier materials can be ripped with claws or pushed out of the window by your pet's weight (and determination) so your cat can still get outside and get hurt. Look for window screens that are rated pet-proof, with reinforced or thicker mesh materials that can stand up to claws, and with constructions that stand firmly in place, especially if your pet is mischievous and will try to figure out a way to get rid of the window screen. Aluminum, thick fiberglass, or vinyl-coated polyester are all solid choices as they are marketed as tear-resistant and stand up well to wear and tear.
We are committed to finding, researching, and recommending the best products. We earn commissions from purchases you make using the retail links in our product reviews. Learn more about how this works.

Angela Vuckovic
A proud mama to seven dogs and ten cats, Angela spends her days writing for her fellow pet parents and pampering her furballs, all of whom are rescues. When she's not gushing over her adorable cats or playing with her dogs, she can be found curled up with a good fantasy book.
More by Angela Vuckovic
Published October 6th, 2022 10:55 AM