1.4K Views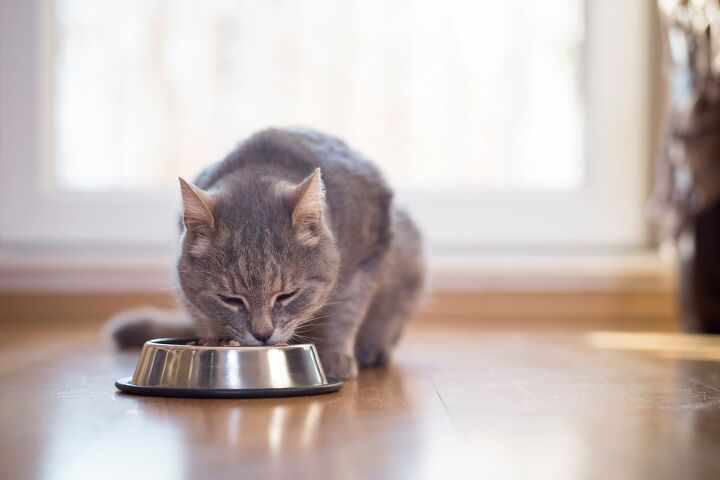 Cat toppers are a great way to encourage your cat's appetite and support their overall health. Kittens, senior cats, or just spoiled felines – they can all be picky when it comes to food. You can spend months trying to figure it out, and to no avail. Either it's the texture, the flavor, smell, or something else: you may never figure out why your cat likes or dislikes certain foods. But thanks to cat toppers, you can finally solve that pesky pickiness issue. Add a topper of your choice to any cat food you use, and witness your cat eagerly eat it all up. Sounds too good to be true, but it really is! From wet to dry, these toppers come in a variety of textures and flavors – read on and choose one of these 10 best cat toppers that will transform your cat's daily diet!
Editor's Choice: Tiki Cat Wet Food Complements
Our little feline friends can be quite the choosers when food is in question. Luckily, these fantastic Tiki toppers are designed to make their bland food a totally different affair. It boasts five unique flavors based on chicken, duck, salmon, egg, and beef to entice even the finickiest of felines. These wet, brothy toppers are a fantastic way to make that mushy and delicious meal full of aroma that kitties won't be able to resist. It is also a great way to increase your cat's daily hydration. Of course, these toppers are also packed with protein and vitamins that are essential in every cat's diet.
Pros
Five unique flavors
Flavors irresistible to cats
Rich in protein
Hydrating broth
Cons
Might be too chunky for seniors
Runner Up: Solid Gold NutrientBoost Meal Topper for Cats
Is your cat a primadonna? Won't touch that ordinary store-bought food? Fix that attitude with one of these one-of-a-kind meal toppers designed especially for cats. Grain and gluten-free, these toppers are a fantastic way to improve your cat's gut flora and digestion. Thanks to omegas, plasma, and vitamins, these toppers are one of the healthiest options on the market. The unique pork flavor is usually a hit with cats, with the unique aroma enriching the classic taste of ordinary cat kibble. All in all, this is one of the best ways to make your cat's diet all the healthier and more nutritious, without having to resort to special diets and expensive foods.
Pros
Rich in plasma and protein
Great for improving your cat's digestion
Very nutritious
Cons
Might be an acquired taste for some cats
Customer's Choice: Kitzy Wet Cat Topper
These delicious cuts in gravy from Kitzy are a fantastic wet topper choice that can transform every ordinary meal into an irresistible kitty course. They come in two delicious flavors: turkey and veggie stew, or chicken and beef stew. Either choice is packed with natural flavors and aromas that cats won't be able to resist. Of course, it is also a healthier choice: it contains no added grains, gluten, preservatives, colorings, or other artificial ingredients. Made with real meat and veggies, they are a good source of protein and vitamins that are essential for healthy cat development. And of course, it is a great way to keep that feline coat shiny and smooth. One possible downside is the small packaging: you can quickly find yourself in need of more!
Pros
Rich in protein
Two unique stew flavors
Delicious
Great for making dry foods more appetizing
Cons
Some cats dislike the chunky texture
Best Freeze-Dried Cat Topper: Vital Essentials Freeze Dried Chicken Topper
You can enrich your cat's diet with a good choice of food and toppers, especially if they are freeze-dried. The secret of freeze-drying food is the preservation of all those essential nutrients for a long, long time. These toppers are exactly that: preserved and nutritious bites sourced from quality ingredients. Great for both cats and dogs, these toppers are a shortcut to a balanced and nutritious diet. With chicken, beef, and turkey to choose from, there is a bit of flavor for every feline taste. Just sprinkle some on top of the classic food, and you will soon witness your cat munching away like there's no tomorrow!
Pros
Easy to mix up
No artificial ingredients
Three unique flavors
Limited ingredient formula made in the USA
Best Cat Topper for Picky Eaters: Meow Mix Paté Toppers
You can't go wrong with wet cat toppers if you have a picky feline. They make food so delicious that cats won't hesitate to munch it all up. These Meow Mix pate toppers are a unique option, however, as they combine texture – smooth pate topped with shreds of seafood or chicken. This texture is ideal for cats that are fussy with food, combining the best of both worlds into a single topper. Salmon, white fish, tuna, and chicken are the flavors and ingredients to choose from, ensuring that your cat's diet receives a considerable boost of animal-sourced proteins and vitamins. And that is what is essential for maintaining your cat's ideal health and happiness.
Pros
Four unique flavors
Quality real ingredients
Rich in Omega 3
Cons
Contains artificial ingredients
Best Mousse Cat Topper: INABA Churu Cat Treats
It is no secret that kitties love their wet treats – so why not use that to your advantage when they're turning up their nose when you offer them plain kibble? These Inaba Churu treats-slash-toppers are a great way for your delicate cat to finally give a chance to dry food. Soft, creamy, and endlessly juicy, these toppers come in a variety of flavors: tuna, chicken, salmon, and scallop mix. These delicious tastes cannot be resisted by any well-respected feline! One of the added advantages of these toppers is their added Vitamin E: great for healthy functioning of the overall body.
Pros
Great for kittens and senior cats
Doubles as a treat
Great nutritional value
Fantastic flavors
Cons
Small packets can leave cats wanting more
Best Fish Cat Topper: Purina Fancy Feast Wet Cat Food Complement
It is not a myth: cats really can't resist fish and seafood! These tasty cat toppers from Purina will captivate any cat's attention with these tasty formulas, particularly those fishy flavors. You can choose from a staggering selection of flavors, starting from tuna and scallop, to chicken, beef, salmon, skipjack tuna, and sole. Of course, each selection ensures a diet full of nutrients and proteins, as well as those all-important Omega 3 oils. Juicy and full of flavor, these toppers are a quality, premium choice for every pampered feline with a preference for sea critters.
Pros
Great choice of flavors
Rich in Omega 3
Quality real meats
Best Chicken Cat Topper: Stella & Chewy's Freeze-Dried Marie's Magical Dinner Dust
Marie's Magical Dinner Dust? That sounds like something out of a fantasy novel! Well, it kinda is enchanting, at least to felines. These quality dry toppers will make any old cat meal into a bonafide feast. Freeze-dried to ensure that all the nutrients are saved, this topper is based on quality cage-free chicken meat. Rich in protein, this topper is also grain and gluten-free, as well as free of any artificial ingredients. This guarantees that only the best quality reaches your cat's plate. This dry topper is great to be mixed with chunky wet cat food, making it more palatable, or sprinkled over kibble to boost its flavor and appeal.
Pros
Freeze-dried
Practical packaging
Rich in protein
Quality meat as the first ingredient
Cons
Might not be the best for picky eaters
Best Crunchy Cat Topper: TEMPTATIONS Jumbo Stuff Crunchy and Soft Cat Treats
Cat food toppers that can act as both toppers and treats are a great thing to have always close at hand. This jumbo-sized pack of crunchy tuna-flavored cat treats is a must-have for every cat owner. Soft inside and crunchy on the outside, they are a great way to reward an obedient kitty, but also to boost their bland diet and add some "spice" to it. These toppers are based on tuna, chicken, or salmon, and are rich in protein and vital nutrients. Best of all, each one of these snacks contains just 2 calories per treat! That way you won't have to fear your cat getting chubby!
Pros
Crunchy texture
Great size packaging
Light in calories
Doubles as a treat
Cons
Smart cats might "fish out" topper treats and leave kibble untouched
Best Natural Cat Topper: Vet Recommended - Whole Chicken Hearts for Dogs & Cats
Real food and all-natural ingredients are always a great way to boost your cat's diet. These real chicken heart treats also double as toppers: add a few to your cat's meals and make it tasty and irresistible, but also enrich it with additional nutrients. Chicken hearts might not sound appetizing to you, but to cats they are. They are also full of nutrients that can't be found in their regular foods. Zinc, taurine, fiber, protein, and iron are just some of the benefits contained in these tasty little bites. So don't hesitate to top your cat's food with a heart or two - it can work wonders for their appetite and health.
Pros
Sourced from the USA
Full of iron and zinc
Can be given as a treat or served as a topper
Healthy source of protein
Cons
Needs to be chopped to serve as a topper
What to Look for in Cat Toppers?
No responsible cat owner should approach their pet's diet carelessly: a lot of forethought and research is needed to ensure your cat's diet is optimal for their health. Of course, it is not always easy to get your cat to eat what's good for them, as kitties can be quite picky about their favorites. Cat food toppers are an ideal way to solve all those issues and jump straight forward to voracious eating from a hesitant or disinterested muncher. Here's what to keep an eye out when looking for a cat food topper for your pampered pet to make sure it's a hit rather than a miss.
One of the major aspects that affect the appetite of cats is the texture of their food. There is something about it that simply makes them picky. Luckily, cat food toppers come in various shapes, sizes, and textures. This means that every cat will find one to its liking. They can be dry and ground, which are meant to be sprinkled on top of food. They can also be crunchy and dry, juicy and moist, chewy, or chunky. They can also come in the form of super soft mousse or pate. The choices are many, and it's up to you to figure out which one is your kitty's favorite.
Needless to say, a lot depends on the taste itself. Some cats have a preference for fish and seafood – others adore beef or chicken. If you are not sure about your cat's preference, try getting a variety pack with several flavors in a bundle. That way you are bound to find out just what your feline friend is crazy about. It can be beef, chicken, liver, tuna, or something entirely different.
Cat toppers are a great way to enrich your cat's meals with protein, vitamins, minerals, or fiber. That's why it pays off to check out the ingredients. Toppers that are made from chicken, beef, salmon, tuna, white fish, or liver are great as long as they contain the optimal amounts of animal-sourced proteins, as well as omega 3 oils, iron, and vitamins. All together, supplemented with other parts of their diet, these toppers will give a major boost to your pet's health. Avoid low-quality toppers that have ingredients such as grains and soy, gluten, and artificial preservatives.
We are committed to finding, researching, and recommending the best products. We earn commissions from purchases you make using the retail links in our product reviews. Learn more about how this works.

Angela Vuckovic
A proud mama to seven dogs and ten cats, Angela spends her days writing for her fellow pet parents and pampering her furballs, all of whom are rescues. When she's not gushing over her adorable cats or playing with her dogs, she can be found curled up with a good fantasy book.
More by Angela Vuckovic
Published September 24th, 2023 12:55 PM