175 Views
Best Dog Bark Control Collars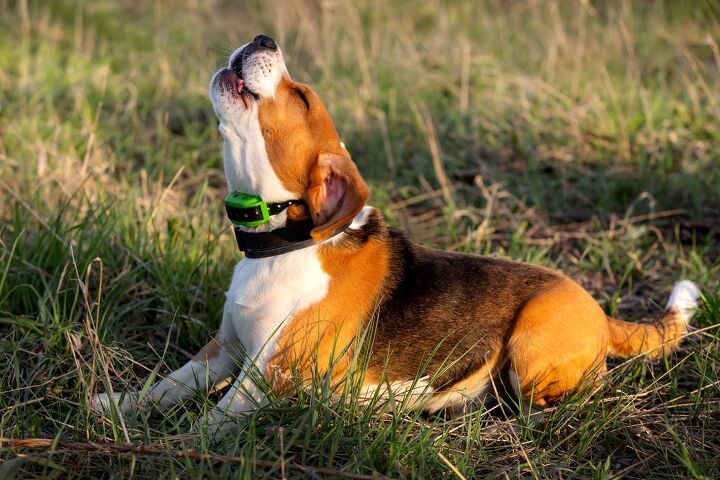 Dogs love to bark! Some, however, do it all the time. And that can be a bit of a problem with the neighbors. Dog bark control collars are here to make excessive barking a thing of the past.
It's no secret that some dogs are avid barkers. Some do it to alert you. Some do it to say they love you. Others do it for no reason whatsoever. In the end, we might never know what's the science behind barking. But either way, this natural doggo habit can quickly get out of hand and become a nuisance. Dog bark control collars are the ideal gadget to help remedy the problem. They are simple but highly efficient. They nudge your pet – usually with vibrations or sounds – to stop their incessant barking when it gets out of control. This list brings you the 10 best dog bark control collars on the market – and it's up to you to choose the ideal one!
Editor's Choice: MASBRILL Bark Collar for Dogs
Pros
Safe and gentle
Efficient training method
Adjustable in size
Reflective striping
Cons
Can be bulky for smaller dogs
Are you tired of your dog's incessant barking? Maybe it is time to try a certified solution. Masbrill's unique bark control collar for dogs is one of the ideal candidates to solve your problem. It has a durable nylon strap that can be adjusted in any way you want, thanks to a slider buckle design. The design boasts 7 bark correction levels, with the beep and vibration modes – without shocking! This makes it a gentler and safer training collar. Thanks to a nifty USB port, this collar can be charged in just 2 to 3 hours, and will last for up to 10 days! Moreover, it has a great response level, and won't be triggered by other noises or other dogs. Overall, this is a reliable and efficient collar that dispenses with the shocking method, while still training your pet not to bark.
Runner Up: NBJU Bark Collar for Dogs
Pros
Sleek LED panel
Modernized design
Fast USB charge
Cons
Can be easily triggered by other barking dogs
Dogs love to bark – and some do it constantly! Thankfully, special dog bark control collars, such as this NBJU design, are created specifically to help remedy this issue. This highly modern design boasts 7 sensitivity levels and caters to small, medium, and large dogs. The collar has 3 basic training modes – beep, vibration, and e-shock. A sleek and modern LED display panel shows you all the necessary information, and a nifty USB port allows fast and simple charging. The durable strap is fully adjustable thanks to a slider buckle, helping adapt to any dog breed. A strong quick release buckle helps for quick removal in case of emergency. With all the top-notch safety levels and great efficiency, this modern bark collar is certain to remedy your dog's barking habits!
Customer's Choice: Foraisv Bark Collar for Dogs
Pros
Limited false triggering
Durable nylon collar
Simple to use
Sleek design
Cons
Could be bulky on small dogs
Here is another modernized design that packs a ton of great features, all boasting great efficiency. This collar allows you to switch from shock to no-shock mode if you want to go for the gentler option of training your pup. Of course, beep and vibration modes are still a viable option here. There are several modes and sensitivity levels, allowing you to find the one that works best for your needs. The design is simple and straightforward, with two-mode buttons and a sleek LCD screen for all the info display. The heavy-duty nylon strap can be fully adjusted, and also features a quick-release buckle for easy removal. Another nifty feature of this design is a special sensor chip that helps minimize the false triggering that has been an issue with many bark control collars. This chip registers only the certain decibel levels, and will thus be triggered only by your pet's barking.
Best Gentle: PawPets Rechargeable Anti Bark Collar
Pros
Simple and easy to use
Durable
Waterproof collar
Replaceable faceplates
Cons
No screen
Battery-powered
Hey! No one likes to be zapped! If gentle training is what you're after, this PawPets training collar will work splendidly. This is a collar that works only with sound and vibration – eliminating the shock altogether – and it has 7 different sensitivity levels to suit your needs. The design relies on a waterproof, heavy-duty nylon strap that has a slider buckle for easy adjustment, and a quick release buckle for emergencies. Of course, it can be adjusted to almost all dog breeds. This collar is quite simple, without fancy LCD screens or other gadgets. It simply does what it's supposed to - and that's limiting your dog's barking.
Best Rechargeable: DogRook Dog Bark Collar
Pros
Waterproof
Simple and efficient design
Durable
Excellent battery
Cons
The strap could be more adjustable
If you want an easy-to-use, effective bark control collar that doesn't use batteries for power, you'll love this design. DogRook's design features a battery that can be fully charged in just 2 to 3 hours, and will last up to 14 days! How marvelous is that? This bark control collar is fully humane, has no shock option, and boasts two modes – beep and vibration. Five levels of intensity allow you to find the right setting for your pooch. The collar's strap itself boasts a reflective nylon stitching, increasing safety and visibility in darkness, and it also features a quick-release buckle. The whole collar is lightly waterproof, and can easily withstand splash, rain, and snow. This design is an all-around winner!
Best Intelligent: Dogcare Bark Collar
Pros
Unique futuristic look
Sleek and stylish
Durable
We live in a world of modern futuristic designs and intelligent gadgets. Dog Care is a brand that proves that even training collars can have an intelligent feature in them. This nifty and sleek-looking collar has 2 modes, shock and vibration, and five levels of sensitivity for that extra fine-tuning. A unique and sleek LED strip will change colors and thus inform you of various statuses and warnings. The battery, of course, is fully rechargeable and will last for days on a single charge. Another great feature is a heavy-duty adjustable strap, which can be fitted to most dog breeds.
Best Training: Laptom Pro 2 Pack Smart Dog Bark Collar
Pros
Great for training
Rugged and durable
Fully adjustable
Cons
Attachment points could be more durable
Training is a vital part of every dog's early life. As a responsible owner, you need to patiently set the rules and help shape your pet's behavior. Bark control is a crucial part of this training, and these unique Laptom collars will be a great helping hand. Simple, rugged, and quite durable, they come in a 2-pack and are ideal for some day-to-day training. They are also gentle, as they have no shock option, and rely only on sound and vibration modes. However, they are equipped with a stronger, dual vibration motor, giving you the option of increased vibrating stimulation. This design also features a very strong battery that can be charged via a USB port. With just 3 hours of charging, you can use the collar for up to 15 days. The collar is also IPX7 waterproof - meaning that you don't have to worry if your pet chooses to have a splash while wearing it. All, in all, this quality design does everything by the book and the result is fantastic.
Best App-Controlled: Dr.Trainer Bark Collar
Pros
A ton of smart options
Full control through an app
Recorded voice commands and messages
Cons
Tends to disconnect from Bluetooth
This dog bark control collar can be controlled and fine-tuned directly from your smartphone! How cool is that? Dr. Trainer Pro is a modern, high-end design that makes training and bark control a true breeze. It has the 3 classic modes of operation: beep, vibrate, and shock. But that is where the classic features end – and the modern begin. You can connect to your collar through a smartphone app. And through there you can control anything you want: the intensity of the vibration or shock, the various modes, and numerous other nifty settings. You can also record messages in your own voice, and program them to be played in certain situations, helping with the training. Another great feature is the daily log: you can see just how many times the collar went off, and thus monitor the progress of your bark control training. The Dr. Trainer Pro is charged via a USB port, and for just a few hours of charging, it will last up to 15 days. A modern design that really takes training seriously!
Best Heavy-Duty: Befond Bark Collar for Dogs
Pros
Heavy-duty design
Very durable strap
Unique modes of operation
Waterproof
This unique Befond design is all about durability. And if your dog is energetic and rowdy, this durability will come to be of vital importance. The first thing to notice is the heavy-duty silicone strap. It is thick, durable, and connected with steel rivets – nothing is getting through that! The device itself is durable, too: it is housed in a heavy plastic casing that is bulky, robust, and will take any accidental bumps. As a controller, it features the "classic three": beep, vibrate, and shock. However, you can choose from several options that combine these three modes, giving you creativity over the training process. A simple, but efficient LED screen shows you all the information you need. And best of all, the design is waterproof. Your dog can splash in the rain, mud, or snow – and you don't have to worry a bit!
Best Large: Trulrox Bark Collar for Large Dog
Pros
IP67 rating
Reliable design
Durable
Adjustable strap
We all know that large dogs can be difficult when it comes to collars, clothes, and other accessories. Luckily, this Trulrox bark control collar is designed to fit even those XXL puppers! Thanks to a durable collar and a slider buckle, it can be widened to fit almost all neck sizes. The device itself is a true classic: it features three modes of operation and around 6 different sensitivity levels and combinations. That's a lot of adjustability for bark control! A simple display shows you the crucial information, including the battery levels and the sensitivity level. And it is quite rugged too! With an IP67 rating, you won't have to worry about splash, snow, or rain – the collar will withstand all of it!
What are the Standard Modes of Dog Bark Control Collars?
Dog bark control collars work on the classic principle that hasn't really been changed over the years. Most designs have 2 to 3 modes of operation, with varying levels of intensity. Each of these modes can bring you a totally different training experience, so it is very important to know a bit about each one.
Vibration
The vibrating stimulant is one of the gentler modes that is still highly effective in training. Vibration is easily noticed by the dog, especially when on a high level of sensitivity. Two probes send vibrations into your pet's neck, reminding them each time they bark. In no time, your doggo will understand the message and connect vibrations with barking.
Shock
Shocking is the most potent of all training modes. It is the most efficient – but it can also be a bit harsh. Many dog owners opt for not using the shock feature, and numerous collar designs come without this option. However, you have control over the intensity of the shocks: even the light ones can be efficient and they won't be cruel to your pet. Two probes will send small current shocks to zap your buddy each time they bark, stopping them in their tracks.
Sound
Sound is the gentlest of all training modes and is often used in unison with vibration. Dogs have acute hearing, and artificial sounds like the ones coming from the collar will be an effective warning method. A sound of a particular tone and level will be always connected with barking, reminding them to stop.
We are committed to finding, researching, and recommending the best products. We earn commissions from purchases you make using the retail links in our product reviews. Learn more about how this works.

Angela Vuckovic
A proud mama to seven dogs and ten cats, Angela spends her days writing for her fellow pet parents and pampering her furballs, all of whom are rescues. When she's not gushing over her adorable cats or playing with her dogs, she can be found curled up with a good fantasy book.
More by Angela Vuckovic
Published September 24th, 2023 3:21 AM