3.2K Views
September 6th, 2022 10:13 AM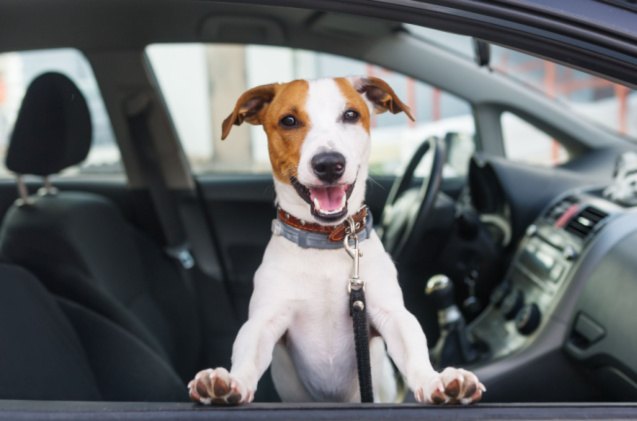 Traveling with your pooch in the back seat can be a lot of fun – but it can also ruin your car. Not only that dogs can be messy, but they can also scratch your car's interior and leave permanent damage, especially if they like looking out the window and prop themselves up against the car's interior door. However, there's a way to enjoy driving with your dog in tow without worrying your car's interior will pay the price for it – car door covers for dogs.
While car seat covers do wonders to protect the seats of your vehicle from pet hair, drool, stains and dirt, car door covers are a perfect accompaniment that will prevent scratches and damage to the interior doors. We've rounded up the best car door covers for pet owners that want to keep their vehicles pristine – read on to find a perfect match!
Editor's Choice: Kurgo Car Door Guard for Dogs
This waterproof, adjustable car door cover is easy to clean, easy to attach, and will keep your vehicle's door protected from slobber, hair, and scratches. These door covers will suit most cars with ease as they attach with tabs that slide between your window and your door panel and lock inside for a secure fit. They are made from a tough, machine-washable, and waterproof material that's resistant to wear and tear and will withstand your dog's curious claws. As a bonus, it has mesh pockets in the front that you can use to store your pet's accessories and toys while you travel! There are 2 car door covers included in the set, and you can choose between black, charcoal gray, and Hampton sand colors to match your car's interior.
Pros
Durable and resistant to stains
Easy to attach to the door
Machine-washable
Waterproof
Three color options to choose from
Cons
Can shift when the windows are opened
Runner Up: Starling's Car Door Protector
Made from high-quality polyester fabric, these car door covers are waterproof and wear-resistant – no amount of mud, drool, and liquids will make these look worse for the wear. But, most importantly, they will protect your car's interior both from staining and scratching! There are two ways you can attach these door guards to your car: with plastic tabs that insert between the window and the door panel, or by attaching the 4 included velcro strips to your door to keep the covers firmly in place. These car door covers fit most cars, SUVs, and trucks and feature 3 mesh pockets for storage.
Pros
Waterproof, stain-resistant polyester
Two methods of attaching for a super secure fit
Suits most cars, trucks, and SUVs
Mesh pockets for storage
Machine washable
Cons
Velcro strips can leave an adhesive residue on the car door
Customer's Choice: PetEvo Car Door Protector
Versatile enough to suit most cars, these door protectors will stay firmly in place and keep your cat's interior spotless. Made with 600-D Oxford fabric that's waterproof and repels hair, these car dog covers are ideal to keep your cat protected from anything your pet could do – whether it's clawing at the door, leaving muddy prints, or tufts of hair behind. You can attach the covers with the included plastic tabs that are inserted between the window and the door, or rely on velcro straps to keep them literally stuck in a place where you want them. As these are made from high-quality, durable polyester, they can be cleaned in the washing machine and last you for years to come.
Pros
Minimalistic design that won't stick out like a sore thumb
600-D Oxford fabric is resistant to scratching and repels water and pet hair
Two methods of attaching the car door covers
Easy to attach and take off as needed
Machine washable
Cons
Plastic tabs can scratch the window glass
Best Car Door Covers for SUV: 4Knines Dog Car Door Cover
Finding the best pet accessories for travel when you're driving an SUV might be a challenge – it's difficult to find the exact dimensions for a perfect fit. Luckily, these car door covers will suit most SUVs perfectly, as they measure 27 by 19 inches and are super easy to install. Like most car door covers on the market, these too are mounted by inserting plastic tabs in your door or, alternatively, attaching them to the door directly with velcro tapes. In any case, you can rest assured that the covers won't slide and shift thanks to the non-slip backing which prevents movement when they are attached to the door. The quilted design is a nice touch as it gives the covers a more polished look, and as they are made from a quality, color-fast material, they can also be washed in the machine.
Pros
Fits most SUVs perfectly
Attached with velcro or with plastic tabs
Non-slip backing keeps it in place
Quilted finish
Machine washable
Best Car Door Covers with Suction Cups: K&H PET PRODUCTS Vehicle Door Protector
While most car door covers use velcro strips or plastic window tabs to stay in place, these options might not work for everybody. In some cases, just plastic tabs on their own are not enough to keep the covers in place, so people have to rely on the added velcro strips to secure the covers – but velcro strips are attached to the doors with an adhesive, which can leave traces and even damage your door. That's where suction cups come in as a great alternative! These car door covers can be secured with plastic tabs alone or reinforced with suction cups that firmly attach to the window and make sure that the covers stay in place throughout the ride. Made from double-ply heavy denier nylon with water-resistant coating, these car door covers are durable and long lasting – and they come in 3 color choices, too.
Pros
Suction cups instead of adhesive velcro
Three color options – tan, gray, and black
Water-resistant and tough material
Easy to install
1-year limited warranty
Cons
Not to be used in cars with tinted windows
Best Car Door Covers with Seat Protection: DKIIGAME Dog Car Seat Cover
If you don't want to buy car seat covers and car door covers separately and prefer a design that incorporates both, this is the best option for your needs. This car interior protective cover will fully envelop the rear seats, the lower part, and the rear part of the front seats as well as the sides – or, in other words, the left and right back door of your car. This makes the whole back of your vehicle fully protected from hair, dirt, scratches, and even liquids – as the fabric is waterproof. It is easy to install with adjustable plastic clips that go on the headrests of the front and rear seats and suspension belts that go over grab handles. There are various design perks to look forward to, such as mesh inserts for air circulation and spacious pockets for storage.
Pros
Covers the whole back of the car including the doors and the seats
Pockets for storage
Prevents the dog from accessing the front seats
Easy to install
Waterproof and scratch-resistant
Comes in gray or black
Best Car Door Covers for Scratching: Bushwhacker - Paws n Claws Vehicle Door Protector for Dogs
You know how it is – your pooch just gets so darn excited when you go on a ride! However, all that excitement can result in scratching on the door, leaving your new car's interior permanently damaged. That's where car door covers come in! These protective car door guards will create a barrier between your pet's claws (and anything else) and the door, so even if your dog paws at the door, sheds, or drools all over, there won't be any trace of it in the car. Made from durable, waterproof, non-corrosive 600 denier polyester fabric, these covers can really take a pounding and won't look worse for the wear after it – perfect for pet owners with rambunctious doggos! These come in two sizes to ensure a proper fit and attach with sturdy metal tabs (inside a protective cover) that are inserted between the window and the door frame.
Pros
Available in two sizes
Metal tabs keep the covers in place
Durable material that prevents scratching and staining of the door
Waterproof fabric
Easy to install
Cons
Can fall out if you roll down your windows
Best Machine Washable Car Door Covers: NAC&ZAC Waterproof Pet Car Door Cover
Let's get real for a minute – we love our dogs but they are not necessarily the cleanest of creatures. Whether it's their hair that sheds all around the har, muddy paw prints or drool that worries you, a car door cover is designed to prevent it from reaching the door – but that dirt and grime won't go away on their own. For ease of cleaning and convenience, these car door covers are machine washable so when your pet inevitably gets them stinky or dirty, you can just toss them in the washer and they'll be good as new. Easy to install with either window tabs or the sticky back self-fastening tapes, these come in black or gray.
Pros
Waterproof and machine washable
Fits most cars
Two color options
Machine washable and easy to keep clean
Measures 28 by 22 inches for a fuller coverage
PVC-free fabric
Two methods of attachment
Best Car Door Covers with Pockets: Happy Ride Car Door Protectors
Why not get two birds with one stone when you get the opportunity to do so? In addition to protecting your car doors from scratching and damage, these car door covers can also double as nifty pet travel storage bags thanks to their large divided mesh pockets. You can use these to store your dog's toys, leash, water bottle, or any other travel necessity your four-legged bestie requires to ride in style. Designed with attention to detail, these car door covers have a top made from textured rubber for non-slip traction and quality plastic tabs that lock into place between the window and the door panel.
Pros
Well-made and durable
Mesh pockets for storage
Non-slip rubber tops
Fits most cars
Easy to install
Cons
Doesn't work with BMWs, vehicles with auto arrest windows or film tinted windows
Honorable Mention: WeatherTech Door Protector
Made from a durable coated polyester fabric with soft binding on edges to keep your interior protected, these car door covers will make sure your doors don't get scratched or damaged when you're driving your pet in the back seat. Machine washable, these door guards are easy to keep clean at all times and will stand up well to all sorts of stains and grime. To install these car door covers, simply insert the plastic tabs between the window glass and interior door panel – it will keep them in place and you can still open your window if need be. What's more, to make sure that these car door covers match any car's interior, these come in 4 colors – charcoal, cocoa, gray, and tan – with matching seat covers you can purchase separately.
Pros
Four colors available
Machine washable
Easy to attach to the doors
Durable, quality materials
How To Choose the Best Car Door Covers
The first thing to consider is the dimensions – most car door covers are universal, but if you drive an SUV, you'll want to double-check their size to secure a fit. But it's not only the size that determines a good fit, as a lot depends on the attachment method.
Most, if not all, car door covers use plastic tabs that insert between the car door panel and window to keep the guards in place. However, this can damage certain windows (e.g. tinted car windows) and might not be secure enough if you have a rowdy pet or frequently roll the windows up and down. In this case, consider either car door covers with velcro attachments or suction cups to make sure the car door covers don't shift or slide around the doors.
We are committed to finding, researching, and recommending the best products. We earn commissions from purchases you make using the retail links in our product reviews. Learn more about how this works.

Angela Vuckovic
A proud mama to seven dogs and ten cats, Angela spends her days writing for her fellow pet parents and pampering her furballs, all of whom are rescues. When she's not gushing over her adorable cats or playing with her dogs, she can be found curled up with a good fantasy book.
More by Angela Vuckovic
Published August 3rd, 2022 11:19 AM