438 Views
August 16th, 2022 12:54 PM
We're committed to finding, researching, and recommending the best products. We earn commissions from purchases you make using links in our articles. Learn more here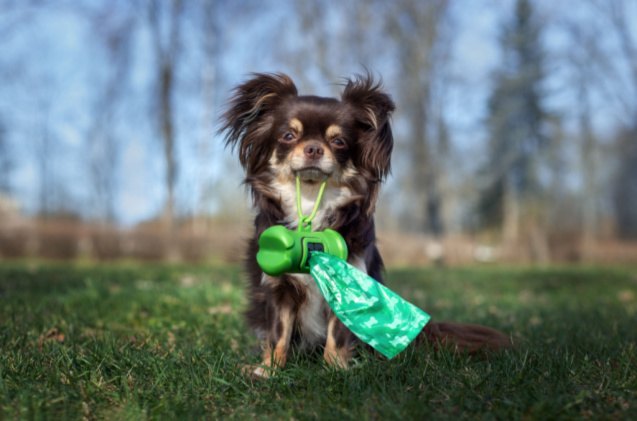 There ain't nothing pretty about picking up poop after your pooch but that doesn't mean you can't store your poop bags in style! Instead of jamming poop bags into your pockets or rummaging through your bag to find the roll you know it's in there but has somehow magically disappeared the moment you need it, get a dog poop bag holder. Not only do they help you store poop bags in a convenient place that's always on hand, but they can also look great – dog poop bag holders come in a variety of designs and styles.
To help you find the perfect match from the get-go, whether you prefer minimalistic design or multi-purpose designs with built-in hand sanitizers or flashlights, we've rounded up the 10 best dog poop bag holders on the market. Just read on and you'll find a perfect fit!
Editor's Choice: Wild One Poop Bag Holder and Dispenser
Stylish, practical, and versatile, this poop bag holder has it all. Whether you want to attach it to a leash, belt, your bag, or literally anywhere else you can think of, you can do so thanks to the elastic band that can be looped around anything. The interior spindle will keep the roll of bags firmly in place, and replacing poop bags is also a breeze thanks to the convenient twist-off cap. While it's undeniable that the design is practical, it's the style that won us over from the get-go: the sleek, monochrome look that comes in 5 modern color options really makes this poop bag dispenser stand out.
Pros
Fits all standard poop bags
Modern monochromatic design
Versatile elastic band makes it easy to attach to anything
Twist off the cap for easy reloading
Comes preloaded with a roll of poop bags
Runner Up: LZSOMPK Poop Bag Dispenser
Who said you can't have fun when choosing a poop bag dispenser? Why go for modern, sporty, or classic design when you can have one that makes you giggle every time you need to do the dreaded task of picking up poop? Appropriately shaped like the poop emoji, this poop bag holder dispenses baggies from the emoji's mouth, which somehow makes it even funnier. Rolls are easy to insert through an opening on the bottom, and the poop-shaped poop bag holder fits standard rolls with ease. Plus, it has a carabiner clip so you can easily attach it anywhere you want it to!
Pros
Quirky design
Easy to replace bags
Carabiner clip for easy attaching
Made from durable silicon
Customer's Choice: Earth Rated Dog Poop Bag Dispenser
Tried and tested, Earth Rated poop bags are a favorite of many pet owners, so it doesn't surprise that they designed an equally awesome poop bag dispenser to go with their popular baggies. The sleek design matches the bags with the same green shade and comes with a silicone strap that can be looped onto a leash, your belt, handbag, or your pet's harness. And since the whole dispenser is also made from silicone, you can expect it to be durable and weather-resistant. The dispenser comes with bags included, and you can choose the amount from 15, 30, or 900 bags.
Pros
Comes with bags included
All-silicone build for durability
Elegant design
Silicone strap can be attached to a leash or a bag
Best Dog Poop Bag Holder for Leash: Paw Lifestyles Dog Poop Bag Holder
If you want a poop bag holder that can easily be attached to a leash – but doesn't dangle around when attached – this design is for you. With two strong Velcro straps on the bottom, it can be secured directly onto a flat leash or the plastic handle of a retractable leash. And if you ever decide to switch things up and want to wear the poop bag holder on, say, your bag or your belt, there's a D-ring you can attach a carabiner clip to and expand its versatility. In the meantime, you can also use it to attach accessories you need, such as a hands-free poop bag carrier clip.
Pros
Fits retractable and regular leashes
Holds poop bags and other necessities (money, treats, keys)
100% money-back guarantee
Bag roll included
3 color options
Cons
The zipper could be better
Best Dog Poop Bag Holder with Flashlight: Blululu Dog Poop Bag Holder Dispenser with LED Flashlight
You're walking your dog at night, and you know that they did the deed – but how are you supposed to pinpoint the location of the poop in the dark and manage to pick it up without making a mess? No need to reach for your phone in an effort to (poorly) light up the scene of the "crime" when you have a flashlight attached right there on the poop bag holder! This handy waste bag holder attaches easily to a leash or to your bag with a metal carabiner clip and twists off to replace bag rolls in a matter of seconds. And when you need better visibility, just press the button to activate the flashlight – it runs on 3 LR44 button cells which are included. What's more, you'll get two poop bag holders, each with its own baggie roll, so you never go without.
Pros
Built-in LED flashlight
Two holders and two rolls of poop bags included
Carabiner clip attachment
Makes cleaning up in the dark a breeze
Best Dog Poop Bag Holder for Yard: Pexter Dog Poop Bag Wall Mounted Dispenser
Don't want your yard to be littered with your pet's poop? Have a roll of poop bags always on hand! Since most dogs that do their business in their own yard are not on a leash – and you're certainly not bringing your bag with you when you take them out – a wall-mounted poop bag dispenser is a great way to make sure that you're always ready to pick up the mess. Made from durable, weather-resistant ABS plastic, this dog poop bag holder can be mounted in the backyard, patio, or by the front door – wherever is the most convenient for you. It comes with anchors and screws and two heavy-duty, weatherproof, double-sided mounting strips so you can choose how to attach it depending on the surface.
Pros
Sleek, inconspicuous design
Holds 4 standard size rolls (included with the holder)
Two methods of mounting
Resistant to weather and durable
Cons
No design element for tearing the bags
Best Dog Poop Bag Holder with Zipper: simpletome Dog Waste Bag Dispenser
Want a dog poop bag holder that makes replacing bag rolls effortless? It doesn't get any easier than zipping it open, popping a roll inside, and zipping it back up. This dog waste bag holder with a zipper opening is easy to use and comes with a carabiner clip for easy attachment to your bag, belt buckle, or leash handle. It is made with durable, double-layer 1680D waterproof oxford fabric and a Japanese YKK brand zipper to ensure the holder lasts you a long while. There are also 3 color options available – if you want to match it with your other accessories.
Pros
High-quality materials and attention to detail
Available in 3 color options
Versatile carabiner clip attachment
Holds bag roll and small items
One bag roll included
Cons
Slightly inconvenient bag pulling
Best Dog Poop Bag Holder with Hand Sanitizer: Glad for Pets Clean & Go Waste Bag Dispenser
While you're not picking up waste with your bare hands, that doesn't mean that you shouldn't wash your hands immediately after cleaning up your dog's poop. When you're on a walk, that's not doable, but hand sanitizer does the job on the go – and this clever design combines both the sanitizer and the poop bag holder into a single accessory. You don't have to rummage through your bag looking for a hand sanitizer or worry about forgetting it at home when you go out to walk your dog! The mini hand sanitizer included is made with a skin-friendly aloe vera formula that's gentle on your hands and tough on bacteria, and the holder fits one standard bag roll (included).
Pros
Hand sanitizer incorporated into the bag holder
Refills available
East to attach to a leash or a bag
Skin-friendly formula
Best Dog Poop Bag Holder with Clip: Hilihali Dog Poop Bag Holder
If you're grossed out by the very idea of carrying a bag with poop in your hand until you come across the nearest trash can – we don't blame you. It is a bit yucky! Luckily, there are many clever gadgets that can ensure you don't have to pick up poop directly through the bag or carry the bag – such as a hands-free poop bag pick-up carrier that comes included with this waste bag holder. Just tie a knot on the bag and hook it through the cutouts on the carrier and you're all set. Easy peasy! As for the poop bag holder, it is quite practical as it features various attachment styles – a carabiner clip on top to attach to bags and leash handles or a hook-and-loop on the sides to secure it to any leash, harness, waist, or running belt.
Pros
Dog poop bag carrier included
Versatile modes of attachment
Fits all leashes, bags, and belts
Zipper top reloading system
4 colors available
Honorable Mention: TUG Dog Waste Bag Dispenser
Just because it holds poop bags, it doesn't mean it can't be stylish! If you want a minimalistic, elegant-looking dog waste bag holder that won't stick out as a sore thumb on your bag or belt, this monochromatic dog poop bag dispenser is the way to go. Slightly egg-shaped, it comes in black or white and attaches to a bag, leash, or belt with a silicone strap for a modern, sleek look. It comes with a bag roll included, and when it's time to replace it, just twist the bottom off and insert a new one. It fits any standard size poop bag roll!
Pros
Minimalistic, modern design
Works with all standard bag rolls
Easy to attach to a leash, bag, or belt
Durable material
Cons
Strap can unhook too easily
What to Look For in a Dog Poop Bag Holder?
OK, you might think that dog poop bag holders are straightforward and that any option will do the job well – but that's not always the case. If you're just looking for an upgrade from stashing poop baggies in your pockets, you might be satisfied with any poop bag holder for a while, but if you want something durable, practical, and tailored to your needs, you need to consider a few things first.
Do you prefer to have a dog poop bag holder attached to a leash, so you can be sure that you don't forget it when you go on a walk with your pet? Or is it more convenient for you to attach it to a bag or a belt? Consider attachment options for the poop bag holder you want to buy – velcro straps are great for regular leashes, and adjustable or silicone straps work well with any leash handle, belt, or bag, same as carabiner clips.
A poop bag holder can have other uses than simply holding a roll of poop bags – there are designs with built-in lights for walks in the night, hand sanitizers for quick disinfection after cleaning up, poop bag carriers, etc. Browse a bit before putting the first dog poop bag holder you see in the cart – you never know what bonus feature you haven't thought of might come in handy.
There's a big probability that you'll drop the poop bag holder, or that your curious pooch will try to chew it if left unattended, so pick durable, resistant materials. Avoid those that scuff easily, or that can break into little pieces when dropped on the floor. Also, quality hardware goes a long way – sturdy velcro strips will last longer, and metal carabiner clips are way more resilient than plastic ones.
We are committed to finding, researching, and recommending the best products. We earn commissions from purchases you make using the retail links in our product reviews. Learn more about how this works.

Angela Vuckovic
A proud mama to seven dogs and ten cats, Angela spends her days writing for her fellow pet parents and pampering her furballs, all of whom are rescues. When she's not gushing over her adorable cats or playing with her dogs, she can be found curled up with a good fantasy book.
More by Angela Vuckovic
Published July 28th, 2022 12:19 PM