192 Views
January 30th, 2023 3:47 PM
We're committed to finding, researching, and recommending the best products. We earn commissions from purchases you make using links in our articles. Learn more here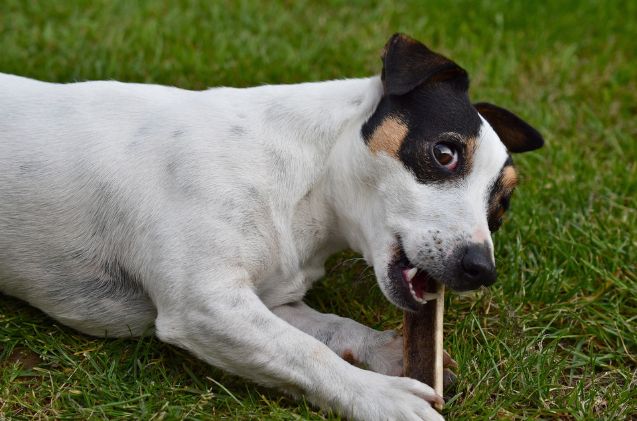 Do you have a dog with a bad habit of chewing anything and everything they can get ahold of? If so, you're not alone! Dogs have an innate drive to chew, and they aren't afraid to focus that energy on your favorite shoes or the leg of a chair if there isn't a suitable chew toy available. It's a struggle that many dog owners face, but it can be overcome.
Many products on the market will offer your dog a safe and suitable option for gnawing. Unfortunately, as we learn more about our dogs and how their bodies work, we have learned that many of the most popular solutions, like rawhide bones, can pose a health risk for our pups. A natural option that you may not have considered is to purchase an antler chew.
Animals like elk and deer naturally shed their antlers. In the wild, these antlers are often a source of nutrition for a variety of animals, including mice, squirrels, porcupines, foxes, opossums, and more. Shed antlers have a durable exterior with softer marrow inside. This marrow is not only a tasty treat for your dog, but it's also packed with vitamins and minerals.
Interested in trying an antler for your pup but unsure where to start? We have put together a list of the best antlers for dogs as well as the answers to a few of the most common questions about dogs and antlers.
Editors Choice: Devil Dog Pet Co Premium Elk Antlers for Dogs
If you are looking for a premium elk antler for your dog, regardless of your pup's size, this is a great option. Each antler from Devil Dog Pet Co has been individually inspected to ensure they are of the highest quality. The antlers are wild shed in the USA, meaning that you don't need to worry about promoting the use of elk farms or hunters. Instead, you can offer your pet a long-lasting chew that won't chip or splinter.
Pros
Cruelty-free, naturally shed chew
Available in a variety of sizes from small to monster
Whole antler is a great option for heavier chewers
Cons
Occasionally you may get an antler that doesn't last as long due to "soft marrow"
Some customers say the antlers they receive are very skinny
Runner-Up: Heartland Antlers Deer Antlers for Dogs
Another whole antler option, these deer antlers from Heartland Antlers are a good option for medium to large-sized dogs. The antlers are naturally shed, meaning no animals are harmed to acquire them. Free from chemicals, preservatives, and other additives, they are a healthier choice than many commercial dog chews. If you're still unsure whether your dog will enjoy one, the company offers a 100% satisfaction guarantee.
Pros
Cruelty-free, naturally shed chew
Whole antler is a great option for heavier chewers
100% satisfaction guaranteed
Cons
Not available in sizes smaller than a medium
Some customers report that antler starts to splinter after extended chewing
Best Antlers for Small Dogs: Buck Bone Organics Split Elk Antler Dog Chew
If you find that most antler chews are too large for your small dog, these split elk antlers from Buck Bone are an excellent option. They have been cut down to make them easier for small dogs to hold and chew while also exposing the delicious marrow that keeps them interested. Containing 40% protein per chew plus both calcium and phosphorus, they are a great addition to your dog's diet.
Pros
Small size for dogs up to 20 lbs
Exposed marrow creates a softer chew, safer for a small dog's jaw strength
Cruelty-free, naturally shed chew
Cons
Antler can splinter or break into small shards over time
While good for small dogs, they may still be too large for tiny or toy breeds
Best Antlers for Large Dogs: Big Dog Antler Chews Brand XL Deer Antler Dog Chew
If you share your house with a larger dog, finding a large enough chew can be challenging. Big Dog Antler Chews offers extra thick 2-point, 3-point, or 4-point deer antlers from Mule or Whitetail Deer. The sharp edges are trimmed and sanded down to prevent injuries while your dog is chewing. For dogs that enjoy chewing, they are an all-natural option and a great source of calcium, phosphorous, manganese and zinc.
Pros
Extra thick, jumbo deer antlers for larger dogs
Naturally sourced in the USA from free-range wild deer
Whole antler is a great option for heavier chewers
Cons
Deer antlers are softer than other options like elk
Some customers report the antlers delivered are smaller than advertised
Best Split Antler for Dogs: Chasing our Tails Elk Splits Rack Snack
While whole antlers are a great option for longevity, they don't work for every dog. They are harder to chew, making them difficult for smaller dogs and seniors. Plus, if a dog can't get at the tasty marrow, they may not be interested in chewing on it. These split deer antlers expose the marrow for a softer, tasty chew that your dog will enjoy. These tasty treats have no odor and leave no residue behind, making them great for indoor snacking.
Pros
Exposed marrow creates a softer chew
Available in small, medium, and large sizes
Cruelty-free, naturally shed chew
Cons
Split antlers aren't as long-lasting as the whole antler
Antler can splinter or break into small shards over time
Best Whole Antler for Dogs: Pet Parents Gnawtlers Whole Elk Antlers
Dog owners that are looking for a longer-lasting chew will love these whole elk antlers from Pet Parents. Each antler is cut and sanded to prevent injuries before being vacuum sealed to preserve the freshness of the antler. This also protects the antler from any contaminants they may encounter during shipping. They are Grade A premium quality and packed with calcium, phosphorous, manganese, and zinc.
Pros
Whole antler is a great option for heavier chewers
Available in small, medium, large, and x-large sizes
Cruelty-free, naturally shed chew
Cons
Small antler is still to large and hard to chew for many small dog breeds
Some customers report that the large and XL antlers are smaller than advertised
Best Lamb Horn for Dogs: Icelandic + Lamb Horn Dog Treat with Marrow
Are you looking for a different natural antler option than the typical elk or deer antlers? This pure lamb horn from Icelandic+ is 100% edible and digestible. Each horn is allowed to air dry the same way the Vikings dried them in 900 AD. The small fibers in the horn act like a brush or floss, cleaning your dog's teeth and gums as they chew. The marrow inside is nutrient-dense, making this a healthy snack for your dog to enjoy.
Pros
Help to naturally reduce tarter and plaque build-up
Lamb horn marrow helps to support a healthy immune system
Natural scent helps to keep your dog interested in chewing
Cons
Horns can splinter or break into pieces after extended chewing
Not as long-lasting as traditional whole antlers
Best Water Buffalo Horn for Dogs: WhiteTail Naturals Water Buffalo Horn Dog Chew
Another long-lasting option for heavy chewers is a water buffalo horn. These horns from WhiteTail Naturals are sourced from 100% free-range water buffalo for a healthy, natural chew. They do have a faint smell but not a strong enough odor to prevent them from being chewed indoors. The curled structure of the horn can double as a treat toy by placing kibble or small treats inside.
Pros
Available in medium, large, and giant sizes
Thick walls of the horn stand up to chewing longer than many other options
Can double as both a durable chew and a treat toy
Cons
Too hard to chew for smaller dog breeds
Horn can crack and break off in pieces, creating a choking hazard
Is It Safe to Give Dogs Antlers to Chew On?
For most adult dogs, antlers are a great natural chew option. But there are some exceptions. Dogs that are aggressive chewers may continue to chew even if the antler is far too hard for them. This can cause a painful cracked or chipped tooth and an expensive dental bill!
The other major concern with antlers is the choking risk that they may pose. When you give your dog an antler, supervise their chewing as they can become so worn that they start to splinter or break apart. Some dogs may be able to break off pieces of the antler right from the beginning, but for most, this happens after they have been chewing for a while. Like any chew or dog toy, if your dog wears down the antler enough that they risk swallowing it, the antler should be taken away.
Are Whole or Split Antlers Better for Dogs?
Both whole antlers and split antlers have their benefits, depending on your dog's interest level and ability to chew.
Whole antlers are more rigid, meaning that your dog has to work harder to wear down the exterior of the antler to get to the marrow. For a dog that loves to chew, this could be an excellent option to keep them entertained. But, as we previously mentioned, their hard exterior could cause dental problems for aggressive chewers. Also, some dogs aren't interested in chewing if they don't have the exposed marrow to entice them.
Split antlers allow your dog instant access to the tasty marrow inside. They also make a softer option that is particularly good for small breeds and senior dogs. However, they are chewed up much faster than whole antlers. Not only does this mean it could cost you more if your dog is a heavy chewer, but they may be more likely to break off pieces or splinters, creating a choking hazard.
How Long Should I Let My Dog Chew on an Antler?
Chewing on an antler is a great way for your dog to focus their desire to gnaw on a safe item in your home. But too much time chewing can increase the risk of damaging a tooth. Instead, you should consider limiting the time your dog has access to their antler. Most experts recommend thirty minutes of chew time per day.
Which Antlers are Softest for Dogs?
If you are specifically shopping for a softer antler for your dog, moose antlers are your best option. But they are less common. If you have a deer or elk antler that you worry is too hard for your dog, you can soften it by soaking it in water. You can soak the antler in a low-sodium broth to make their chew a little more enticing. Allow the antler to soak for 24 to 48 hours.
Are Antlers Okay for Dogs with Sensitive Stomachs?
Antlers are a 100% natural, single-ingredient treat, unlike some commercially made chews. They are fat-free and completely digestible. Not only does this mean that they are safe for dogs with sensitive stomachs, but many experts recommend them for this purpose. But be cautious if your dog is still a young puppy, as the high protein content could lead to some tummy issues.

Britt
Britt Kascjak is a proud pet mom, sharing her heart (and her home) with her "pack" which includes her husband John, their 3 dogs – Daviana, Indiana, and Lucifer – and their 2 cats – Pippen and Jinx. She has been active in the animal rescue community for over 15 years, volunteering, fostering and advocating for organizations across Canada and the US. In her free time, she enjoys traveling around the country camping, hiking, and canoeing with her pets.
More by Britt
Published January 12th, 2023 3:46 AM