269 Views
August 6th, 2022 11:43 AM
We're committed to finding, researching, and recommending the best products. We earn commissions from purchases you make using links in our articles. Learn more here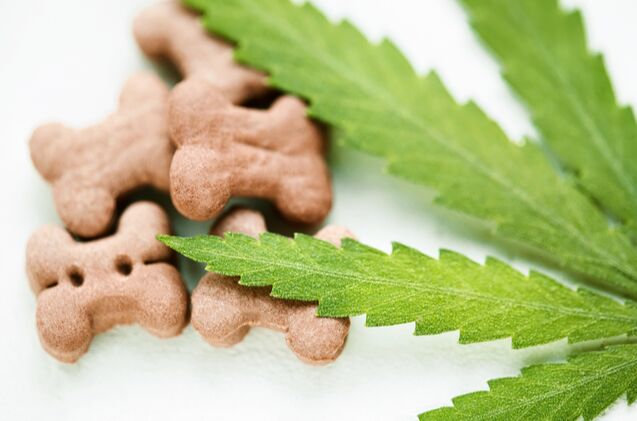 CBD treats for dogs have become increasingly popular in the last couple of years – with the rising studies of the potential benefits of cannabidiol for humans, many pet owners are wanting to see if the same applies to their pets. Anecdotal information seems to suggest that there are many benefits of CBD treats for dogs, from soothing stressed and anxious pets to helping seniors improve their mobility and get rid of joint pain and discomfort – and that's just to name a few.
To help you make your choice, we've rounded up the 10 best CBD treats for dogs of all ages and sizes. Whether you need help with a pet that has separation anxiety issues, want to relax your pet before taking them to a vet or a groomer, make your oldtimer pooch walk with a spring in their step again, or simply want to treat your dog to a healthy snack rich in essential fatty acids, we've got you covered.
Editor's Choice: ThunderPup Premium Hemp Soft Dog Chews
Veterinarian-formulated, these soft dog chews are made from locally grown, organic hemp and offer a myriad of benefits, from improving immune system health to improving skin and coat, reducing inflammation, providing pain relief, and soothing stress and anxiety – to name a few. Available in the form of soft, delicious chews with a meaty bacon flavor, they can be given out as a treat – your pet will be none the wiser but reap all the benefits that hemp oil has for their physical and mental health. Suited for dogs of all ages and sizes, these hemp treats are a great choice for any pooch.
Pros
Tasty flavor
Soft and great texture
Pain and stress relief
Great for seniors with joint issues
Boosts overall health
GMP compliant
Cons
The dosage could be low for some dogs
Runner Up: HolistaPet Hemp Dog Treats
Packed with natural ingredients with calming properties, these treats are not only great for alleviating stress and anxiety, but they are also great for mobility and skin allergies. Combining hemp with chamomile and L-theanine creates a potent soothing formula that does wonders for hyperactivity, barking, anxiety, and general stress management, especially when given prior to stressful situations such as vet visits, fireworks, or thunderstorms. Rich in essential fatty acids, superfoods, and known herbal remedies, these treats have a crunchy biscuit texture dogs love and peanut butter and green apple flavor that will have your pooch salivating.
Pros
Made in the USA with local ingredients
Soothes inflammation
Improves mobility
Calming effect in a stressful situation
Natural ingredients and a vegan formula
Customer's Choice: PREMIUM CARE Calming Treats for Dogs
Formulated to help dogs manage stress, relax, and be less restless and hyperactive, these calming treats contain organic hemp seed oil, organic passionflower, organic ginger root, chamomile, valerian root, and l-tryptophan, all substances which are known for their calming and beneficial properties. Made in the USA in a cGMP-compliant facility, these treats contain only natural ingredients and have a yummy duck flavor dogs love. As they are free from artificial preservatives, wheat, corn, and added sugars, they can be a great choice for dogs with allergies to these ingredients.
Pros
Only natural ingredients
Calming effects on dogs
Helps manage reaction to environmental stress
Yummy flavor
Made in the USA in a cGMP compliant facility
Cons
Not effective with severe anxiety
Best CBD Treats for Joint Health: LEGITPET Hemp Hip & Joint Supplement for Dogs
CBD treats are not only popular for their calming effect on dogs, but also for the other benefits they provide to their overall health, such as improving mobility and relieving joint pain. This formula was optimized to utilize the power of hemp as well as glucosamine, chronditroin, and MSM, natural compounds that have an amazing effect on cartilage, and with it, your pet's mobility and joint health. In addition to these hip and joint preserving ingredients, these treats are packed with other natural superfoods all cherished for their effect on joint health, such as anti-inflammatory green-lipped mussel and turmeric.
Pros
Tailored formula for hip and joint health
Helps relieve pain and improve mobility
Ideal for seniors, dogs with arthritis, or hip and joint pain
Made in the USA from natural ingredients
Cons
Bland flavor might not be enticing to picky dogs
Best CBD Treats for Stress and Anxiety: Green Gruff Calming Chews for Dogs
One of the best properties of CBD treats is that they can work wonders for dogs that are anxious or don't deal too well in stressful situations – such as vet visits, grooming, thunderstorms, or fireworks – as they can help soothe and relax them. These calming treats are made from wholesome, organic ingredients in the USA, including organic hemp seed powder and oil, organic chamomile, organic ashwagandha root, organic chamomile, and valerian root, to name a few. Best used daily for consistent and gradual effects on your pet, these treats can also be given in advance of situations you know will make your pet anxious.
Pros
Natural and potent calming ingredients
Made with organic ingredients in the USA
Protein-dense and packed with essential amino acids.
Free from wheat, soy, corn, and pesticides
Unusual smoked coconut flavor
Cons
Can crumble in the package
Best CBD Treats for Pain Relief: PetHonesty Senior Hemp Mobility - Hip & Joint Supplement
Many pet owners opt for CBD treats for their senior pets because of their effect on painful joints and hips, as well as the promise of improved mobility as a result. While not all dogs are the same and nor are their health issues, many owners report that introducing hemp to their pet's diet has helped reduce their pain – including formulas such as this one, which combines organic hemp oil with green-lipped mussels, glucosamine HCL, MSM, and turmeric to reduce inflammation, relieve pain, and improve hip and joint mobility. Available in the form of chicken-flavored chews, these treats are easy to administer – your pet will love to snack on them!
Pros
Eases joint stiffness and relieves pain and discomfort
Promotes mobility and flexibility
Better cartilage development
Ideal for seniors
Cons
Not for dogs with sensitive stomachs
Best CBD Treats in Liquid Form: Billion Pets - Hemp Oil for Dogs and Cats
OK, so your pet's a picky eater but you still want them to enjoy the many benefits of CBD treats? Why not try hemp oil instead? Perfect for dogs that tend to turn up their nose at most supplements and chewables, this potent hemp oil is a true liquid treat – without any bad smell or taste that could put your dog off. Made in the USA, this highly concentrated formula from 100% organic hemp extract boasts many beneficial properties, from calming and soothing effects to improving appetite, joint health, and skin health. Easy to dose and administer either directly with the dropper or mixed in with your pet's food, this is the ideal CBD treat alternative for fussy dogs.
Pros
No flavor – great for picky dogs
Highly concentrated
Made in the USA from organic hemp
Eases anxiety and stress
Helps with mobility and skin health
Cons
More effective for mild anxiety cases
Best CBD Chewable Treats: Valerio Organic Dog Hemp Chews
Many CBD treats come in the form of soft chews or chewable tablets, in all types of textures and flavors – it really comes down to what your dog prefers. These particular hemp soft chews are a great choice for dogs that enjoy the taste of poultry because of their turducken flavor – which is a combination of smoked turkey, duck, and chicken. Made with natural ingredients such as organic hemp powder and oil, as well as organic chamomile, these yummy treats are a great source of amino essential fatty acids, GLA, stearidonic acid, and Vitamin E, and have a calming effect on dogs under stress, as well as anti-inflammatory properties.
Pros
Helps alleviate stress and anxiety
Improved appetite and digestion
Turducken flavor great for picky eaters
Natural ingredients
Cons
Takes time for effects to be noticeable
Best CBD Treats for Separation Anxiety: Bark & Spark Calming Hemp Treats for Dogs
Separation anxiety can become a huge issue both for the pet and the owner – your dog is experiencing huge amounts of stress and panic every time you're away, and they can often show it by destroying your furniture, carpets, and destructively chewing anything they get their paws on. CBD treats can help manage this issue when combined with training, thanks to their calming effect. Formulated to reduce symptoms of stress and anxiety, these calming hemp treats can significantly help your pet's destructive tendencies, panic, and feelings of fear when left alone. They are made with known effective calming natural ingredients, like hemp oil, chamomile, and passionflower extract, and have a potent effect on most dogs.
Pros
Completely natural and made in the USA
Potent calming effect
Combination of naturally soothing herbal remedies
Natural bacon flavor for yumminess
Cons
The effects can lessen after prolonged use
Best Organic CBD Treats: HEMPTREX Calming Hemp Treats For Dogs
When you want what's best for your four-legged bestie, you'll be spending a lot of time looking for organic ingredients on any label, be it food, supplement, or treats. This calming formula is based on all-natural ingredients, such as organic hemp powder and oil, organic chamomile, organic passionflower, and organic ginger root, as well as a blend of natural relaxing compounds such as L-Tryptophan, suntheanine, and melatonin. In addition to being made in the USA from all-natural and organic ingredients, these treats can boast quite a few benefits, but their main selling point is the powerful calming effect that does wonders for both chronic anxiety and environmental stress, such as visits to the vet or separation anxiety.
Pros
A unique blend of organic and natural ingredients with calming properties
Helps with situational stress and chronic anxiety
Great for grumpy seniors
Made in the USA
Cons
The flavor is not that popular with picky dogs
CBD Treats VS Hemp Treats – Are They Different?
This is a matter of some controversy, as experts disagree if one is more beneficial than the other. Hemp seeds are often used to create concentrated oil or powder that goes into hemp treats, whereas to produce CBD oil, you have to use the whole plant, which some argue produces more potent effects. In any case, though, neither CBD treats nor hemp treats contain THC. With all of the facts considered, most people agree that hemp treats and CBD treats are basically one and the same, as they produce the same effects on dogs – calming, supporting joint health, improving skin and appetite, and relieving pain and discomfort. In other words, the wording shouldn't deter you as there are clear benefits no matter the label.
Benefits of CBD Treats for Dogs
There have been various studies researching the effect of CBD in humans, but not so much on dogs. Smaller studies do indicate that CBD is safe for dogs, with smaller potential side effects such as diarrhea (when given in oil form), but countless anecdotal information from pet owners and veterinarians suggests that CBD treats might have quite a few benefits for dogs, including:
Stress and anxiety management (calming effect)
Improving mobility
Pain and discomfort relief
Improving joint and hip health
Can sometimes help with neurological seizures
If you think that CBD treats might help your pet's quality of life, be sure to consult with your veterinarian first, as cannabidiols are not the best option for every dog. This way, you'll make sure that you get an expert opinion based on your dog's unique medical history and health condition – and you can safely reward them with a CBD treat without worrying if you're doing the right thing for their wellbeing.
We are committed to finding, researching, and recommending the best products. We earn commissions from purchases you make using the retail links in our product reviews. Learn more about how this works.

Angela Vuckovic
A proud mama to seven dogs and ten cats, Angela spends her days writing for her fellow pet parents and pampering her furballs, all of whom are rescues. When she's not gushing over her adorable cats or playing with her dogs, she can be found curled up with a good fantasy book.
More by Angela Vuckovic
Published December 6th, 2023 8:19 AM