153 Views
August 27th, 2022 2:13 PM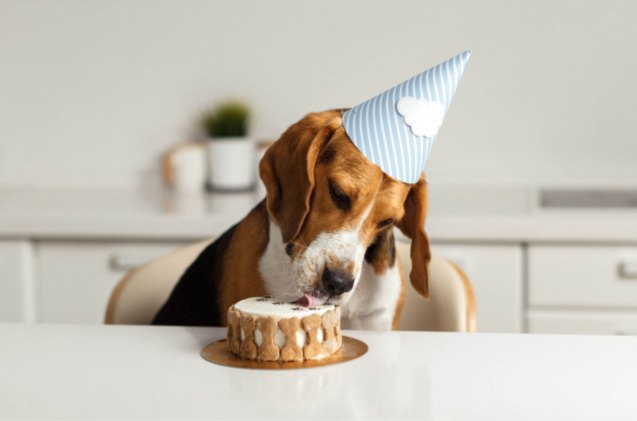 You don't have to be a baking whiz to whip up some homemade yumminess to treat your pooch! Whether it's your pet's birthday and you're looking to make them a special cake to enjoy without breaking the bank, or you want to treat your pet to a yummy delicacy without worrying about artificial ingredients, dog cake mix is the way to go.
Easy to use and yielding mouth-watering results, dog cake mix usually takes minutes to prepare. Simply mix the dry powdered ingredients per instructions – sometimes with water, other times with water, and oil or eggs – and bake or microwave for the required amount of time. Let cool, top with icing if provided, or decorate with your pet's treat or a dollop of PB and you're all set. A cake that will have your doggo wagging your tail without breaking a sweat!
We've handpicked the best dog cake mix options on the market, with recipe variations to suit any dog's taste preferences – and any pet parent's cooking skill. All of these are super easy to make, prepared with healthy, natural ingredients, and most importantly, tend to be an instant hit with our four-legged besties. All you have to do is scroll on and choose one!
Editor's Choice: Puppy Cake Mix
Easy to make, super delicious (according to doggos, that is), and available in different flavors to make any pooch happy, this dog cake mix will make any special occasion even more special. Made with natural, food-grade ingredients, it can be made into a birthday cake for your pooch (it even comes with an icing mix), 8 cupcakes, or 24 mini cupcakes – the choice is yours! You can either microwave or bake the cake and the icing just mixes with water, so you'll have a cake ready in no time. There are six flavors available: peanut butter, carob, banana, pumpkin, red velvet, or sprinkles.
Pros
All natural ingredients
Made in the USA
Easy to prepare
Variety of flavors
Cons
Can cause diarrhea if your pet has a sensitive tummy
Best Dog Cake Mix for Birthday: PetCakes Birthday Cake Kit for Dogs
It's your pet's birthday, so it's only natural that you'd want to mark the occasion with a dog-friendly birthday cake as a special treat! With this kit, you can make your pooch a yummy birthday treat, start to finish, in under half an hour – perfect if you're tight on time. What's even better, this dog cake mix is made with healthy, natural ingredients that are good for your pet and contains no corn, wheat, soy, salt, sugar, or preservatives. Who said that healthy can't be convenient? You'll get a reusable patented bone-shaped pan, carob cake mix packet, yogurt frosting packet, and a party candle, so all you have to do is mix the ingredients as instructed and microwave it for a couple of minutes. All set for a pooch party!
Pros
Healthy recipe with natural ingredients
All the ingredients and tools included in the set
Bone-shaped pan that can be reused over and over again
Takes minutes to make
Made in the USA
Best Dog Cake Mix With Frosting: The Lazy Dog Cookie Co. Bake-at-Home Birthday Cake Mix
What's a cake without frosting? Whether you just want a dog cake that looks as close to "real" birthday cakes as possible or to ensure your picky eater will be enticed enough to give the cake a try, this bake-at-home birthday cake mix for dogs is just the thing. Wheat, corn, and soy free, this dog cake mix makes a round 8-inch cake but it can also be used to make cupcakes if you prefer it. The sponge is vanilla flavored, and the yogurt frosting has sprinkles to make it festive enough for any special occasion.
Pros
Made in the USA from natural ingredients
Frosting with sprinkles for a festive flair
Yummy enough for finicky dogs
No corn, wheat, or soy
Best Dog Cake Mix for Pancakes: Superberry Snoot Pooch Pancakes
Everybody loves pancakes – including dogs! While the pancakes we make for ourselves don't exactly make healthy food for our pooches, this dog pancake mix can allow you to treat your furbaby to the yummiest pancakes that are actually good for them. Made only with oat flour, blueberries, and strawberries, these doggie pancakes are as healthy as can be – and yummy to boot! All you have to do is mix the dry powder with water and cook pancakes on a lightly oiled skillet: easy, yummy, and nutritious. Optionally, if you want to swap pancakes for a traditional birthday cake, you can simply stack pancakes and add frosting of your own and you're all set for a birthday party!
Pros
Healthy, clean recipe
No sugar, salt, artificial ingredients, corn, wheat, or soy
Easy to make
Can be given as a treat or stacked to make a birthday (pan)cake
Different flavors available
Best Dog Cake Mix for Cupcakes: High Hopes Celebration Pack Cupcake Kit
If cupcakes are more of your dog's style, we've got you covered. Perfect for small breed dogs or those that need to be moderate with their treats, this cupcake kit contains everything you need to get that tail wagging. Included is a dog cake mix, frosting mix, and 12 reusable baking cups – just gather your dog's canine friends and the party can get going! The recipe is developed by a pet nutritionist and uses only natural ingredients, with mixes being produced in small batches in the US. And as an additional benefit, High Hopes donates 3.5% of sales and up to 15% of profit to grant awards to pet shelters and rescues each quarter.
Pros
Makes 12 cupcakes – perfect for pooch parties
Comes with reusable baking cups
Natural ingredients and recipe developed by pet nutritionists
Bakes in just 10 minutes
Part of sales and profits are donated to shelters and rescues
Cons
Not all dogs like the taste
Best Dog Cake Mix for Biscuits: King Arthur Baking Company Dog Biscuit Mix
Are crunchy delicacies tastier to your pet than sponge cake and frosting combo? Opt for homemade biscuits when you want to treat them to something special rather than a dog cake. And don't worry, you don't have to research recipes and spend hours in the kitchen to make wholesome, yummy treats for your pet – this dog biscuit mix will allow you to make a big batch of biscuits in around 20 minutes (plus the cooling time, of course). In addition to being yummy, these biscuits will also be healthy for your pet: with a blend of ancient grains, fiber-rich pumpkin, and farm-fresh apples, they support healthy digestion.
Pros
Makes up to 88 biscuits per bag
Supports healthy digestion
Natural ingredients
Easy to make
A great alternative to store-bought treats
Cons
A few more steps in the baking process when compared to cake mix
Best Dog Cake Mix for Homemade Treats: Whisk & Wag Bake at Home Natural Dog Treat Mix
If you are concerned with ingredients that could harm your pooch and can be found in certain store-bought treats, or you simply want to save a few bucks while still spoiling your dog – these natural dog treat mixes will help you do so without breaking a sweat. Easy to make, these dry mixes for homemade treats require only water and oil to be prepared and around 20 minutes in the oven before you have a batch of healthy, yummy treats for your dog. This variety pack includes two flavors, apple and cinnamon and oats with honey, and comes with a heart-shaped cookie cutter to make your job even easier.
Pros
Makes around two dozen treats per mix
No wheat, corn, soy, or preservatives
Two yummy flavors
Healthy, natural ingredients
A family-owned business from Ohio
Best Dog Cake Mix with Pumpkin: Pooch Cake Wheat-Free Pumpkin Spice Cake Mix
It doesn't have to be Halloween for your pooch to enjoy pumpkin! Pumpkin is very beneficial for dogs, as it provides essential nutrients and plenty of fiber, improving their digestion and soothing their tummies. Unfortunately, not all dogs are too crazy about eating plain pumpkin puree – so why not sneak it in through a cake? This dog cake mix has an irresistible pumpkin and spice flavor and is made from all-natural ingredients to nourish your pet's body as well as entice their taste buds. The mix can be baked or microwaved for your convenience and makes 8 delicious doggie cupcakes, 24 yummy mini-cupcakes, or an irresistible 6" double-layer canine cake.
Pros
Only natural ingredients
Can be baked or microwaved
Prepare as a 6" cake or turn it into cupcakes
Frosting mix included
Dogs love the flavor
Honorable Mention: Puppy Scoops Dog Ice Cream Mix
OK, this might not be a dog cake mix, but it's a powdered mix and makes a yummy treat your pooch will adore – so it earned a spot on our list. This unique ice cream mix for dogs simply combines with water before freezing and you get the tastiest dog-friendly ice cream your pet can enjoy on a hot summer day. Nothing beats an icy treat when the weather gets hot! There are 5 flavors to choose from – carob, vanilla, birthday cake, peanut butter, and maple bacon, each equally irresistible to most canines. This scoopable ice cream for dogs is made in the USA from natural and uses human-grade ingredients, so you can rest assured that your little four-legged royal is getting only the best.
Pros
Easy to make – just mix with water and freeze
Real, scoopable ice cream for dogs
Five yummy flavors
Human-grade, natural ingredients
Cons
Not for sensitive tummies
Is Regular Box Cake Mix Safe for Dogs?
While you might enjoy a slice of cake made from box cake mix, your pet shouldn't. Box cake mix usually contains ingredients that are perfectly safe for human consumption, but could be dangerous for dogs such as chocolate or raisins. What's more, box cake usually has high levels of sugar, fat, and artificial additives, which are far from healthy for dogs and can both imitate their stomach and contribute to certain health issues in the long run.
What to Look for in Dog Cake Mix
Instead of sneaking a slice of your own cake to your pet, opt for dog-friendly recipes that are made with your pet's wellbeing in mind. There are various ready-made dog birthday cakes or cupcakes you can use to celebrate a special occasion for your four-legged bestie, but if you're looking for a way to make your own, dog cake mix is your best bet, especially if you're short on time or don't like to bake. Here's what to keep in mind when getting a dog cake mix:
The most important thing is to ensure that the cake you'll be making is safe for your pet to eat. Avoid dog cake mixes with artificial ingredients, tons of sugar, or fillers such as wheat and soy. Instead, opt for recipes with natural, wholesome ingredients that won't irritate your pet's tummy or affect their health.
Compared to what we like in cakes, dog cakes are usually a bit bland to our taste buds. That doesn't mean your pet won't enjoy it, though! To make sure your dog will be thrilled with their birthday cake, pick a flavor they already love – there are tons of options to choose from, starting with peanut butter to carob (dog-safe substitute for chocolate) all the way to savory flavors such as bacon.
You might want to spoil your pooch with a homemade treat but that doesn't have to mean you're looking to spend the whole afternoon in the kitchen! Luckily, most dog cake mixes are quite easy to prepare and take under an hour to be ready. If you're a baking newbie or want to make a cake as quickly as possible, go for microwavable dog cake mixes which will be done in under 10 minutes. Dog cake mixes that are supposed to be oven-baked take a bit longer, around half an hour on average, but are still simple to make even if you've never baked anything before.
We are committed to finding, researching, and recommending the best products. We earn commissions from purchases you make using the retail links in our product reviews. Learn more about how this works.

Angela Vuckovic
A proud mama to seven dogs and ten cats, Angela spends her days writing for her fellow pet parents and pampering her furballs, all of whom are rescues. When she's not gushing over her adorable cats or playing with her dogs, she can be found curled up with a good fantasy book.
More by Angela Vuckovic
Published July 28th, 2022 2:28 PM