142 Views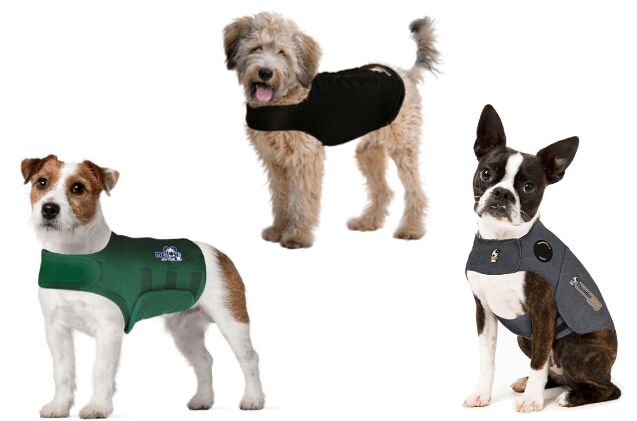 Dog anxiety wraps rely on the soothing power of deep pressure to provide stress relief to your pet. Read on to learn the principle behind it and how to choose the best calming wrap for your anxious pooch.
For some pooches, thunderstorms are a thing they nap through, fourth of July is just a holiday when they're trying to sneak some hot dogs off the table and when their owners go to work, they just go to sleep or play with their toys. Not all dogs are lucky to be blessed with such an easy-going attitude, though. Many pets suffer from anxiety, either chronic or situational, and the stress they experience can significantly lower the quality of their life, and not to mention have a detrimental impact on their overall health. In some cases, behavioral training can be of help, and after a lot of work with your pet (or a professional trainer), you can see the improvements in their habits and reduced anxiety. For those dogs that have the most severe anxiety types, medication is the only option that allows them to function normally, but more often than not, such strong drugs have serious side-effects that most pet parents are trying to avoid. So what's a pawrent to do if their pet can't be helped (just) with training and they are not a case for medication–or you don't want to go straight to meds if you can help it? There is a range of natural and non-invasive calming and anti-anxiety products that have promising results with most pooches. Some prefer calming collars, other CBD oil, and other anti-anxiety remedies, and some find great success with dog anxiety wraps.
Dog anxiety wraps or calming wraps for dogs are just what the name indicates: these fabric wraps go over your pet's body and rely on the soothing effect of deep pressure to calm down your pooch. They are worn during stressful periods (such as holidays that are followed by loud fireworks) and during triggering situations (such as going to the vet's office). Most dogs respond well to this type of anti-anxiety therapy, but then, you have to pick the calming wrap correctly and use it properly. There are various designs out there, each with its own instructions you need to follow if you want to reap the benefits dog anxiety wraps promise to deliver. But how do you know if the wrap will work for your pet and which to choose for them in the first place?
To help you find the design that will work for your pet's needs, we've selected the best and most trusted dog anxiety wraps on the market. These are the calming wraps that have been raved about by hundreds and thousands of pet parents as the most effective, and we've got them all in one place! And if you're unsure about how to make your pick, just read on to learn more about how dog anxiety wraps work and what features to look for when buying.
1. Thundershirt Classic Dog Anxiety Jacket
When it comes to anxiety wraps for dogs, Thundershirt reigns supreme: they are both the pioneers and the ones that brought the design to perfection. They offer various styles and designs, but Thundershirt Classic remains their most popular product. The easy wrap system of this design allows you to wrap your pet with ease – it attaches with velcro so you can adjust the fit to perfection. This calming dog jacket is made from a soft, breathable fabric that's fully machine washable and it is available in seven different sizes that fit pooches of all breeds.
2. Mellow Shirt Dog Anxiety Calming Wrap
With its recognizable design and quality materials, it's easy to see why Mellow shirt is one of the more popular options on the market. The shirt attaches with velcro on your pet's chest and over their belly to provide a snug fit that will deliver the soothing pressure. Made from a lightweight material that is breathable and pleasant to touch, this calming wrap can be washed in the machine for easier upkeep. The smallest size will fit dogs that weigh between 15 and 25 pounds, and their largest fits dogs that weigh between 65 and 110 pounds. There are also 6 vibrant colors to choose from!
3. ZenPet ZenDog Anxiety Wrap for Dogs
This clever design offers two purposes with one shirt: it acts both as a cooling vest and an anxiety wrap. The tight fit is adjusted with a hook and loop system around the neck and over the belly and delivers optimal pressure to your pet's body. This calming effect is almost instantaneous and your pet will be visibly relaxed in minutes. Furthermore, in the summer, when the heat becomes unbearable, you can dress your pooch in his wrap- and wet it. It will keep your pet cool while he enjoys himself in the sun! ZenDog wrap comes in six sizes, from extra small through to extra large.
4. AKC Calming Coat for Dogs
Designed by experts, this calming dog jacket will offer much-needed relief to your stressed out canine companion. The cut of the jacket ensures optimal coverage without being too restraining and a closure system that utilizes fuzzy fastener straps will help you adjust the snugness of the fit to perfection. As a result, your pet will get to reap the benefits of deep-touch therapy while he wears his new wrap. Made from machine washable, durable fabric, this anxiety vest comes in five sizes and a range of colors – a stylish and efficient alternative to anxiety medications.
5. CozyVest 3-in-1 Anxiety Vest, Music & Aromatherapy Dog Coat
Not only does the CozyVest offer the benefits of a snug, calming anxiety vest, but it also leverages 2 other senses to help calm your pup during fireworks, thunder, separation, travel and more. The soft, breathable material of the vest is machine washable, making it easy to clean and care for. It is made from 70% cotton and 30% nylon for durability and available in sizes from XX-Small (up to 7 lbs) right up to XX-Large (110 lbs and up), meaning that there is an option for dogs of all sizes.
In addition to the swaddling effects of the vest, the CozyVest design also includes a speaker that plays calming and relaxing sounds on repeat. It also features scent triangle crystals for aromatherapy in your choice of lavender or chamomile. These specific essential oils are both dog-friendly and well-known for their calming and stress-relieving properties. By using all 3 options, you are optimizing your efforts to calm and comfort your dog.
6. Surf City Pet Works Massage Therapy Dog Jacket
This calming jacket goes a step further to ensure that your pet isn't anxious- in addition to the soothing touch of the compression-fit neoprene, this wrap has a pocket that contains a vibrating module inside. Operated by batteries, this device has three modes of operation: slow pulse, alternating pulse, and continuous pulse. The gentle massage is a great soothing addition to the therapeutic effect of deep pressure. The vest is available in four sizes.
7. Calm Paws Behavior Support™ Relax & Recover™ Dog Shirt
Another unusual design on the list, this calming dog shirt is utilizing various natural methods to keep your pet stress-free. The snug fit of the shirt that goes over your pet's whole body offers a calming touch, but the star of the show is the big red heart pocket on the front. It contains patented calm discs, which are made with calming essential oils- in this case, lavender, While your pet wears the shirt, the relaxing scent will disperse and help them wind down. This lovely scented anxiety shirt comes in three sizes.
8. Healers Anxiety & Therapeutic Dog Body Wrap
Thanks to its adaptable design, this anxiety wrap can be worn as a front wrap, rear wrap, or a full-body wrap. The three-piece set is easily adjusted and modified to suit your own needs with the help of velcro straps on all connecting points. To boot, you can use this calming dog wrap on pets that are incontinent as the rear wrap can help hold the diaper in place. Available in five different sizes.
9. Apetian Anxiety Vest for Dogs
The elastic design of the Apetian Anxiety Vest for Dogs fits close to your dog's body, providing continue mild pressure to calm and comfort your dog during fireworks, thunder, visits to the vet, crowded places, or times of separation. It is made from a blend of 60% vicose, 35% matel silk fabric and 5% spandex, making the vest soft to the touch, elastic enough to provide support and completely machine washable. At the same time, it is lightweight and breathable, making it comfortable for your dog to wear the vest for longer periods of time.
The vest is secured by strong velcro and adjusts in two key places: the chest/stomach wrap and two small adjustable straps on the neck, one for each side. The sizes range from XS to XL, for dogs with neck sizes ranging from approximately 6" to 25.5". However, due to the unique size and shape of each dog, it is recommended that you measure chest, neck, and length sizes to choose the correct size option.
10. Company of Animals Anxiety Wrap
With two connecting points – one on the neck, the other on the back- this anxiety vest is very easy to put on and easy to adjust, as well. The velcro allows you to create a snug fit that will deliver optimal pressure to key acupuncture points of the body and help your pet relax in stressful situations. This budget-friendly dog anxiety wrap comes in four sizes.
How do anxiety wraps for dogs work?
Many people are skeptical about calming wraps – they do look like plain dog vests at first glance and those DIY anxiety wraps for dogs look just plain silly, so it's easy to see why many take the stories about the effectiveness of anxiety wraps with a grain of salt. But once you realize how they work- or, to be precise, why they work so well- everything becomes clear.
If you've ever come across weighted blankets for humans or used one yourself, the principle behind dog anxiety wraps is not difficult to understand, as both weighted blankets and calming wraps rely on pressure to deliver their soothing effects. Same as sleeping under a weight helps humans have better sleep and relieve stress, the optimal tightness of anxiety wraps also functions as deep-touch therapy.
Deep-touch therapy relies on touch or pressure to trigger the release of serotonin and dopamine in the brain which results in almost instantaneous stress relief. After wearing their calming vest for a while, your pet's anxiety symptoms will significantly reduce, and in some cases disappear altogether. And it's not just wishful thinking, either. There have been scientific studies that backed up the effectiveness of anxiety wraps for dogs, especially when used in conjunction with behavioral training. It's like a baby being swaddled – and you probably already know how well that works. Unfortunately, deep-pressure therapy is not effective for all dogs.
While it might work wonders for one pooch, it could be completely ineffective for another. And that is the biggest downside to dog anxiety wraps – you can't know if they'll help your pooch until you try them. The reasons for this are unknown: it might be that for some canines the touch therapy doesn't trigger the release of happy hormones, or it might be that your pet's anxiety is too severe to be treated with anything but vet-prescribed medications.
What to look for in dog anxiety wraps
Dog anxiety wraps all work based on the same principle, but there are key design differences you need to factor in when making your choice. Sometimes, fashioning a DIY anxiety dog wrap out of a scarf might work (but it usually doesn't), however, it's not a long term solution. Dog calming wraps and vests that have been specially designed to hit all the right soothing points with the optimal amount of pressure can't be replaced by a homemade solution, unfortunately. These wraps are a product of years of research and testing by experts and that's why they work- and why wrapping your pet in a scarf rarely does.
However, there's no guarantee of quality or success with all calming vests on the market. Like it is usually the case, you have to tailor your choice of pet products to the unique needs of your own pet. Each pooch has unique build, preferences, and anxiety levels and all of that will influence your pick of calming wraps. Additionally, you have to know which features to look for or what things to steer clear from to get it right with your first purchase. To help you find the right match for your pet's needs, we've rounded up the most important features you need to look for in calming wraps for dogs.
Size
Naturally, the first thing you need to look for is the right size. It's even more important than it is with regular dog vests or jackets because you have to have the right fit if you want your pooch to be wrapped in all the right places- if the size is off, the calming wrap won't work as well or at all. To make sure you're getting the right size, you'll have to measure your pet precisely with a measuring tape before purchasing. Each dog anxiety wrap is different so follow the specific instructions for taking your pet's measurements and comparing it to the manufacturer's dimensions to determine the right size. Dog anxiety vests come in all sizes from extra small to extra large. Every tiny stressed out Yorkie or anxious Great Dane can reap the benefits of deep-touch therapy!
Closure type
Despite what the name indicates, the wraps don't just wrap around your pet's body- they have to be fastened in place, and there are various closure types available. Unfortunately, not all of them are up to standards. The last thing anybody needs while their pet is having an anxious episode is to have to fuss over complex loops or try to pull over a tight vest over their scared pet's head. That's why it's crucial for the calming vest to be easy to put on – it's less hassle for you and less stress for your dog. Velcro and hook and loop systems have proven to be the best option as they allow for a quick and fuss-free procedure of putting your pet into his wrap.
Fabric
Dog anxiety wraps are designed to be used for extended periods of time- your pet can even wear it throughout the whole day, but with the proper build-up to it and regular breaks. Needless to say, for any garment that's next to your pet's body and needs to be there for hours, the choice of fabric is crucial. You want something breathable and soft, that won't chafe your pet or trap heat underneath. The best dog anxiety wraps are made from high-quality materials that are lightweight and breathable but yet tough enough to provide proper pressure to your pooch.
Additionally, you want a fabric that will be easy to clean. Dogs have no problem messing up their clothes in no time- be it body oils and odor or just plain old dirt, with regular use, your pet's anxiety vest will look raggedy and nasty if you don't clean it often. To make your job easier, choose dog calming wraps that can be washed in the machine or at least cleaned with soap and water- those that can only be dry cleaned are not practical for anybody, really.
We are committed to finding, researching, and recommending the best products. We earn commissions from purchases you make using the retail links in our product reviews. Learn more about how this works.

Angela Vuckovic
A proud mama to seven dogs and ten cats, Angela spends her days writing for her fellow pet parents and pampering her furballs, all of whom are rescues. When she's not gushing over her adorable cats or playing with her dogs, she can be found curled up with a good fantasy book.
More by Angela Vuckovic
Published May 17th, 2021 12:00 AM