15 Views
September 15th, 2021 12:00 AM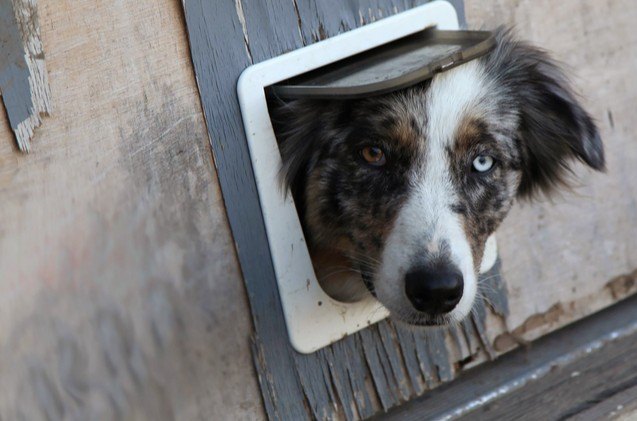 A dog door is a great choice for trained dogs that live in a house with a fenced yard. Dog doors allow your pet to be independent and go potty or play outside on their own- whenever they want.
If you have enough trust in your four-legged friend, then maybe it's time to bring a new element of freedom into the house – dog doors! Just like those iconic flaps that allow our kitties to move freely around, dog doors are designed to offer your dogs the same freedom. If you have a yard and an obedient, trained pupper, these doors can be a big time-saver in the house. With one of these flaps, your pet can go potty on their own, exit the house when they please, and generally move around without restrictions.
This is a great solution if your dog has space outside for potty time or playtime. You can focus on your chores without having to go out or open the doors every time. Of course, these are just some of the countless benefits that dog doors introduce. Choosing the ideal design for your home can be a bit tricky though, as there are many aspects to take into account. To make this choice simpler, we rounded up the 10 best dog doors on the market today!
1. Editor's choice: Namsan Lockable Pet Door
Who said pet doors are reserved for front doors only? Namsan Lockable Pet Door is designed especially for screen doors- made with high quality, durable ABS material, they are long-lasting and are super easy to mount. All it takes is a couple of screws and the doors are firmly secured. The door features special magnetic flap closures that will close the flap after your dog moves through. This keeps unwanted guests at bay, such as bugs or curious critters. Of course, there is also the added slide lock, which allows you to lock the flap when you want your dog to stay inside. The flap features a paw-shaped net screen which helps with airflow while keeping insects out and makes sure that your screen door still fulfills its role despite the pet door being installed. Great for dogs of most sizes (and cats too!), this superbly designed dog door is one of the best around.
2. Runner up: PetSafe Extreme Weather Dog and Cat Door
Live in an area that has cold winters? That doesn't mean that installing a pet door will mean you have to deal with an influx of freezing cold air. PetSafe Extreme Weather Dog and Cat Door will make sure that no matter the season, the outside temperature doesn't creep inside through it. One of the main features here is a sturdy and thick aluminum frame that can be bolted onto most household doors. It features a 3-flap system that is designed to withstand heavy daily use, making it ideal for households with many pets. The several flaps in use are insulated, helping to regulate airflow and temperature in all seasons of the year. Also added is a slide-in closing panel that allows you to close the flap completely and prevent access. The thermally insulated flaps feature magnetic closure. And best of all, the flap is super easy to install!
3. Customer's Choice: Perfect Pet All-Weather Energy Efficient Dog Door
Size matters- well, at least when picking dog doors. Thanks to the great variety of size choices, Perfect Pet All-Weather Energy Efficient Dog Door can be suitable for dogs of any size. But versatility is not their only advantage. These doors were made to be particularly energy-efficient. This is thanks to the structural foam molded plastic that emphasizes insulation. This design traps air between flaps and makes it a suitable solution for every type of weather. The double vinyl flaps are a unique feature as they are clear and offer a great flow of light into the house. Added is a sliding panel lock for those moments when you don't want to let anyone out – or in! The easily adjustable frame telescopes from ¾-inch to 1 ¾-inch thickness adding to the versatility. It also features an optional wall frame.
4. Best with a 2-Way Lock: BarksBar Original Plastic Door
These versatile dog doors efficiently combine flexibility and durability, thanks to the mix of plastic, aluminum, and flexible vinyl. BarksBar Original Plastic Door boasts highly durable aluminum edges which are inset into the tough thermoplastic impact-resistant frame for absolute toughness. They are enhanced with weather-resistant clear vinyl flaps that also feature magnetic closure and add in extra light. When the door is not in use, you can rely on a tamper-proof, self-locking sliding panel that keeps everything tightly sealed and unwanted guests are kept out or your pet prevented from going out when you're not at home. Best of all, the stylish white sides and sleek borders make this dog door a perfect match with most modern house doors.
5. Best for Extreme Weather: MAVRICFLEX Panel Dog Door
Sometimes, dog doors and flaps can be a vulnerable spot in your house, especially if they are not well-made. In colder months of the year, cold air, moisture, and even snow can sneak in and ruin the temperature in the house – and you will wonder where it comes from. MAVRICFLEX Panel Dog Door aims to prevent this with their rugged design that's adapted to extreme weather. The secret is in its high-quality, durable construction. The frame is made from heavy-duty prime aluminum that is rigorously tested by EU and US standards. Thanks to the insulated UV-resistant vinyl flaps, the cold air is stopped dead in its tracks, saving your energy and keeping the house warm. As a bonus, an added metal backplate board and a reliable locking mechanism allow you to keep the dog flap shut when it's not in use. Add to the mix a simple DIY installation and a lifetime guarantee, and you got yourself an offer you can't refuse!
6. Best with a Magnetic Flap: Ownpets Aluminum Dog Door
A regular flap in pet doors is no good on its own – a gust of wind or a wandering critter can always lift it and waltz right into your home. Ownpets Aluminum Dog Door comes with a magnetic flap, so when your dog comes through, the magnets will at once shut the flap behind! The frame of this door is made with solid and durable aluminum and also comes with an aluminum backplate that allows the door to be tightly sealed when you are not at home. A rubberized seal around the flap helps to trap warm air inside the home in winter. Installation is simple and straightforward and allows for a degree of adjustments as well – making it an ideal fit for most modern doors.
7. Best for Screen Doors: K&L Pet Dog Screen Door Sliding Doggy Door
Screen doors can be an invaluable asset in the summer! They keep the mosquitoes and flies outside while allowing air to circulate freely. But that makes dog doors and flaps impossible to use, right? Wrong! K&L Pet Dog Screen Door Sliding Doggy Door is an ideal example of how pet doors can still work if you have a screen door. Designed as a simple solution, this dog door is made from durable but lightweight plastic and is super easy to install. Just place it on your screen door and cut as per instructions. In no time, your screen will have a nifty meshed flap for dogs to move freely through. Four zip ties will keep everything secured in place, and two special locking tabs can prevent the flap from opening. While they won't be efficient on the regular doors, they are ideal for screen doors and for summertime fun!
8. Best Security: PlexiDoor Performance Dog Doors
You are not wrong if you think that dog doors can be a vulnerable spot in your home. But there is little reason to worry. Most designs come with a locking plate, after all. But this unique design from PlexiDoor really puts security at an all-time high. The secret is in the special key lock that allows for absolute safety at all times. Also, there is a special steel plate that fits into the door and also locks with the keylock. PlexiDoor Performance Dog Doors boasts a range of nifty features. Concealed heavy-duty springs make the flaps open and close quickly and securely. The flaps themselves are special K9 composite panels that boast dual-thermo panes that add great insulation into the mix. The frame is made from durable aluminum with three colors to choose from. With a great balance between price and quality, and with ample choices too, this dog door is amongst the best on the market.
9. Best for Walls: Dragon Flap Wall Door For Pets
Front doors are not the only place where you can install a nifty dog flap. How about your wall? With this smart design from Dragon Flap, you can install dog doors on any wall in your house. If you want your pet – for example – to exit the house into the back garden, you can put the flap exactly where it needs to be even if you don't have doors in that exact space- or don't want to modify them in any way. The flap fits walls up to 8" thick and boasts a sturdy ABS plastic frame with UV stabilizers. The flaps are energy efficient and keep the wall well insulated, eliminating the possibility of condensation and cold air streams. Of course, with the added magnets, everything is kept shut tightly.
10. Best Design: High Tech Pet Armor Flap Dog Door
If you are looking for high tech, high-end concept dog door – here's the one to go for. The all-aluminum door frame is made to last a lifetime and boasts a set of features that are unique to this design. One of those is a fully magnetized segmented flap with a latching system that never fails to close securely and tightly. Each segment of the flap is interlocked and moves independently. The flap is also hermetically sealed to ensure absolute insulation in any weather. The overall flexibility of High Tech Pet Armor Flap Dog Door makes it easy to use for dogs of all shapes and sizes, and will not pinch them if they choose to stop mid-way. A futuristic and high-quality concept, this dog flap leaves little to be desired!
What Are the Benefits of Dog Doors?
Cats are considered to be the more independent pet- they move where they want and when they want, and door flaps are a logical accessory for them. But doggos can be a bit more dependent on your help. They signal to you when it's potty time when they want to go out for whatever reason, or they just want to play – all the time. But what happens when you introduce a dog door that makes your help unneeded? Well, you get to reap all the benefits, while your pupper is off enjoying themselves!
Eliminates Indoor Potty Accidents
Whether you are working or indisposed in any way, it doesn't matter – without anyone to open the doors, your dog might end up having an unfortunate potty accident – indoors! One of the major helping hands that prevent these nasty surprises is a dog door. You can freely leave the house and focus on other chores – without worrying about indoor accidents. Your dog will be able to leave the house whenever they need to pee or poop.
Minimizes Barking
Dogs will often bark incessantly when they want to leave the house. For them, it is one of the easiest methods of giving you a heads up – you are bound to notice it. But, of course, constant barking can become tedious quite fast. That's why a dog door is an ideal remedy for those noisy doggos. Instead of having to get your attention in order to get some fresh air and soak up the sun, they can simply go out (quietly) and enjoy their afternoon in the yard.
Hands-Free Approach
All of these benefits combined have one thing in common – they give you plenty of free time. Let's face it – no one likes to get up when they are lounging on the sofa only to open the doors for your dog. Sometimes you are busy making lunch or cleaning the house. Either way, with a dog door you don't have to worry and can focus on these tasks freely. Of course, it goes without saying that dog doors work only if your pet is trained and can be left unsupervised, and if your backyard is properly fenced- this way, you don't have to worry about their safety when you're busy doing something else.
We are committed to finding, researching, and recommending the best products. We earn commissions from purchases you make using the retail links in our product reviews. Learn more about how this works.

Angela Vuckovic
A proud mama to seven dogs and ten cats, Angela spends her days writing for her fellow pet parents and pampering her furballs, all of whom are rescues. When she's not gushing over her adorable cats or playing with her dogs, she can be found curled up with a good fantasy book.
More by Angela Vuckovic
Published September 15th, 2021 12:00 AM