94 Views
April 21st, 2021 12:00 AM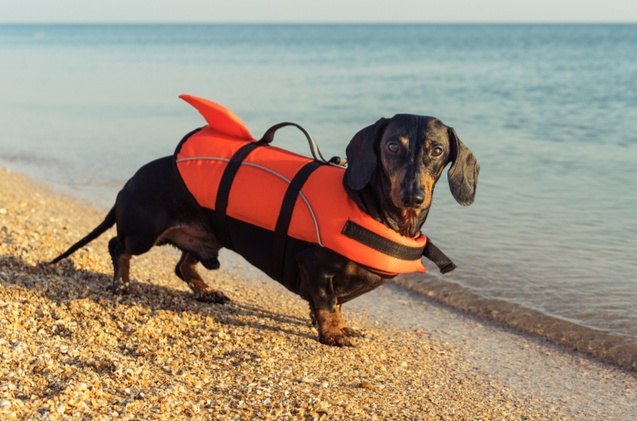 Dog life vests are a must-have accessory if you want your pet to be safe when in the water, regardless of their swimming proficiency level. These are the best dog life vests for dogs of all shapes and sizes – and paddling skills.
If you like to have your pet by your side on all kinds of adventures – you're not alone. Whether they are traveling or road-tripping, hiking, or out on the sea, you can enjoy your four-legged bestie's company. It's a treat for both you and your energetic pooch: your dog will appreciate both the additional exercise and the time he gets to spend with you. However, in all that fun and adventuring, it's important not to let the most important thing out of sight- safety. It's easy to overlook safety precautions when you're having fun with your pet, and more often than not, pet parents overestimate their pet's abilities which could be a dangerous mistake – swimming is one of the activities that's the most suited for misconceptions. Contrary to popular beliefs, not all dogs are proficient swimmers and there are plenty of dog breeds that can't swim at all, or at least shouldn't do so without proper protection, aka dog life vests. Like children or inexperienced swimmers, dogs need to be safely outfitted when spending time in the water. For some dogs, it's because they are poor swimmers or if they can't swim well due to their physique, and for others, it's a precaution in case they get tired paddling around (which happens way more often than you'd think).
Dog life vests make sure that your pet is safe at all times, whether they are splashing around in a pool, or swimming in the middle of the lake. This is especially true for puppies and seniors, dog breeds that are not proficient swimmers, and small dogs that tire easily. Even adult, strong dogs shouldn't be without protection when in the water for a longer time or on the boat. In cases where a dog is a good swimmer and has a lot of strength, a life jacket is there in a case of an accident – your pet might stray far from you or be carried by currents, get tired or get a cramp on the open water, etc. In those cases, a buoyant, brightly colored vest can be a literal lifesaver. It doesn't hurt to be cautious, and wearing a life jacket doesn't have to clash with your pet's active behavior – there are sport versions of dog life vests meant to offer maximum movement and safety both.
After all, fun activities with your pooch are all the more enjoyable when they are 100% safe! Walking is safer with a leash, car travel with a booster seat – and swimming with a life vest. Don't let constant worry ruin your lovely vacation or an adventure – keep your pooch safe and sound with one of these lovely vests.
Needless to say, there are different levels of skills and strength among dogs, and as a result – different types of dog life vests will be required for each case, to make sure that this safety aid works as intended. To help you find the right kind of life jacket for your pet, we've rounded up the best dog life vests on the market – alongside a short buying guide that explains what features to look for in the first place.
1. Editor's Choice: Kurgo Surf-n-Turf Dog Life Jacket
With this life vest, you get two for the price of one: a waterproof vest and a personal flotation device. As a life jacket, it boasts plenty of useful features, including reflective trim, handles for a firm grip, and closed cell foam interior for potent buoyancy. When your dog is out of the water, just remove the flotation layer and the water-proof shell will remain – a sporty raincoat for your outdoorsy pooch. There are built-in D-rings for leash connection so your pet can wear this multi-functional vest on walks, too. Kurgo Surf-n-Turf Dog life vest comes in small, medium, and large.
2. Runner Up: Vivaglory Ripstop Dog Life Jacket
Budget-friendly but surprisingly well-made, this life vest for dogs costs less than $20 but will give your pet all the safety and comfort he needs. It is padded for extra buoyancy but doesn't feel heavy or restricting, thanks to its comfortable fit. The vest is easy to put on as it secures with Velcro adjustable straps and quick-release buckles- these also ensure a great deal of adjustability for different dog body types. Available in 10 bright colors that will make your pooch easy to spot in the water, Vivaglory life jacket in sizes from extra small through to extra large.
3. Customer's Choice: Outward Hound Granby Splash Dog Life Jacket
Thousands of pet parents are singing praise to this life vest with good reason- it is very affordable and does a marvelous job of keeping your pooch afloat. In addition to the padding on the body of the vest, this life jacket also has buoyant padding on the front of the neck, which will make sure your pet's head always stays above water and adds another layer of prevention and security. Equipped with top grab handles, reflective accents, and an adjustable neoprene belly band for a perfect fit, this life vest has everything your pet might need on the water. It comes in extra small, small, medium, and large.
4. Budget Choice: Paws Aboard Pet Life Jacket
Combining style and safety, this life vest will definitely make your pooch stand out on the beach- they'll be easy to spot without a doubt. Available in a range of bright colors and fun pattern prints, this life vest is made with your pet's comfort in mind. Made from breathable, quick-dry neoprene, this life vest won't keep your pooch soggy when he's out of the water (which could lead to a cold). The design of this extra buoyant vest allows for a great range of movement, so even sportier pooches will feel comfy wearing it. It comes in five sizes to fit most pooches.
5. HAOCOO Dog Life Jacket Shark
This playful design allows you to have some fun while making sure that your dog stays safe in the water. Made in grey with a built-in fin on the back of the vest, this life jacket will make your pooch look like the most adorable shark – much to the delight of the onlookers on the beach. In addition to the sides that are lined with pearl cotton foam for optimal buoyancy, this vest also has a front float to keep your dog's head above the water level. This cute life jacket comes in a range of sizes and designs. What a goofy way to have fun while keeping your pup safe and sound.
6. Frisco Dog Life Jacket
This dog life vest has a 20mm thick foam interior that offers supreme buoyancy – so it can be a great choice for swimming newbies. With this great foam thickness, buoyancy is guaranteed – and truly superior to some competitors. It also has a front flotation flap to prevent your pet's head ending up underwater, which only adds to the safety of the vest. Of course, this life jacket also boasts a vibrant color with reflective accents as well as a top grab handle – everything that's essential for a safe swim when you're not proficient. Frisco life vest is available in sizes from extra small through to extra large.
7. deenkk Dog Mermaid Life Preserver
Is that a mermaid swimming in the ocean? Nope, it's just your sweet furry friend getting along swimmingly (pun intended) as they look adorable in their mermaid-inspired life jacket by deenkk. The bright pink color makes spotting your pup in the water quite easy although who could take their eyes off such a cute merdog. The life lackey is made with ripstop fabric that is highly durable and won't tear easily. The mesh fiber makes it easy and fast to dry too.
There are sturdy grab handles on each side of the life preserver so you can quickly scoop your pup up when you need. There is also a heavy-duty D-ring that is perfect for their leash- another great way to keep them safe in the water, on the boat, or walking along the boardwalk. There are a range of sizes from extra small to extra large, so any breed dog can go from furry friend to merdog in a matter of minutes.
8. Outward Hound Dawson Dog Life Jacket
Designed for novice swimmers, this life jacket will keep your pooch warm in the cold water and afloat at all times – all thanks to neoprene foam-padded side panels that are made for maximum buoyancy and quick-dry performance. The bright colors and the reflective accents allow great visibility in the water, and the top handle will ensure you can easily pull your pet out of the water when he gets tired of swimming. Available in sizes from extra small through to extra large, this budget friendly dog life jacket will fit any pooch. Affordable, reliable, and quite versatile, the Outward Hound vest is a fantastic choice.
9. SUNFURA Pet Life Jacket
You can't have summer fun in the sun if you neglect your pet's safety! Regardless of your pet's swimming proficiency, a life jacket is a must for when they are spending time in the water, but it doesn't mean you'll have to break the bank to ensure your dog's wellbeing. SUNFURA Pet Life Jacket is a budget-friendly option that boasts some great features such as impressive buoyancy and reflective strips for better visibility in the water. This dog life jacket is made from high-quality Oxford fabric which is not just durable but great for all seasons and filled with pearl foam which allows it to keep your pooch afloat at all times.
Little details such as D-ring handle for a leash, a rescue handle on the back, and adjustable quick-release clasps are just some of the nifty design features this practical life jacket for pets can pride itself on- it really offers everything required for your pet's safety and comfort. SUNFURA Pet Life Jacket comes in sizes ranging from small to extra large and in 7 different colors.
Features to look for in dog life vests
Each pooch is unique, and you have to consider this when choosing between different dog life vests. Is your pet big and lean, short and pudgy, or medium-sized and strong? Are they experienced swimmers or never dipped their paws in the water? Is the outing going to be in shallow waters or are you going to be on the lake or out on the sea or ocean? There's plenty of factors that could influence your choice of dog life vests. To boot, you have to know what makes a high-quality life jacket for a dog and how to spot one that will be the safest, most cost-effective option for your needs. When choosing dog life vests, these are the things you have to pay attention to:
Size and fit
For a life vest to fulfill its purpose, it has to fit your dog properly. If the life jacket is too small for your pet, it will not be buoyant enough to keep them afloat, and if it's too big and loose, it will be easy for them to slip out of it. In other words, a life jacket in the wrong size is the same as no jacket at all (the only difference being the money you spent). And as there dogs of all shapes and sizes out there, it can be a bit tricky finding a perfect match without properly measuring your dog first. When measuring your dog for a life vest, use a tape measure for precise results. Measure the circumference of their neck and chest and the length of their back (from shoulders to tail). Your dog's weight can also make it easier to determine the size of the vest they need- in any case, the manufacturer will note which measurements are needed to find the right fit.
Buoyancy
The main purpose of a life vest for dogs is to make sure your pet stays afloat when in water. This means that the buoyancy is the most important feature of a personal flotation device, and there are different levels to it- from the sporty models that are good for proficient swimmers and swimming in shallow waters or near the coast, to those that are fully inflated for maximum potency- even a short-legged Corgi would have no problem "swimming" in one of these. Choose the appropriate buoyancy level of your dog's life vest according to the situation- but in most cases, the "floatier" the better.
Comfort
You don't want the life jacket to feel uncomfortable or restraining, as the goal is to provide safety without ruining the fun and enjoyment, after all. In addition to the proper fit, the fabric will influence the comfort factor: go for lightweight, breathable options that won't make your pet feel like he's wearing body armor. Also, try to find an adjustable solution that won't be too tight for your pupper – otherwise you risk chafing and irritation that can become very unpleasant in combination with water.
Visibility
Dog life vests are not just there to keep your pet afloat- they should also make them easily visible. When your pooch is in the water, you want to be able to spot them at all times, whether it's night or day outside – as visibility can be what saves their life in an unfortunate scenario. To ensure this, some dog life vests come in fluorescent and bright colors or features reflective stitching and materials that will make your doggo stand out in the water.
Special features
All dog life vests have the same role and their design is based on their ability to keep your pet afloat, but there are differences that could influence your decision. For instance, dog life vests with handles are practical because they allow you to easily pull your pet from water which is convenient when you're on a boat- or just want to get a firm grip on your mischievous pooch. Similarly, there are dog vests with fins that both increase visibility and give a fun detail to your pooch's personal flotation device – he'll look like a shark or a mermaid, much to the delight of hoomans that happen to be around.
Safety tips for dogs in water
Some dogs might be natural swimmers, but just the fact that they can paddle in water doesn't mean that you should throw caution to the wind when you're in the water with your pet. There are important considerations when you're taking your pet for a swim- both to ensure that he's safe when in water, and those that make sure that his splashing around doesn't result in a cold or a more serious issue, such as a UTI.
Protection from drowning
Of course, making sure that your pet doesn't drown is your number one priority – that much is clear. Dogs with a certain build (such as Bulldogs, Corgis, Doxies, etc) are poor swimmers by design, and that's if they can swim in the first place. The same goes for puppies and seniors, who might lack the skill and the stamina to stay afloat. Many dogs will have a natural instinct to swim when they come into contact with water. But this is just rudimentary and should not be relied upon. What is more, even dogs that are healthy, strong, and proficient swimmers can be at risk in unpredictable scenarios: strong currents, tiredness, cramps, all of these things can lead to tragic scenarios. To prevent any accidents, always make sure that your dog wears a personal flotation device when in water, and don't leave them unattended while they are swimming – even if it's just a kiddie pool in the backyard. It's always better to be safe than sorry!
Parasite precaution
As a good rule of thumb, you should never let your pet drink the water he swims in. In pools, the water is chlorinated and drinking it could harm your pet, swallowing salty water in the oceans and seas could lead to diarrhea, vomiting, and dehydration, and drinking water from streams, rivers, and lakes leaves your pet vulnerable to dangerous parasites. To boot, sweetwater bodies such as lakes can contain blue green algae which is severely toxic to dogs and can cause neurological and liver damage. With all that being said, it is always a good precaution to be mindful of the quality of water you let your pet take a dip in.
Post-swim routine
After your pet is done having fun in the water, dry him off to make sure he doesn't catch a cold. In case they were swimming in salty or chlorinated water, it would be wise to rinse them before drying, to avoid dried skin and dull looking coat. Be sure to dry his ears, too, to prevent an ear infection. In many ways, this is a crucial time – you need to act quickly and be thorough, in order to prevent the possibility of your pupper catching cold. Even if the temperature is warm – leaving your pet to run amok while soaking wet is an open invitation for a nasty cold.

Bottom Line
In summary, dog life vests are an invaluable asset for every dog owner. We all know just how stressful certain situations with your pupper can be! Adventuring and traveling with your furry friend by your side is endless fun and a great way to build a better bond with your pet. However, in situations where swimming is involved, stress can mount up to an all time high. And that can prevent you from freely enjoying your adventure. But with a dog life vest, things are placed under control. Let your pupper enjoy the water and swim by your side – the buoyancy of the life vest is a superb safety measure.
Dogs will grow to love being in the water by your side, and swimming only takes a little practice for them. It is an ideal way for them to have fun, to stay fit, and enjoy the activities that are natural for them.
We are committed to finding, researching, and recommending the best products. We earn commissions from purchases you make using the retail links in our product reviews. Learn more about how this works.

Angela Vuckovic
A proud mama to seven dogs and ten cats, Angela spends her days writing for her fellow pet parents and pampering her furballs, all of whom are rescues. When she's not gushing over her adorable cats or playing with her dogs, she can be found curled up with a good fantasy book.
More by Angela Vuckovic
Published April 21st, 2021 12:00 AM