8 Views
Top 10 Dog Workout Products for Workout Woofs
April 27th, 2021 12:00 AM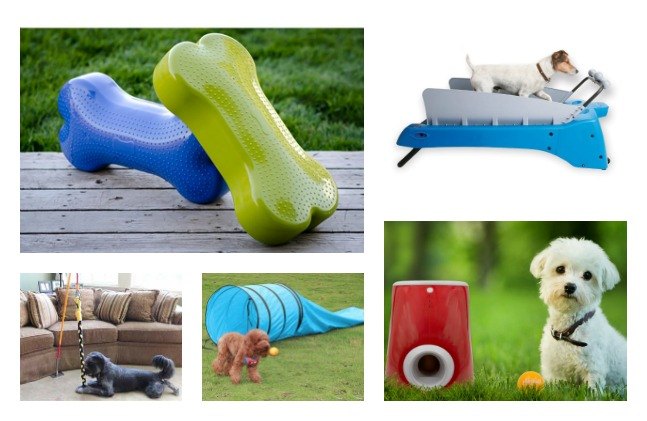 Your dog wants to be active, because it means more fun and more time with you! Check out these woofing workout products that'll condition your canine.
I have a one-year-old dog with a high drive, and an almost-12-year-old dog with three legs.
Sounds like the making of a great joke, right? The truth is that it's hard to ensure that both dogs get the exercise and stimulation they need. The puppy has so much energy, she literally runs around in crazy circles sometimes when she has to get some out. My oldie Golden? With three legs, she needs to stay a healthy weight to keep pressure off her good back leg.
It's time to get a little bit innovative – here are a few products that'll help make exercise a breeze!
1. PawHut 5 Piece Dog Agility Training Set
Agility training is not only a fun way to encourage your dog to be active but also a great bonding opportunity for dog and owner. Together, you will learn how to master each of the obstacles, celebrating your success along the way. After all, that special dog-human bond is the reason why so many of us are eager to bring dogs into our lives.
This agility training set includes a high jump, tunnel, weave poles, square pause box and adjustable jumping ring. Set up is quick and easy, and equally as quick to dismantle when you're finished. This combined with the included sports-style storage bags makes this a great option to take with you to the dog park, a nearby field or, of course, in your own backyard. You can take your training with you wherever you go. The obstacles are made from durable plastic and stakes are included to help hold the tunnel in place during use.
2. Agility Hoop and Hurdle Bar.
We also are excited about teaching our pup how to use this in the spring! She already knows how to turn and open the door handles when she wants to come inside (if we could only figure out how to have her close the door behind her!) and a few of these in a path will get some of that crazy young dog energy out in a fun way we can engage with her.
Believe it or not, the K9 Fitbone was magic when our dog had her leg removed last year. It helped give her balance training with just the three legs, and her therapist used it to strengthen her good back leg, as well as give her the opportunity to work on her proprioception now that she was a tripod. But it's great for any dog that you want to develop strength or endurance in, and can work with small or big dogs to do full-body conditioning!
I love that these agility bars give your dog a good cardio workout but also allow you to do some agility training for dogs like mine who just need jobs. They are lightweight and easy to move around for different patterns, and come with training cards so you can feel like a pro while your dog learns to be one!
5. PULLER Professional Dog Training Equipment
This innovative fitness tool for dogs shows that, when you have a clever design, you can get your pupper to burn off all those calories or excess energy with just one seemingly simple interactive toy at your disposal. PULLER is a set of two rings made from uniqued foamed polymer material that can withstand all the force and the bites your pet throws at it- no matter their size and jaw power. The idea is that the PULLER is always used in combined training with the human present, so the range of exercises your pet can get from this fitness tool is limited to those that require your involvement: fetch, tug of war, or jumps. The exercises can be easily adjusted to your pet's preparedness level, as you can fetch further or closer, on the ground or in the water for added swimming exercise, entice lower or higher jumps, and control the impact of the pulling directly when your dog is tugging on the toy.
6. Indoor Tether Tug Toy.
You know you love nothing more than playing tug with your dog but sometimes, it's just not something you can do. But your dog doesn't have to suffer with this indoor interactive toy. It's great mental stimulation and exercise for dogs under 30 pounds, and helps them burn off extra energy when you can't play tug with them. You can take the wand off and play with them if you like, though, so it's a win-win purchase!
7. Indoor Automatic Ball Launcher.
My dog could literally chase after a ball for hours on end. She's not as great as retrieving as I'd like (ironic for a retriever, no?) but she loves me throwing and running after them. This one is made for small dogs, but there are some that are made for bigger, as well as for all sizes and outdoors as well, so they can run themselves ragged!
8. Hands-Free Bicycle Exerciser.
My husband and my golden loved to run. But running isn't as easy on my husband's knees anymore, and my golden doesn't understand why they don't get out together as much as they used to. Enter the bicycle exerciser extender. You can bike while your dog still gets the freedom to jog/run and both enjoy time together in the fresh air!
9. Dog Retrieval Barbell.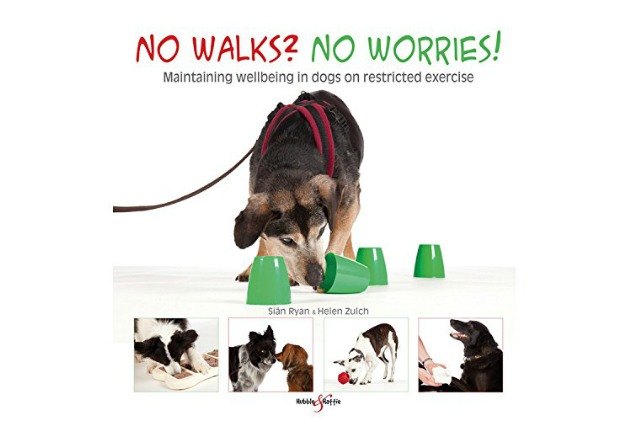 10. No Walk, No Worries Book! Sometimes, our dogs just can't exercise for whatever reason, but we don't want them to be physically or mentally at a disadvantage because of it. This book is great for those who have aging dogs or dogs who are on restricted movements as it gives tons of practical ways to keep a dog as physically and mentally sharp as you can!

Published April 27th, 2021 12:00 AM