14 Views
Best Handy-Dandy Havanese Treasures
August 1st, 2021 12:00 AM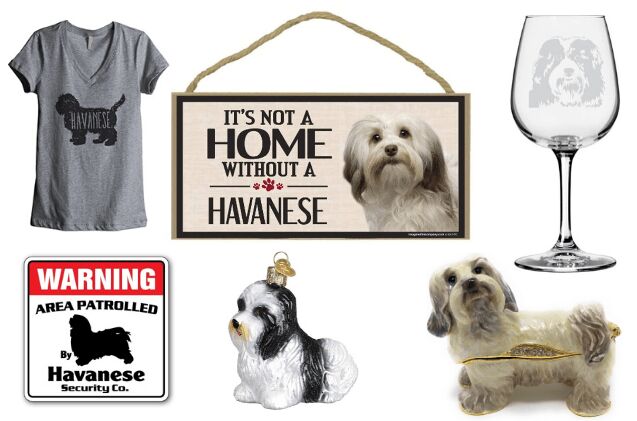 How do you show off your Havanese pride? We'd like to offer a few suggestions on the perfect pieces for Havanese lovers.
Anyone who's ever had a Havanese grace their lives will rage for hours as to why their pooch is the fairest in the land. They're the sweetest, gentlest and most playful dog you'll ever meet… at least to their owner they are! Should you be one of those Havanese-crazed dog mom (and really, who can blame you?) here are some terrific trinkets sure to make your day.
1. Editor's Pick: Home Wood Sign for Havanese Owners
Let everyone know who holds your heart as soon as they enter your house. This wood sign makes great decor and shows off your Havanese pride at the same time! Measuring 10 x 0.25 x 5.5 inches, this adorable wooden sign will easily fit in your dining room, living room, bedroom- anywhere you want it to.

2. Runner Up: Havanese Silhouette V-Neck T-Shirt
If it's not written on a tee, is it really true? Make your adoration of your pooch public by wearing this comfy t-shirt with a Havanese silhouette print as its main detail. Made from cotton, rayon, and poly blend fabric, this tee is as comfy and well-made as it is cute!
3. Best for Wine Lovers: Havanese Etched Wine Glass
The only thing that could make your evening glass of wine (or bottle, we don't judge) better is an etched illustration of your pet on it. Dishwasher safe and beautifully designed, these Havanese-inspired wine glasses make perfect gifts- to yourself or others. With a capacity of 12.75oz, this glass is just the right size for your drink of choice.

4. Best Go-To: Havanese Socks
Skipping around the office is easy thanks to these lightweight socks printed with your precious Havanese's face all over it. Made with high-quality soft cotton, these are also very comfy to wear and shrinkage is not the issue- quality and great design both!
5. Best for Coffee Drinkers: Funny Havanese Mug
Sassy but true, the message on this funny mug will definitely resonate with any proud Havanese dog mom. Enjoy your morning cup of Joe at work or sip tea after a long day- each time, this mug is guaranteed to put a smile on your face. The mug capacity is 11 fluid ounces- enough to start off your day with a nice coffee boost.

6. Best for Her: Charm Bracelet
Be constantly reminded that your heart has gone to the dog, thanks to this sweet little bangle charm. Perfect as a thoughtful gift for that special someone or a treat for yourself, this gorgeous bracelet is made from adjustable durable thick gauge wire and the charm pendant is stainless steel and engraved with laser.
7. Best Sign: Havanese Security Sign
Don't judge a book by the cover- this sign clearly reminds visitors who's the boss of this turf. With pre-cut holes for hanging, this 10" by 10" durable plastic can be mounted anywhere from your front gate to your home office space. As long as everybody knows your Havanese is not to be trifled with, the choice is yours!
8. Best for the Holidays: Havanese Dog Christmas Ornament
Make your pooch a part of your family's tradition by getting a traditional Christmas ornament made in his liking! This Havanese Christmas tree ornament is beautifully made in the traditional way- from mouth-blown molten glass. It's guaranteed to be the star of your tree decor!
9. Best for Cars: Vinyl Dog Window Decal Sticker
If you love Havanese, honk! Put a smile on the face of your fellow drivers with this cute but high-quality vinyl sticker. The sticker comes with a promise it will last at least 6 years without peeling or cracking- and in dog years, that's really something!
10. Honorable Mention: Stubborn Havanese Tricks Dog Throw Pillow
Only the privileged ones know what it's like to try and train a Havanese. These tiny pooches have a big attitude and can be notoriously stubborn when it comes to training- but why not make the best of it? Instead of getting frustrated, try finding humor in the situation. This hilarious throw pillow illustrates just how "obedient" these little furballs are- and tells anyone what to expect when they take on the endeavor that is training them. Oh well, at least all Havanese owners know that the effort is well worth it! Available in two sizes, 16" by 16" and 18" by 18", this double-printed, Havanese-inspired throw pillow is made from durable polyester-spun fabric with fluffy polyester filling.
Additional resources:
We are committed to finding, researching, and recommending the best products. We earn commissions from purchases you make using the retail links in our product reviews. Learn more about how this works.

Published August 1st, 2021 12:00 AM