8 Views
5 Pet-Themed Coloring Books for Adults Part II
March 23rd, 2016 12:00 AM
We're committed to finding, researching, and recommending the best products. We earn commissions from purchases you make using links in our articles. Learn more here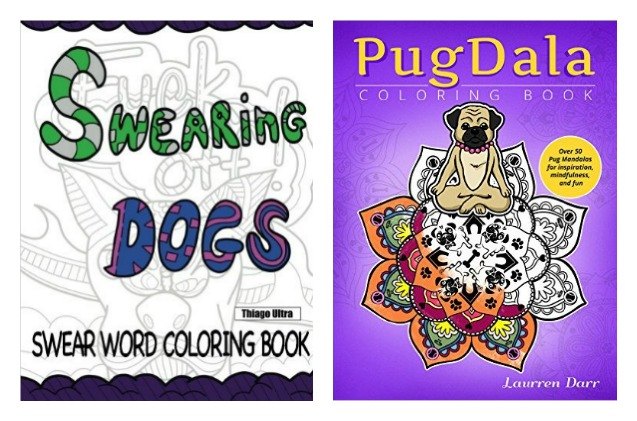 Color your way to calm. Adult coloring is a trend we adore – and when you pair it with dogs and cats, we can't resist breaking out our pencil crayons!
Okay, I'm addicted! I love adult coloring books… especially when they've got anything to do with dogs and cats. I find that coloring helps me unwind after a busy or stressful day. Sure, my hand may cramp up… time seems to just fly by when I'm unleashing my mad coloring skills!
Because this trend is showing no signs of slowing down, there are new pet-themed coloring books hitting the shelves all the time. That's why I've picked 5 more adult coloring books that are inspired by our furry best friends. Enjoy!
This one was created by my friend Laurren Darr… but that's not why I'm recommending it (honest!). The PugDala Coloring Book features over 50 Pug mandalas and mantras/affirmations to help you color your way to clarity. Serenity now! Buy it on Amazon for $9.99.
– Swear Word Coloring Book for Adults: This one is definitely not for kids! There's no better way to shake off a bad day than with a laugh, a dog and a swear-filled rant – all of which you'll find in this adult-only coloring book. Get your giggle on with 20 unique hand-drawn illustrations that feature swear words and funny dogs. Buy this f*#k-ntastic book for $8.90.
Amazing Dogs: Adult Coloring Book
Bulldogs, and Chihuahuas, and Dobermans, oh my! Let your imagination take over as you color in over 30 of your favorite dog breeds. Set on a backdrop of creative designs, there are no limits when it comes to letting your inner artist out. Amazing Dog sells for $9.56.
Puppies – Volume 1 Small Breeds
Everyone loves puppies! And you'll love this adult coloring book that's full of them. You'll fill your time doodling 32 pages of puppies decorated with floral, abstract or geometric elements. The small breeds showcased in this coloring book include Boston Terriers, Welsh Corgis, Papillions, Pomeranians, and more. Bring home this book for $11.69.
Really COOL Coloring Book 2: Cool Cats: How do you keep your cool? Really Cool Cats coloring book lets switch off, unwind, and get creative as you color in the amazing outfits and super cool clothes of these fantastic fashion-forward felines. Bonus: each design is printed on a single page with the reverse left blank, so there's no bleed through, whether you use pencils, pens or paints. Get cool for $6.95.

Amy Tokic
Amy Tokic, Editor of PetGuide.com, is a passionate animal lover and proud pet parent of Oscar, a Shih Tzu/Chihuahua cross, and Zed, a Japanese Chin. Her love of animals began in kindergarten, when she brought her stuffed dog Snoopy into class with her every day. Now, she writes about her adventures in pet ownership and tirelessly researches products, news and health related issues she can share with other animal enthusiasts. In her free time, Amy loves perusing used book and record stores, obsessing over the latest pet products available and chasing squirrels with wild abandon (a habit attributed to spending too much time with her pooches).
More by Amy Tokic
Published March 23rd, 2016 12:00 AM