1.2K Views
Best Harnesses For Morkies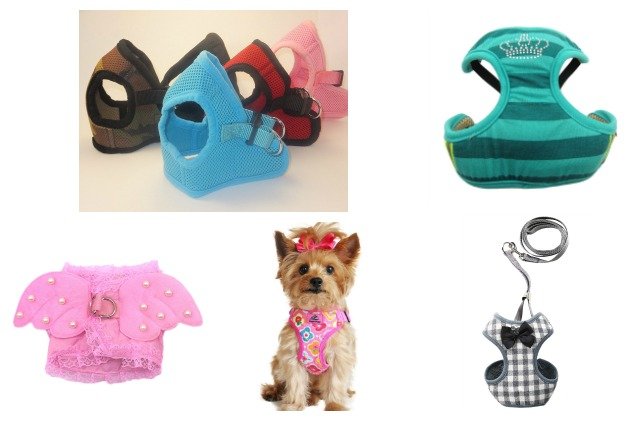 Your Morkie has a delicate neck. It's important that the harness you use to keep her safe is comfy, so here our best harnesses for Morkies.
They are cute as buttons for sure, but man–they're fragile! Especially their little necks, so many use harnessess to be sure they're taking the best care of their Morkies. But harnesses that fit as small as some Morkies (two pounds!) are hard to find, so we've put together the best ten harnesses for Morkies to make it easier for you!
1. Editor's Pick: Voyager No Pull
While you may not be worrying too much about your Morkie pulling, you do want to make sure she has good leash manners and you find something easy for her. This extra small padded/mesh harness from Voyager is made for the smaller of small dogs and is in an assortment of different colors.
2. Runner Up: PoyPet No Pull Dog Harness
Easy to put on and comfy to wear, this padded no-pull harness is a perfect choice for daily walks. PoyPet No Pull Dog Harness has D-ring on the back and the front of the harness, so if your Morkie pulls on walks, they'll end up facing you and quickly realize that there's no point in tugging the leash- which can come in quite handy when you're in the process of leash training. Made from durable Oxford cloth and padded with breathable mesh material, this harness is really lightweight but don't let that fool you: reinforced stitching and strong clasps make this design reliable and durable. PoyPet No Pull Dog Harness comes in 14 styles including solid colors and vibrant patterns, and each of them has reflective trims for safe walks in the evenings.
3. Best Mesh: Soft Mesh Comfy Vest
Finding a harness that will fit a Morkie Puppy may make you lose your mind, but no worries as the perfect one is right here. Basic, but soft and comfy for babies (and full-size Morkies, who are still typically no bigger than eight pounds) and come in various colors.
4. Puptek Checkered Frills Harness
Holy adorable! Your little gal will ooze with cuteness in this frilly checkered harness from Puptek. It's not all about looks, though, as it's small enough for a good fit and it is an easy step-in design.
5. Best Soft: Bingpet Polka Dot Harness
We also love how soft and easy this super cute polka-dotted harness from Bingpet is. It's a lightweight polyester and super easy step in for your pet, and the padding on the chest is comfy enough for your Morkie to wear all the time.
6. Best Adorable Design: M2CBridge Angel Harness
Your Morkie is your little angel, we know…so let everyone else know with this tots adorbs angel wing harness. It's a step-in design, complete with the frills and the pearls, and the neck close on the back is a set of angel wings. It's too cute – a must have!
7. Best Matching: AbPet Mesh Polka Dots
Want some more gender-neutral polka-dots? this padded mesh harness from AbPet is designed specifically for dogs weighing two-seven pounds, so you can use it with Morkie puppies too. If you want, you can buy (separately) the matching leash and let your little one strut his stuff!
8. Best Bling: AlfiePet Royal Harness
Is your Morkie the royalty of the house? Let the world know it with this comfy padded wrap-around padded harness from AlfiePet. Perfect for teacup breeds and machine washable for easy-clean and care.
9. Best Pattern: EXPAWLORER Checkered Frills Fashion Puppy Harness
If your little Morkie is a bonafide princess, let the whole world know it! This cute girly harness is perfect for petit four-legged ladies: it is all pink, with frilly ruffles and a bow tie to complete the whole look. Made from durable polyester, this harness is also fully machine washable so you don't have to worry if some running around in the doggie park gets a bit of mud on your tiny cutie. EXPAWLORER Checkered Frills Fashion Puppy Harness has a D-ring on the back for easy leash attachment and the fit can be easily adjusted to fit your Morkie's body type. Comfy but endlessly stylish, this harness is a good choice for everyday wear and special occasions both.
10. Best Design: Doggie Design Wrap and Snap
We love the padded chest in this wrap-and-snap design–it's super comfy and so easy to use. It's lightweight so it doesn't drag your Morkie down and we love the selection of colors/prints you can choose from to fit your Morkie just right.
How to put on a dog harness?
There are two types of harnesses: step-in harnesses and overhead harnesses. As the name suggests, the dog is meant to step in the step-in harness: place the unbuckled harness on the floor and gently place your pet's front legs in the openings, pull the harness up and buckle it on the back. Overhead harness should be pulled over the head and the neck (the smallest hole is the head opening) and the front legs lifted into the leg openings, one by one.
How to measure a dog for a harness?
Morkies are a designer breed and it can be difficult finding a perfect size harness without taking exact measurements. To be sure that the harness will be the right fit, measure the girth of your pet's chest which is the circumference of the widest part of the chest. Another thing to measure is the dog's neck- just underneath where the collar should sit and above their shoulder blades. Use a measuring tape or a piece of string (that you'll cut to measure and compare to a ruler) for the most precise results.
Additional resources:

Published July 3rd, 2021 12:00 AM