3K Views
Best Toys For Bernedoodles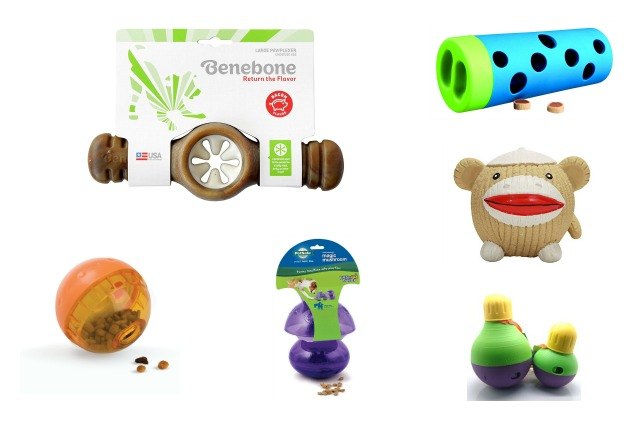 Bernedoodles can range between 10-90 pounds, and have varying needs in toys, so you'll want to be sure you have the gamut covered. Here are the best toys for Bernedoodles we've found.
They're adorably shaggy and super smart, and just like their poodle parent, can be toy, miniature and standard. That means there's a lot of room for size variation. One thing's the same for both the breeds that created this lovable combo–they like to play and they're smart, so keep that in mind when shopping for toys!
1. Editor's Pick: Trixie Snack Roll
Bernedoodles, like most dogs, like their food and treats. Bernedoodles love the challenge in the play to get them, so this snack roll is a great way to introduce puzzles and challenges to your smarty pants. They love the thrill of the hunt, and so this basic starter will get them motivated for more!
2. Runner Up: Femia IQ Treat Ball
This non-toxic treat ball does double duty for the doggy dentist as it helps keep plaque and tartar off your Bernedoodle's teeth. It is a treat dispenser, so it appeals to their desire for the reward and is durable and bite-resistant so you can continue to use it over and over.
3. Best for Exercise: iFetchToo Ball Launcher
Bernedoodle's need good exercise, and they are excellent hunt and fetch mates. This iFetchToo Ball launcher uses full-size tennis balls for your medium-larger Bernedoodle and they are smart enough to learn how to reload themselves! It has a rechargeable battery and you can adjust settings for indoor/rainy day or outdoor use.
4. Best Interactive: OurPets IQ Ball
You can adjust the challenge levels on this IQ treat ball to match the development of your Bernedoodle's brain. It's treat dispensing will challenge them at their level and motivate them to learn and look for more reward.
5. Best Treat Dispensing: StarMark Bob-A-Lot
Whether you have a smaller Bernedoodle or a standard, the Bob-A-Lot can be a good fit. It's a treat dispensing toy that challenges them with unpredictable wobbly dispensing and will keep them entertained while they figure out how the treats are coming out. It's durable and adjustable.
6. Best Tug Toy: WestPaw Stretchy Tug Toy
This tug toy stretches so you and your Bernedoodle can really enjoy a good tug-of-war, and it's made of non-toxic materials from the U.S. It's 100% guaranteed against dog damage, is dishwasher safe and comes in enticing colors for dog-to-dog tug of wars too!
7. Best Flavored: Benebone Bacon Treat Toy
This bone-shaped, bacon-flavored dog chew is good for your Bernedoodle to enjoy even if you don't use it as a treat-dispenser, as it will help keep their teeth nice and clean and last a while for engagement. If you do decide to use it as a dispenser, be prepared for it to become one of your dog's go-to toys!
8. Best Squeaky: Hugglehounds Ruff-Tex Squeaky Tough Dog Chew Toy
Every dog has a toy that is his favorite. One that he carries around with him wherever he goes. The hope is that toy is strong and durable that is while the Hugglehounds Ruff-Tex Dog Chew Toy is on our list. These toys bounce, stretch, squeeze and are perfect for a dog who lives to chew. The Hugglehouds have been CE certified meaning the toys comply with the highest safety and environmental standards, so it is good for you, your pup, and our planet. With eight adorable animals to choose from, this 100% all-natural rubber toy has an extra loud squeaker that we are sure will make it into your Bernedoodle's best buddy list!
9. Best for Meals: PetSafe Busy Buddy Mushroom Toy
This toy can be a great feeder/treat dispenser for your fast eaters. It tips, wobbles and rolls around to dispense kibble, and keeps your dog entertained, motivated and slowly eating, for better digestion. It is dishwasher safe and made for dogs over 20 pounds, so if you have a toy Bernedoodle, check sizing.
10. Best Ball Launcher: HyperPet Throw-n-Go
This hands-free ball thrower is one of my faves because it has a place to hold an extra ball built right in. Your Bernedoodle (mid-large sized) will love chasing after the launched ball, and you'll always have one on hand to keep the throw-n-go going!
How to choose toys for Bernedoodles?
Bernedoodles are smart, playful, and active, so you should pick toys that will entice them and keep them occupied for hours on end. Puzzle toys, snuffle mats, interactive toys, treat-dispensing toys, and ball launchers are all good options for a Bernedoodle. However, you should be mindful of your pet's individual traits: Bernedoodles come in all shapes from mini to extra large, so be sure that the toy you've picked out is appropriate for their size, age, and personal preferences- while some doggos love nothing more than a game of fetch, others prefer spending their days chewing their toys, and so on, so pay attention to your dog's playing style.
Additional resources:

Published July 2nd, 2021 12:00 AM