186 Views
February 25th, 2022 12:00 AM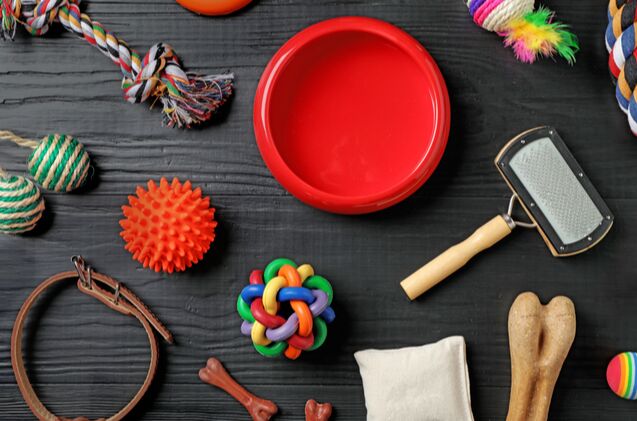 There are so many different dog accessories but all of them are designed to make your and your pet's life easier and better! Check out our selection of must-have dog accessories for pooches of all shapes and sizes.
Every dog owner knows that, sometimes, it's the littlest of details that make the biggest difference in their pet's life. Dog accessories include a variety of useful gadgets and tidbits that can improve any aspect of your pet's life, from traveling, to daily walks, all the way to nutrition and diet. And don't forget that some dog accessories such as car seat covers, water bottles, food mats, and dog car seat belts, are invaluable tools in the arsenal of every dog owner that also make the pet parent's role much easier. But if you don't know where exactly to start in your quest for more dog accessories, we've got your back. Perhaps this list of the best dog accessories will spark your imagination and help you find what your list of pawrent must-haves is missing!
1. Editor's Choice: MalsiPree Dog Water Bottle
Hydration is crucial! This goes for both pets and their owners. But while staying hydrated on the go may be easy for you, it might be a bit more challenging for your pet. At home, you'll be quick to pour fresh drinking water, but what happens when the two of you are out? This MalsiPree portable dog water bottle is the ideal dog accessory to have by your side at all times. This two-piece bottle is made from FDA-approved PC material and tough food-grade ABS. Its bottom portion holds the water, while the upper part is shaped like a small bowl. With the press of a button, you can pour just the right amount of fresh water for your dog to drink. The through shape will make it easy to drink from, while the tight silica seal will keep the water fresh and tasty. You can choose from either a 12-ounce or a 19-ounce bottle, either of which will hold just enough water to have for a quick walk around the city. A great thing to help keep your dog hydrated and happy.
Pros
Quite durable
Simple and efficient design
FDA-approved materials
Cons
Only two capacities are available
2. Runner Up: Xinsilu Multifunctional Dog Travel Bag
If you are often traveling with your pet, you know that it takes a lot of preparation and patience. And extra suitcase space, too! Luckily, a solution for the organizational bit of travel comes in the form of a multifunctional travel bag for dogs that will keep everything your pet needs on hand. This "multitool" bag is made from durable and waterproof Oxford material and has a ton of features. The central portion of the bag has a removable partition, and with it in place, you have one half for all your toys and random items and one half for two special bags that can hold your food and water. And that's just the start: the bag boasts several side pockets with zippers, two spacious mesh storage areas, a magnetic front pocket, and side slots for poop bags and assorted tidbits! Tons of space in such a medium-sized bag makes this a one-of-a-kind travel accessory. And best of all, it is fully airline approved, complying with all the carry-on regulations.
Pros
Tons of storage space
Slotted pocket for poop bags
Airline approved
Cons
Carry handles could be sturdier
3. Customer's Choice: Dexas MudBuster Portable Dog Paw Washer
Outside time is fun time! You'd be hard-pressed to find a dog that doesn't go bananas when they are allowed out into the yard or the park. But often enough, this ends up in a lot of mess, especially if it is muddy outside. Washing off the muddy paw marks can be a nuisance, so why not prevent that altogether? Dexas MudBuster is a unique dog accessory that helps you keep your dog's paws clean at all times. This washer is made from silicone and plastic, and it features a unique design. Inside it is the silicone cleaner full of soft bristles, so all you have to do is insert your pet's paw inside, add a bit of water, and that's it! Cleaning is simple and quick and takes less than a minute. The cleaner also features a special retainer that allows you to remove the silicone from the inside and clean it more thoroughly. A handy accessory to keep close at hand, especially when enjoying adventures in the great outdoors!
Pros
Quick and easy paw cleaning
Removable silicone washer
Durable
Cons
Might not be ideal for cracked paw pads
4. Best for Seniors: Furhaven Orthopedic Foam Pet Bed
Sleep rejuvenates, reinvigorates, and recharges, and that is particularly true for senior dogs. Dogs love to sleep throughout the day, but they can often be picky about where they'll snooze. If you don't want them lounging on your new sofa or the couch, you should consider investing in a proper doggo bed. This Furhaven orthopedic foam bed is perfectly designed to offer your dog the ultimate comfort. It is made with high-quality "egg crate" orthopedic support foam. This ensures perfect support and relief from your pet's joints and back. Of course, this makes it ideal for all dogs, but seniors especially. The foam is covered with premium plush faux fur, a material that dogs are especially fond of. And as an added comfort and support, your dog can rest on the added side bolsters. These are raised and filled with fluffy recycled material. That makes this pet bed an ideal place to snooze the day away!
Pros
Egg crate orthopedic foam
Increased airflow
Great support
Added side bolsters
Cons
Cover quality could be better
5. Best for Car Travel: F-color SUV Cargo Liner for Dogs
When you are taking your pet for a ride, you want to make sure that they're safe and that your car stays clean – and this cargo liner will take care of the latter. This large SUV liner is made from water-resistant high durability Oxford fabric, with a soft polyester padding and a non-slip bottom. It is designed to fit into the cargo bay of your SUV, covering the back of the seats and extending across the bay. This ensures that no dirt, mud, or paw prints will end up around the bottom of your trunk! This surface is hard to clean, and a cover such as this one is invaluable. It features a strong buckle for a secure fit and a nifty bumper flap that protects the bumper as well! And with added slits, fitting this cargo cover will be simple and precise. All in all, this is a vital dog accessory for owners that often travel with their pets in the SUV.
Pros
Bumper flap
Slits for an easy fit
Durable
Strong stitching
Cons
Should extend up the sides a bit more
6. Best for Potty Training:. Mighty Paw Smart Bell 2.0
Uh-oh! It's potty time! You might know this when your doggo begins barking excessively or scratching away at the door. This, sadly, can leave your walls and your door ruined or your neighbors complaining. This unique potty alarm doorbell is an invaluable tool to help you teach your pet how to properly signal you that they want to go outside. It is designed specifically for doggos that have to let you know when it is potty time. Simply mount this bell near the door and with a bit of patience and positive reinforcement, train your pet to use it. It can be pressed simply with the nose, or the paw. Smart Bell requires no wiring or batteries – it is ready to go straight out of the box. Also, it requires zero tools to mount, as it has an adhesive tape back. It is also totally water-resistant and can be used both indoors and outdoors. It is a great accessory for dogs that are training to go potty outside. No more whining and no more scratched doors – the Smart Bell is here!
Pros
No batteries or wiring
Indoor/outdoor use
Can be pressed with paw or nose
7. Best for Messy Eaters: DogBuddy Dog Food Mat
When it's dinner time for your dog, you might discover that a lot of the food ends up on the floor! Dogs can be real messy eaters, making the daily chores even more troublesome than they already are. Luckily, this simple DogBuddy food mat offers a super-easy way to fix that! This premium quality flexible tray is made from food-grade silicone, which gives it the needed durability, while still keeping it flexible and waterproof. The tray comes with an extra-large raised edge, preventing the spilled food and liquids from rolling beyond the food mat itself, and it also keeps those extra slippery food bowls in place. Thanks to its unique flexible design, this food tray is great to bring on your travels, guaranteeing that your car, RV, or camper are kept clean when it's dinner time. DogBuddy food mats come in various sizes, from small to XXL, which allows you to match the mat to your dog's size and their overall messiness level!
Pros
Great for pets that dribble after drinking water or messy eaters
Flexible and durable
Easy to clean
Extra raised edge
8. Best for Sunny Days: Pawaboo Dog Baseball Cap
Summertime is all about the outdoors! Who can resist going for a walk with the dog when it's warm and sunny outside? Still, as much as it is enjoyable, it can be precarious. You will need to think of all the safety precautions to ensure that your dog won't be affected by all the heat. And a sturdy cap can do the trick. It is designed with a visor that shades your pet's snout and head from harmful UV rays. Pawaboo's design takes this to the next level: the baseball cap is made from durable and high-quality Oxford fabric and cotton, which isn't just durable but breathable as well. An adjustable non-elastic neck strap will allow you to find a secure fit, without causing chafing or discomfort. Of course, there are two earholes, as well, so your pet won't even feel the hat is on. The baseball cap comes in two sizes, small and large, and you can also choose from a variety of attractive colors and unique patterns. That way your dog can look great and stay protected from direct sunlight at the same time!
Pros
Durable material
Non-elastic adjustment strap
Good protection from sunlight
9. Best for Safe Walkies: PETIMP Retractable Dog Leash
A quality dog leash is the first thing any dog owner buys – it's the most used dog accessory of all. But the classic leash might leave your pet wanting more freedom, so a retractable leash might be a good compromise between your control of your pet's movement and their sense of freedom. Thanks to the efficient retraction mechanism, you can dictate just how much freedom your dog will get on the walks. The leash handle features two buttons for adjustment and a smooth outlet that prevents any tangles. The leash itself is made from highly durable nylon material and features a 360-degree rotating clasp. And it's that easy! Adjust the leash length as you're walking and control your dog's movements and ensure their safety. And as an added bonus, this leash comes with a special collapsible water bowl, and a poop bag dispenser – everything you need for your next walk in the park!
Pros
360-degree rotating clasp
No tangles
Durable materials
Comfortable ergonomic grip
Cons
Not for dogs that pull the leash
10. Best for Playful Pooches: Jalousie 5 Pack Dog Squeaky Toys
A dog's day is not complete without some silly, mindless fun! And the best way for dogs to entertain themselves is a squeaky toy. Jalousie offers you this unique 5-pack of lifelike squeaky toys that are bound to attract your dog and rouse their natural instincts. The toys are made from pet-safe plush materials, and they have no stuffing in them – just that irresistible squeaker. They are also lined with a highly durable liner in order to withstand all the gnawing and chewing your pet throws at them. These toys are shaped like a duck, raccoon, wolf, skunk, and monkey. All together, they are bound to get your pet going – and they guarantee hours of entertainment!
Pros
Lifelike animal shapes
No stuffing
Durable liner for extended use
Cons
Not for aggressive chewers
What are the Essential Dog Accessories?
Let's face it – there are hundreds of unique dog accessories around. You can't possibly own every single one. That's why you need to focus on the essential ones that make your and your pet's life easier. But which accessories fall into the category of "essential"? To find that out, we need to take a logical approach.
Think of your dog's well-being. Things like portable water bottles are certainly essential. They allow you to keep your pet hydrated even when you're outside of the house. And in great heat, this can become a lifesaver. What about traveling? Having a multifunctional dog travel bag can make your next journey so much easier. Not only will it save some extra space for you, but it will also allow you to carry all your pet's essentials along. And with zero mess! The same goes for car seat covers or seatbelt leashes, which allow your pet to safely ride in a car. Everyday activities are crucial too. Invest in a quality dog leash to emphasize safety while you are walking your pet, and a handy poop bag holder to keep everything you need for walks in one place.
In the end, your choice of dog accessories will depend on your lifestyle – it's not the same if your pooch is a city dog that visits only the park or if you frequently go camping with your dog, and it's not the same if you have a young, energetic puppy or a mellow senior. Take your pet's preferences and needs into account when choosing dog accessories and you can't go wrong!
We are committed to finding, researching, and recommending the best products. We earn commissions from purchases you make using the retail links in our product reviews. Learn more about how this works.

Angela Vuckovic
A proud mama to seven dogs and ten cats, Angela spends her days writing for her fellow pet parents and pampering her furballs, all of whom are rescues. When she's not gushing over her adorable cats or playing with her dogs, she can be found curled up with a good fantasy book.
More by Angela Vuckovic
Published February 25th, 2022 12:00 AM