12 Views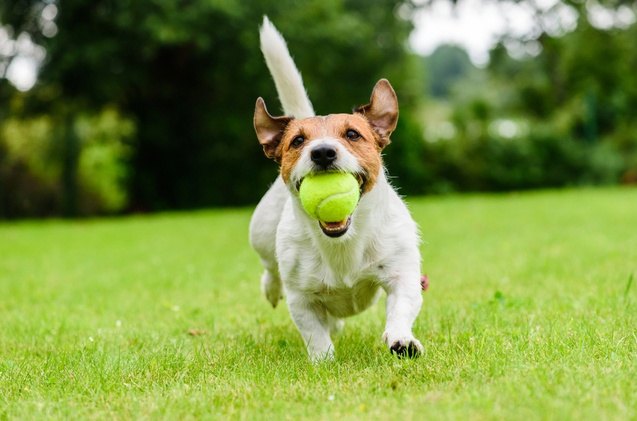 Dog balls might be simple, but dogs never get tired of chasing after them. There are many different designs of dog balls available these days, so read on to learn more about the best choices for your dog's needs.
Playtime. The favorite activity for every pupper across the world has to be some quality rowdiness in the park or the yard. It is always difficult to contain your pupper when the desire to play kicks in, but luckily – it does not take a lot to get them entertained. Playtime is important – and not just because it's fun. All dogs need to relieve the pent up energy and what better way than some quality time together with you and some toys? It is a great way to bond with your four-legged companion and to ensure healthy development for your pet and meet their mental and emotional needs. Luckily, playtime doesn't require much fussing over- it can be done anywhere! Even when you are short on time and have a busy schedule, you can surely squeeze in a short game of fetch or tug of wars. Whether you choose to do it in your living room, the front yard, or at the park – your options are many. And the methods to do it are also numerous – with almost anything being enough to spark your dog's interest and their endless desire to play. And if you can't afford to be your pet's playmate for hours, you can rely on a variety of specially designed toys that will serve to occupy your dog's attention and give you some hands-free time.
Despite its simplicity, one dog toy is still a sure bet with most canines – the good old ball. Dog balls have been the staple of the dog toy market for as long as there has been one and they never fail to get your pupper's attention. They are a simple, affordable solution that can ensure hours of playful entertainment with minimal effort. Dog balls come in all sorts of sizes and some of them with unique features, with brands competing to offer new and intriguing twists on the basic design of this timeless toy. From rubber to cloth, to treat dispensing balls and bouncy designs – the choices are many. To help you find the right kind of toy for your pet's needs, we'll help you learn what to look for when purchasing a ball – and we also rounded the most popular dog balls on the market to ensure you can find a match with ease. Don't be fooled into thinking that a ball is just a simple toy you can pick off the shelf at random! You would be surprised at how many important aspects are often overlooked. If you want a sturdy, durable, and fun ball for your pet without breaking the bank, our guide is the perfect solution. So read on to learn more!
1. Wobble Wag Giggle Ball
We start our list with a truly fun toy ball. A great choice for dogs of all ages, this one of a kind ball will give your pet hours and hours of quality entertainment. Its secret is in the hilarious giggle sounds it emits every time it is tumbled, tossed, or turned around. It has three tubes that emit this sound so it won't require any batteries or power source. The ball itself is large and made from durable and safe vinyl rubber – it can endure all the chewing and battering! And even though it comes in a large size, small puppies will be able to enjoy it as well – because it has special "carry pockets" around the surface, which allows the dog to bite it and carry it around with ease even if the ball doesn't fit in their mouth. The giggle ball is without a doubt a TON of fun, and your dog won't be able to get enough of it!
2. Monster K9 Indestructible Dog Ball
If you have an aggressive chewer on your hands and you keep changing toy balls every week, then this indestructible ball is just the choice for you. Monster K9 specializes in sturdy and durable designs, and this ball can really withstand a lot. It is made from super heavy duty industrial grade rubber that is 100% safe and FDA approved. It has a lifetime guarantee that certainly speaks for itself – the ball is truly indestructible or at least the closest you can get to it. It comes in one size that is identical to the size of a baseball. This makes it fantastic for throwing, and good for small, medium and even large dogs. The color is also bright enough to spot in any environment – the bright orange is not easily overlooked in the grass or dirt.
3. Frisco Squeaking Tennis Ball
Simple is often the best – and even more often, the most affordable solution. Such is the case with this classic Frisco tennis ball, the unmistakable star of every great fetch playtime session. But this tennis ball has a secret – it squeaks! That means double the fun for your pupper. Keep in mind that although tough, this tennis ball won't really last against an onslaught of chewing and rough play, so it is best for smaller and gentler pups. Large dog breeds might simply tear it up too fast. The Frisco Squeaking ball is among the most affordable solutions on the market – great for tight budgets!
KONG is a well-known brand in the world of dog toys, especially those that are tough and durable. Their extreme ball is one of the sturdiest choices on the market and can withstand even the most aggressive chewing. Made from safe and durable special formula black rubber, it is as tough as can be. But its toughness is not the only thing that is worth mentioning – this ball also boasts bounciness that will entice any doggo into play. This ball comes in two different sizes, so you can make sure that your choice is adequate for your pet's breed.
5. All Kind Squeaking Football
No one said that a ball has to be round, right? All Kind got the message, and offered this unique football design! This rugby ball is something different for both you and your pet. Practice your rugby toss, and watch your pet enjoy this durable and squeaky toy. It has a textured pattern for an easy grab and can withstand a lot of chewing. The built-in squeaker just adds to the fun – at least, for your pooch. Owing to its unique shape and dimensions, this football for dogs will be a good match for canines of all sizes.
Rubber balls are perfect for those pets that are big on chewing their toys, and the Chew King's balls stand shoulder to shoulder with the toughest designs on the market. They are made from highly durable and natural rubber, which retains some pliancy as well. One unique part of its design is the central hole that allows you to squeeze in a secret treat and drive your pupper nuts! The smell of the treat will surely entice your dog into playing even if he's a lazy couch potato.
7. Starmark Treat Dispensing Chew Ball
Treat dispensing balls are a great way to stimulate your pet's brain and train the senses in a fun and easy-going way. This Starmark ball is made with almost indestructible materials that can certainly take a lot of damage, and has unique patterns that can dispense treats – but only when they bounce in the exactly right way! Needless to say, figuring out how to bounce the ball to get to the treats will occupy your pet completely. This ball can hold a lot of different treats and kibble, and it's also completely dishwasher safe for quick and easy cleaning.
8. KONG Jumbler Ball Dog Toy
Many dog ball designs aim to reinvent the game of fetch. Bouncy and non-bouncy balls, launchers and throwers, the choices are many. But KONG went a step further and offered the Jumbler ball that certainly stands out on the market. It is a two-in-one toy: the outer ball is made of durable rubber and has special carry handles for your dog to easily pick it up. Inside is a smaller tennis ball that is loose and always offers an unpredictable throw. Once the Jumbler lands you never know where it will bounce. It is also squeaky, making it even more stimulating for your pet. Fun without limits!
This list wouldn't be complete without these classic dog balls. Affordable, cleverly designed and fun to play with- what's not to like? ChuckIt! is a brand well known to all, and their ball toys are among the best. Tough and durable, these are great to play with in any environment – these balls will bounce and float and have a textured surface for a good grip. The balls come in several sizes and packages that contain one or more dog balls.
10. Multipet Nuts for Knots Ball Dog Toy
When most people are looking for dog balls they are usually looking for bouncy ones or hard rubber ones, or giant one, so they actually overlook the classic rope knot ball. Rope balls are extremely durable and they can be used both for fetch and for tug of war games. That means your dog can enjoy this ball all on his own while you are on that important Zoom call, or you can enjoy it together out in the park. This ball by Multipet is almost five inches in size and it can take a lot of punishment. They come in many different sizes so you can be sure to get the right one for your pup. Plus, it is good for their teeth and gums and can also be used for teething puppies. That is always a better choice than your hand! Multipet has a lot of fun toys for your pooch but sometimes basic is best.
Important features to consider in dog balls
If you want to get the best bang for your buck, you'll have to put in some thought into your choice of dog balls- because there are many different features to consider, believe it or not. You want to have a toy that will last for a while, keep your pet entertained, and be within your budget – and it requires careful consideration. All pet toys, particularly dog balls, will naturally be subjected to a lot of wear and tear – both from the constant throwing about, but also from the playful (or not-so-playful) chewing. To prevent your pet's toy from being ruined in hours- or forgotten and abandoned in less than that, consider this before buying:
Durability and material
This is perhaps the most important aspect to consider when purchasing a ball for your dog. As you know, it is meant to be chewed, thrown about, clawed and gnawed on, so you really need to find a ball that can take a beating. Small dogs will tend to be less rough with it (despite their best efforts), and their bite less destructive. But if you own a large dog, you know that they will, without a doubt, mess that ball up if given half a chance. And it is the material that decides the durability. For small breeds, a standard tennis type ball or a thick cloth ball will do just fine. But for large dogs, you should consider balls made from thick chew-proof rubber. These can be gnawed for hours on end without much damage done to them. The same goes for aggressive chewers – of all shapes and sizes.
You should also always opt for FDA approved materials, to ensure that a ball is safe for chewing and not made from toxic materials. Luckily, most major brands now offer tested and approved, safe materials in their products.
Size
Choose the ball in proportion with your pet's size – a ball that is way too small for your large dog can lead to health hazards. On the other hand, a ball too large for your petite pooch and the playtime will be over before it begins! Most dog balls come in different sizes, though, so if you have an eye on a specific one, it's likely you'll be able to find a perfect match for your dog's breed.
Type of dog balls
For general fun around the house, or a play style that will burn your pet's energy, choose a ball that bounces. These are great indoors and outdoors both. Alternatively, dog balls that don't bounce are great for a proper game of fetch, prompting your pet to use their natural hunting senses to spot and retrieve the ball wherever it lands.
Lastly, there are dog balls that will require some skill and brainpower to play with. These are the treat dispensing balls that are made for use at home, skillfully combining playtime, mental stimulation, and training. You can also choose scented balls that will give a better incentive to your pet, in case they are a bit lazy!
Color
Dogs are not the most skilled when it comes to differing between colors, but they love bright and easy-to-spot things. Choosing the right color of the ball can save you some time and effort. If you choose a dark or naturally blending color, you might have trouble spotting it in the park, and so could your pet. Choose a bright colored ball that is easy to track and keep an eye on. And unique balls that have swirls of color or patterns might be even more interesting for your pet!
The importance of regular playtime
It is sometimes surprising to realize just how much a game of fetch can be beneficial for your pet- and yourself, as well. It is no wonder that this simple game was around for so long as a staple in playtime activities – it is just so effective and a great chance for your pet to spend all that pent up energy. Fetch is a stimulating exercise, engaging a full range of motion, requiring jumping, sprinting, and elements of training, too. As a pet attempts to fetch the ball, his natural skills are put to use. They will attempt to locate and retrieve the ball, something that dogs did even ages ago when they helped man retrieve fallen prey. You should not be surprised at just how effective at retrieval your pet can be as it comes naturally to them.
Fetch is a great physical and mental exercise for your dog, but it's not like you won't benefit from it at the same time. Enjoy some relaxing time in the park, in your backyard, or use the opportunity to spend some quality time in nature if possible- engage in some easy exercise and light activity, and burn some calories while bonding with your pet. And all that with just a ball in your hand, or even a stick or a frisbee.
Neglecting playtime and exercise can be a very hazardous thing for your furry friend. Lack of activity can lead to lethargy and obesity, and those can lead to further problems with health. Even older dogs can benefit from light exercise and walking that would stimulate the joints. All in all, there's no reason why fetch shouldn't be a part of your daily routine- it has so many benefits but requires so little effort. Just grab a ball and you're all set!
We are committed to finding, researching, and recommending the best products. We earn commissions from purchases you make using the retail links in our product reviews. Learn more about how this works.

Angela Vuckovic
A proud mama to seven dogs and ten cats, Angela spends her days writing for her fellow pet parents and pampering her furballs, all of whom are rescues. When she's not gushing over her adorable cats or playing with her dogs, she can be found curled up with a good fantasy book.
More by Angela Vuckovic
Published May 11th, 2021 12:00 AM