23 Views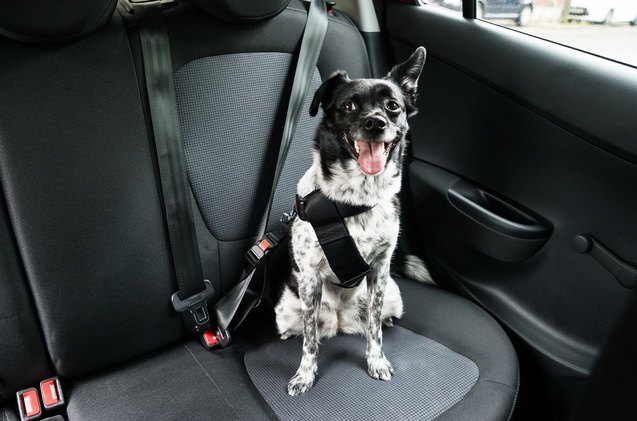 Dog seat belts make sure that your pet gets to be by your side when you drive- without anyone's safety being compromised. Read on to learn more about how dog seat belts work and which to choose for your pooch.
If you enjoy traveling or you are using your car on a regular basis- and you're a dog owner to boot, you should not feel like your options are limited in any way. You can still enjoy your rides and travel everywhere with your furry companion – without any worries whatsoever. All you need are some smart purchases and some nifty dog travel accessories! There are several great options on the market today, all of them carefully designed to make your pet safe and sound during your car travel. You might have heard of car harnesses and booster seats, and they are good options – but today we are mentioning another choice: dog seat belts. Created with canine and human safety in mind, dog seat belts are an affordable and simple accessory but their benefits are many. Easy to use and to install, they are great for keeping an energetic pupper in place and to help avoid injury in the case of sudden braking.
Dogs in cars are no longer a rare sight. Our four-legged friends are fully used to traveling beside us in cars. RV's too, and vans as well. Be it a long-distance journey, or a quick drive to the vet or the shop, the same rules apply – safety should be your number one priority. And when you're driving with your pet, it's clear that there are many precautions to take and safety measures to consider.
Firstly, a dog might become excited or energetic during the ride. With their hectic behavior and jumping about, they can seriously distract you from the road and the driving, and this can quickly turn to trouble. Secondly, a dog that is not secured can suffer injuries in case of a nasty situation – a crash or sudden braking at high speed. Physics comes into play, and your pet might get roughed up or worse, seriously injured in a matter of seconds. However, if your pooch has a seat belt on, it will hook securely into place – whether at the front or the back seat – and your pet will remain firmly in their place. No chance at wiggling out or being naughty – these durable and adjustable seat belts won't allow any unnecessary movement.
Dog seat belts are also quite different from dog car harnesses. While a harness needs to be secured on a dog and then to the seat, a seat belt is much simpler to attach. But even though they are easier to use, these seat belts are equally safe and secure. Let's learn more about the best dog seat belts and all the things you need to keep in mind when purchasing one!
This plain and minimalistic design proves that simplicity is often the best choice. A tried and true seat belt made from durable and high-quality nylon fabric, it will ensure safety for your dog in different situations you might encounter on the road. Fully adjustable, it features a standard attachment clip that will fit most cars. Simply hook the other end up and your dog is firmly secured. The length can be adjusted from 15 inches to 29 inches, which is more than enough for most standard dog breeds. You'll get three seat belts in a pack, so it's great if you have more than one pooch in your care – or want to have a backup.
Vastar Adjustable Seatbelt
This 2-pack seat belt is a great choice for dogs under 130 pounds. It is well-made and sturdy, and also fully adjustable. It is made from highly durable nylon fabric with high-quality stitching in key spots. It also boasts an all-metal swivel clip and buckles for extra toughness. It has a standard car seat belt clip for easy use, as it fits most cars. It can be adjusted from 20 inches to 33 inches to accommodate for body type differences such as height and weight. A great feature is the swivel attachment point which can be rotated 360 degrees allowing some flexibility for your dog while still keeping him appropriately tethered. Vastar seat belt for dogs comes in six different color choices.
Samson & Harley Heavy Duty Seatbelt
Samson & Harley is one of the finest brands on the market today, and their seat belt option is nothing short of fantastic. As the name suggests, this is one of the toughest options you can choose, as this seat belt is made from heavy-duty materials. With high-quality nylon fabric with reinforced stitching throughout, and metal buckles and attachment points, you know that this seat belt will take a beating and live to tell the tale. It also features some unique options, such as the stretchable elastic part, and light-reflecting stitching in the center. There are two seatbelts in this pack, in two different colors- and they are a match for most dogs due to their adjustable length of 23 inches to 33 inches.
Good2Go Easy-Click Seatbelt
This Good2Go seat belt might be pricier than some of its competitors (which still makes it affordable), but its quality is more than a good reason for that. It is perhaps one of the most durable choices on the market, and it really offers great protection. Extremely durable and double-stitched nylon fabric with all-steel black fittings will keep your dog firmly tethered at all times. It also has a high-quality carabiner clip for attachment, as well as a standard car clip. Fully adjustable and easy to use, it is made perfectly for the rear seats of your car. The maximum length of 19 inches makes this seat belt good for medium size dogs that weigh up to 100 pounds.
Kurgo Direct to Seatbelt Tether for Dogs
Kurgo is a high-quality brand with a long tradition of designing impressive pet products, and this seat belt tether doesn't disappoint, either. It is a simple and easy, fully adjustable design, but made from very tough nylon fabric with reinforced stitching. It has all metal parts and gives you the option to choose either a sturdy carabiner clip or a 360-degree rotatable swivel clip. Kurgo also offers a lifetime warranty on their product! Keep in mind that their attachment point – like most on the market – is not compatible with Volvo cars and some Ford trucks as well. The length can be adjusted from 15 inches to 22 inches to meet the requirements of most dog breeds.
Leashboss Heavy Duty No Chew Seatbelt
This is a special design from Leashboss – a brand that attempted to deliver a chew-proof seat belt design. And they succeeded! This unique seat belt is perfected to resist even the strongest biters. It is made from highly durable, nylon coated and flexible steel rope which is completely safe for your pet. It features two steel extra safe attachment points. One thing to notice, though, is the lack of adjustability. Luckily, it comes in several different sizes which makes choosing easy. If you have a pet that's an aggressive chewer, a design such as this one will come as a lifesaver!
Blueberry Pet Essentials Car Seat Belt for Dogs
A simple design done in a high-quality way is always sure to work well, and this classic seat belt from Blueberry Pet definitely proves it. The belt is made from tough nylon fabric and is fully adjustable. It features all-metal clips and attachment points, with a clip that buckles directly into your car seat belt slot. It also comes in 25 different colors to choose from, so you can really personalize it for your pet. One thing that places this seat belt a step above the others is the fact that it is fully machine washable, so you can always keep it clean and spotless. The length is adjustable from 16.5 inches to 25.5 inches.
This Mudder seat belt is a really quality choice – it features really dense and durable webbing nylon material, with added bungee elastic part for greater stretching and flexibility. It has all-metal attachment points and a 360-degree swivel clip. The nylon bungee buffer is a great safety feature that helps with shock attenuation in cases of emergency – and it is a feature that most seat belts lack. This helps to keep your pet unhurt in cases of really hard breaks. Its swivel clasp is a rust-free nickel hook with a quick-release latch that makes use really quick and easy. It is fully adjustable and has a single large leather strengthening point that adds to the durability and prevents chewing damage.
SlowTon Multifunction Seat Belt for Dogs
Here is a great choice that successfully combines both harness and seat belt elements, in order to deliver a very safe and very sturdy product. The harness part straps onto your pet's body and is made from a soft but durable breathable mesh material. It features two quick-release safety clasps and is fully adjustable for your dog. It is made not to trap sweat and moisture. The seat belt tether part is also highly durable, made from nylon material, with extra stitching and the added elastic bungee buffer. It has added reflective stitching for extra safety on the road and out of the car. It attaches to the harness with all-steel connection points on both parts.
One look will be enough to tell you that this Mighty Paw seat belt is a high-quality product. The double thickness nylon fabric with reinforced stitching is able to withstand the toughest challenges. It features a high-quality carabiner clasp – but it is not like the others! Mighty Paw went one step ahead and added a 360-degree swivel onto the carabiner – a feature you won't see often. The seat buckle is also better than most, with a protective plastic casing. Simply one of the best choices out there – albeit a bit pricey.
What to look for in dog seat belts
Quality is really important when you're buying something that should offer safety in case of an accident. And there are several key features that define the quality of a seat belt, from the materials used to make it to the design itself. To make sure that the seat belt you have in mind is up to standards, always check if it ticks the boxes in the following categories:
Material and durability
As in all dog-related accessories, durability also plays a huge role in this case. A seat belt's primary role is to withstand all manner of pressures in all sorts of circumstances, and that is why you want to find a product that boasts great sturdiness. It also needs to cope with those curious pooches who really have a knack for chewing things- and a seat belt might be the first thing they go for in a car. A durable nylon material could survive this. That is why the choice of fabric is important. Cheap fabrics cannot perform their role effectively. Numerous tests and experiments led to the creation of seat belts with specially designed materials that won't tear so easily so choose accordingly.
Adjustability
You need to be able to adjust the seat belt according to your pet's needs, otherwise, it will not do much good. Having a seat belt in a single size is impractical and can't work equally efficiently on all dogs. With the option of tightening it according to the size of your pet, you are making sure that it fits perfectly. And that is the whole point and the most secure approach. Another point to note is the size and style of your car. Make sure that the seat belt you choose has ample adjustability options so you can fully adapt to both your pet and your car.
Design
You can also go for the seat belts that successfully combine some harness elements for added security. These are the more robust solutions with protective harness straps that go directly onto your pet. Usually the better version, they are a step above the simple traditional single strap seat belt options. They combine the sturdy and secure design of the harness and the lightweight simplicity of the seat belt, and the result is a fantastic seat belt style that really keeps your pet in place!
Attachment points
Finding a seat belt with an adequate attachment point can be tricky. While the ideal situation would include a seat belt that directly buckles into your car attaching point – like a standard seat belt – not all brands can offer that option. Some brands offer two-point attachments and better adjustability than the traditional buckle ones. Furthermore, some cars simply have unique buckle attachments. Also, if you plan for your pet to travel on the back seat, you need to consider the fact that some cars don't have buckles on the rear seats. Your best bet is to thoroughly consider the layout of your car and proceed from there.
The differences between dog car seat belts, car harnesses for dogs, and booster seats
By now you probably know that there are a few safety accessories on offer for traveling with your dog. Each one has its own pros and cons, and each one offers ample protection for your pupper. But what is the difference? Well for, one – the price. Dog harnesses are the middle ground in the market, while the booster seats for dogs are the expensive option. Of the three, the dog seat belts are by far the most affordable option, but even so, they are great protection. The price, in this case, should not be discouraging.
Another clear difference is in style and design. When comparing harnesses and seat belts, we can see that seat belts are far simpler to use. Harnesses need to be strapped onto your pet directly, which can be time-consuming and difficult. And the booster seats are a totally different design – and they need to be installed beforehand. So, is one option better than the other? Short answer – no. If safety for your pet is what you are looking for, then either of the three will be a great choice. They are all tried and tested safety accessories that can make a crucial difference for you and your pet in unexpected situations. Of course, if you are willing to splurge and go for the expensive and advanced solutions, then a booster seat might be the choice for you. But a dog seat belt is equally as protective while being far cheaper. On another note, you can also combine these accessories. A harness can still be used in a combination with a dog seat belt. Twice the protection!
All in all, dog seat belts should be an almost mandatory purchase for all dog owners who need to travel by car with their dog on board. An affordable, simple, and above all life-protecting accessory that will ensure your dog remains in place and safe in critical situations.
We are committed to finding, researching, and recommending the best products. We earn commissions from purchases you make using the retail links in our product reviews. Learn more about how this works.

Angela Vuckovic
A proud mama to seven dogs and ten cats, Angela spends her days writing for her fellow pet parents and pampering her furballs, all of whom are rescues. When she's not gushing over her adorable cats or playing with her dogs, she can be found curled up with a good fantasy book.
More by Angela Vuckovic
Published May 9th, 2020 12:00 AM