236 Views
Best Dog Car Harnesses for a Safe Drive
February 1st, 2020 12:00 AM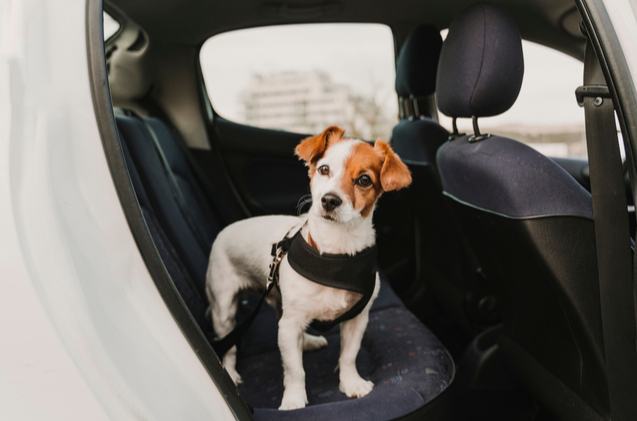 Dog car harnesses ensure your pet's safety and comfort while he's along for the ride. Here is our pick of harnesses that are tried-and-true and offer optimal balance between the two!
We all know that car rides can be the favorite happening for your pup. Even they can get bored in the house, so a chance to experience something new and exciting is sure to get the tail wagging! Either snoozing in the back or watching the road at full attention from the passenger seat, your four-legged friend is bound to enjoy the car ride. But how to make sure that your dog remains safe at all times? We know that pups have that naughty tendency to get too excited and spring about with a desire to see, smell, and experience every little detail. And with that being said, things can get rowdy and out of control–real fast. That is exactly why you need to ensure a proper set up in your car that will keep your dog safe and under control. And that is where dog car harnesses come into play. These nifty little additions to your car can do so much for the safety of your pet.
While you are focused on the road and the driving – as you should be – you really can't properly observe your dog. And things can go wrong. Unexpected and abrupt braking, a big bump you didn't see, or perhaps even a crash. All these can potentially harm your pet. Remember that our furry friends are smaller and gentler than us – one of these abrupt events can send your dog lurching forward and injuring himself.
And when you fully realize this, you will understand that a dog car harness can ensure the safety of your pet while the car journey is underway. They are easy to use, affordable, and comfortable for the pet. But most importantly they will secure the dog in place, allowing you to focus on the important thing while your pet is safe and snug in the back or by your side. And that is what matters the most. Investing in the safety of your pet is a priority for any responsible and loving owner! If your lifestyle and your preferences dictate that you need to bring your dog along on those car journeys, you should make sure that they are comfortable and secure.
With dog car harnesses, the risk of injury and unpleasant situations within the car (you don't want your energetic pup to cause an accident by jumping all over you while you drive) is minimized. These durable, ergonomic and specifically designed dog car harnesses are made to withstand collisions and stay in place, while also being comfortable for your pet to wear. In the following list, we are bringing you our choice of the top 10 best dog car harnesses on the market today. There's something for dogs both large and small, so don't hesitate to invest in the safety of your pet. Those car rides can only be more fun when you know everyone is properly secured!
Mighty Paw Car Dog Harness
This perfectly designed harness from Mighty Paw incorporates all the elements that are necessary to achieve that perfect balance between safety and comfort. One glance is enough to let you know that this harness can withstand heavy-duty use! The harness is chest-strapped, and boasts strong stitching on all key places, with the straps and tethers made from a durable material. The fabric of the harness is breathable and has super comfortable padding on the inner side to offer max comfort for your pupper. It also doubles as a regular harness for walking your pet. This dog car harness comes in small, medium, large, and extra large.
SlowTon Dog Car Harness Plus Connector Strap
One of the more affordable choices on the market, this SlowTon harness follows the tried & tested design while still focusing on optimal safety. There is a large, padded front piece, designed to protect your dog's chest and abdomen, and it is secured with durable straps and strengthened tethers. The straps are adjustable and feature two buckles for quick release. One good feature is the breathable mesh material of the padding, allowing it to absorb the sweat and avoid overheating. With an addition of a leash, it can also be turned into a regular harness, perfect for pit stops when you need to stretch out. SlowTon Harness comes in six different sizes.
Kurgo TruFit Quick Release
Kurgo is one of the leading brands in pet safety gear, and this harness proves it. This is the ultimate choice when it comes to safety harnesses – it underwent extensive crash testing to ensure that the design is perfect and offers the utmost security. One of the important features of the Kurgo TruFit are the unique steel nesting buckles, which are specially designed to remain intact under great pressure. Five adjustment points allow you a variety of fits depending on the size of your dog. The front piece offers good padding, but it is also secured throughout with extremely durable material and extensive stitching. Kurgo TruFit is available in a range of sizes from extra small to extra large.
Easy Rider Adjustable Dog Car Harness
This Easy Rider harness takes a basic design and takes it one step further. Another certified, crash-tested harness that vouches for the safety of your pet, it features a durable front plate, with extra soft, breathable mesh cushion on the inner side, and a heavy-duty weatherproof material on the outside. The straps are all very strong and feature strengthening stitches. Another great thing is that instead of the plastic ones, this harness has durable metal buckles and hardware. It is a back seat only harness, though, so not suitable for shotgun-riding pooches. Easy Rider harness comes in five different sizes.
EzyDog Drive Safety Travel Dog Car Harness
There's safe, and then there's EzyDog safe – that's the motto behind this harness, and it shows in this super durable design. This is a premium, crash-tested harness that features both front and back padding, connected with extra-wide straps. It features a Mag-Lok Instant Fit closing system, which makes it easy to strap your pet in. The padding has a unique contoured design that ergonomically fits the body of your pet. One look is enough to tell you that while its price tag might be a bit hefty, but EzyDog car harness is certainly worth it. This car dog harness is available in small, medium, and large.
Solvit Deluxe Pet Vehicle Safety Harness
Solvit car harness has a simplified design aimed at larger breeds with reinforcements their size requires. The design is dominated by a large front pad, made from a soft and breathable material. It also features comfy inner padding as well. It is connected via durable side straps that all connect to a reinforced point in the back. This is in turn connected to the car seat with the tether and an extra safe lock. Affordable and well-made, this dog car harness comes in large and extra large, as well as small and medium.
Ruffwear Load Up car harness offers maximum protection and comfort for dogs of all sizes, from extra small to extra large. It has two padded plates, both front and back, and these are all securely connected by quality straps. The plates are made from a comfortable and breathable material. This dog harness also features metal clasps and a universal seat belt loop that will fit most cars. This is a crash-tested harness, designed primarily to offer comfort and safety on the very long journeys. But with high quality and advanced designs, also comes a hefty price tag.
Sherpa Harness features a unique design that allows it to transform into a no-pull dog harness when used for walking. With a simple fastening system, it is very easy to use but still offers ample protection. It has a large front pad, with a smaller one at the back – where it also clasps into place. The pads are made from durable weatherproof and breathable material. Five adjustment points allow for comfortable fits on most dog breeds.
Kurgo Impact Car Safety Dog Harness
This large, advanced harness from Kurgo was made specifically to endure the hardest conditions. The prominent feature of this design is the extra-large front pad that minimizes the forward motion of your pet. The harness is made from durable, reinforced high-tensile tubular webbing, featuring steel buckles on key points. There are four adjustment points to fit most dogs, but in general, the harness is aimed at large dog breeds.
This is the cheapest offer on our list, but that doesn't make it any less useful than the others. This simple and straightforward design is perfect for smaller dog breeds and has everything that is needed to offer ample protection. Heavy-duty nylon fabric straps with adjustable plastic fittings will keep your pooch secure and in place. The front pad is large enough and offers good comfort. The length of the tether is adjustable and secured with a fully rotatable steel buckle. A solid choice when the budget is tight.
Car harnesses VS car booster seats
When it comes to pet safety in a car, things boil down to two options. Besides the car harnesses, there are also dog booster seats – another popular design to offer comfort and limited safety to your pupper. But just how good are they? Which one should you choose for maximum protection in a vehicle?
Car booster seats lack many important features that are crucial for keeping a dog secure in place. They are usually square-shaped, imitating the design of a cushion bed. While they are strapped in place in the back or the front seat of your car, they aren't always the safest option. They allow a place for a dog to snooze and rest but do little to prevent movement and injury in case of collision. Booster seats aren't really designed to keep a pet constrained and secure – a thing that harnesses do perfectly.
Car harnesses for dogs have a clear advantage when security is in question, while still retaining a dose of comfort for the animal. They are designed in such a way that the dog's chest – the central point – is strapped to the seat. Of course, movement is still allowed, but only minimally. With a lot of reinforced stitching, clasps, and sturdy links, a car harness can be the next logical step to advance to after a booster seat – and a much safer step at that!
What to look for in dog car harnesses
Choosing an adequate car harness for your dog depends on a set of aspects. The first and obvious detail is the size of your pupper. Large breeds will require a sturdier, heavy-duty harness, with a lot of double stitching and reinforcement. You would also want a harness with stainless steel clasps and connectors, instead of the usual plastic ones. Big breeds can often be unaware of their strength, and that means that heavy-duty is the way to go.
With small breeds, things are much easier, and the choices get simpler. No need to search far and wide, when even the basic ones will perfectly contain your tiny friend. Plastic connectors are also a safe bet. What you would want to pay attention to is the padding. We all know that the tiny breeds are fragile, and having that extra fluffy padding around their chest can help them remain safe and sound.
If you want to get the best bang for your buck, you can find the harnesses that can play more than one role. These can double as harnesses for walking your dog outside, complete with a lead. If you are an outdoorsy type and want to bring your trusted pooch on hikes and camping trips, you can rely on that same car harness to act as a safe lead for hiking. Moreover, several models come with reflective stitching, which can help with safety during the night, and allow you to always keep an eye out on your pet – even in the dead of night.
Adjustability also plays a crucial role when you're choosing a harness. No animal is the same, and having that important option of adjusting according to their needs and size, tightening or loosening the harness when needed, can be a good addition. Another thing to keep in mind is the weather. In the summer months, we need to focus on keeping our dog cool and refreshed, and a heavily padded harness can contribute to overheating. To avoid overheating for your pet, you want to look up a breathable harness. These are made from a special fabric that won't trap heat and can absorb moisture, but instead let it pass through and allow air to circulate, cooling off your dog. And for the cold winter months, a harness can also be wind and waterproof, and warmth can be provided with the addition of special dog clothing, which can fit under the harness and provide much-needed insulation.
Pet safety in a car
A lot can go wrong during driving, especially with a pooch by your side. Staying focused on the road is important, and with a playful pet who's eager to play and jump around, this can become quite the challenge. Now, there are some steps you need to take to ensure that excitement is kept at a minimum and that the journey is as smooth as possible. Before you even begin, you'd want to make sure you had a nice energized walk with your pet, as well as the all-important potty break. If some of that extra energy is spent beforehand, your pet might simply resort to snoozing in the back, leaving you concentrated and rested.
Besides the dog car harnesses and booster seats, you can also consider pet crates and carriers. Great advancements were made in recent years, and quality and safety are much improved. Still, you'll have to keep the basic laws of physics in mind when you're traveling with a dog. If left unrestrained, a dog's weight is multiplied significantly at high-speed collisions, and that can result in a dramatic situation. Moreover, a secured pet is less likely to flee after an accident, which is often the case with scared and shocked pups.
So here's a summary of the most important things to keep in mind to ensure a safe and fun journey with your pet dog, and make them as comfortable as possible:
Consider the Temperature – Don't allow the car interior to become sizzling hot or too cold. Pets are extremely affected by drastic temperatures!
Don't leave a dog unattended – No matter how briefly you intend to leave the car – don't leave your pet. Keeping a close eye on them is half the job done!
Take frequent breaks – Long journeys are exhausting for both the driver and the pet. Take breaks often and take short walks.
Get them used to car travel – You can't just put an older dog in the car for the first time and expect them to love it. Take time beforehand to "train" and make them used to the environment.
We are committed to finding, researching, and recommending the best products. We earn commissions from purchases you make using the retail links in our product reviews. Learn more about how this works.

Angela Vuckovic
A proud mama to seven dogs and ten cats, Angela spends her days writing for her fellow pet parents and pampering her furballs, all of whom are rescues. When she's not gushing over her adorable cats or playing with her dogs, she can be found curled up with a good fantasy book.
More by Angela Vuckovic
Published February 1st, 2020 12:00 AM