228 Views
February 25th, 2022 12:00 AM
We're committed to finding, researching, and recommending the best products. We earn commissions from purchases you make using links in our articles. Learn more here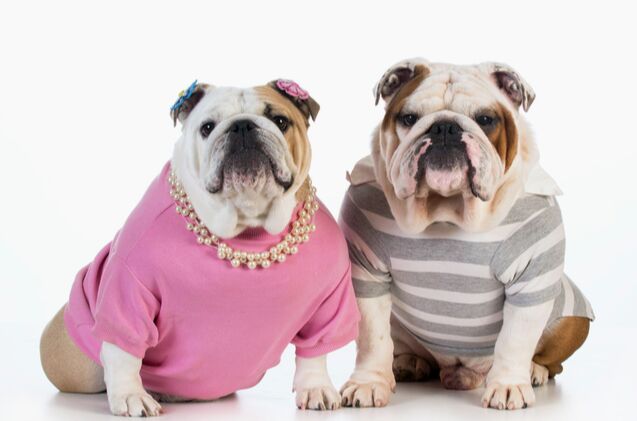 Dog shirts are both fashionable and practical: your pet can flaunt a fun design while staying warm and toasty during chillier days of the year. Take a look at our selection of best dog shirts for pooches of all styles and sizes!
Dog clothes are nothing new in the pet industry – from cozy lined jackets for colder weather to pretty princess dresses for special occasions, you get a pretty varied choice for any kind of pet outfit. Sometimes, clothing is for fun sake, when you costume your pooch to take a few cute snaps for the social media before taking their clothes off, and sometimes, dog clothes are a necessary accessory to keep your pet comfy and cozy. Dog shirts can be both fashionable and practical and are mostly worn to provide a light level of warmth and insulation for dogs that either have no fur or have short coats and get cold easily when the temperature drops, even inside the house. There are all kinds of dog shirts out there, from soft cotton ones with fun prints to warm shirts with hoods, to adorable summer shirts that can keep your hairless dog protected in the dog days of summer. This is our choice of the best dog shirts on the market for any occasion – scroll on and take your pick!
1. Editor's Choice: Fitwarm 2-Pack 100% Cotton Striped Dog Shirts
Simple, comfy, and cute, these soft short sleeve shirts for dogs are made from 100% cotton for breathability and stretchiness. The high-cut belly opening lets your pet go potty without having to remove or adjust the shirt, regardless of their sex – so they are convenient to wear on walks, too. The ribbed elastic leg openings and the stretchy cotton make these shirts quite adaptable to various dog body types, from lean and tall to short and stout, and as they come in 6 sizes ranging from extra-extra small to extra-extra-large, you'll have no trouble finding a perfect match for any small breed dog up to 23″ in chest girth. To boot, you can also choose between 4 different color combinations of the stripes to match your pet's style.
Stretchy and soft
Breathable all-season material
Open belly design
Multiple color options and sizes available
2. Runner Up: Koneseve Dog Shirt
Whether you like pretty pastels or minimalistic monochrome on your four-legged friend, this 2-shirt set will be a perfect choice. Made from the softest combed cotton ribbed jersey material, these sleeveless shirts both look and feel great, even in the summer. The sleeveless design with ribbed leg openings and the stretchiness of the cotton make these dog shirts easy to put on and comfy to wear – your pet will feel like they're not wearing any clothes at all. This dog shirt set is available in 9 size options, the smallest being a fit for puppies or toy breeds between 2 and 7 pounds, and the largest is suited for large breed dogs that weigh 70 to 95 pounds. To match your pet's style, the set comes in a black and gray striped design or pink and green striped design.
Pros
Beautiful design in two color combinations
Breathable and moisture-wicking material
Soft combed cotton
Sleeveless
3. Customer's Choice: WEONE Dog Shirt
With a variety of options to meet any furry fashionista's preferences, these easy-going, comfy dog shirts will make your pooch look cool as a cucumber while feeling soft and cozy against their body. You can choose between short sleeve and sleeveless options, as well as different materials: some designs are made from breathable polyester, others from a soft blend of cotton (95%) and polyester (5%). Each set includes 2 shirts and you get to choose between 7 color and pattern combinations, and 8 sizes. It's worth noting, though, that the biggest size suits dogs with a chest girth of up to 33".
Pros
Affordable and cute-looking
A variety of different options to choose from
Soft and breathable materials
4. Best for Large Dogs: Tooth & Honey Large Dog Shirt
Clothing is not for petite pooches only – big dogs should also get to enjoy everything that dog clothes can offer. Whether you need a dog shirt to minimize your big dog's shedding, keep them away from licking hotspots, or just because they need another layer in the chillier days, this large dog shirt design will be perfect. Breathable and stretchy, the shirt is made from a blend of 95% cotton and 5% spandex for comfort and softness, and features full underbelly coverage and a mid-length sleeve. Designed for large-chested dogs, this shirt comes in a dark and light gray color combo and 5 sizes that accommodate dogs with the chest first of 24" to 27" for the smallest size, and up to 36" for the largest size.
Pros
Stretchy and breathable fabric
Mid-length sleeves
Great for dogs with allergies
5 size options
Cons
Fabric is a bit delicate for big dogs
5. Best for Small Dogs: LOPHIPETS 100% Cotton Striped Dog Shirt
Tiny dogs look super cute in their little outfits – be it a puppy or a toy breed you need a good-fitting shirt for, this cotton striped design is just the thing. Made for small dogs such as Chihuahuas or Yorkies, this cute little shirt is available in 5 sizes to accommodate all small shapes and sizes. The smallest will fit the teacup-sized dogs that weigh 0.5 to 1.2 pounds and the largest suits dogs between 10 and 14 pounds of weight. The material is soft cotton fabric, which is very breathable and stretchy, and the sleeveless design, combined with the high belly opening, make this shirt easy to put on and comfy to wear. You can choose between 4 vibrant color combinations of stripes.
Designed to fit teacup, toy, and small breeds specifically
Soft and breathable cotton
Well-made
6. Best for Medium Dogs: Chol&Vivi Dog Shirts
Not too big and not too small – some would say that medium breed dogs are just the right size. These basic dog shirts that come in sets of two are great for dogs that fit into that weight and size category, and they are quite comfy to boot. Neatly stitched and made from soft and stretchy cotton with a high belly cut and stretchy leg and neck openings, these shirts are easy to put on and won't chafe or irritate your pooch. You can choose between 7 sizes according to the chest girth, and while most medium-breed sizes are 18" or 20" chests, it would be safest to measure your pet before ordering. You can pick between 7 sets of two shirts: black and gray, black and dark green, black and white, blue and purple, light blue and green, pink and rose red, and red and orange.
Pros
A variety of inclusive sizes
Stretches to follow your pet's body shape
Easy to put on and comfy to wear
Cons
Plain solid color options
7. Best for Cold Weather: KILLUA 2-Pack Dog Shirt
If your dog has no fur at all or is a cold-sensitive short-haired breed, a comfy cotton shirt will be a perfect additional layer under a jacket in the winter or light enough insulation for indoor and outdoor wear on chilly early autumn days. Enter this fabulous long-sleeved shirt design for the man's best friend: made from the softest cotton, it features not only long sleeves for better coverage but also a foldable, extra-long high collar that will keep your pet's neck warm and snug. With 8 sizes available, this design is suited for small dog breeds weighing between 2.5 and 16 pounds. There are 3 color combinations you can choose from, all striped – for just a bit of fashion statement on this cozy and practical garment.
Pros
Extra-long high neck foldable collar
Long sleeves
Soft and insulating cotton
Cons
Only for small breed dogs
8. Best for Warm Weather: Kickred 2 Pack Cooling Dog Shirts
Who says dogs should wear clothes only in the winter? In fact, some dog breeds have sensitive skin that needs protection from harsh UV rays and in those cases, a cooling dog shirt perfectly fits the bill. Designed for the warmer days of the year, this is a sleeveless design made from soft and stretchy sportswear fabric that is lightweight, breathable, and cooling to the touch. It won't make your pet hot but it will shield them from UV rays, making it ideal for walks on the beach or around the block in the heat of the summer. The set includes two shirts in the following color combinations: mint blue and orange yellow, deep blue and dark green, and rose red and lake blue. You can choose between small, medium, or large sizes.
Pros
Cooling and breathable
Quick-dry fabric ideal for the beach
Keeps away harmful UV rays
9. Best Funny Dog Shirt: Saintrygo 8 Pieces Dog Shirts
Fashion is all about fun, so why not have some while you're choosing comfy tees for your four-legged bestie? This 8-piece set is bound to make passersby smile and your pooch the star of the doggie park! Made from a cotton-poly blend fabric, these dog shirts feature fun prints such as "pants optional" and "the snuggle is real" and come in various colors to provide a bit of variety to your pet's closet. While these come in sizes small, medium, and large, in reality, they will only suit small breed dogs, so be sure to measure properly before ordering.
Pros
Fun, cheeky prints
Includes 8 shirts
Can be worn all year round
Do Dogs Need to Wear Dog Shirts?
While some think that all dog clothes are frilly and unnecessary, the truth is far from that. Some dogs need to have an additional layer, whether because of the harsh sun or due to freezing temperatures, and dog shirts fill that role perfectly. In the summer, a light dog shirt can keep your pooch cool and their sensitive skin protected from harmful UV rays, and when the temperatures drop, a cozy dog shirt can be worn as an additional layer of insulation underneath a jacket or indoors, when the heating is not warm enough for your cold-sensitive pupper. Not to mention that wearing a shirt can be an excellent solution to a variety of pesky issues: dog shirts can prevent your pet from licking an incision or a hot spot or keep shedding under control or at least away from your couch. And the best part is, thanks to the clever design and choice of fabric, most dog shirts are pretty comfy to wear so your pet will feel like they have nothing on.
There are various dog shirts out there – with or without a turtleneck collar, with long, short, or no sleeves at all, made from various fabrics and in various designs. Choose the shirt with your pet's needs in mind. If you are looking at dog shirts to keep your pooch warm, anything from cotton to fleece can work well, and if you need extra coverage, go for longer sleeves. In case it's the sun protection you're after, pick breathable, lightweight materials that are used to make athletic wear as they tend to have a cooling effect.
We are committed to finding, researching, and recommending the best products. We earn commissions from purchases you make using the retail links in our product reviews. Learn more about how this works.

Angela Vuckovic
A proud mama to seven dogs and ten cats, Angela spends her days writing for her fellow pet parents and pampering her furballs, all of whom are rescues. When she's not gushing over her adorable cats or playing with her dogs, she can be found curled up with a good fantasy book.
More by Angela Vuckovic
Published February 25th, 2022 12:00 AM