488 Views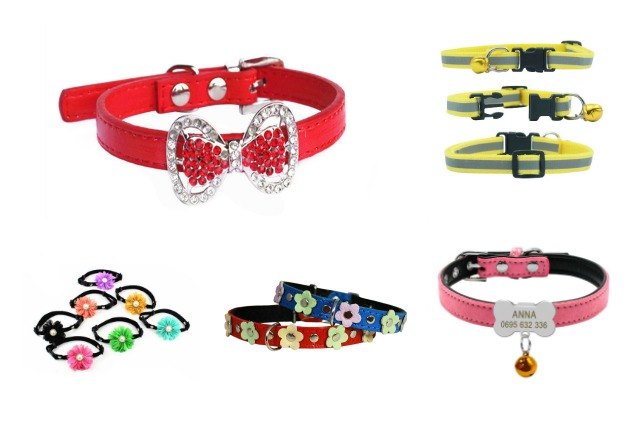 Morkies are the adorable cross between a Maltese and a Yorkshire Terrier. It's often hard to find collars small enough, so read on for the best collars for Morkies.
They're teeny, for sure—typically weighing between four and eight pounds and only getting to be about six-eight inches tall. You want to make sure that while your Morkie is in style, it's an appropriate collar, and here are some of our favorites.
1. Editor's Choice: Gimilife Leather Dog Collar
Plain old dog collars might not be your Morkie's cup of tea! When something flashy and fashionable is what you're looking for, Gimilife Leather Dog Collar delivers. The collar is studded with sparkly blossom-shaped and singular crystals that are sure to be seen from a mile away- no one will miss your little lady in the doggie park. Made from PU leather in pink, black, blue, or red, this collar is not just pretty but comfy and durable to boot.The size of the collar is fully adjustable, thanks to durable metal buckles. It comes in four flashy colors and has a D-ring you can attach the leash on or an ID tag.
2. Runner Up: PetFavorites Rhinestone Designer Collar
If you're looking for a little classic bling with some color to peek out from your Morkie's adorable fur, this one is for you. Enough rhinestone to flaunt, but in understated black to blend. Throw in some bright colored flowers and all your Morkie's moods are covered!
3. Best No-Buckle: Blueberry No-Buckle Collar
If your Morkie is a girly-girl who doesn't need to throw out the bling to make her presence known, you'll love this Blueberry No-Buckle Collar. Easy to care for and six different patterns for your pretty little puppy, we love the no-buckle part so your delicate one won't be irritated.
4. Best with Tag: DiDog Leather Collar With Slippable Tag
This leather collar identifies your Morkie in a classic and stylish way, and comes in extra-teensy for a just-right fit. It's customizable and the tag slips bag and forth on the collar so it doesn't sit and irritate in one place. We love the little jewel that hangs for just a touch of sass.
5. Best Pattern: USP Bowtie Collar
Your dapper dog will look will tip top in this collar set by USP Pet. With three patterns to chose from these gender-neutral collars will look smashing on any Morkie. They are made from 100% cotton from designer fabrics and each bowtie is hand-sewn then attached to the collar. While the product itself looks divinely delicate, all of the hardware is super solid like the heavy duty D rings welded for strength and durability. Use their handy sizing chart to make sure you buy the proper size for your Morkie, and if you end up ordering 'cat' size, we won't tell!
6. Best Leather: BRONZEDOG Leather Collar
We won't say anything if you don't! Yes, it is a cat collar, but it comes from the company Bronze Dog and they know what your pup requires. We also know that Morkies tend to have very tiny necks. So, take advantage of these beautifully crafted leather collars that fit size 7-9". You can choose from 7 different colors of these hand-crafted collars that come complete with a strong quality buckle and hardware. And the unbeatable price? Just take that as a bonus.
7. Best Engraved: Hipidog Engraved Collar
This tagless collar from Hipidog stops that pesky tag noise in the middle of the night, and information is lasered onto the engraveable stainless nameplate. It comes in XXS so should fit that tiny little one of yours, and there are tons of colors and prints to match your Morkie's feelings of the day.
8. Best Basic: Trushow Collar With Bell
Then again, you may want to be able to hear your little one coming (or going) so this Trushow collar with a bell is perfect. Simple in design and function, but perfectly purposed to do the job, this collar retails for $9.99 and comes in an assortment of colors.
9. Best Accessorized: PetFavorites Daisy Dog Collar
Is your Morkie the sunshine in your life? Say hello to Flower Power, then! This daisy flower collar will show the world with a big, bright sunshiney daisy! It comes in lots of pretty, bright colors.
10. Best Cute Design: Leather Daisy Dog Collar
If you want to stay with a sunshine daisy theme, but your Morkie may be a little understated, this leather collar is perfect for you and your pup! It's made from a lightweight and durable leather, and is padded on the underside for comfort.
How tight should a collar be?
Generally, a dog's collar shouldn't be too tight as it could choke your pet and cause chaffing, but not too loose, either, as they could easily slip their head out and run away. A good rule of thumb is that you should be able to place two fingers between your dog's neck and a regular flat collar. This means that the collar is just snug enough for security of your pet and comfy enough to wear.
How should I place a collar on my dog?
If you are using a flat collar, start with the collar unhooked and wrap it around your dog's neck. Then take the end and slide it through the hoop and buckle the ends together. Adjust the fit by sliding the straps and make sure that you can put two fingers in between the collar an the skin.The same goes for belt-style collars, the main exception being that you don't adjust after buckling, but simply buckle at the spot (hole) that gives a comfy fit.
How to clean a dog collar?
Always use pet-safe cleaning products to clean your pet's collar- natural products or mild cleaning detergents are the best choice. If the collar is made from fabric, whether natural or synthetic, you can scrub them with a brush and some dish detergent, rinse thoroughly and leave flat to dry. Alternatively, you can use vinegar for sanitization, or if the collar is made from polyester/nylon, diluted hydrogen peroxide. For leather collars, it's best to use saddle soap, but if you don't have it on hand, you can use a 50/50 mixture of white vinegar and water to clean, leave it out to dry and then moisturize with oil or leather conditioner to restore it back to its soft texture.
Additional resources:

Published July 9th, 2021 12:00 AM