3 Views
Top 10 Gifts For Dog Lovers
December 3rd, 2018 12:00 AM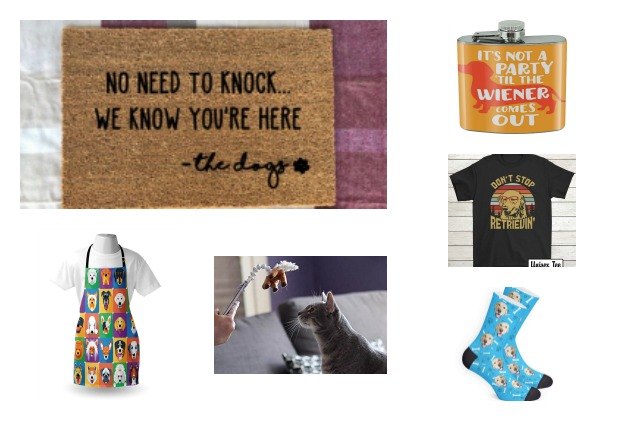 What says, "I know you love dogs and I love them too!"? Check out the top 10 gifts for dog lovers we've found this holiday season.
These are the most fun socks! You can upload your pics of your favorite friend and voila–custom socks that keep them near and dear all year long!
2. Don't Stop Retrievin' Shirt
Mix the best music ever with your best friend ever and you've got the best shirt ever. Perfect for any event you attend with your dog, or just to wear and let people know you have great taste in dogs and music!
The holidays are all about spending time in the kitchen…cooking, eating, mixing and mingling. So why not do it in style? The dog lover in your world will love this apron this season and for years to come.
You know what they say…it's not a party until the Wiener (dog) comes out. Or, at least this hilarious flask says so. So, make sure the Doxie lovers in your life have the flask that lets the world know that's the case.
Want to take great selfies of you and your dog or cat? Of course you do. What else is Instagram for? Here's the gadget that's going to make that a breeze! The FlexyPaw lets you take great selfies of yourself and you can even get your cat to pay attention to you. No, really, you can!
This is one of those must-haves if you love your dog or cat but sometimes have to leave them. Which is pretty much everyone. And, at nearly $100 for the holidays? The time to grab for every pet lover in your life!
Crystal Impressions – Pet Customized Crystal Photo
What better way to preserve the memories and show your love for your four-legged friend than with a long-lasting and elegant 3D crystal impression of their adorable face? This unique gift can be suitable for many occasions and is ideal for every dog lover precisely because it is personalized and one of a kind. Do you want to preserve that goofy photo of your dog forever? Perhaps your friend's old companion has departed to the eternal hunting grounds? Either way, this keepsake makes a great gift- a customizable crystal imprint can keep any memory literally "etched in stone". This solid block of translucent crystal features an elegant black base for stability and has a classy look that is easy to incorporate into any interior. The photo and inscription of your choice will be imprinted into the center of the crystal block, giving it a unique 3D look that makes it feel real. These crystal photos are so easy to clean and they are always shiny and clear- no need to worry you'll lose it to the wear and tear of time. Crystal Impressions – Pet Customized Crystal Photo will keep your memories alive forever.

8. Simply Southern Big Mutts Mug
We love big mutts and we cannot lie. So this Stainless Tervis mug from Simply Southern is the perfect way to let people know that you do too. Keeps beverages nice and cold on the inside and keeps you pretty cool on the outside too!
9. Dog Butt Coloring Book
Speaking of butts…true dog lovers not only love them, they love coloring their butts. Well, okay, they may not, but they'll love the unique gift that is a dog butt coloring book and our guess is, they'll show it off to everyone they know!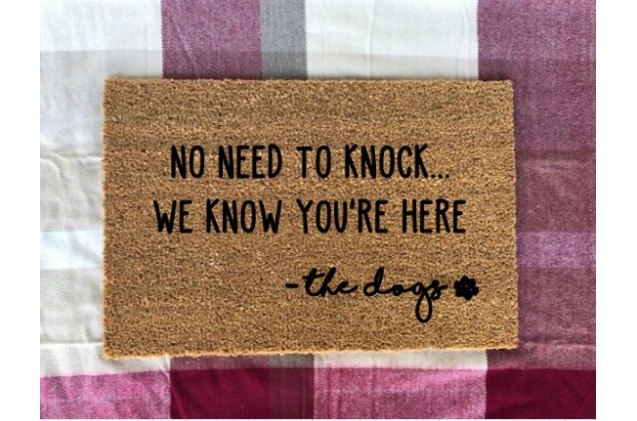 Anyone with dogs who bark when someone comes to the door (uh, we're guessing pretty much everyone at some time or another!) will love this mat that appropriately tells guests not to bother knocking–they've most likely been announced by some enthusiastic barking!

Published December 3rd, 2018 12:00 AM