15 Views
We've Found The Best Pre-Black Friday Pet Deals!
November 25th, 2019 12:00 AM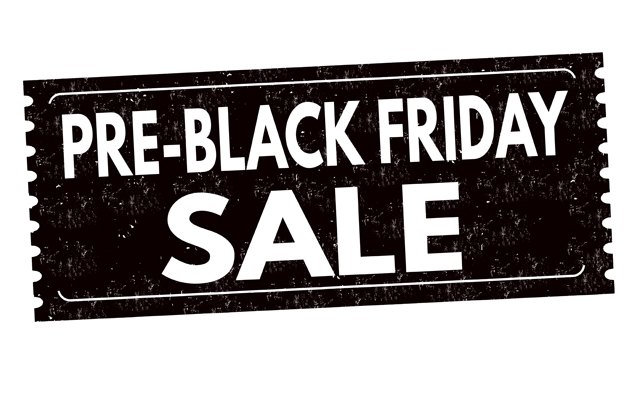 Black Friday is around the corner–treat your pet to something nice without breaking the bank!
It's that time of the year again- just in time for the holidays, Black Friday sales give you the opportunity to shop for presents and save money while you do so. Whether you're looking for stocking stuffers for your pet or just want to shop smart without breaking the bank, you're in luck, 'cause we've got the early scoop on the hottest offers and biggest discounts.
We've rounded up the best Black Friday deals on pet products you can snag for your pampered pooch. With savings of up to 77%, it's easy to see that some of these offers are too good to pass up by! So scroll on and pick something nice for your pet- and your bank account, too.
Daypak Dog Backpack Hiking Gear For Dogs by Outward Hound: Save 66%
In case you like to hike with your pooch in tow, you'll love this backpack for dogs. Made with breathable mesh to prevent overheating and promote good airflow, it will be comfy to wear throughout the year. The 4 expandable pockets have enough space to store all of the essentials for your weekend adventure without straining your pooch in the process. And with convenient design features such as reflective accent and bright colors for visibility to D-clip that lets you hook up your leash directly to the backpack, Outward Hound's Daypak really makes hiking and outdoor activities even better.
Pawaboo Dog Safety Vest Harness: Save 77%
Safety always comes first- and it's especially true for driving with your pet. You always put your seatbelt on, so it's only logical that you'd do the same for your dog! Pawaboo car harness makes sure that your dog is safely tethered while you drive, eliminating the possibility of them jumping out the window or distracting you from keeping an eye on the road. To boot, the attachment on the car harness inserts directly into your car's seat belt, so you don't have to worry about compatibility.
PoyPet No Pull Dog Harness: Save 73%
Does your pooch pull and tug on walks and your shoulder has finally had enough? A no-pull harness such as this cleverly designed one from PoyPet will keep your pooch well-behaved on a leash even when they have other things in mind. With a front and back clip, PoyPet No Pull Dog Harness prevents your pet from tugging the leash while making sure they are comfortable at all times- the soft mesh lining and adjustable clasps ensure a cozy and snug fit. This no-pull, no-choke harness is perfect both for leash training and everyday use.
BOSHEL Dog Nail Clippers and Trimmer: Save 73%
When you have the right tools at your disposal, dog grooming doesn't have to be a cumbersome task. BOSHEL Dog Nail Clippers and Trimmer is ergonomically designed for your comfort, with sharp and precise blades to make sure your pet's nail clipping "session" is fast and painless. Additionally, these clippers boast a safety stop feature that will prevent you from cutting back too far and hurting the quick of the nail. The user-friendly design and clever safety features make these clippers suitable for grooming beginners and pros alike.
TOMKAS Small Dog Cat Carrier Sling: Save 69%
Whether you have a senior pooch that has trouble walking on his own, a puppy that tires easily, or a small breed dog that enjoys being carried around like royalty, this practical dog carrier sling should definitely find a spot on your shopping list. Made from high-quality, machine washable materials, the carrier is durable and easy to clean. Even though designed for cats and small breed dogs in mind, TOMKAS Carrier Sling is surprisingly versatile and customizable. Adjusting the strap, in turn, adjusts the opening size, making sure that every petite pet from a Yorkie to a Shih Tzu will fit snugly. This carrier sling is suitable for dogs that weigh up to 10 pounds.
Petcabe Portable Dog Paw Cleaner: Save 67%
Say bye to muddy paw prints all over your carpet or car- this portable dog paw cleaner makes sure your pet's feet are always dirt-free. Whether your pet is coming back from a walk in the rain, playing in the backyard, or any other outdoor adventure, you don't have to get them in a shower to make those jelly beans squeaky-clean. Just take their paw, stick it into Petcabe Portable Dog Paw Cleaner that's been filled with soapy water, rotate and let the gentle silicone bristles do their magic. Needless to say, this paw cleaner is ideal for travel and home use.
EcoKind Pet Treats Himalayan Gold Yak Dog Chews: Save 66%
What pooch doesn't like to be treated to a yummy treat? In addition to being delicious, these chew sticks are healthy, nutritious and completely natural. Inspired by ancient recipes from Nepal, these treats are made from 100% Yak milk, with no artificial ingredients, chemical, preservatives, gluten, or lactose in the ingredient list. Perfect for those passionate chewers, these treats last up to 5 times longer than traditional rawhide dog chew- which means hours and hours of delicious fun!
Downtown Pet Supply 12″ BULLY STICKS: Save 66%
Made from grass-fed Argentinian beef, these 12-inch bully sticks will have your pet's mouth watering at the sight of 'em. Great for dental hygiene and easy to digest, these chewable treats will keep your pet occupied for hours on end. The natural meaty flavor is tantalizing to any doggo, and the fact that these bully sticks are free of artificial flavors, chemicals, preservatives, and hormones makes them healthy to boot.
Plush Paws Products Waterproof Pet Seat Cover: Save 64%
What better way to keep your car clean and pet hair-free than a waterproof pet seat cover? This hammock-style cover will protect the rear seat of your car from dirt, loose hair, and claw marks, while at the same time creating a safety barrier between the back seat and the front of the car, making sure your pet doesn't distract you while you drive. Durable and made from tough, high-quality materials, Plush Paws Products Waterproof Pet Seat Cover won't tear, weaken, or fade with prolonged use and exposure to the sun.
Pawsse Waterproof Dog Blanket: Save 64%
Suitable to be used on sofas beds, or car seats, this waterproof blanket is a great way to protect your furniture or vehicle from unexpected potty accidents. Ideal for puppies that are still potty training or senior pets that suffer from incontinence, Pawsse Waterproof Dog Blanket prevents the liquid from reaching the surface under it. Machine-washable and available in different sizes and designs, this practical pet blanket will fit inside any home. The warm sherpa lining is just an added bonus- it will keep your pets warm and cozy while protecting your furniture.
MigooPet Heavy Duty Retractable Dog Leash: Save 62%
If dogs had to pick their top three favorite things in the world, it's all but guaranteed that walks would make that list. Designed for everyday use, this retractable leash will give your pet a sense of freedom he wouldn't have on a standard leash but still make sure you're in control of where he goes and when. MigooPet Heavy Duty Retractable Dog Leash extends to 16 ft and it's perfect for the needs of small and medium size dogs.

Angela Vuckovic
A proud mama to seven dogs and ten cats, Angela spends her days writing for her fellow pet parents and pampering her furballs, all of whom are rescues. When she's not gushing over her adorable cats or playing with her dogs, she can be found curled up with a good fantasy book.
More by Angela Vuckovic
Published November 25th, 2019 12:00 AM